Published Date
UC San Diego Inter-Tribal Resource Center Welcomes Inaugural Director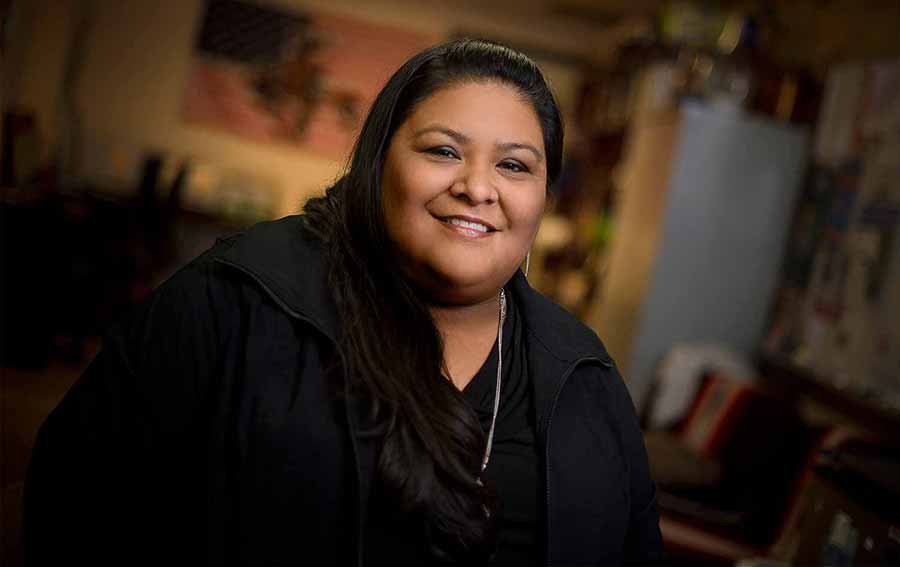 As a college student, Elena Hood knew firsthand the importance of having a place to call home and find familiar faces. In her own experience as an undergraduate, it was her involvement with the Native community that played an integral role in her academic success. This summer, Hood will begin to cultivate similar opportunities for community growth at UC San Diego as the inaugural director of the Inter-Tribal Resource Center, the campus' newest space dedicated to inclusion and outreach efforts.
"I want the Inter-Tribal Resource Center at UC San Diego to be a place of belonging," said Hood. "My goal is to foster a welcoming space for Native populations, including students, staff, families and visitors on campus, provide resources to support academic and professional development, as well as build partnerships with both urban and local tribal communities."
Hood is an enrolled member of the Absentee Shawnee Tribe of Oklahoma and descendent of the Pauma Band of Luiseño Indians and Choctaw Nation of Oklahoma. For the past nine years, she has served as program manager for The Pechanga School, a tribal school located in Temecula, Calif., on the Pechanga Indian Reservation, where she is a resource teacher and develops specialty programs.
Her passion for education and community building began in college. She majored in Native American Studies at UC Berkeley and dedicated her time as a volunteer at the American Indian Child Resource Center in Oakland, Calif. She later went on to earn a master's degree in education at Harvard University and is currently a doctoral student in UC San Diego's Education Studies Program. For her dissertation, she is investigating what messages and resources Native youth receive from family, schools and community programs as they begin to consider higher education options.
"We are very pleased that Elena will be joining UC San Diego as the inaugural director of the Inter-Tribal Resource Center," said Becky Petitt, Vice Chancellor for Equity, Diversity and Inclusion (EDI). "She has an in-depth knowledge of best practices to increase access, sense of belonging and success for Native American students. We look forward to her collaborating with campus colleagues in building an inclusive community where our Native American student body can feel welcome and thrive."
In her new role as director of the Inter-Tribal Resource Center, Hood's vision is to support the academic needs of students as well as create opportunities for them to connect in an inclusive environment. She would also like to strengthen relationships with local reservations and urban communities through outreach and engagement activities.
"I want to make a commitment to the community to really listen and understand the issues where the university might have a positive impact," said Hood. "It's important to get feedback from the community because reservations are not all the same; the needs of one may be different from another. I want to acknowledge this and develop a better understanding of how the university can be of service to Native communities."
The Inter-Tribal Resource Center joins five EDI campus community centers established to build community, increase awareness of social issues, encourage dialogue and improve retention among UC San Diego's diverse population of students, faculty and staff members. The new center will also collaborate with student and staff organizations that already exist on campus. In addition, the center will be involved in campus-wide California Native American Day Celebrations and the UC San Diego Powwow, an annual student-led celebration of Native culture and contributions.
"I am glad to be coming into an institution that acknowledges and validates Native people," said Hood. "A lot of good work has already been done at the university, so we are not starting from scratch. My charge is to discover what more we can do."
UC San Diego has enhanced its outreach efforts to boost access and resources for Native American students. Last fall, the Chancellor's Associates' Scholarship Program was expanded to include students from federally recognized tribes throughout the state of California. Established in 2013, the scholarship program is designed to improve the pathway to a UC San Diego education for more qualified students from all backgrounds. When paired with the UC Blue + Gold Opportunity Plan, the program essentially ensures that financial needs for eligible students are met.
In addition, UC San Diego Extension leads a unique partnership with both the Sycuan Education Department and the Viejas Tribal Education Center to provide college preparatory programs as part of a larger effort to boost college enrollment among young adults in underrepresented communities.
To learn more, visit diversity.ucsd.edu.
Stay in the Know
Keep up with all the latest from UC San Diego. Subscribe to the newsletter today.