UC San Diego Receives $100 Million in State Funding for New Student Housing
Construction of Pepper Canyon West Living and Learning Neighborhood will start this summer, with the goal of opening in the fall of 2024 Copyright: Perkins & Will Architects
UC San Diego has received $100 million in state funding for the Pepper Canyon West Living and Learning Neighborhood, which will provide more than 1,300 single-occupancy rooms to transfer and upper-division undergraduate students when it opens in the fall of 2024. The funding is part of a new Higher Education Student Housing Grant Program established by the state, which provides one-time grants for projects to support increased California resident enrollment.
In line with the University of California's Debt Free Pathway initiative, and to support UC San Diego's lowest income undergraduate students, the Financial Aid and Scholarships Office developed a methodology to allocate the financing savings due to the grant, $5 million annually, towards housing grants for eligible California undergraduate students living on campus. For example, on-campus housing rates at UC San Diego are already at least 20% below market, and the application of grant funds will lower housing rates to up to 55% below market for 1,100 low-income California resident students.
At the end of 2021, the University of California submitted $600 million in projects for consideration to the new state grant program, including a proposal from UC San Diego for $100 million for the Pepper Canyon West Living and Learning Neighborhood. Due to Chancellor Pradeep K. Khosla's leadership and efforts, in March, California's Department of Finance recommended that UC San Diego receive this funding and the Legislature and Gov. Gavin Newsom approved it in June as part of the state budget process. Senate pro Tempore Toni Atkins, Assemblymember Chris Ward, and Assemblymember Tasha Boerner Horvath played a large role in advocating for the funding for UC San Diego.
"The university works diligently to find creative solutions to the challenges of building affordable student housing, which includes advocating for funding in the state budget," said Khosla. "By working together, legislators and higher education institutions are advancing effective solutions to move California forward."
Construction of Pepper Canyon West Living and Learning Neighborhood will start this summer. The project is located in the interior of campus, adjacent to the Central Campus station of the UC San Diego Blue Line trolley. The 580,500-square-foot project features two 22- and 23-story towers connected to five-story buildings with outdoor terrace seating along with retail, dining, and open spaces in two large courtyards and access to canyon trails.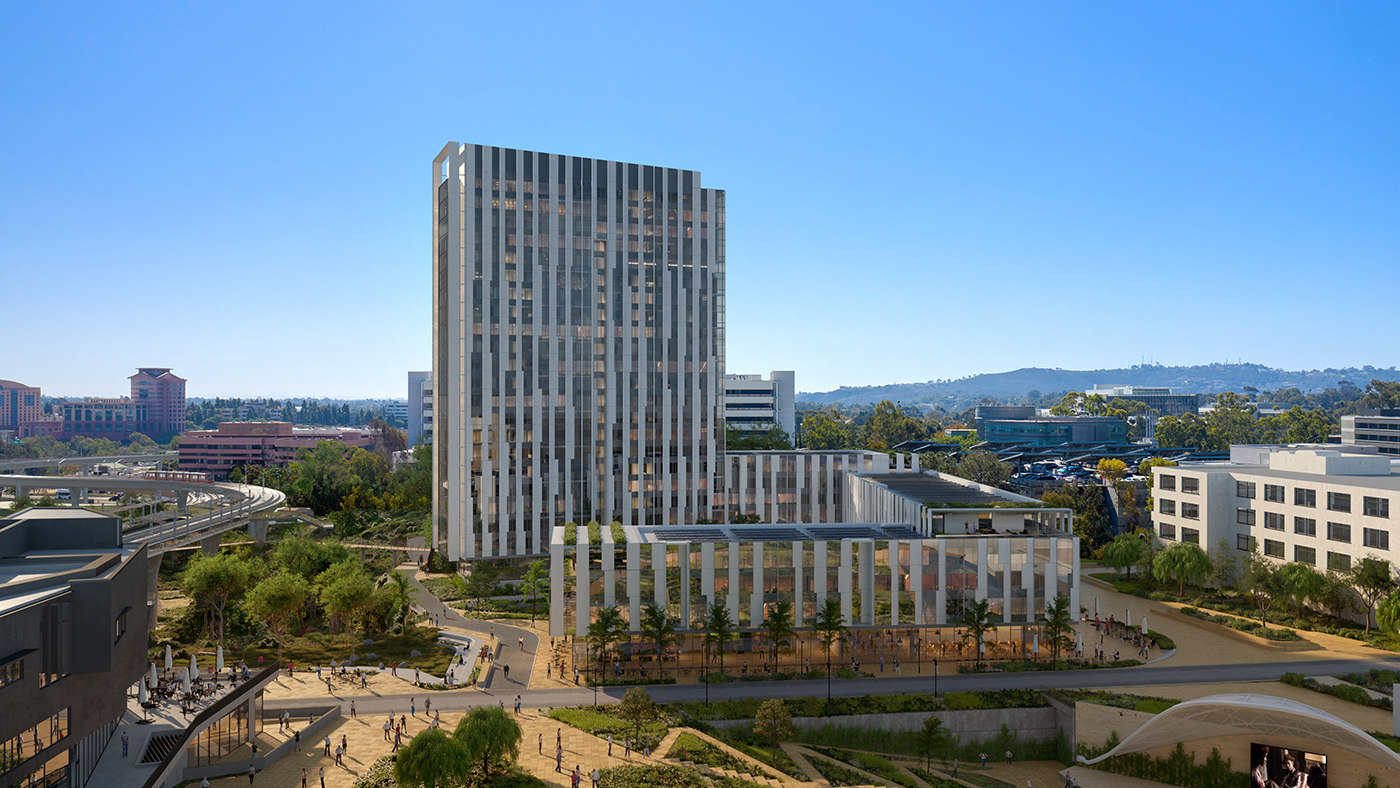 The project aims to achieve LEED Gold certification with a full range of sustainability practices in design and operations. Low-flow fixtures and drought-tolerant landscaping will save water, while natural ventilation and daylight is optimized to reduce demand for mechanical ventilation and electricity. Construction waste is reduced by fabricating some building elements off-site.
Meeting student housing demand
Everything UC San Diego does is motivated by its academic and research mission, with a specific focus on meeting the needs of our students. The 2015 state mandate to increase University of California enrollment resulted in UC San Diego having the largest undergraduate student growth in the University of California system, with our undergraduate student population increasing by 5,200 over the six years that followed. UC San Diego initiated a plan to provide additional infrastructure and facilities, with student housing being a key component.
In the past decade, the university has built below-market rate housing for more than 5,500 students. Theatre District Living and Learning Neighborhood will provide housing to an additional 2,000 undergraduate students when it opens in 2023 as will the proposed Ridge Walk North Living and Learning Neighborhood, anticipated to open in the fall of 2025. The three new projects will provide housing for more than 5,300 additional students, allowing UC San Diego to provide on-campus housing to nearly 22,000 students by the fall of 2025.
On-campus housing provides many benefits by expanding opportunities for students to fully integrate into the academic and social life of the campus. Part of the attraction is the on-campus community and setting, as well as being close to academic, research, social support and recreation facilities. The university continues to invest in the construction of student housing at rates that are more favorable than the local rental market and drive innovative housing solutions.
A new campus destination
While this new student housing is a key addition to the campus, the neighborhood also features art installations, the Epstein Family Amphitheater, the Design and Innovation Building and a new Stuart Collection installation.
The open-air Epstein Family Amphitheater will open this fall, featuring local and international talent in everything from large-scale rock concerts to classical quartets and theatrical dance.
The university selected artists to create a new, 10,000-square-foot mural planned for the exterior of the Visual Arts Facility facing the amphitheater. The work will depict authentic wild-style and contemporary graffiti styles that are rooted in Southern California.
The Stuart Collection's 22nd installation, CONCORDANCE, provides a poetic and engaging welcome to the campus. The artwork by Ann Hamilton—a MacArthur Fellow and recipient of the National Medal of the Arts—is experienced by walking along a wide path stretching from the new trolley station all the way to Russell Lane.
These projects combine to create a lively neighborhood and welcoming entrance to the university.
"Living Learning Neighborhoods are an illustration of innovation, sustainability and building community," said Khosla. "UC San Diego invests in building accessible housing because we know how important and impactful it is for our students to live on our vibrant campus."
Stay in the Know
Keep up with all the latest from UC San Diego. Subscribe to the newsletter today.