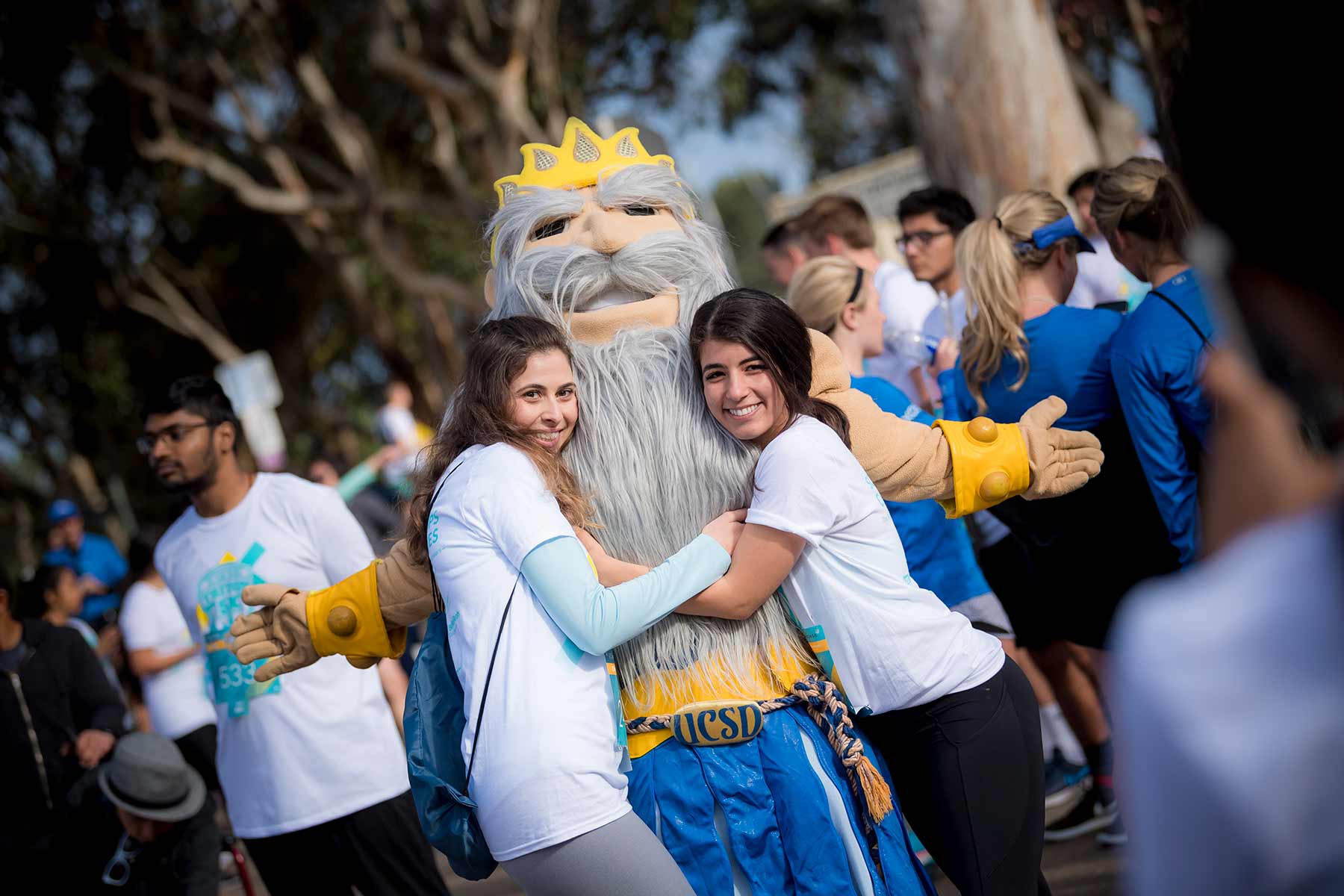 Welcome, Tritons: Events to Look Forward to this Fall at UC San Diego
This fall, get ready to sing out loud, cheer for your teams and explore what it means to be a Triton. The University of California San Diego has curated a lineup of events to usher in the new school year, spotlighting the best of arts, culture, entertainment, athletics and plenty of school spirit.
"It is my pleasure to welcome new and returning students, staff, faculty and community members to UC San Diego this fall quarter," said UC San Diego Chancellor Pradeep K. Khosla. "From watching a performance at the new Epstein Family Amphitheater to joining fans at a Division I sports game, UC San Diego is truly a destination that offers something for everyone. I encourage you all to take advantage of the ample opportunities we've curated to connect with one another and explore new features of our evolving campus."
Experience Arts and Culture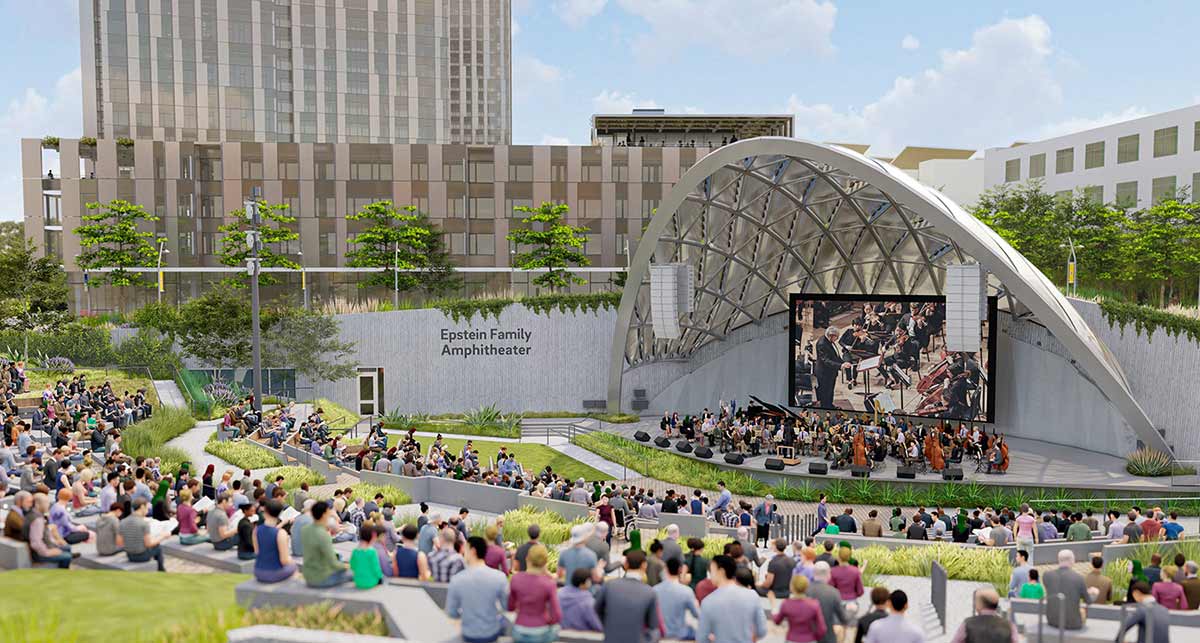 With the upcoming unveiling of the Epstein Family Amphitheater this October, the university continues its journey toward becoming San Diego's newest entertainment neighborhood. The 2,550-seat, open-air venue—which is located near the main campus trolley stop off the UC San Diego Blue Line—will host events ranging from high-energy rock concerts to theatrical dance performances. The space also serves as a valuable new state-of-the-art venue for the university's diverse array of arts and culture programming, including works from ArtPower and the School of Arts and Humanities.
Here are a few of the events planned for the Epstein Family Amphitheater's opening weekend celebration, which spans from Oct. 20-23:
Opening Celebration with San Diego Symphony | Friday, Oct. 21
Conducted by Australian conductor Elena Schwarz and featuring violinist Paul Huang, the evening program includes music from UC San Diego alumna Anna Thorvaldsdottir and UC San Diego faculty Lei Liang and Rand Steiger. Attendees will also enjoy works by Stravinsky and Barber. Tickets are now available for purchase. In early September, UC San Diego faculty, staff and students will also have the opportunity to sign up, on a first-come, first-served basis, for free lawn tickets for the performance.
Death Cab for Cutie with Yo La Tengo | Saturday, Oct. 22
The Grammy-nominated alternative rock band Death Cab for Cutie will be performing at the new amphitheater, with an opening set from indie rock band Yo La Tengo. The group will be touring their album "Asphalt Meadows," which releases in September. While presale tickets for the concert are sold out, UC Diego faculty, staff and students can sign up, on a first-come, first-served basis, for free lawn tickets for the concert. Please visit the amphitheater website for more information in early September.
Community Marketplace and Film Night | Sunday, Oct. 23
Make a visit to UC San Diego's Pepper Canyon neighborhood for a free day-long community event featuring a marketplace family-friendly experiences, music, food and more. At night, guests will enjoy a film screening at the amphitheater – its projection equipment and custom-designed acoustic shell are designed to provide a great viewing experience.
Blacktronika: Where I Stand Festival | Saturday, Oct. 29
Blacktronika: Where I Stand Festival will bring together six innovative musical groups ranging from free jazz to cosmic funk to create a full day of sonic cultural expression. Blacktronika is a UC San Diego Music course created by Professor King Britt, that honors the innovators of color who have contributed to the global advancement of electronic music. Featured talent for the event includes Irreversible Entanglements, Tyshawn Sorey & King Britt, Xenia Rubinos, Chimurenga Renaissance, Georgia Ann Muldrow and 5hz. Attendees can register for the free festival in advance.
"The opening of the Epstein Family Amphitheater provides a tremendous opportunity for our campus to provide and experience an even wider array of world-class arts and cultural events in a venue well-suited to San Diego, and invite the greater San Diego community to use our expanded transit offerings to experience those events as well," said Executive Vice Chancellor Elizabeth H. Simmons. "The opening of this new venue, the arts offerings it will provide access to, and our upcoming new arts website further solidifies our campus as an arts destination in Southern California."
At the helm of coordinating the program lineup for the Epstein Family Amphitheater is Colleen Kollar Smith. As the inaugural Executive Director of the newly created Campus Performance and Events Office, led by the Division of Student Affairs, her strategic leadership plays a vital role in expanding the university's already-thriving arts and culture presence.
Root for Your Division I Scholar-Athletes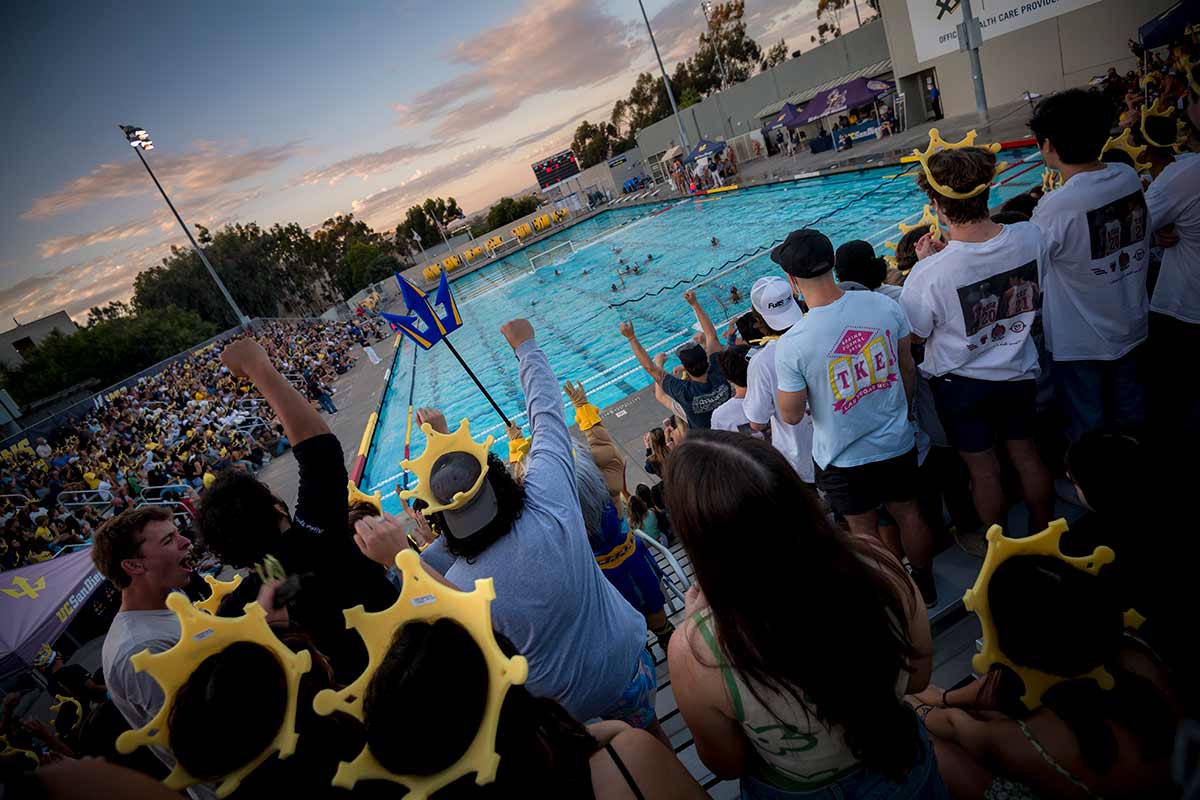 UC San Diego is also celebrating its second full season as a NCAA Division I school. In 2017, the university accepted an invitation to join the Big West Conference, setting the scene for a new era of the Triton athletics program. UC San Diego spent two decades as one of the most successful programs in NCAA Division II, taking home over 30 NCAA national championships in team sports.
This fall, join in cheering for UC San Diego's talented men's and women's sports teams at one of the dozens of upcoming athletic events. Throughout the quarter, UC San Diego scholar-athletes will be showing off their talent in sports including soccer, volleyball, water polo and cross country.
"Fall is always an exciting time on campus, and we are particularly looking forward to welcoming fans and students back to cheer on the Tritons," said UC San Diego Director of Athletics Earl W. Edwards. "Our scholar-athletes feed off that support as they face top-level Division I opponents and we know there will be terrific environments and great atmospheres at our upcoming home competitions."
All students, staff, faculty, alumni and community members are invited to support UC San Diego's Division I scholar-athletes. A few exciting games on the calendar for fall quarter include:
Men's Soccer v. University of San Diego | Thursday, Sept. 15
Starting at 7 p.m., visit Triton Soccer Stadium to watch UC San Diego's men's soccer team take on their crosstown rivals in an exciting matchup. The game is free to attend.
Women's Soccer v. UC Irvine | Sunday, Sept. 18
In the first Blue and Gold series game of the year, cheer on the women's soccer team as they play against UC Irvine at Triton Soccer Stadium at 2 p.m. The game is free to attend and will feature an exclusive giveaway for students.
"Battle of the Kings" Men's Water Polo v. Loyola Marymount University | Wednesday, Sept. 21
One of UC San Diego's biggest games of the year, Men's Water Polo will be taking on Loyola Marymount University in the "Battle of the Kings" game. Root for the "King of the Ocean" as the Tritons battle it out against the "King of the Jungle," the LMU Lion. The event will be held at Canyonview Aquatic Center at 6 p.m. Expect fun student giveaways, swag and more! Tickets are available online.
Women's Volleyball v. UC Santa Barbara | Friday, Sept. 23
Watch as women's volleyball opens Big West play against UC Santa Barbara at LionTree Arena! Before the game kicks off at 7 p.m, join Triton Tide at 5 p.m. for a fan fest on the patio with games, free swag, and tons of other goodies. The game and fest are both free to attend.
Join in Triton Traditions
The start of a new school year means the return of beloved UC San Diego campus traditions. The university has already kicked off the quarter with its Triton Weeks of Welcome (TWOW), a campus-wide series of introductory activities, special programs and signature events that welcome all students to the Triton community.
Alongside new student orientations and residential move-in, TWOW brings a lineup of signature programming designed to familiarize students with UC San Diego's vibrant campus life. For example, students can participate in a day full of friendly competition at the annual Triton UnOlympics on Sept. 21. Then, on Sept. 24, take part in Recreation's giant beach party known as Meet the Beach.
In October, join in UC San Diego's fifth annual all-campus Homecoming—a fun-filled week of old favorites and new experiences that bring out the Triton spirit in students, staff, faculty, alumni and community members. The campus tradition returns Oct. 17-23, featuring athletic events, class reunions, a thrilling zipline challenge and more. Multiple athletic matches will take place during this time, offering the opportunity to help cheer on our Triton Women's Volleyball, Men's Soccer and Men's Water Polo teams. Homecoming week also coincides with the opening celebration of the Epstein Family Amphitheater.
Mark your calendar for exciting traditions, such as:
Triton Tailgate Concert | Friday, Oct. 21
Head to RIMAC Field for an annual Homecoming favorite—the Triton Tailgate Concert, featuring live entertainment, great music, food and games. This year, UC San Diego is bringing country to the coast with a performance from Johnny Cash tribute band Cash'd Out. Attendees can sing along to familiar tunes and relax, as well as jump into family-friendly lawn games like cornhole and bocce ball. After the tailgate, watch as UC San Diego Women's Volleyball takes on Cal Poly at LionTree Arena. Registered guests can also pick up a free official Homecoming fanny pack, available at the Triton Tailgate and at Homecoming Hubs located around campus.
26th Annual Triton 5K | Sunday, Oct. 23
Join in the Triton 5K—a race that takes runners through a brand new campus course packed with fun surprises along the way—as we celebrate the transformational impact of the more than $3 billion raised through the Campaign for UC San Diego. Triton 5K prizes will be awarded and campus participants will receive an official finisher's medal. For those 12 years old and younger, the accompanying annual Junior Triton Run offers an opportunity for children to take part in the race day fun. Participants can register for the event online and a portion of the entry fee goes to supporting student scholarships.
In November, the campus community will commemorate UC San Diego's founding with a lineup of festivities. Stay tuned for details and event dates to be announced later in the fall quarter.
To stay up to date on the latest events at UC San Diego, please visit the university's online event calendar.
Stay in the Know
Keep up with all the latest from UC San Diego. Subscribe to the newsletter today.