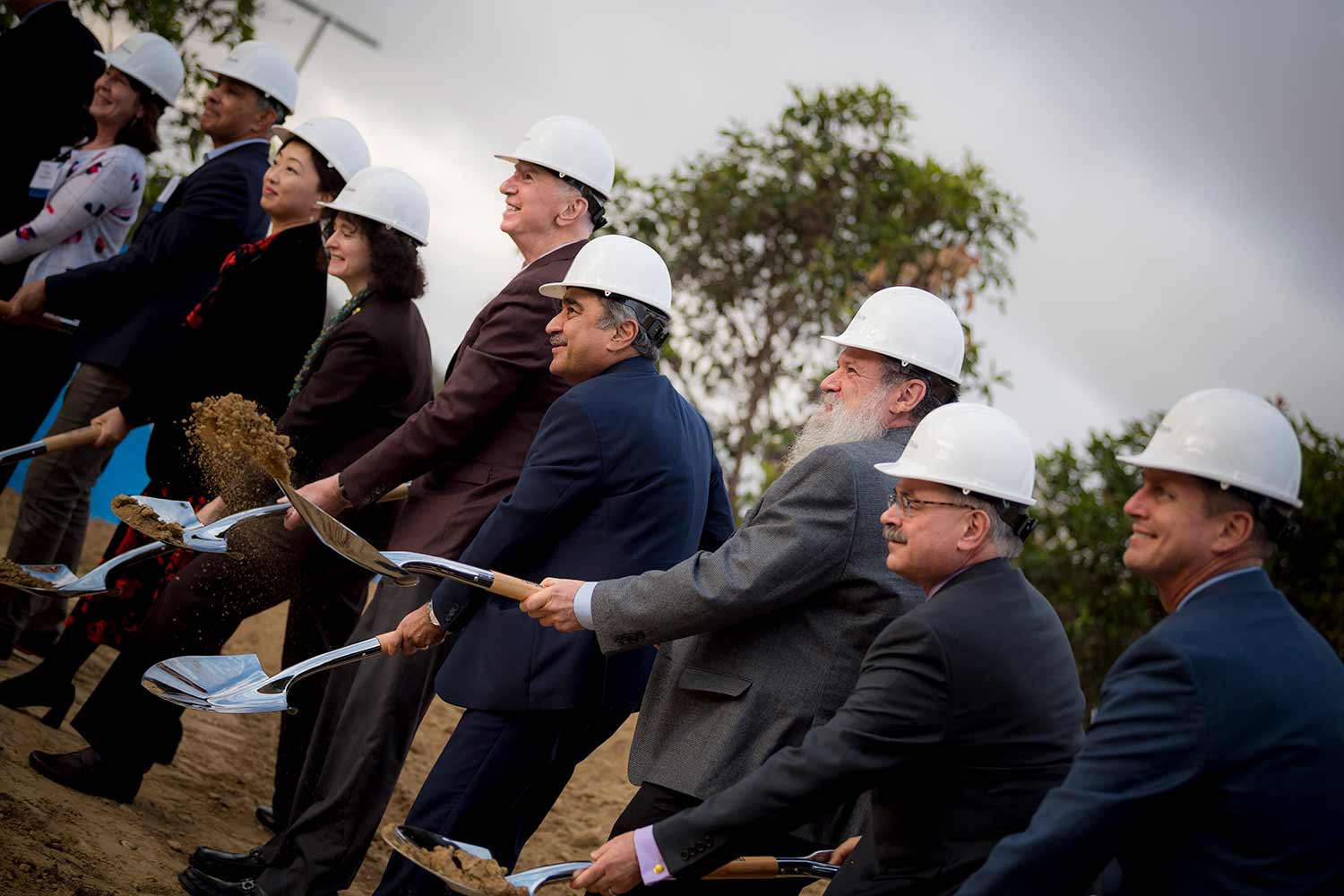 UC San Diego Celebrates Franklin Antonio Hall Groundbreaking
The University of California San Diego celebrated the groundbreaking of its newest engineering building, Franklin Antonio Hall, on Friday. The building is designed for active learning, collaborative research and the transfer of innovation to society.
Franklin Antonio Hall will serve as an important new facility for undergraduate and graduate-student learning, both inside and outside the classroom.
Research teams from across the Jacobs School, the campus, and the region will come together in the new building to work in areas including renewable energy technologies, smart cities and smart transportation, wearable and robotics innovations, real-time data analysis and decision making, digital privacy and security, nanotechnology and precision medicine.
Student-professor interaction
At the groundbreaking celebration, alumnus Franklin Antonio, who is being recognized for his $30 million gift to the Jacobs School of Engineering, closed his remarks with a message to faculty:
"Find a way to spend time with undergraduates."
Antonio had just told a story about Irwin Jacobs, who was a professor at UC San Diego when he was an undergraduate.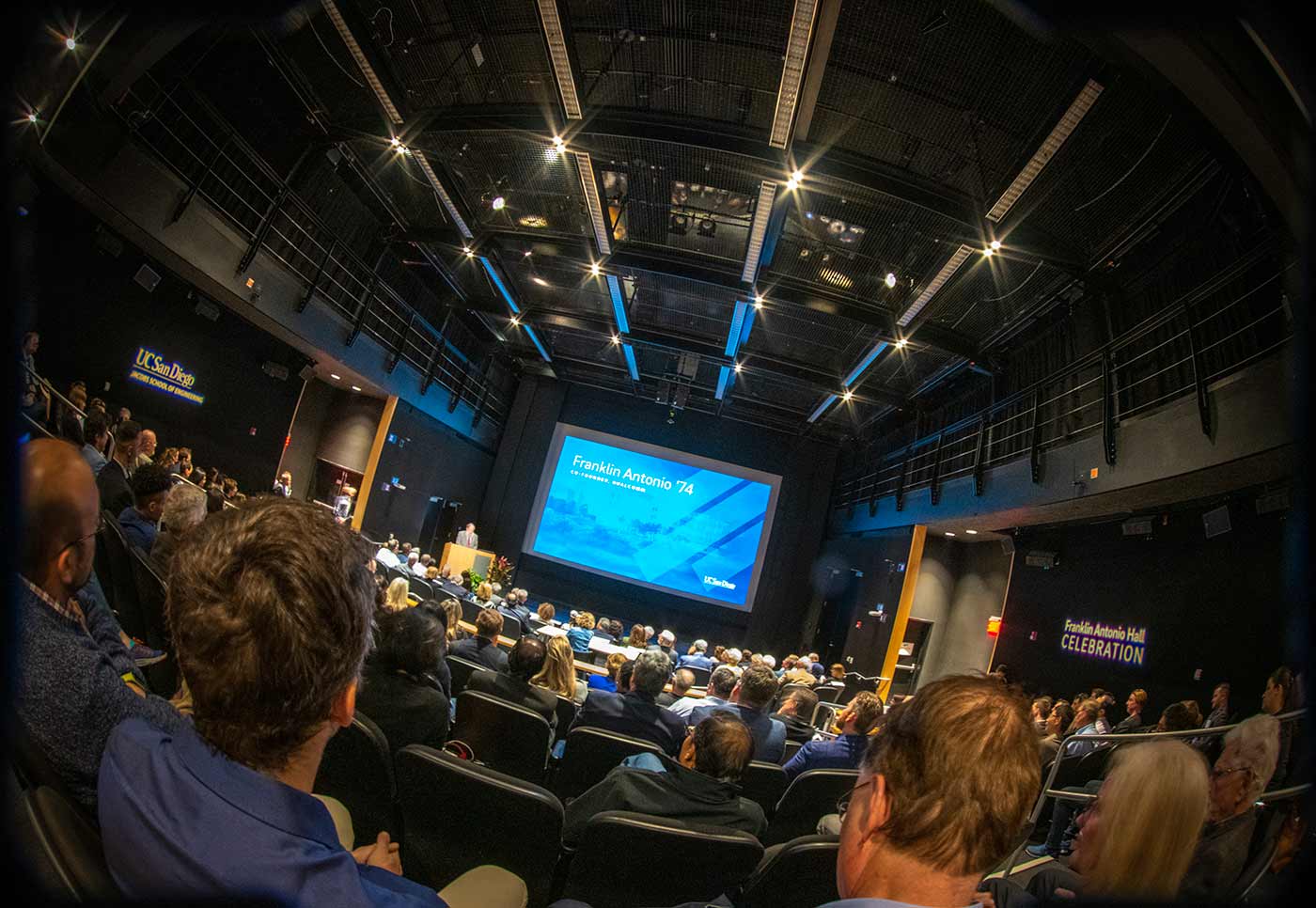 "The professors we remember are the ones who spend time with students. And when I was a student, one professor who was absolutely the most giving of his time was Irwin Jacobs," said Antonio. "Late in the day, when all the other office doors were closed, Irwin's door would be open and there would be a line of undergraduates waiting to talk to him. And he didn't just talk to students about coursework, he talked to them about their projects, gave them guidance and ideas and suggestions. And this had a tremendous impact on a large number of people."
Antonio was one of those students who spent time with Jacobs. After graduating from UC San Diego, Antonio joined Linkabit, the company Jacobs co-founded. Later, Jacobs, Antonio and others founded Qualcomm.
Franklin Antonio Hall
Franklin Antonio Hall has indeed been designed to facilitate interactions between faculty and students. The research spaces are a case in point: they won't be split up into siloed domains managed by individual professors. Instead, the research in the building will be organized into 13 laboratory facilities called "collaboratories." Each collaboratory will house multiple teams, each led by a different professor. Students working in any professor's lab will actually be working in a far more mixed environment, with opportunities to interact with complementary teams, more professors and collaborators from industry.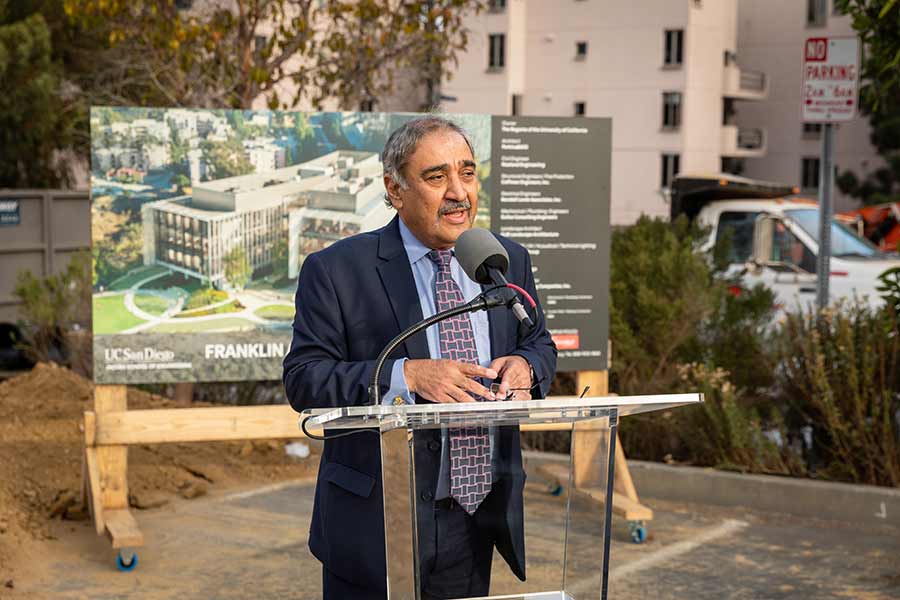 "This building is about collaboration. It's a wonderful new example of what UC San Diego is all about," said UC San Diego Chancellor Pradeep K. Khosla. "This building is about encouraging our engineers to add richness to disciplines all across campus in ways that we have not imagined before."
The 186,000-square-foot building is set to open in 2022. It will be located in the Warren College area, across from Jacobs Hall and Atkinson Hall, in P502.
"Like every single building that we are creating on this campus, Franklin Antonio Hall is going to engage our students very directly. The research teams undertaking investigations in the collaboratories will include numerous undergraduate and graduate students. And student participation will be really central to the innovative work that's done," said UC San Diego Executive Vice Chancellor Elizabeth H. Simmons.
Research teams from the UC San Diego Sustainable Power and Energy Center, for example, will work together in the new building to develop better batteries and other solutions to allow us to reduce carbon emissions globally, which is necessary for protecting humanity from the worst climate change scenarios.
"I invite our industrial partners to work with us," said Shirley Meng, director of the center and a professor of nanoengineering. "Combating climate change is our generation's duty. We cannot leave this problem unresolved for the next generation."
Education and innovation
Research, education and transfer of innovation to society are all well represented in Franklin Antonio Hall. Much of the first floor will be dedicated to undergraduate education. The building, for example, will include critical new workspace for Jacobs School undergraduate student teams to design, build and test projects such as race cars and concrete canoes in preparation for national design competitions.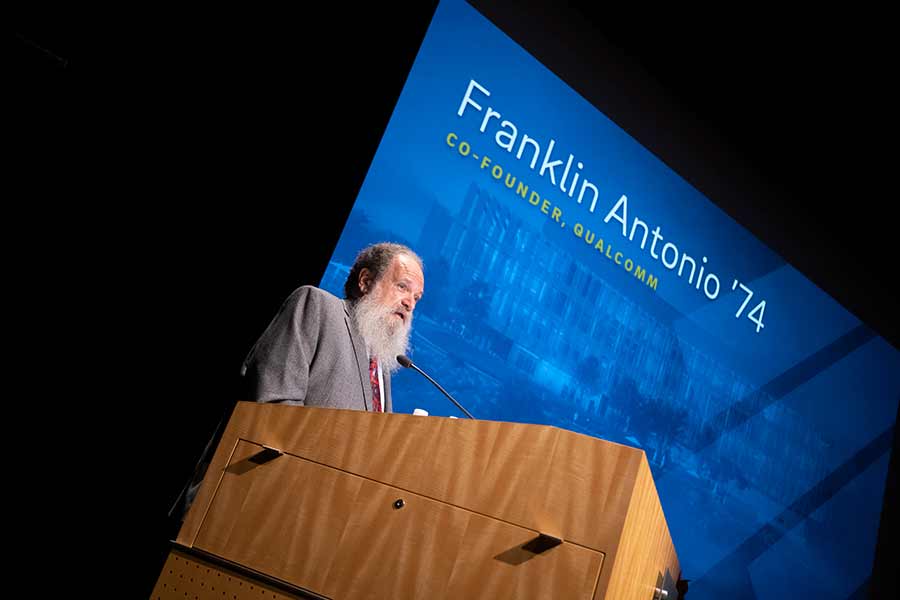 The first floor will also include a 250-seat auditorium, two 100-seat classrooms designed for active learning, as well as collaborative study spaces for students.
"The entire first floor is going to be dedicated to education and the translation of innovation to society. That's something great to look forward to," said Albert P. Pisano, Dean of the UC San Diego Jacobs School of Engineering. "In Franklin Antonio Hall, we'll prepare students to be the future technology leaders that the region, state and nation need to solve our toughest challenges."
Franklin Antonio Hall will also become the new home of the Institute for the Global Entrepreneur, which leads many of the Jacobs School of Engineering's efforts to empower faculty, students and research staff to bring their innovations to market.
"I think we all look forward to many engineers being educated in that building and, hopefully, in Franklin's mold of being a person interested in a wide range of subjects," said Irwin Jacobs, who went on to highlight the critical next step for engineers and computer science students. "And then, how do you take the materials learned in the university and apply it in a very helpful way?"
Collaborations across disciplines and industry
In addition to working across academic disciplines, the research teams in Franklin Antonio Hall will engage with industry partners in order to better understand the most difficult, forward-looking challenges that must be solved in order to leverage technology for the public good.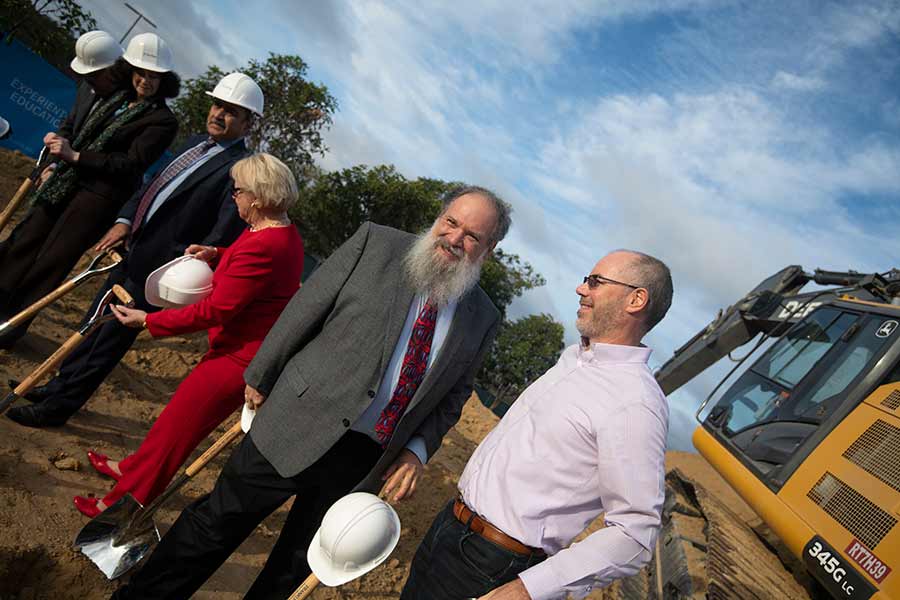 One of these common challenges is data. More specifically, developing better and more secure ways to glean insights from the huge amounts of data that are available, but that must be analyzed, sometimes in real time. Pisano describes the efforts at the Jacobs School to harness all this data, often in real time, for the good of humanity as the 'digital future.'
"The digital world is both disrupting and transforming how we all live, but also how companies operate their businesses," said Dan Harrington, Chief Services Officer at Teradata. "Massive amounts of data are being created every day. It's far too much data to be analyzed by human capabilities alone, or by siloed data analytic tools. We look forward to working with UC San Diego faculty and students, and with the other collaboratory partners, to solve these kinds of challenges for the world's largest companies."
This collaboratory model is about providing space to brainstorm and work without physical barriers.
"For our students, I think this building will be truly revolutionary," said Meng. "We are going to build a battery prototyping lab in Franklin Antonio Hall with state-of-the-art dry room facilities and equipment where the students will get the experiences that will make them fully ready for high level jobs in top battery companies."
The community rallies around the Jacobs School of Engineering
Friends and industry partners of the UC San Diego Jacobs School of Engineering are stepping up to support the programmatic growth of the Jacobs School. Their generosity is being recognized with naming opportunities in Franklin Antonio Hall. UC San Diego alumnus Franklin Antonio, Irwin and Joan Jacobs, Sanjay and Fiona Jha, Toby Wolf, Cubic Corporation, Qualcomm, and Teradata are some of the donors who will be recognized within Franklin Antonio Hall.
"At the Jacobs School of Engineering, we develop bold engineering solutions for the public good," said Pisano. "I am deeply grateful to everyone who is supporting our efforts to grow our positive impacts in education, research and the transfer of innovation to society. Franklin Antonio Hall is a key part of this effort."
Stay in the Know
Keep up with all the latest from UC San Diego. Subscribe to the newsletter today.