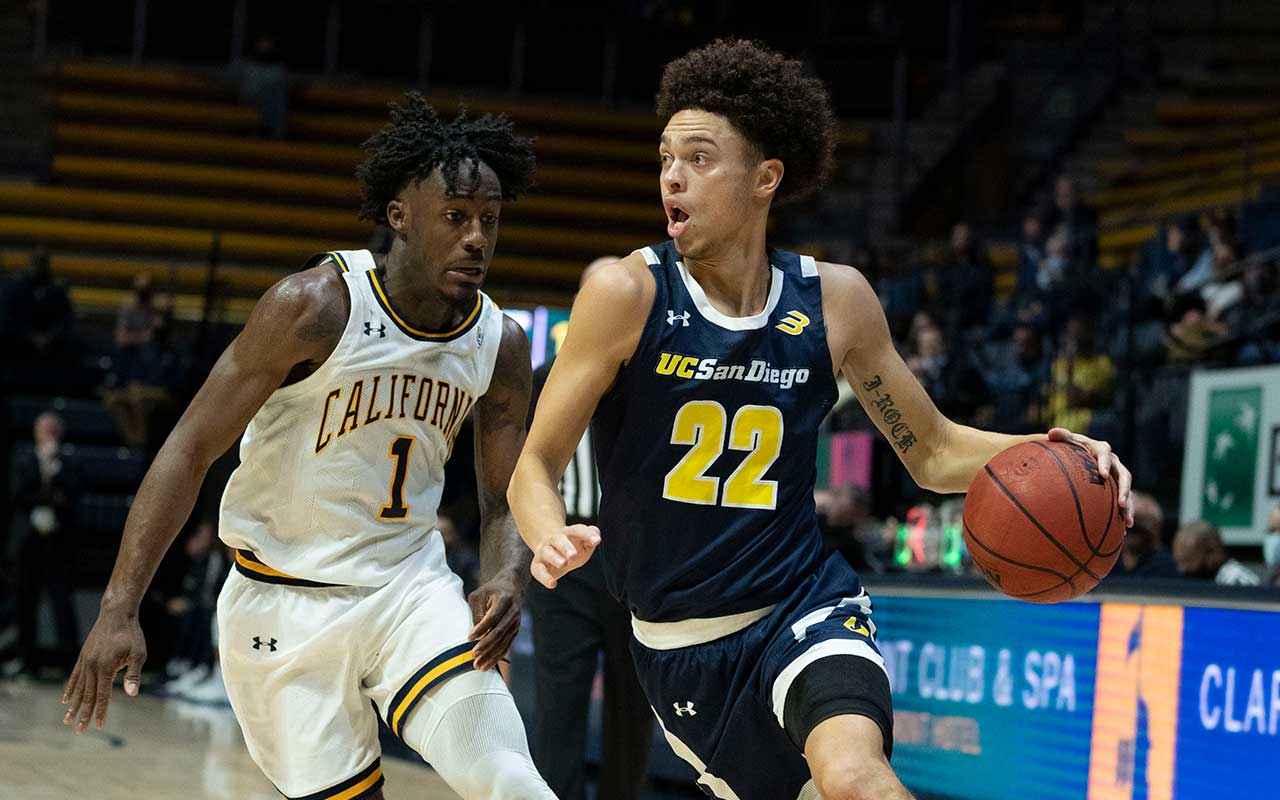 Tritons Open Season with 80-67 Win at Cal
UC San Diego erased an 11-point first half deficit to win 80-67 at Cal in the 2021-22 season opener Tuesday afternoon at Haas Pavilion. Toni Rocak scored a career-high 27, Bryce Pope added 18, and Matt Gray chipped in 10 for the visitors who are now 1-0 vs. the Pac-12 Conference as a member of NCAA Division I.
A couple of early dunks and an impressive driving layup from Toni Rocak got UC San Diego off to a promising start. California led 9-8 at 15:53 of the first half.
The Golden Bears extended their lead to as much as 11, 28-17, before the Tritons made a late first-half push. Down seven in the final minutes of the period, UC San Diego used a 5-0 run to cut the deficit to two, 31-29, with 2:08 to play. Matt Gray knocked down a three and then converted a driving layup to bring the visitors to within a pair.
California got a three-pointer from Jordan Shepherd with four seconds left in the half to take a 37-33 lead into halftime.
Points in the paint were 20-14 in favor of Cal at the half. Rocak led all scorers with 16.
In the second half, the Tritons pulled ahead for the first time when Francis Nwaokorie hit a pair of free throws at 15:45, making the score 45-43 UC San Diego. The teams traded points, and the Tritons re-took the lead, 49-48, on a Nwaokorie field goal with 12:32 left.
That bucket from Nwaokorie was part of an 11-0 run by the Tritons, as UC San Diego built a 58-48 lead with 9:43 left.
The Tritons never looked back, turning a four-point halftime deficit into a 13-point road victory.
The Tritons play their first home game Saturday against George Washington University at 7 p.m. in RIMAC Arena. A limited number of tickets are available at UCSDTritons.com/Tickets.
Stay in the Know
Keep up with all the latest from UC San Diego. Subscribe to the newsletter today.