Published Date
Transcending Borders Through Education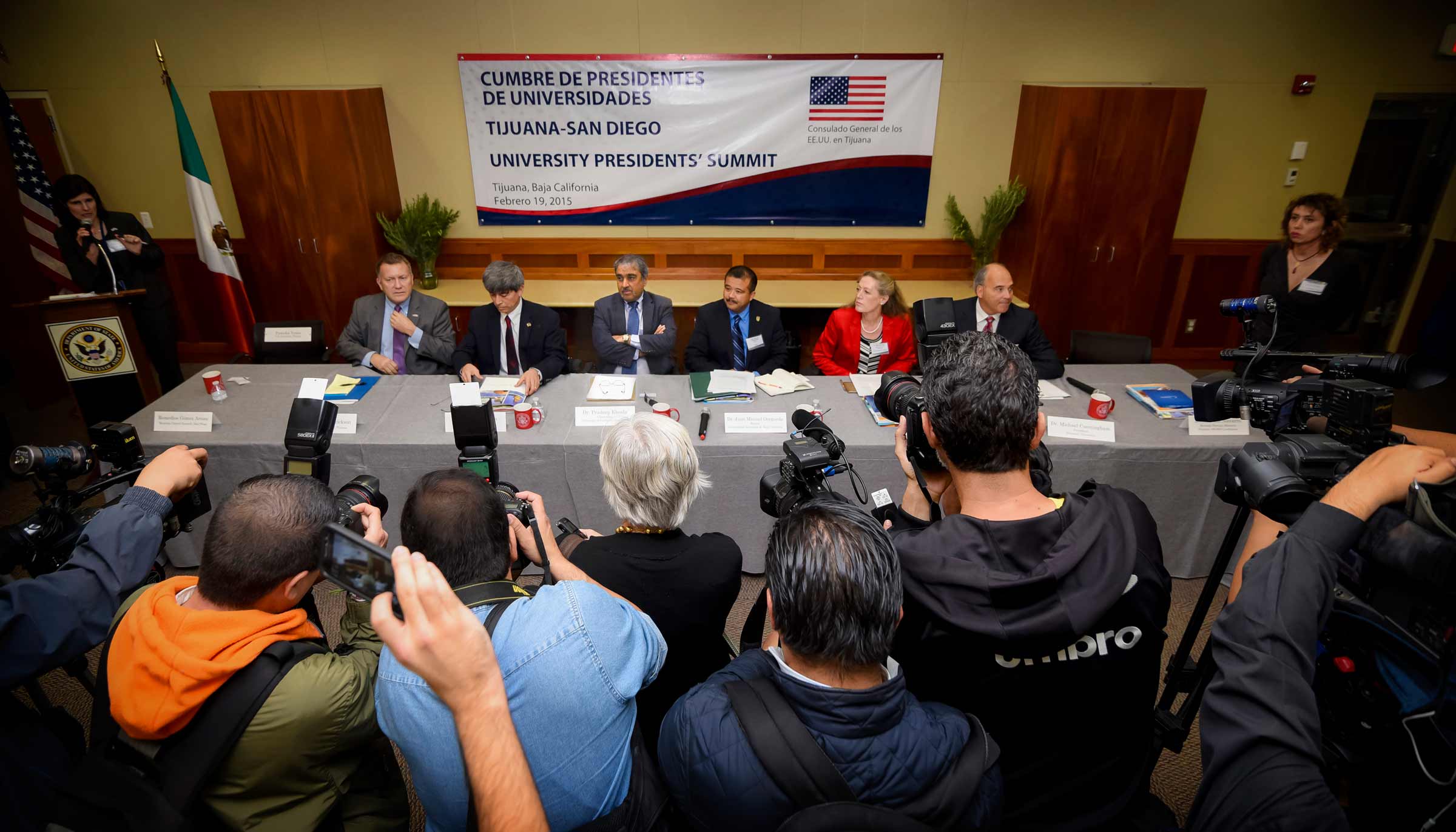 Photos by Erik Jepsen/UC San Diego Publications
UC San Diego is one of several U.S. and Mexican institutions of higher education to join together and launch the CaliBaja Consortium for Higher Education with the goal of becoming a leader in cross-border education by 2020.
"We are committed to expanding college access and helping Mexican students who are trying to enhance their academic record on their path to admission into a research university, such as UC San Diego," said Chancellor Pradeep K. Khosla. Since his appointment as chancellor in 2012, Khosla has made college access and affordability a priority at UC San Diego by increasing fundraising for scholarships and fellowships, and establishing the Chancellor's Associates Scholars Program.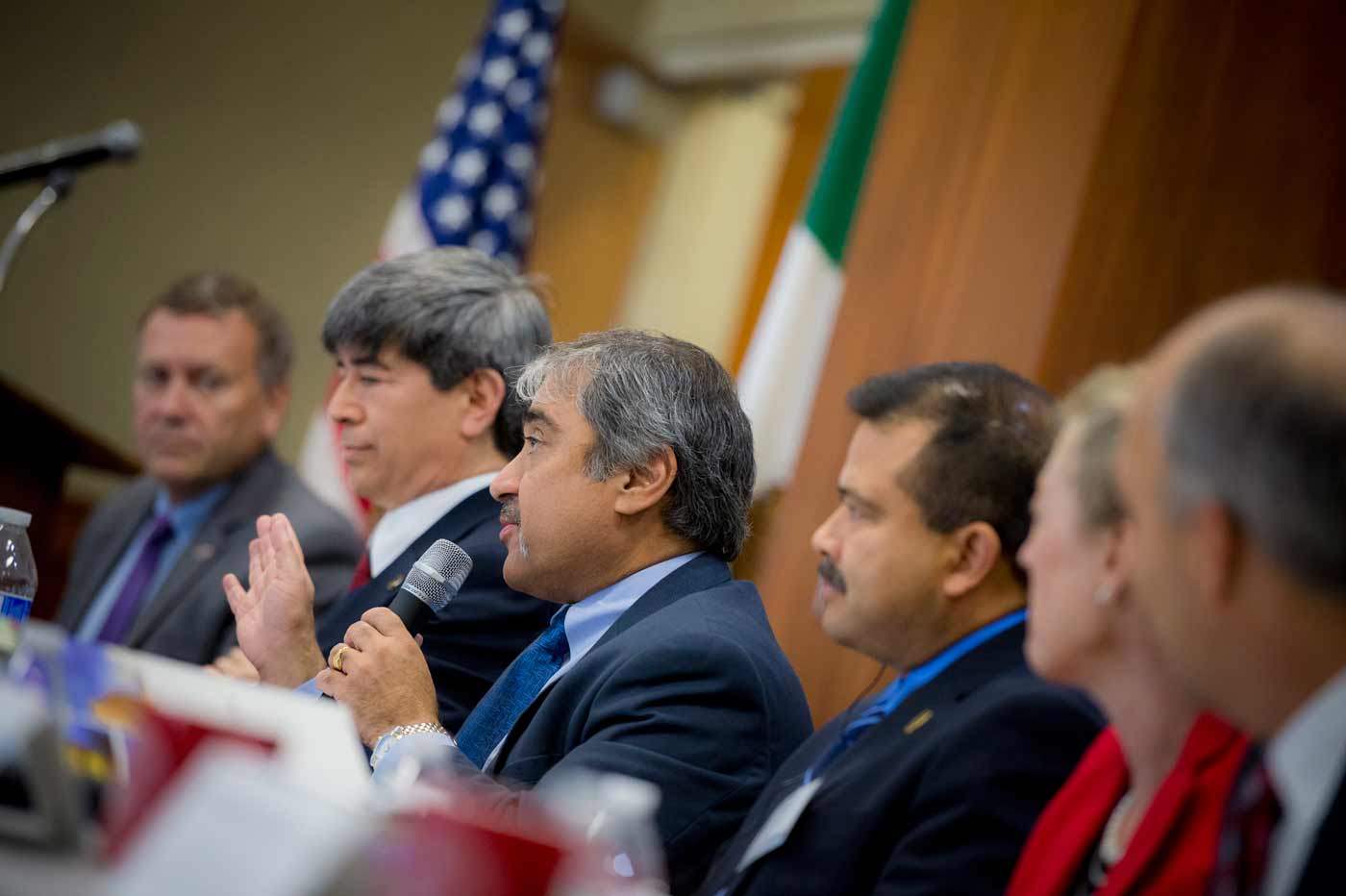 The consortium was announced Feb. 19 at the University Presidents' Summit held at the U.S. Consulate General in Tijuana, which brought together the presidents, chancellors and rectors of the principal universities from both sides of the border.
U.S. Consul General in Tijuana Andrew S. E. Erickson hosted the summit with the Mexican Consul General in San Diego, Remedios Gómez Arnau.
"Ultimately, we have the capacity to dramatically increase the number of students crossing our border," said Erickson. "We want the Cali-Baja Consortium for Higher Education to be a clearinghouse for ideas about how to break down regional barriers that keep us from functioning as an integrated educational region.
During the summit, Khosla served on a distinguished panel of leaders including Dr. Fernando León of CETYS Universidad; Dr. Juan Manuel Ocegueda from Universidad Autónoma of Baja California (UABC); Dr. Melinda Nish from Southwestern College; and Dr. Michael Cunningham from National University in San Diego.
Dr. Martha Navarro-Albo, the Deputy Director General of Academic Cooperation and the General Coordinator of Proyecta 100,000 at the Mexican Ministry of Foreign Affairs, also was a participant. She pointed out that since "Mexico is the United States' third largest economic partner, it should also be the third partner in terms of education." Mexico is currently the 15th leading destination for American students studying abroad, according to the Institute of International Education.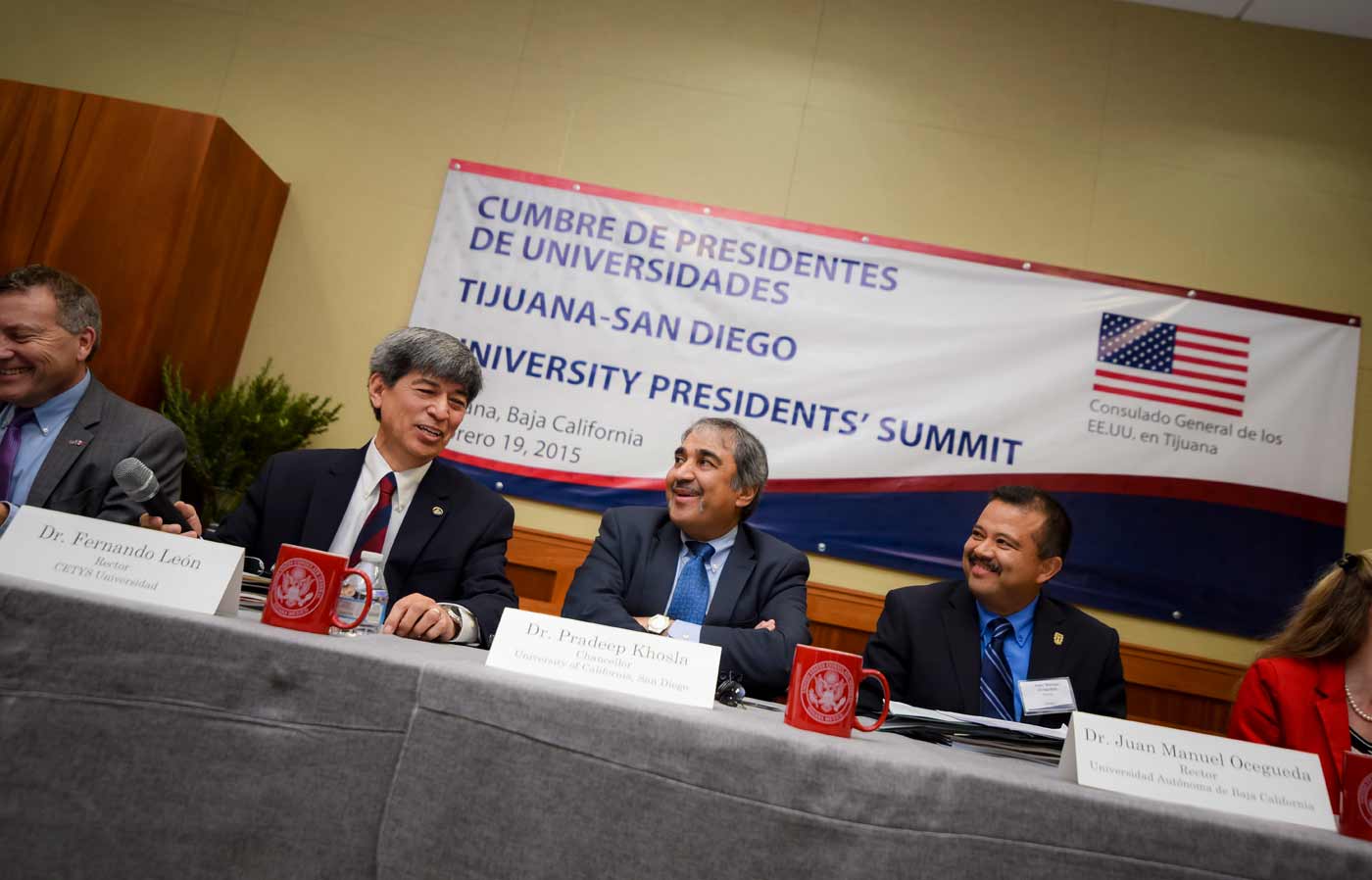 Many university leaders talked about their existing cross-border partnerships, in addition to their commitments to increase student interchange in the future. Khosla cited the university's long history of academic collaboration through UC San Diego's Center for U.S.-Mexican Studies and the recent Memorandum of Understanding between UC San Diego and UABC to increase student exchange. In addition, the University of California has launched the UC-Mexico Initiative to strengthen and cultivate partnerships among higher education institutions on both sides of the border.
As for new commitments, UC San Diego has pledged to provide opportunities for at least 10 Mexican high school students to participate in residential summer programs at UC San Diego; offer online learning opportunities in science, technology, engineering and math (STEM); and develop relationships with high schools in Tijuana interested in offering UC San Diego credit courses and AP courses taught by graduate students on site.
"You will see UC San Diego have a more significant presence in Mexico, especially through our Extension programs," Khosla noted. He also talked about UC San Diego's goal to expand the REACH program, established by Professor Olivia Graeve, to 40 students from Tijuana.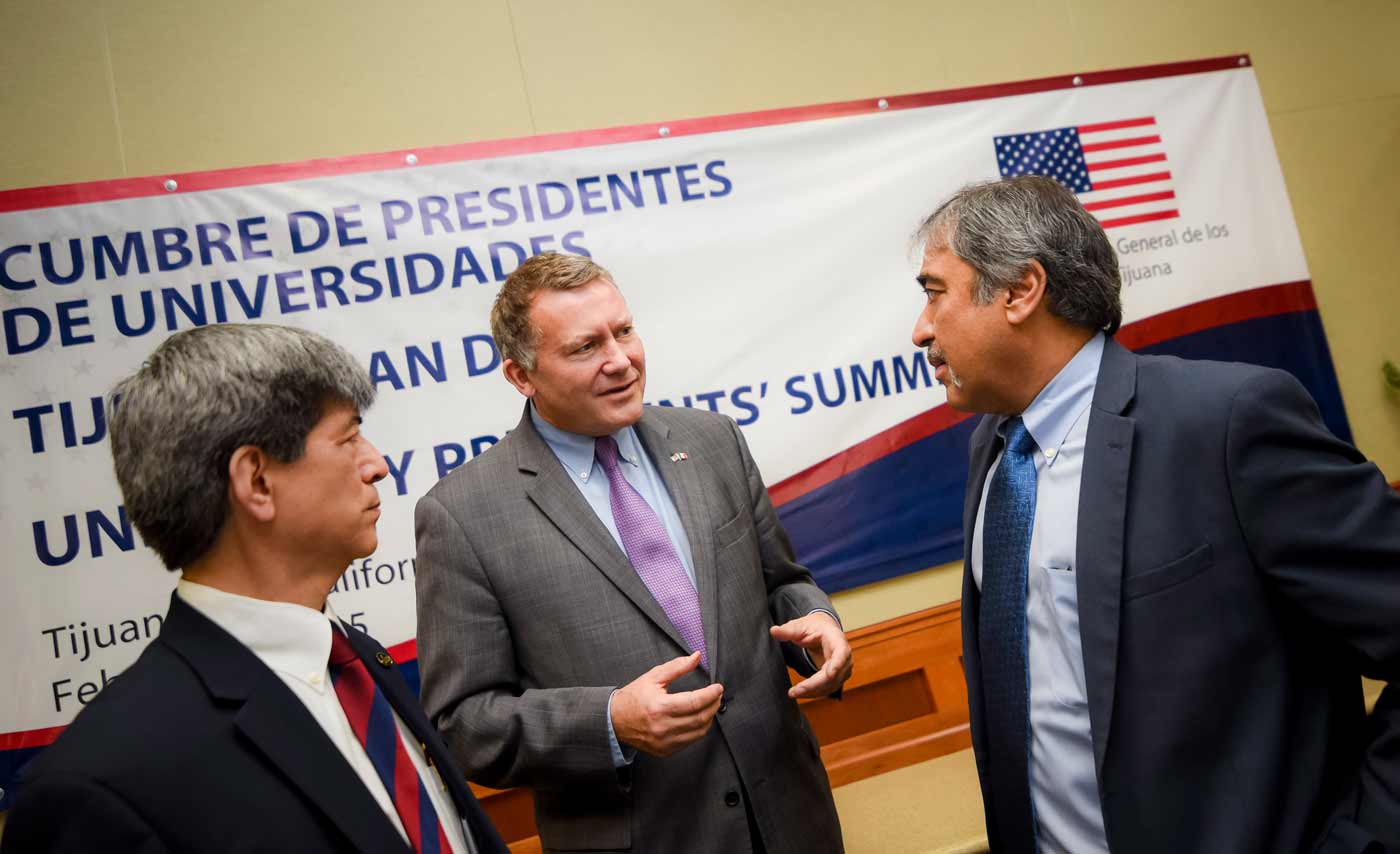 Graeve co-led a breakout session with Khosla during the summit, where participants discussed ways to increase the numbers of women pursuing STEM careers in the U.S. and Mexico. Three other breakout sessions focused on enhancing language acquisition, funding and learning for regional competitiveness.
The brainstorming sessions led to several proposed solutions including: increasing the use of technology, such as Skype, to improve interaction between students in U.S. and Mexico; creating a designated SENTRI van for faculty and students crossing the border regularly; approaching local industries to help with specific technical language acquisition skills, as well as scholarship support; and establishing a new program that allows students from the U.S. and Mexico to interact in person before and after their student exchange experiences.
Other university commitments announced at the summit include Southwestern College's Memoranda of Understanding with CETYS Universidad and Universidad Tecnológica de Tijuana that enables certain students from those Tijuana universities to pay in-state residents' fees; CETYS Universidad offering its students undergraduate or graduate courses, as well as certificates and double degrees in the United States; and National University's commitment to support cross-border education initiatives by investing $2 million in scholarships by 2020 for Mexican student cohorts enrolled in the University's ESL, undergraduate and graduate programs.
The University Presidents' Summit was part of the U.S. Consulate General's efforts to support both the 100,000 Strong in the America's initiative and the Bilateral Forum on Higher Education, Innovation and Research, called FOBESII from its initials in Spanish. Presidents Barack Obama and Enrique Peña Nieto have recognized the importance of education in the economic success of both nations.
Erickson wrapped up the summit by stating: "The goals are lofty, the obstacles are practical." Summit participants agreed to continue the dialogue and include more campus members in future discussions to ensure that ideas move forward and our region becomes a leader in bi-national student exchange.
Stay in the Know
Keep up with all the latest from UC San Diego. Subscribe to the newsletter today.