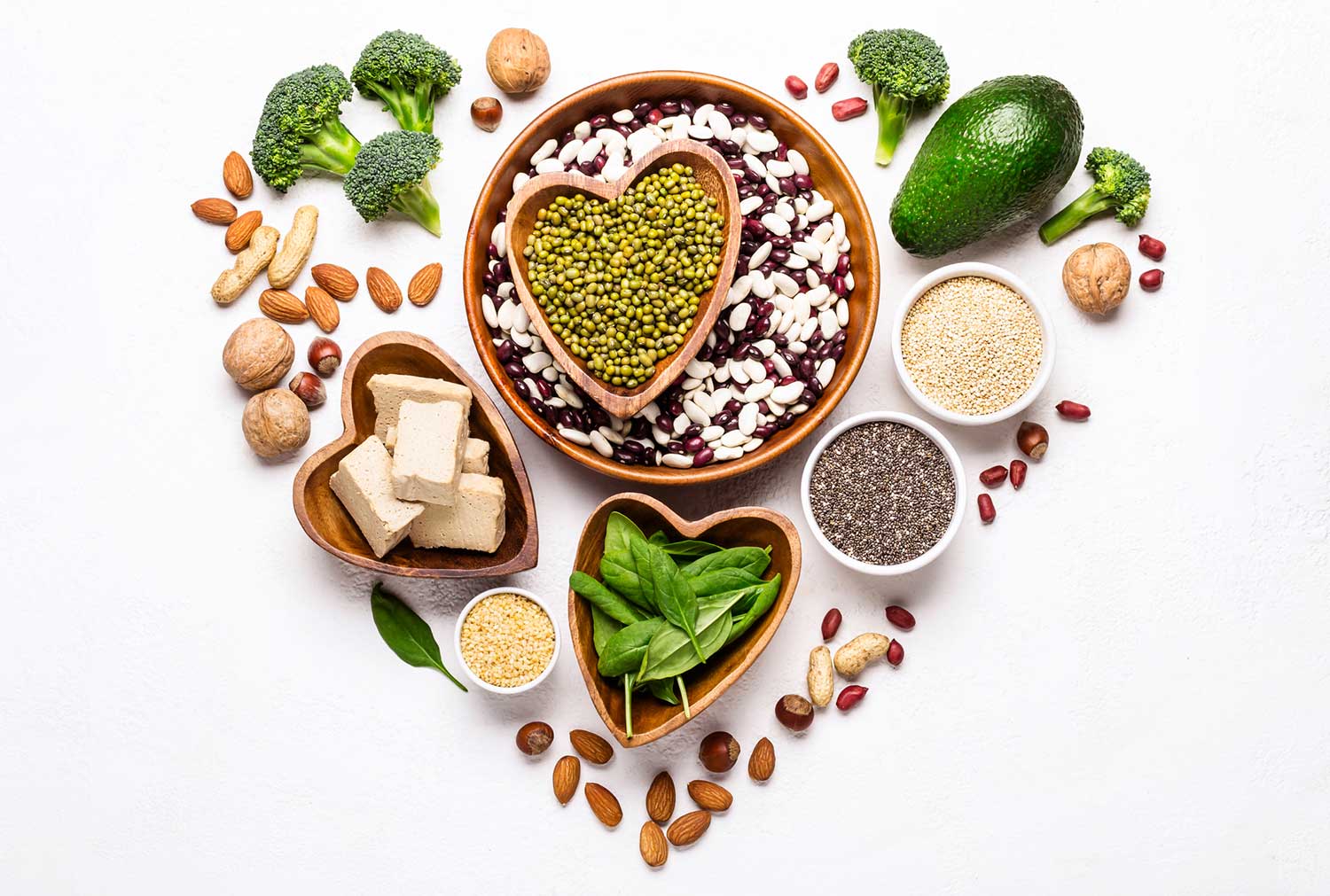 Tips to Eat Sustainably as a Student on a Budget
As a college student, trying to find healthy and affordable food can be tricky, especially with any dietary restrictions. If you live on campus like me, you likely have limited kitchen or storage space. Yet, many of us are conscious that the decisions we make around food can have big impacts on our health and on the environment.
For example, the global food system accounts for approximately 25% of all greenhouse gas (GHG) emissions; of that 25%, 14.5% of all global GHGs are produced through animal agriculture. But, if everyone in the United States were to eat entirely plant-based just one day a week, the emissions saved would be equivalent to taking 7.6 million cars off the road. And, following a plant-based diet can decrease your personal emissions by up to 70%.
Plus, following a mostly or entirely plant-based diet decreases your risk of many chronic illnesses such as heart disease, high blood pressure, or diabetes. Similarly, by increasing consumption of produce, pulses/legumes and whole grains, your fiber intake and nutrient density will increase as well.
Of course, not everyone can eat entirely plant-based—and that's okay. Pre-existing health conditions take precedence and eating something is more important than following a plant-based diet every single day. Even choosing chicken or fish instead of beef can make a large difference.
So, what's the best way to make use of limited resources and reduce your carbon footprint while eating in your dorm or at the dining halls on campus? Let this quick guide serve as a starting point for making planet-friendly food choices!
Five planet- and dorm-friendly recipes
Sometimes, you need a break from dining hall food. Maybe you have an early morning class and would rather eat at home; or, maybe you have work right after class and need to pack a lunch. Here are a few staples to rely on for those days when you're short on time.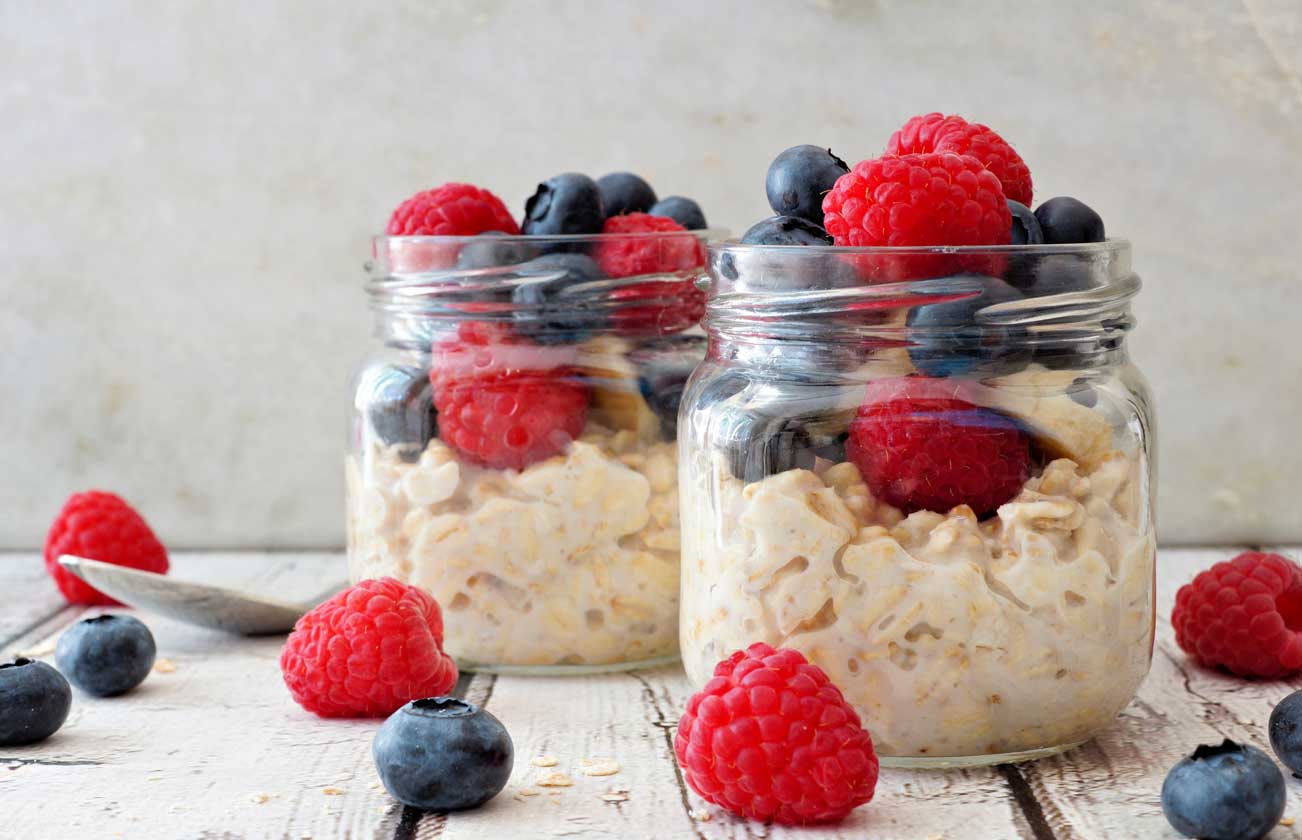 Overnight Oats
This healthy, low-effort breakfast is easy to toss into your backpack. The process is quick and simple: mix your ingredients—the base ratio I use is ½ cup (non-dairy) milk for every ⅓ cup of rolled oats, plus any add-ins like nut butters, fruit or seeds—and let them sit in a container for at least four hours, preferably overnight. You'll wake up to a creamy, pudding-like breakfast full of protein and nutrients that will keep you satisfied for hours!
Oats are known for their fiber and nutrient content and promote digestive and heart health. Growing them produces fewer carbon emissions and uses less water than producing eggs or other common animal products eaten at breakfast. Best of all, starting the day with a healthy, satiating breakfast makes it that much easier to stay focused in class.
Stuffed Sweet Potatoes
Only have access to a microwave? Stuffed sweet potatoes are low-effort but high reward, offering a high concentration of vitamins A, B6 and C, as well as fiber and potassium. Plus, they're delicious and easily customizable! Cooking the sweet potato in the microwave lets you prepare toppings as it softens and have a meal that's ready to eat within 10 minutes. Combination recommendations:
Sweet potato + canned black beans + salsa + any other spices or toppings for a Mexican-inspired meal
Sweet potato + roasted or raw chickpeas + hummus + tahini (optional) + any other toppings for a Mediterranean take
For a sweeter but no less delicious or healthy option that I love to have for breakfast, sweet potato + nut butter of your choice (I go with almond butter) + banana slices + cinnamon.
Another easy way to cut down on food and packaging waste is by meal prepping. If you have access to a minifridge to store a few meals, it's easier to only cook once or twice a week. It saves you time, money and unnecessary trips to the communal kitchens that suites or floors often share. Plus, it's an easy way to reduce your environmental impact: globally, food waste is responsible for 8% of all GHG emissions. Here are some of my go-to meal prep recipes.
Red Lentil Bolognese
For a non-vegan option, you could swap cooked ground turkey for the lentils. Turkey rather than beef keeps the meal a little lighter-feeling and also lowers its carbon footprint.
Lemon Basil Buddha Bowls
These are easily adapted with whatever veggies are in season or on sale—I make this two to three times a month and it always turns out phenomenal, no matter what I put in it.
No-Recipe Recipe
Using whatever vegetables are in season (e.g. potatoes, broccoli, onions, cherry tomatoes, etc.) and whatever protein you prefer (e.g. chickpeas, chicken, tofu, etc.), chop everything into cubes. Toss with olive oil, your favorite mix of herbs or spices—my go-tos are Italian seasoning and balsamic vinegar or paprika and garlic powder, as well as salt and pepper—then roast on a sheet pan at 425°F for 25-30 minutes or until everything is cooked through and to your liking.
If you'd like, you can serve with cooked rice or quinoa and a simple dressing made from hummus, lemon juice, garlic and a little water to thin. Don't be afraid to try different combinations!
Eating sustainably in the dining halls
When relying on the dining halls for most meals, it's tricky to know how to make sustainable, healthy choices. Journalist and author Michael Pollan offers a simple but valuable starting point: "Eat food. Not too much. Mostly plants." Plus, eating plants comes with many benefits for us and for the planet. Give these planet-friendly meals a try at the dining halls.
Cafe Ventanas
Steel Cut Oatmeal
Black Bean Burger
Arugula Avocado Salad
Canyon Vista
The new "Fresh" build-your-own salad bar has plenty of delicious, healthy and sustainable options.
Roots
Roots deserves a special mention, as everything on the menu is 100% vegan. Here are a few of my favorites:
3-Bean Chili Bowl (it's great with Roots' famous Sweet Potato Waffle Fries on the side!)
Buddha Grain Garden Bowl
Roots Burger
OceanView Terrace
Lentil Stew Plate at Spice
Veggin' Bagel at Counter Culture
Restaurants at Sixth College
Lemon Basil Lavash Wrap at Crave
Veggie Burrito Bowl at Wolftown
Lilo Poke Bowl at Makai
Club Med
Autumn Grain Salad
Roasted Vegetable Sandwich
Spinach & Red Rice Salad
There are, of course, different options each day at every dining location but there will always be something sustainable and filling to munch on! For more information, check out the UC San Diego Sustainable Dining and Food and Dining Sustainability pages.
If you are a student at UC San Diego struggling with food insecurity, there are resources available to you. The Triton Food Pantry provides nutritious staples and fresh produce to all students free of charge. In addition, UC San Diego is part of CalFresh, California's Supplemental Nutrition Assistance Program that helps students afford groceries.
Stay in the Know
Keep up with all the latest from UC San Diego. Subscribe to the newsletter today.