Student Life Reignites with Treasured Campus Traditions, New Degrees and Division I Competition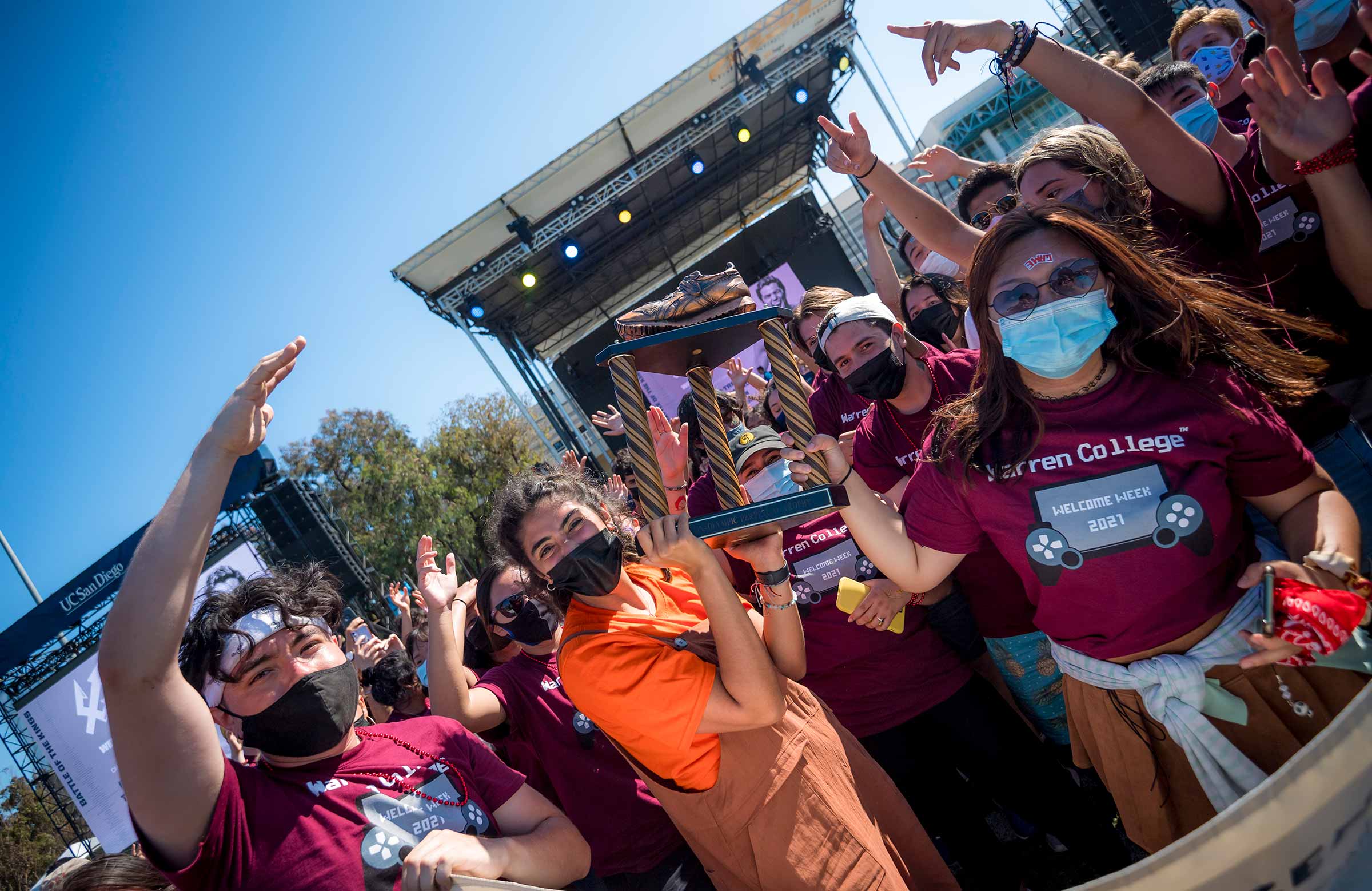 Warren College claimed the mighty Golden Shoe Trophy after winning obstacle course races and wowing the crowd with their choreographed dance routine at the 40th Annual UnOlympics. Photos by Erik Jepsen/University Communications.
Treasured traditions that mark the beginning of a new school year were renewed this September, and so was the sense of excitement among students as they arrived on campus for the start of fall quarter. As part of the Triton Weeks of Welcome (TWOW), incoming first-year students had the chance to participate in a variety of activities including performing a dance routine with their college at the 40th annual UnOlympics, participating in a surfing lesson during Meet the Beach, celebrating the move to Division I at Triton Tide Fan Fest and more. The festivities and fun were also offered to rising sophomores as well as graduate and transfer students who have not yet experienced UC San Diego's vibrant student life.
For sophomore Mae Riley, a history major at Revelle College, the energy at UnOlympics was exciting. "This is the first time I'm participating, and it was a little scary dancing in front of a big audience," she said. "But it was also really fun!" Riley, who helped plan Welcome Week events, hopes the series sets the tone for a great fall quarter for new and returning students. "I feel like, as sophomores, we are the in-between class," she said. "We are new to Welcome Week and campus traditions, yet many of us are familiar with the campus after living here for a year."
Life on campus started buzzing on Sept. 8 with the kickoff of undergraduate college and graduate student orientations, which happened concurrently with move-in, held over a 10-day period between Sept. 11 – 20. More than 12,200 undergraduate students and 5,200 graduate students and families moved into double and single apartments and suites on campus, with triple occupancy options eliminated to reduce density in on-campus housing. All students living on campus were tested for COVID-19 on days five and 10 after moving in and must mask at all times until Phase II begins. Throughout the year, residents are expected to conduct a daily symptom and exposure screening and test regularly, with access to isolation housing as needed.
"We are able to return this fall in great part because of the culture of caring that our students, faculty and staff embody on a daily basis," said Chancellor Pradeep K. Khosla. "This commitment to each other's health, combined with our robust Return to Learn strategy that involves masking, vaccination, testing, environmental monitoring and contact tracing, has set a strong foundation for a successful fall quarter."
Return to Learn
Positive case rates on campus have remained consistently low compared to regional and national case rates. As a result, UC San Diego has been able to increase the number of students on campus each subsequent quarter throughout the 2020-21 academic year.
Just as the SARS-CoV-2 virus continues to evolve, so does the university's strategy to monitor and minimize its presence on campus. To combat the shifting course of the pandemic, multiple layers of defense have been added to the toolkit. One of the most significant forms of protection has been vaccination, which is offered at no cost to all campus community members to fulfill the University of California's vaccine mandate. The same commitment to access will be upheld once vaccine boosters become available.
Also recognizing the importance of masking, the university has taken a more conservative approach by continuing to require that all persons on campus wear a mask when indoors. Students, faculty and staff are recommended to use N-95 or KN-95 masks, which achieve a close facial fit and efficient filtration of airborne particles. Per an updated masking policy, face coverings such as scarves, bandanas, gaiters, plastic face shields or single layers of fabric do not constitute a sufficient form of protection. To complement the work of masks, campus ventilation systems have been optimized in residential and non-residential buildings across campus.
In addition, all campus members will continue to have access to quick, self-administered COVID-19 test kits through 20 vending machines and drop-off locations across campus, as well as a testing clinic at Price Center and five drive-thru locations in the community. Ongoing testing is required for unvaccinated students and employees twice weekly, and vaccinated students must test weekly for the first four weeks of the quarter.
To enhance individual testing, wastewater samples are collected at more than 200 locations at the university. This allows researchers to alert residents and visitors of persistent (three days) positive signals in residential or non-residential locations. Thus far, over 20,000 samples have been processed, which has helped prevent outbreaks by detecting 85 percent of cases early, allowing for timely testing, contact tracing and isolation. The university's case investigation team is also expanding with a goal of providing evaluation within 24 hours of all cases and completing contact investigations within 48 hours.
Class reunion: in-person learning resumes
UC San Diego programs, classes and infrastructure are designed around an in-person experience. Fall quarter instruction began on Sept. 23, with 80% of courses being conducted in-person within indoor and outdoor classrooms. Some remote courses are also being offered for students who are not able to attend in-person due to travel or visa restrictions or those who are partnering with the Office for Students with Disabilities on an accommodation.
All students and instructors are required to be vaccinated (or have an approved exception or deferral), wear a mask indoors and conduct a daily symptom and exposure screening; unvaccinated students and instructors must also test twice weekly. The campus infection rate has remained below 1% and to date, no exposure events have been traced back to in-class activities at UC San Diego. Furthermore, being in a room with an infected individual does not automatically qualify as exposure.
Instructors are encouraged to practice "pandemic resilient" teaching that will allow them to pivot quickly if conditions change, as well as support students who may become sick and would like to continue progress while in quarantine. Tactics include sharing lecture recordings over Canvas and developing alternative assessment options as needed.
In addition to planning for in-person learning, several new academic programs launched this fall, including a B.S. in Business Economics major, a collaborative program offered through the Rady School of Management and the Department of Economics. Students will gain an understanding of how firms operate within markets, how economies function and how to extract insights from data. With an understanding of economic fundamentals and functions of businesses, students will graduate with the skills needed to predict and respond effectively to future changes in their industry, the workplace and the world.
A new Specialization in Immunology has also begun, designed for graduate students in the Division of Biological Sciences (Biol. Sci.) and the Biomedical Sciences Graduate (BMS) Programs. The collaborative effort between the main campus, UC San Diego Health, and the La Jolla Institute for Immunology was created in response to a renewed urgency to understand the human immune system and the role of vaccines in halting the spread of disease—which is quickly accelerating with new genetic tools and big data. Students will have the chance to participate in a research seminar series with distinguished lecturers, receive mentorship, join weekly journal clubs and take part in the yearly La Jolla Immunology Conference.
And for those who would like to dive into data-driven research, a master's as well as doctoral program is now offered in Data Science. The field spans mathematical models, computational methods and analysis tools for navigating and understanding data and applying these skills to a broad and emerging range of application domains. Program graduates will be poised for leadership roles in a range of industries—from drug discovery and healthcare management to manufacturing—where their unique skillsets enable them to create mathematical models of data, identify trends and patterns using suitable algorithms and present results effectively.
Building a custom toolkit for academic success
Students looking to start strong in their courses can participate in numerous academic success programs on campus. At the Teaching + Learning Commons, new and returning students can meet one-on-one with a learning strategist to cover topics such as time management, study skills and exam preparation. In addition, students can join a peer-led supplemental instruction session to ask questions and review challenging course material. Other opportunities include content tutoring, where students receive personalized support with course-specific learning skills and strategies.
Over the summer, more than 750 incoming first-year students got a head start on their transition to college through Summer Bridge, a six-week academic prep and community building program for first-generation students and students from underserved populations. This fall, participants can enroll in a First-Year Interest Groups (FIGS), a new program led by the Office of Academic Support & Instructional Services (OASIS). The goal of the yearlong program is to build a foundation for academic success by receiving support from staff at OASIS and the Teaching + Learning Commons and foster a sense of belonging through workshops on campus involvement, social advocacy and research experience.
All new and returning students can dive into research when they arrive at UC San Diego through the Undergraduate Research Hub (formerly known as Academic Enrichment Programs). Research opportunities exist in all fields, and faculty mentors are available to help students grow as a scholar in preparation for graduate and professional school. For example, through the Triton Research & Experiential Learning Scholars Program (TRELS), students can earn up to $1,000 in scholarship funding for up to three quarters to support a research or experiential learning project At least one scholarship per quarter is dedicated to students whose project is related to the Black experience, which can range from a research project and artistic expression to community service and study abroad. Students must apply on a quarterly basis for the program, which is co-led by the Colleges.
A re-awakening of the Triton spirit
Library Walk is once again bustling with student organizations, the stands of Triton Soccer Stadium are full of fans waving tridents and classrooms have awakened with lively scholarly debate. This fall marks the return to many hallmarks of the Triton student experience, from hands-on learning experiences to cultural events and athletic competition.
Outdoor spaces are also coming alive in new ways at "The Park." Here students can check out lawn furniture and picnic games such as spike ball and cornhole to enjoy in grassy open areas between classes. Two parks are opening this fall, including The Park @ Matthew's Quad and The Park @ Bio Med (located on the lawn near the Biomedical Sciences Building).
Another campus space that has been re-activated is the first floor of the RIMAC Annex on Ridge Walk, which has been transformed into the Triton Esports Center (TEC) and Café. The lounge space now features 26 "rigs," or high-speed desktop computers, outfitted for games such as Valorant, League of Legends and Rocket League. It also hosts two console gaming stations featuring popular titles like Super Smash Bros., Ultimate, Splatoon 2 and FIFA22. The retrofitted space includes an additional 500 square feet for spectators and players—a new home for UCSD Esports, Triton Gaming and Recreational esports leagues offered through UC San Diego Recreation.
And after moving to Division I Athletics, UC San Diego scholar-athletes have taken to the field, pool and court to debut their inaugural season in the new competition realm. After two decades as one of the most successful programs in NCAA Division II, the UC San Diego intercollegiate athletics program began a new era in 2020 as a member of the Big West Conference in NCAA Division I. Scholar-athletes have maintained a rigorous practice and training schedule despite 2020 competition cancellations.
The entire campus community is invited to cheer them to victory. Fall sports include men's soccer, women's soccer, men's water polo, cross country and women's volleyball. Home games are free for all to attend at Triton Soccer Stadium and free for students at Canyonview Aquatic Center and RIMAC Arena. All spectators are required to wear a mask covering their nose and mouth at all times and show proof of vaccination or a negative COVID-19 test within the last 48 hours; physical distancing measures may be in place for indoor venues. More information about safety guidelines at home games can be found here.
Being able to hear hollers and clapping from the stands makes all the difference according to men's soccer player Jack Hagan, a sophomore studying real estate and development. "Having a big crowd and a lot of people screaming gets us fired up to do better because we know we've got the school backing us. It makes the game a lot more fun."
For Lizzy Teran, a sophomore on the women's soccer team, it was crushing to hear that her first season would be cancelled due to the pandemic. But her teammates kept her spirits high throughout the low moments. "When I got to know my teammates, it instantly felt like home, like I had a second family," said Teran, who is studying biology. "Without my team I would have been lost. Working so hard last season to have this season finally happen is so rewarding. My team and I learned not to take anything for granted; we are very grateful to have the opportunity to play."
Stay in the Know
Keep up with all the latest from UC San Diego. Subscribe to the newsletter today.