By:
Brittany Hook

Mario Aguilera
Shooting for the Moon
UC San Diego alumnae Jessica Meir and Kate Rubins selected to NASA's Artemis program that aims to land first woman and next man on the moon by 2024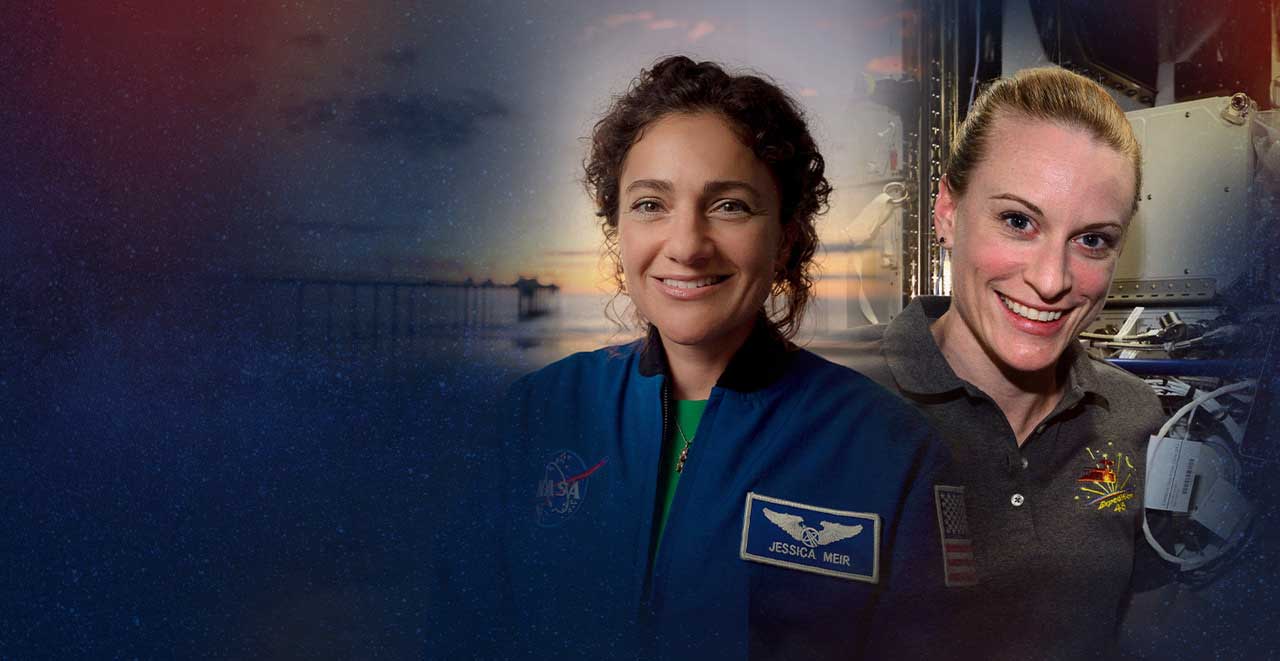 "That's one small step for a woman, one giant leap for humankind..."
By 2024, the famous quote from astronaut Neil Armstrong could be updated and revised to include the first woman to step foot on the moon…and that woman just might be a UC San Diego alumna.
When NASA unveiled the initial team of astronauts for its ambitious moon exploration project in December, the news quickly spread that two of the announced 18 Artemis program team members hold degrees from UC San Diego. The superstar alums are Jessica Meir, who received her Ph.D. in marine biology in 2009 from Scripps Institution of Oceanography, and Kate Rubins, who earned a bachelor of science degree in molecular biology in 1999.
As members of the Artemis Team, Meir and Rubins will help pave the way for NASA's next lunar missions including sending the first woman and next man to walk on the moon in 2024. The Artemis program aims to use innovative technologies to explore more of the lunar surface than ever before, and will serve as a springboard for NASA's next giant leap—exploration of Mars.
"There is so much to learn from going back to the moon," said Meir. "We're still learning new things every day from the samples that came back from the Apollo Missions which changed the way that we look at our solar system, and now with entirely new technologies we'll be going to destinations we've never been to, like the South Pole regions of the moon. There's so much yet to discover."
In an interview with This Week at UC San Diego, Meir said she was thrilled to be part of the Artemis Team, calling it an exciting opportunity and "icing on the cake" to her stellar career at NASA.
Meir said she's still "basking in the glory" from her first mission to the International Space Station, from which she returned in April 2020. During the six-month mission, Meir fulfilled her lifelong dream of spacewalking when, quite famously, she and fellow astronaut Christina Koch conducted the world's first all-female spacewalk. Floating nearly 250 miles above Earth, the two astronauts replaced a power controller outside the Space Station while people around the world tuned in via livestream.
During her time in space, Meir also conducted hundreds of scientific experiments to study the physiological effects of long-duration human spaceflight—essential research to help NASA prepare for the Artemis program. Now, she's looking forward to expanding that work as a member of the Artemis Team.
The Space Station is around 250 miles from Earth, while the moon is 250,000 miles away, "another order of magnitude away," said Meir. Humans haven't walked on the moon since the 1970s, and NASA is eager to use new technology to explore it, to establish a sustainable presence there, and to create a launching point for Mars.
"Incremental steps are what we do here at NASA, and we've had this continuous human presence on the Space Station now for 20 years. We've done a lot in low-Earth orbit, and it's time to move beyond that to get back to the moon as a staging ground," said Meir.
Scripps Oceanography Director Margaret Leinen said she was "over the moon" to hear that two graduates of UC San Diego were selected for the lunar program.
"Jessica Meir and Kate Rubins are inspiring figures in the scientific and space community, and now, as members of the elite Artemis Team, they might even make it to the moon," said Leinen. "Their selection is a monumental achievement for them and a point of pride for all of us at UC San Diego, and it serves as an inspiration for countless people interested in STEM—the opportunities are truly out of this world."
Rubins celebrated her 42nd birthday in October by blasting off to the International Space Station on her second mission there. As she orbits Earth, Rubins is conducting a series of experiments probing the effects of spaceflight on the human cardiovascular system. She's studying how heart muscle tissue changes in microgravity conditions, which is important for understanding heart disease, developing new drugs and paving the way toward developing cell replacement therapies in future space missions.
During her first mission to the Space Station in 2016, Rubins relied on scientific training that includes an undergraduate degree in molecular biology from UC San Diego to become the first person to sequence DNA in space.
"Studying microbiology on station is very similar to the earth, except for you're floating, maybe doing the same experiment but you're conducting it on the ceiling because that's a convenient place to work," said Rubins, in a NASA video introducing the Artemis team.
"Kate Rubins provides a shining example of what can be achieved when one combines a UC San Diego education with a focus on excellence and a drive to excel," said Division of Biological Sciences Dean Kit Pogliano. "I am thrilled that one of our Biological Sciences graduates, who has been pushing the frontiers of biology in space, is now part of this history-making Artemis team that will be remembered and celebrated for putting the first woman on the moon. I hope to see a Triton on the moon in 2024!"
Rubins has explored viruses and infectious diseases during her scientific career. While a UC San Diego undergraduate, she studied HIV-1 integration in the Infectious Diseases Laboratory at the Salk Institute for Biological Studies. Later, she led a lab of researchers investigating viral diseases that impact Central and West Africa, spending time researching virus systems in the rain forests of the Democratic Republic of Congo.
"What happens to the human body, and even viruses, is an issue in space," she said. "I get really excited about (these) things and something about viruses, about biology—I'm totally fascinated by it. I want to get up and go work on this every day."
Rubins believes the excitement surrounding the introduction of the Artemis program is rooted in the advancement of science, but also the extraordinary opportunity to inspire.
"The moon is an incredible destination. We have been there but we were there for such a brief period of time," she said. "Apollo united the world…when we are having dark times, to think of the fact that we might have people on the planet able to look up and know that there's humans on the moon, and that we've done this as a joint international collaboration, I can't even describe what kinds of benefits that might be."
An education at UC San Diego, whether undergraduate or graduate, likely played an important part in helping Meir and Rubins on their path to NASA, and perhaps to the moon, said Meir.
"Many people say that an undergraduate education is about learning how to learn. Kate Rubins had her undergraduate years at UC San Diego and I'm sure that's true for her," said Meir. "And then for me at graduate school at Scripps, then we are kind of fine tuning and learning how to really apply those critical thinking skills that use the scientific method. That is something that benefits me so profoundly from my years at Scripps...providing that foundation from which everything else was really this jumping point."
The accomplished astronaut forged a path from STEM to the stars after completing a graduate program at Scripps Oceanography, where her research focused on the diving physiology of marine mammals, including penguins. As part of her Ph.D. research, Meir conducted fieldwork in Antarctica, where she lived in isolation with a small team, including her Scripps advisors Paul Ponganis and Jerry Kooyman. She credits this work with helping her prepare for the extreme environment found in space.
"There are so many parallels to the way that we do things at NASA in terms of learning those valuable teamwork skills: leadership, followership, communication and taking care of the team," said Meir. "Especially in a harsh environment like Antarctic and space, there are so many parallels and all of that training, all of my Scripps mentors were really invaluable to that process."
She said one of the most exciting components of the Artemis program, aside from exploration and science, is public interest in science and inspiring the next generation of explorers.
"If you look back at the Apollo program, there was this huge stimulation and growth of all the STEM fields where we had such a broad participation," said Meir. "That has had benefits which lasted really until this day and will continue to, and I know that will be true when we continue back to the moon with the Artemis missions."
Meir and Rubins are two of three UC San Diego alumnae who have gone on to become NASA astronauts. Alumna Megan McArthur, who holds a Ph.D. in oceanography from Scripps, traveled to space in 2009 and helped repair the Hubble telescope. This spring, McArthur will pilot a SpaceX Crew-2 mission to the International Space Station, where she will spend six months conducting a range of scientific experiments.
While it's yet to be determined who will be the first woman on the moon, Meir and Rubins' selection to the Artemis program is a remarkable achievement that showcases the possibilities for women in STEM. The astronauts plan to share updates about their involvement in the Artemis program on social media, as a way to stay engaged with fans and the public.
"One of the most important things throughout all of my career as an astronaut on the Space Station mission and with these future missions as well is to be able to share it with all of you," said Meir. "It's not just a mission for us at NASA and for us as astronauts; it's really for the entire planet, so I hope that you can continue to follow along and be part of the adventure."
You can find the astronauts on Twitter at @Astro_Jessica and @Astro_Kate7.
Stay in the Know
Keep up with all the latest from UC San Diego. Subscribe to the newsletter today.