Serving the Underserved During the Global Pandemic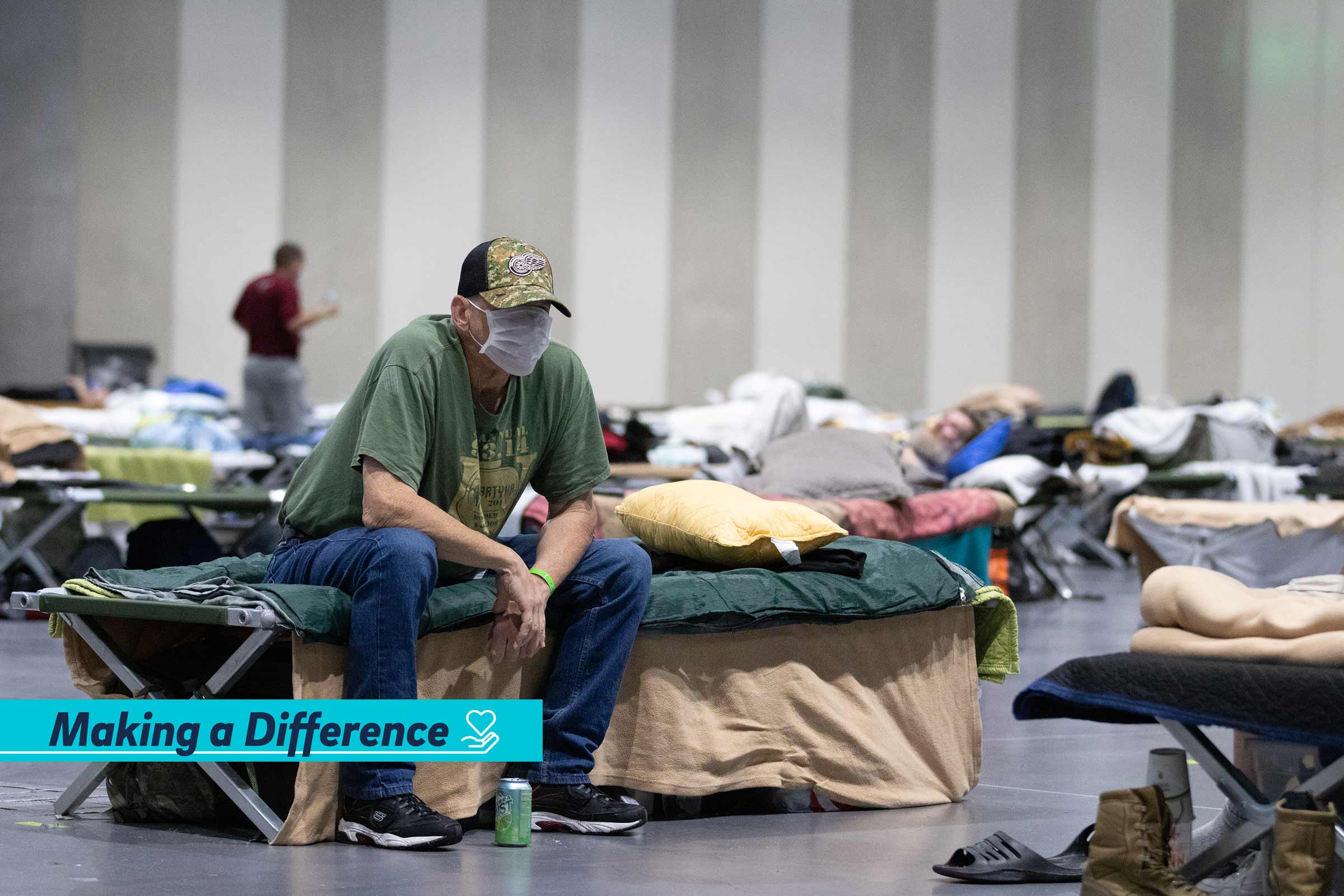 San Diego Convention Center shelter residents are required to follow all safety measures to prevent COVID-19. Photo credit: Ashley Bailey with the City of San Diego
"A wonderful blessing" is how Donna Beifus describes the partnership between UC San Diego Health and Father Joe's Villages, a non-profit organization serving more than 13,500 San Diegans each year who are experiencing homelessness and poverty.
"Knowing how UC San Diego Health contributed carries me through the day in a time when things feel uncertain," said Beifus, chief administrative officer of care management at UC San Diego Health.
For much of the year, the novel coronavirus has cast a pall upon the world, disrupting lives and society. But through the despair and darkness, there have been moments of light.
"It has been wonderful to witness how communities are coming together to help those in need during this global pandemic," said Dr. Jeffrey Norris, medical director at Father Joe's Villages. "UC San Diego Health has provided services that have allowed us to keep not only our homeless safe, but our staff and entire community."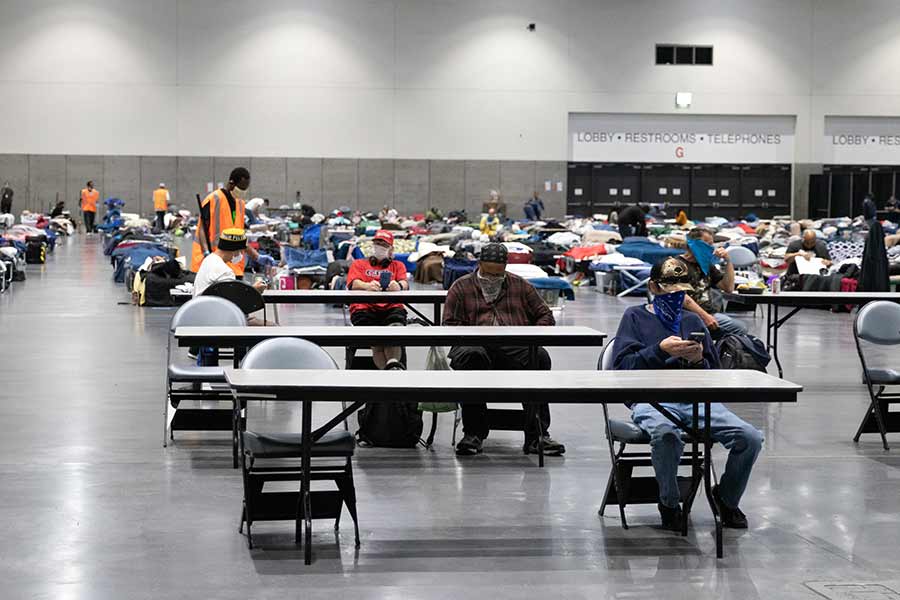 Through coordination with San Diego County, the Molecular Microbiology Laboratory in the Center for Advanced Laboratory Medicine (CALM) at UC San Diego Health was able to provide some of the first COVID-19 test results to Father Joe's Villages' homeless population.
"Coordinating the logistics of external testing required significant work, but it was worth every minute," said Beifus. "From employees in the lab and infection prevention to supply chain, the amount of people who spent hours of their work day to help was unbelievable. It was an extraordinary effort. We got boots on the ground as quickly as possible."
Some of those boots were worn by residents in the Department of Family Medicine and Public Health at UC San Diego Health. The residency program has worked with Father Joe's Villages since 1997. The residents receive experience practicing both family medicine and psychiatry, simultaneously addressing clients' physical and mental health.
"Many homeless individuals live with chronic health conditions, disabilities and mental illness," said Dr. Dustin Lillie, primary care physician at UC San Diego Health and director of the UC San Diego Family Medicine Residency Program. "Working at Father Joe's Villages gives our residents an invaluable learning opportunity and provides an important service to an underserved population."
When COVID-19 testing started, "the residents wanted to contribute in a meaningful way and jumped at the chance to help," said Norris. "They assisted us with testing and providing critical health services to those we serve through our shelters and Village Health Center. The residents were truly the ones who made these successful efforts possible."
The tests, which involved nasal swabbing, were administered every two weeks in small groups at the San Diego Convention Center.
Operation Shelter to Home—an emergency effort to protect homeless individuals led by the City of San Diego, County of San Diego, Regional Task Force on the Homeless and San Diego Housing Commission—launched on April 1 and moved individuals already in shelters into the San Diego Convention Center to allow for proper physical distancing and to prevent the spread of COVID-19. Because the effects of the pandemic were creating staffing challenges at the city's various shelters, the program centralized staff in one place to ensure personnel could be efficient even with limited numbers.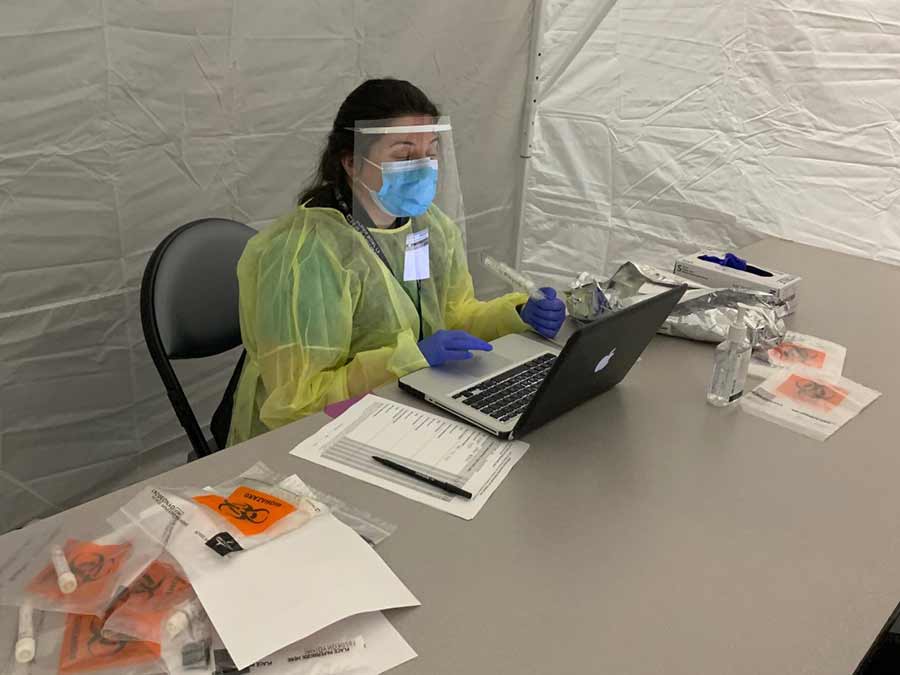 From March to June 2020, more than 1,800 tests were administered for the homeless population at Father Joe's Villages. Approximately 355 of those tests were sent to CALM.
"UC San Diego Health's lab was able to provide test results within 24 hours versus several days," said Norris. "The homeless population is at high risk of spreading the novel coronavirus because the men and women in this group tend to congregate. They can be asymptomatic and the spread could be far-reaching. Quicker turnaround times for test results means we receive critical information to make decisions in a timely manner."
Per protocol, individuals testing positive are immediately placed in hotel housing provided by the county for the required isolation period. "It's all about preventing additional COVID-19 cases," said Norris. "We never know just how long someone will be staying with us. So, if an individual gets tested and we have to wait days for results, he or she could leave before we know the outcome and we have missed a prime window of opportunity."
In early March, CALM partnered with multiple drug test manufacturers to begin offering clinical COVID-19 testing. Within 10 days, CALM was performing approximately 20 COVID-19 nucleic acid detection tests per day. Three months later, up to 1,000 tests are being performed daily.
"As the only academic medical center in the region, we are in a position to help other organizations during times of a crisis. It is a responsibility that we take very seriously," said Patty Maysent, CEO of UC San Diego Health. "Strategic collaborations, groundbreaking research and tireless innovative efforts have been shown to make remarkable differences in the lab, at the hospital bedside and throughout our communities."
Insurance on the spot
Isabell Jordan says her eyes sometimes filled with tears when she sat across from a homeless individual who just realized they could get that overdue surgery or fill a much needed prescription because of the medical insurance she helped them obtain on the spot.
Jordan recalled one woman who had been homeless for nearly 12 years. She suffered from several medical conditions but hesitated to get help because she didn't have health coverage. "Once we explained everything and guided her through the paperwork, she cried happy tears and said, 'Where have you been?'"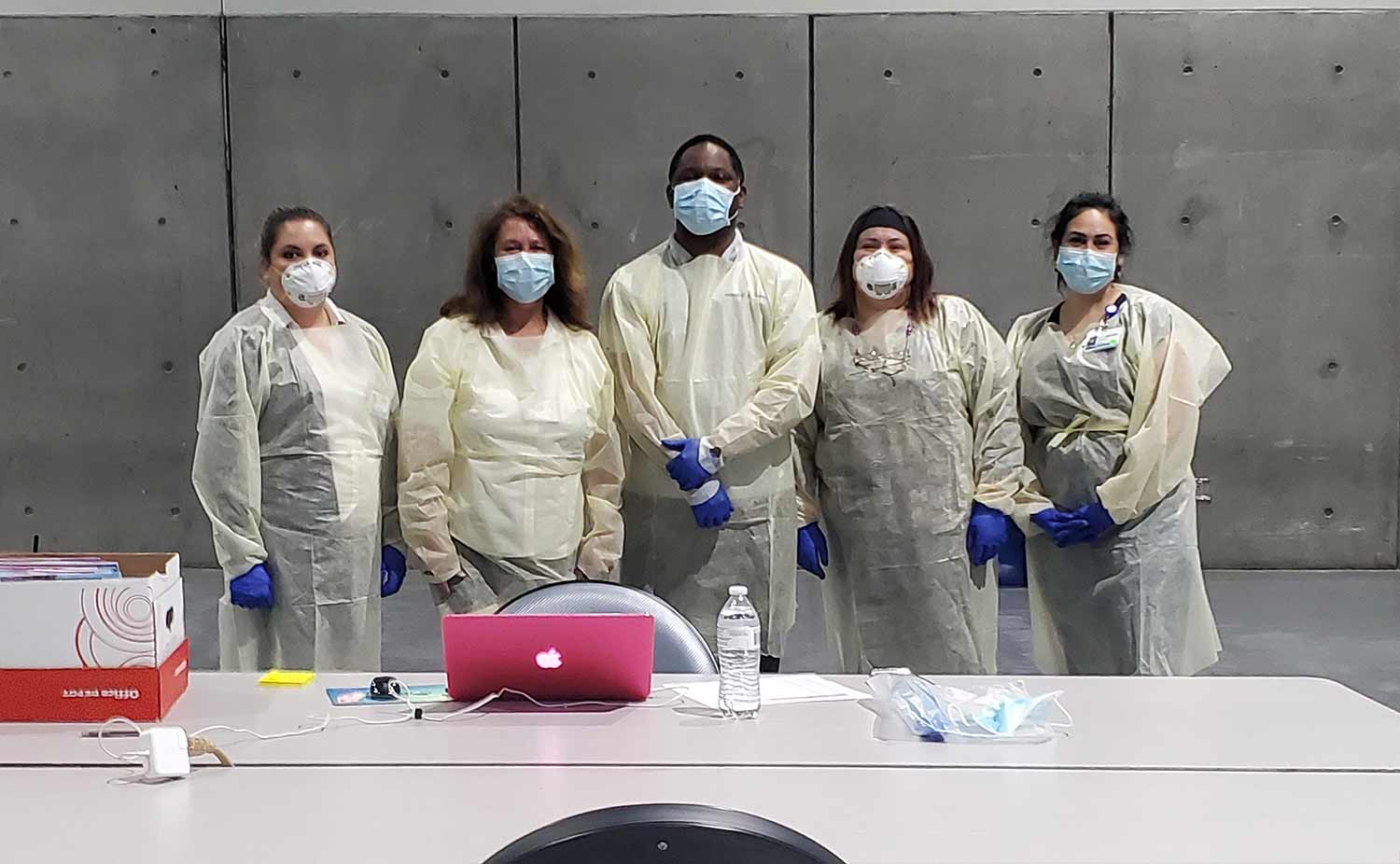 Jordan is a patient access manager for the financial counseling team at UC San Diego Health. When she learned that additional help was needed at Father Joe's Villages, she was the first to raise her hand. "I didn't hesitate for a second."
About a year ago, the county granted the financial counseling team permission to fill out insurance applications for the underserved online with the ability to print out insurance cards. "This is a much better patient experience since there is no wait time. Before, a medical referral could take up to two weeks because we were waiting for the patient to turn in their paperwork. And the reality is, most people in this patient population never turn it in."
Standard practice is to assist patients with the necessary paperwork for medical insurance in the hospital and clinic setting. "We do not generally go off-site." But the team's services were sought at Father Joe's Villages, where clients without insurance or income needed to apply for benefits under Social Security, Medicare and Medi-Cal.
"I asked the county if we could get authorization for some members of my team to go to the convention center and assist that patient population with filling out paperwork," said Jordan. "I wanted to touch as many lives as possible."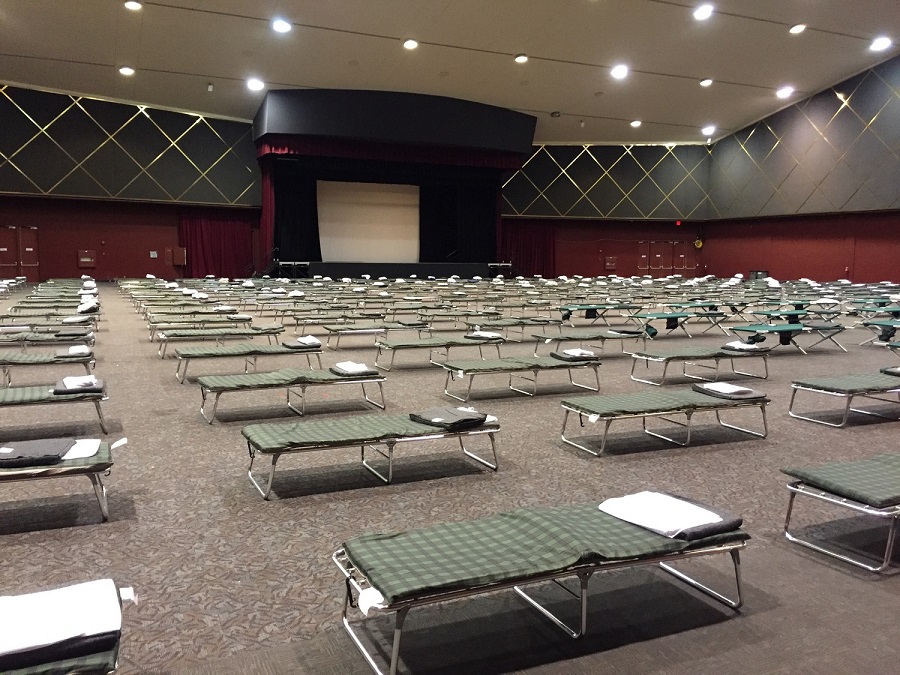 The county approved the request. "And 10 members of my team volunteered to go with me. I was so proud of them. Only five staff were needed, but that enthusiasm to volunteer was amazing."
With safety guidelines in place, Jordan said her team felt protected and truly enjoyed getting to know the men and women they interacted with. "We heard so many stories and learned how they became homeless. You gain valuable perspectives during those conversations."
Jacqueline Jordan, system director of patient access at UC San Diego Health, says she believes the financial counseling team truly made a difference in the life of the woman who now has the health insurance she desperately needed after living on the streets for more than a decade.
"If it hadn't been for her interaction with Isabell's team, she would most likely have fallen through the cracks. But since she happened to be at the convention center for testing, Isabell's team was able to help her. It melts my heart."
To date, Jordan's team has assisted 16 individuals at the convention center. "It's been an incredible experience. We have helped to change their lives, but they have also changed ours."
Stay in the Know
Keep up with all the latest from UC San Diego. Subscribe to the newsletter today.