Sanford Consortium, Takeda Pharmaceutical Partner in $10-Million "Innovation Alliance"
Published Date
Article Content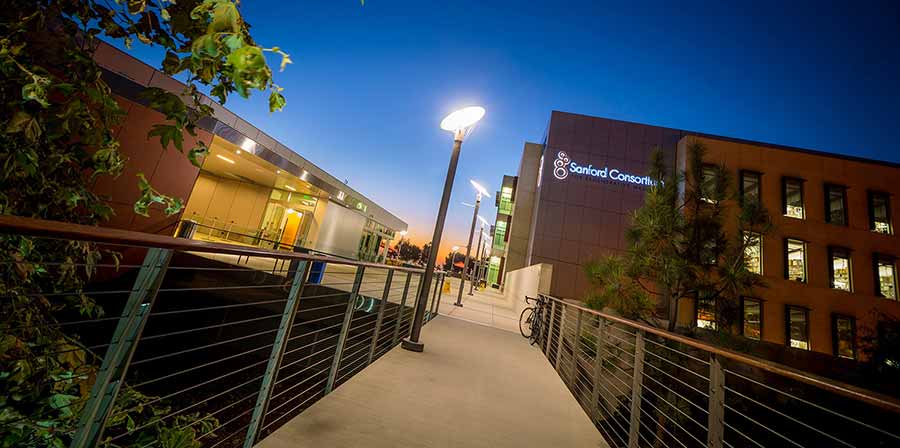 The Sanford Consortium for Regenerative Medicine in La Jolla, California, and the Takeda Pharmaceutical Company Limited (Takeda) have agreed to establish a $10-million, five-year Innovation Alliance that would advance each organization's research missions.
Specifically, translational research and proof-of-concepts research projects will be identified and generated with an ultimate goal of delivering innovative therapeutic products to patients.
"UC San Diego and Takeda share a common goal of disseminating discoveries to improve lives," said Chancellor Pradeep K. Khosla. "By sharing our talent and resources, our alliance will propel our research and delivery, and ultimately increase our positive impact on our society."
The Sanford Consortium is a non-profit organization -- comprising the University of California San Diego, The Scripps Research Institute (TSRI), the Sanford-Burnham Medical Research Institute, the Salk Institute for Biological Studies, and the La Jolla Institute for Allergy and Immunology – principally engaged in translational research in stem-cell-based and regenerative medicine.
Takeda, headquarted in Osaka, Japan, is a multi-national company with research capabilities and expertise in the development and commercialization of pharmaceutical products.
Chairman of the Sanford Consortium Malin Burnham praised the new alliance, touting its potential for positive outcomes for both partners and the public. "The avenues of research, and the applications of that research, have much promise for public-health breakthroughs as well as economic benefits for the partners and their communities," Burnham said.
"Takeda's mission is to bring important therapies to patients faster," said Seigo Izumo, M.D., global head of regenerative medicine for Takeda. "We constantly challenge ourselves to innovate and think creatively, so we embraced the opportunity to engage world-renowned scientists through the Sanford Consortium, leveraging stem-cell-based research tools, technologies and know-how to discover and develop therapies addressing significant unmet medical needs."
"This Innovation Alliance is a promising partnership that will help spark pioneering research and create new opportunities," said Sandra A. Brown, vice chancellor for research at UC San Diego. "Our goal is to move the benefits of stem-cell and regenerative research from the lab bench to bedsides around the world."
Teri Melese, assistant vice chancellor for Industry Alliances at UC San Diego, says the agreement encourages Takeda scientists and the Sanford Consortium members to both propose ideas for research projects, and promotes a rich collaborative effort.
"This partnership of the Consortium with Takeda builds upon the incredible research collaboration already in place between the member institutions, and working together will allow us to better understand and address key obstacles in bringing innovative and transformative therapies to patients," said Melese. "The arrangement complements each organization's area of expertise, and helps each achieve key institutional goals."
Kristiina Vuori, President of the Sanford-Burnham Medical Research Institute, noted, "Multi-institutional alliances often produce advancements that transform scientific discovery beyond what each organization could independently accomplish. Takeda's financial support along with the talent and resources of the Consortium will have a catalytic effect on the discovery process and expand our ability to identify new disease targets and produce drug candidates for clinical testing."
"We are very excited about the consortium coming together with Takeda to further cutting-edge innovations in these important areas with the goal of bettering human health and well-being," says Salk President William Brody. "This agreement demonstrates the power of collaboration on the La Jolla Mesa through the Sanford Consortium for Regenerative Medicine."
TSRI's Acting President and CEO James Paulson added, "This partnership with Takeda will provide needed resources to Consortium investigators to advance the potential of new stem-cell therapies for patients."
Scientists affiliated with the members of the Sanford Consortium have an internationally renowned record of scientific excellence, and include among their ranks National Academy of Sciences members and Nobel Prize winners. Entrepreneurial faculty at these institutions also have an impressive history of successfully translating basic, academic research into thriving private sector companies; all combined, more than 150 spin-off companies originated by faculty from these institutions operate in the San Diego region and have brought numerous products to commercial markets.
Located in Osaka, Japan, Takeda is a research-based global company with its main focus on pharmaceuticals. As the largest pharmaceutical company in Japan and one of the global leaders of the industry, Takeda is committed to strive towards better health for people worldwide through leading innovation in medicine. Additional information about Takeda is available through its corporate website, takeda.com.
Stay in the Know
Keep up with all the latest from UC San Diego. Subscribe to the newsletter today.