Newly Admitted Black Students Welcomed to Triton Family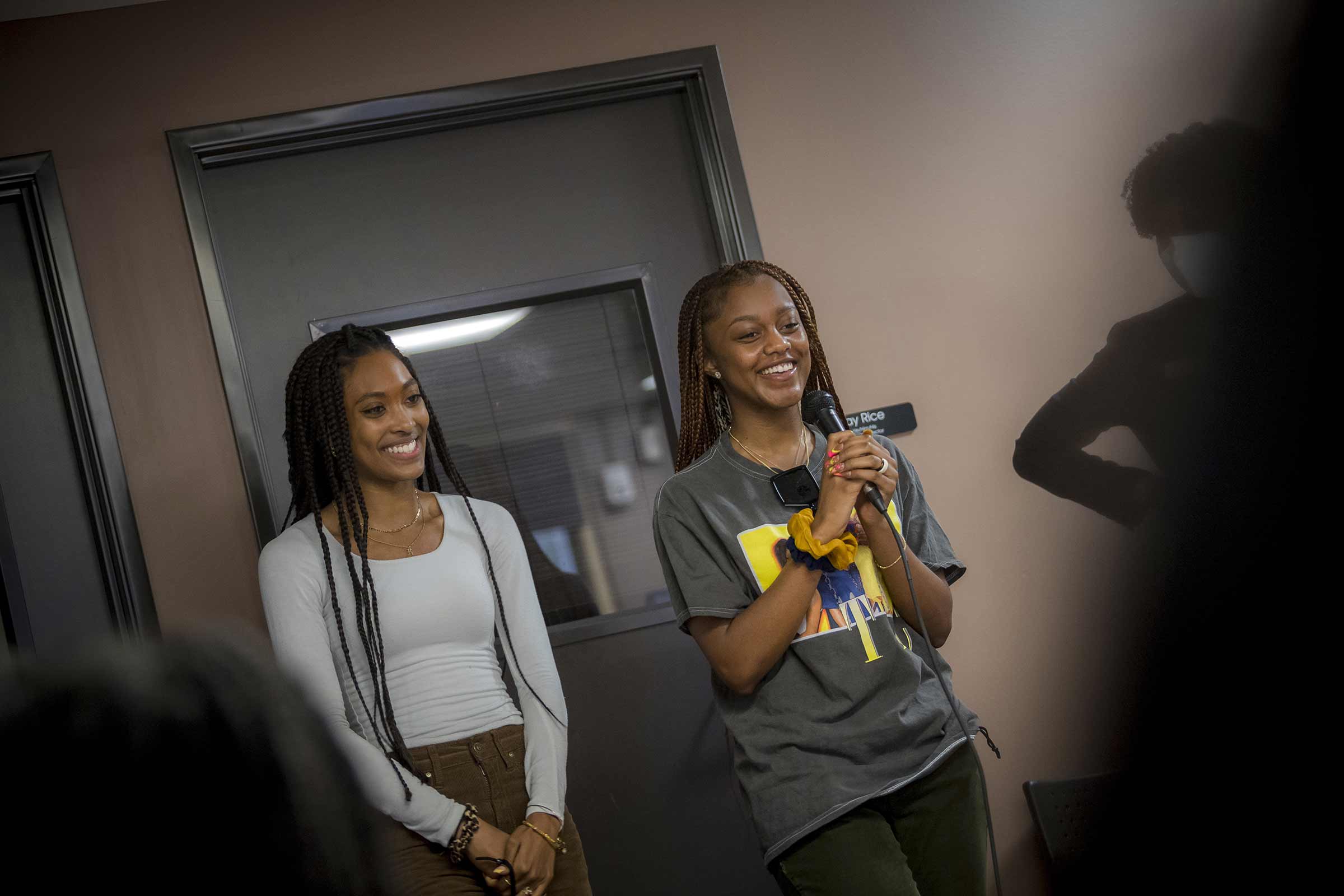 Third-year Kennedy Cofield and fourth-year Jaida Day welcome guests to the Black Resource Center for the Black Family Get Together event. Cofield and Day are chairs of the Black Student Union, which co-led the event for newly admitted students. Photos by Erik Jepsen/University Communications.
There were no strangers at the Black Family Get Together; everyone who walked through the door of the Black Resource Center on April 1 formed instant connections. Smiles and lively conversation drew in the guests—UC San Diego's newly admitted first year Black students and their families—for the annual event designed to introduce prospective Tritons to the campus's tight-knit community of Black students, staff, leadership and alumni.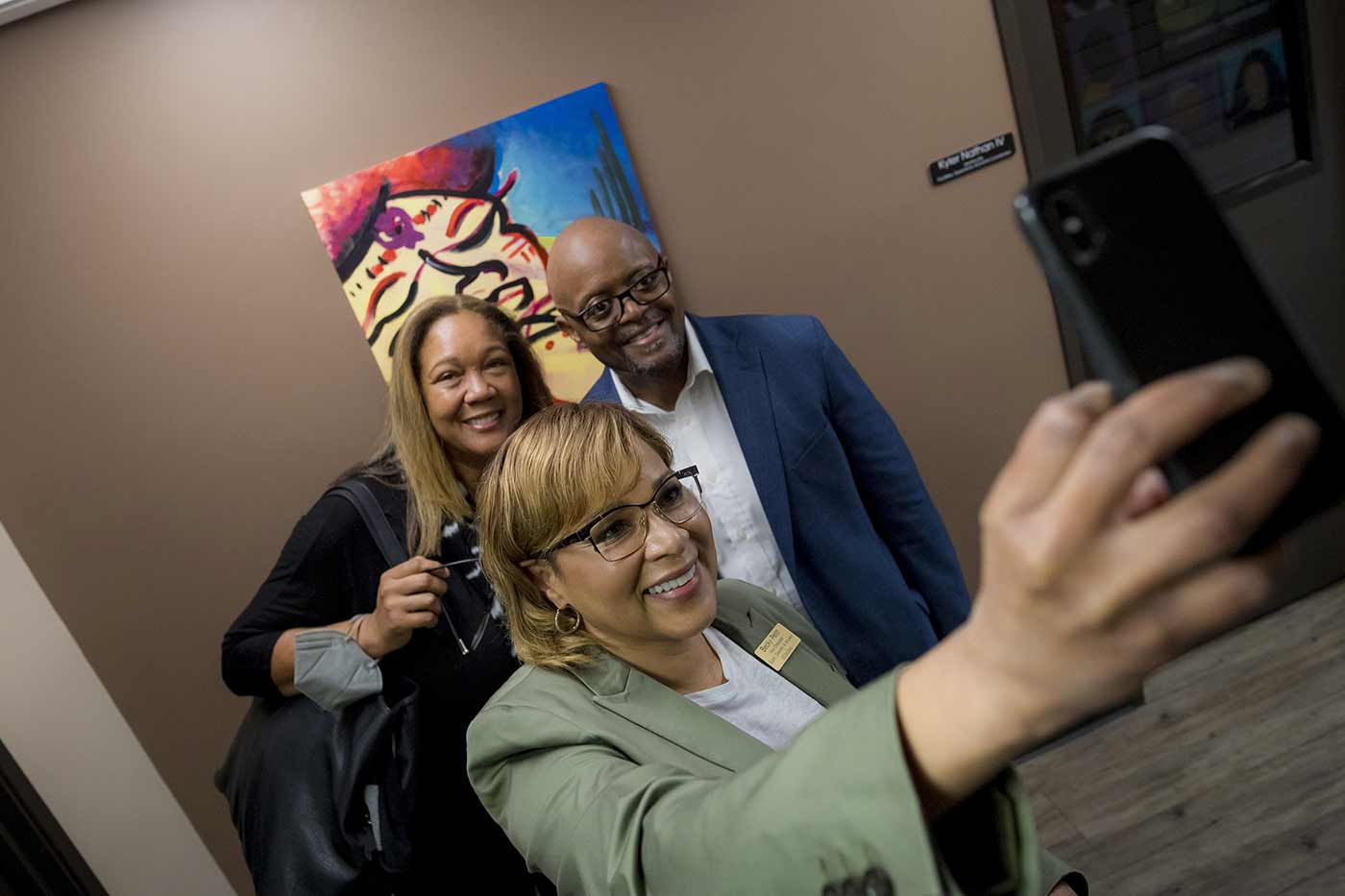 Throughout the evening, congratulations were offered as well as insights about what makes the UC San Diego family special. "It is such a joy and a privilege to have you here," shared Vice Chancellor for Equity, Diversity and Inclusion Becky Petitt. "We know you have your choice of which institution you want to go to, and we hope you choose UC San Diego because we have a community that warmly welcomes you. This is just one glimpse of the kind of love and support you will have."
The meet-and-greet was just one of several hybrid events held as part of the annual Black Student Union (BSU) Overnight Program, organized in partnership with the Black Resource Center and SPACES. Between March 31 and April 5, admitted Black students and their families were invited to visit UC San Diego for in-person events like Triton Day as well as several virtual offerings that ranged from meeting current students within Black Greek Letter Organizations to learning about student support services such as the African Black Diaspora Living-Learning Community.
"The overnight program is an opportunity for admitted Black students to see how strong of a Black community we have at UC San Diego, and how well-resourced our students are," said alumna and Black Resource Center Director Porsia Curry. "We want to be their top choice, a place where they know they will have a great experience."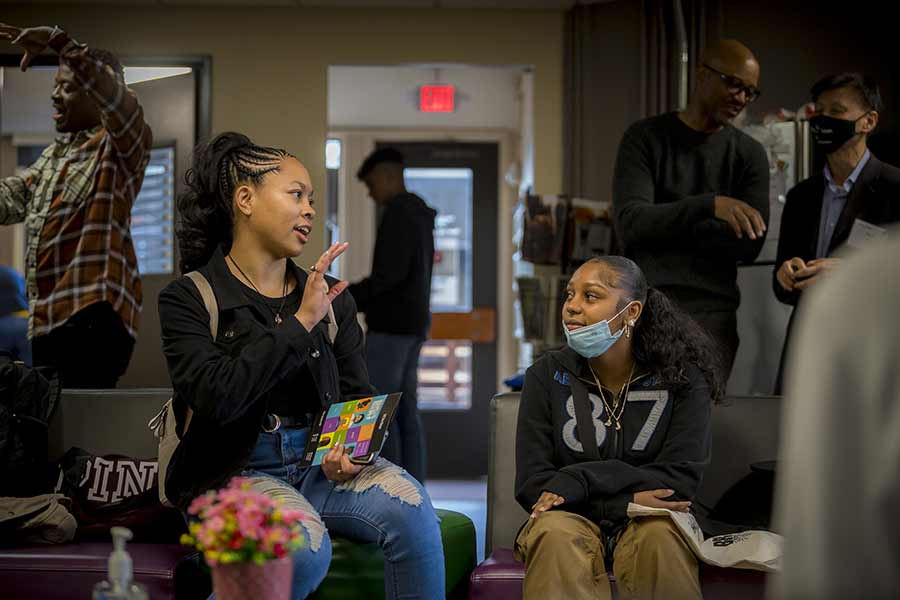 The Black Family Get Together left a positive impression on prospective student Janell Thompson. An avid singer, Thompson shared she regularly performs in her high school and church choir and is interested in UC San Diego's music program. "So far, I feel very included," she mentioned during the event, "Even on Zoom, the community feels strong."
Reflecting back on the factors that influenced her decision to attend UC San Diego, fourth year student Jaida Day recalled, "When I came to visit, I remember coming into the Black Resource Center, everybody was so inviting…I brought my family, I [felt like] I have a place. My high school was predominantly Black and Latinx, so I needed a sense of community. This really sealed the deal."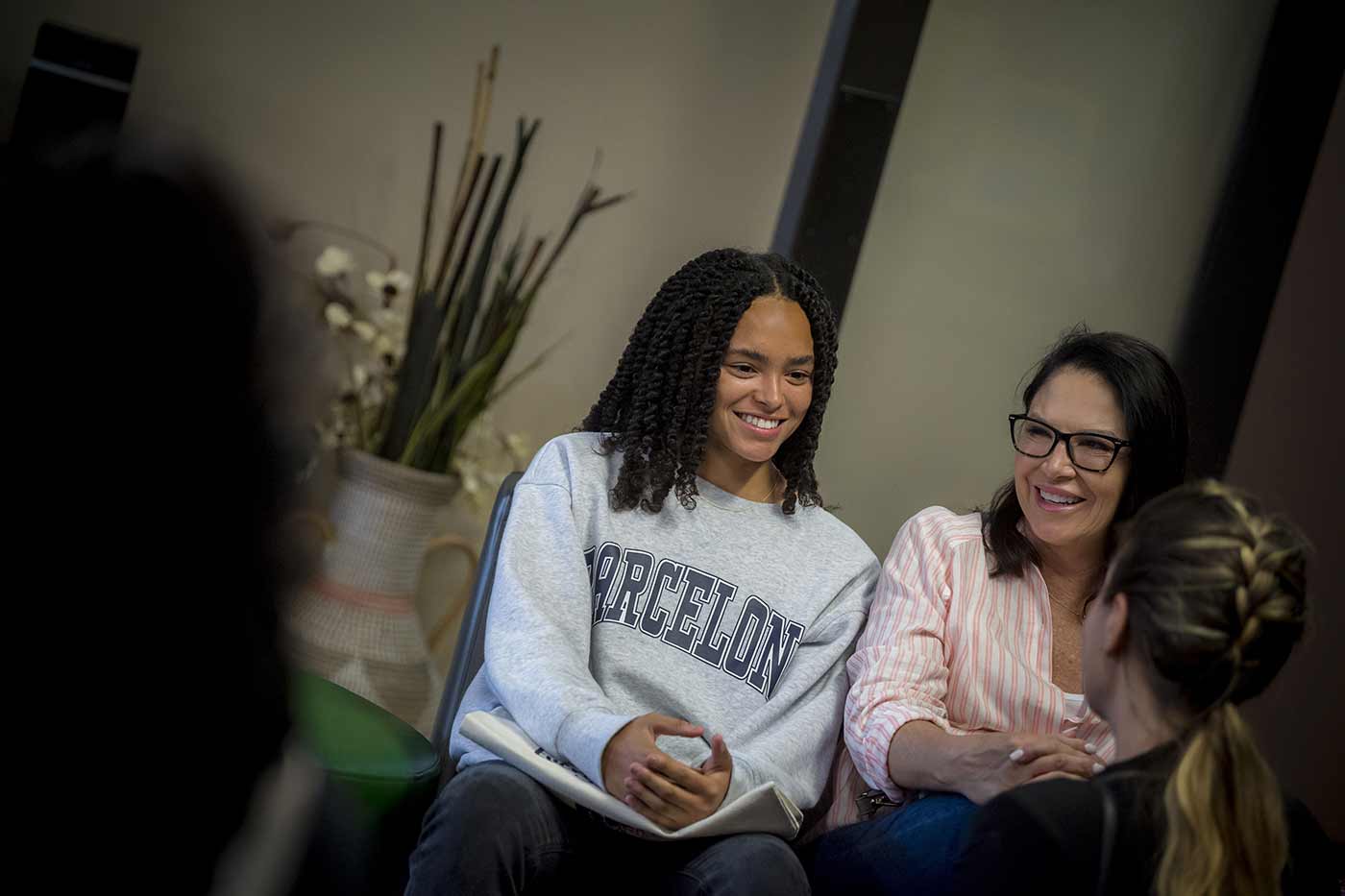 Day, who is studying math and computer science, helped lead the event along with Kennedy Cofield, a third-year human developmental sciences student. For Cofield, a co-chair of the Black Student Union along with Day, it was important to offer prospective students and families the chance to explore the campus and realize it is a safe space to live and learn. "I feel like we have a really strong population on campus, so this is a chance for them to build that community before coming into the university," she said.
Many of UC San Diego's leadership team also attended the Black Family Get Together to greet the newly admitted students and offer a warm welcome, including Vice Chancellor for Student Affairs Alysson Satterlund, Associate Vice Chancellor for Enrollment Management Jim Rawlins, Associate Vice Chancellor for Student Success and Retention Maruth Figueroa, Associate Vice Chancellor for Student Life Patricia Mahaffey, Director of Admissions Deborah Kammerer, Revelle College Provost Paul Yu and more.
In addition, faculty members such as Professor of Education Studies Thandeka Chapman joined to share opportunities like the launch of the new Black Diaspora and African American Studies major that is enrolling students beginning in fall 2022. One of the overarching goals of the new degree, housed within the Institute of Arts and Humanities, is to help students understand the critical spaces Black people hold in society culturally, politically, economically and socially.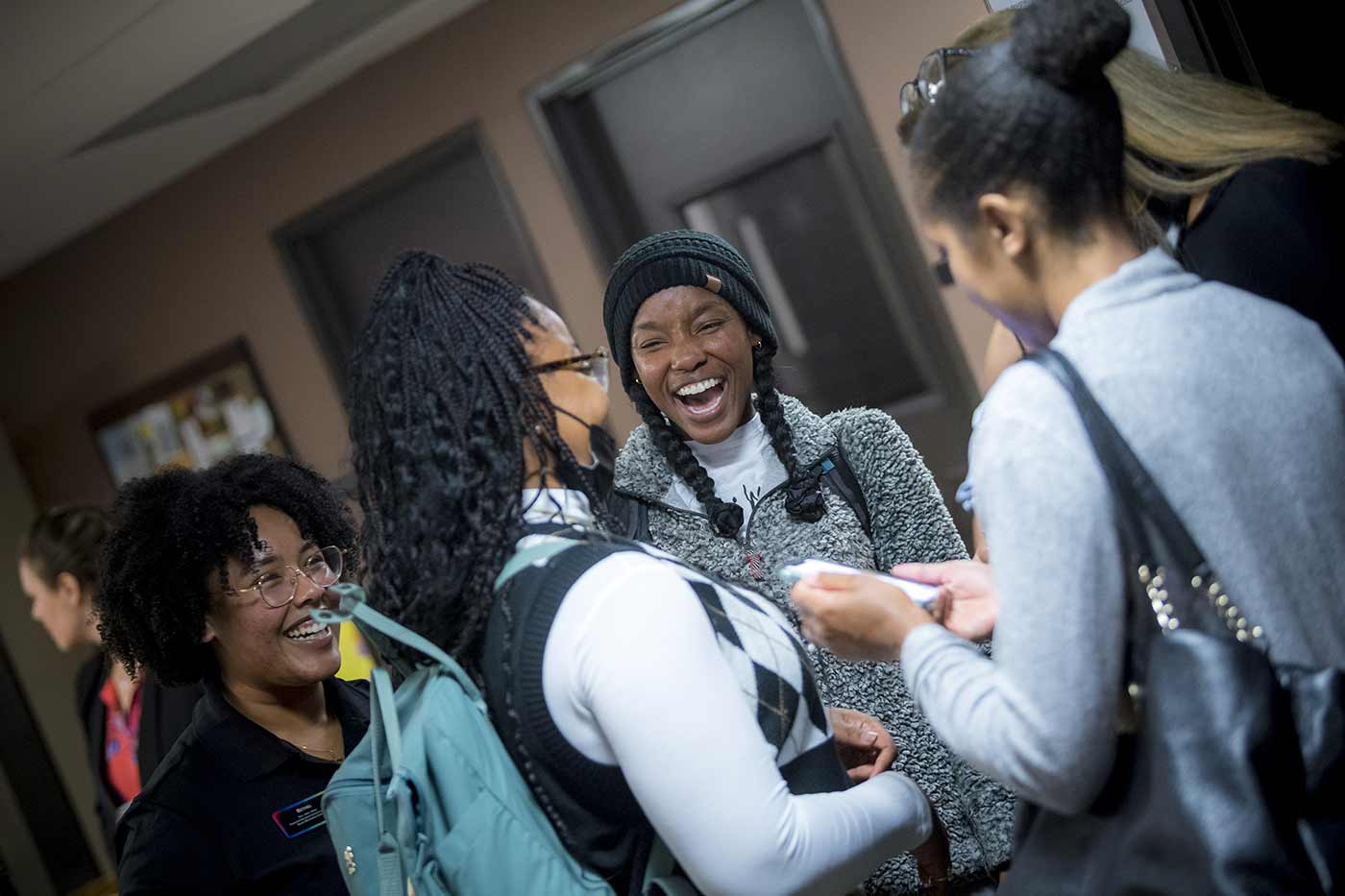 Near the end of the evening, alumna and new director of the Cross-Cultural Center Fnann Keflezhigi encapsulated the sentiment behind the BSU Overnight Program. "We have a philosophy: each one—teach one; to lift as you climb. We take that responsibility very seriously as an entire community. Know that we have your back, always."
Stay in the Know
Keep up with all the latest from UC San Diego. Subscribe to the newsletter today.