Graduating with Hart
Q&A with Student Commencement Speaker Francesca Hart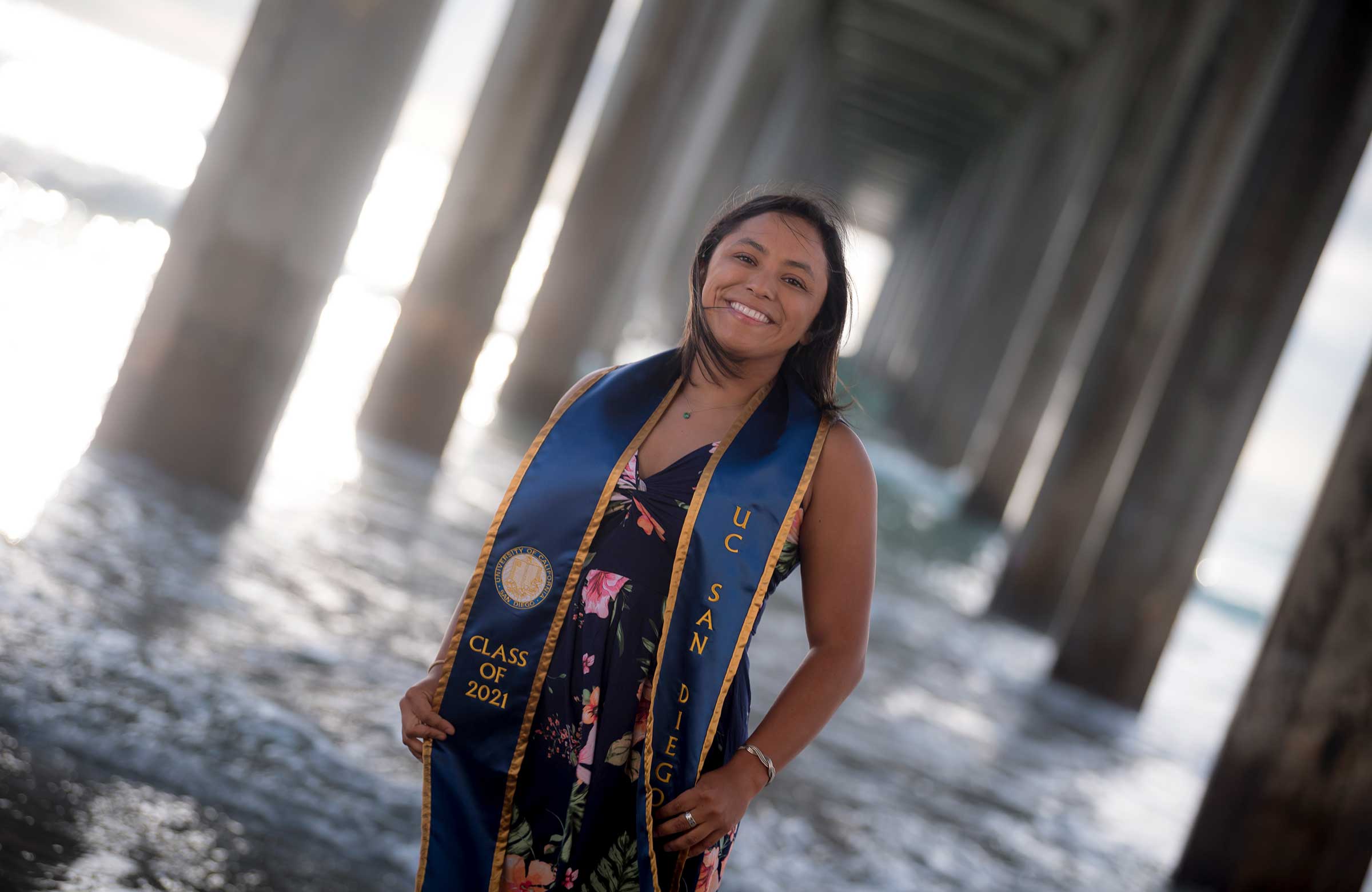 Senior Francesca Hart will share a message of love and celebration with her peers at Commencement on June 12-13. Photo by Erik Jepsen/University Communications.
Her heart is full of love for humanity. As UC San Diego's Class of 2021 Commencement Student Speaker, Francesca Hart is here to say the words that everyone wants to hear: you are special, you are loved and you are on the path to greatness. Her address will be shared with nearly 8,000 of her graduating peers during a series of 10 Commencement ceremonies to be held June 12-13. After graduation, she has her sights set on new goals, including preparing to enter the fire service and training for the Escape to Alcatraz Triathlon this summer.
Q. How do you feel about being the Class of 2021 Commencement Student Speaker?
A. I'm very excited about it! I think it's an honor, and the fact that UC San Diego is trusting me to deliver this message, that they believe in my message, is really special to me. I feel very honored to get to talk to people and tell them I care about them and that I'm proud of them. That's a really special thing.
Q. Why did you decide to apply to be the Commencement Student Speaker?
A. I believe there is a starvation of love, affirmation and validation in our world. I recognize that I'm very lucky to live in San Diego and have the support of my family and friends. I have a lot of love in my life, but that's not the case for everyone. Learning about different people's experiences and tough times inspired me to deliver the speech. Graduation is a big deal, and I want everyone to walk out having heard at least one person say, "I'm proud of you."
Q. Tell us about your path to UC San Diego.
A. I grew up in San Diego and initially was recruited to the University of Hawaii's sailing team. Although I loved it there, I decided to transfer to UC San Diego to pursue more rigorous academics. I knew it was a world-renowned university and I wanted the challenge! It has been everything I could have asked for and so much more. I am graduating from John Muir College with a major in political science and minor in economics. I'm also earning a specialized certificate in Geographic Information Systems (GIS) from UC San Diego Extension.
Q. What are your plans after graduation?
A. I recently met a local fire captain at the CrossFit gym I attend. She inspired me to consider joining the San Diego Fire-Rescue Department, which I'm really excited about. I love my community more than anything—the people, the environment—and I want to protect and serve it. I believe that a successful life includes service to others, so it is my intention to make an impact in my community and pay it forward. And after I fulfill that career goal, I plan to continue my education and hope to return to UC San Diego as a professor!
Q. What is one of your favorite memories from your time at UC San Diego?
A. One of my favorite memories here at UC San Diego was serving as a surfing instructor with Recreation. I taught for two years, and it was a unique experience because I got to work with undergraduates, graduates, doctoral students, faculty and staff. It was really special to see them learn and then see them on campus later on. I would say, "You did it, I saw that wave you caught!"
Q. What is the biggest lesson you've learned throughout the past year?
A. The biggest lesson that I learned from the pandemic is that sometimes the most difficult person to lead is the person in the mirror. It's easy to find everyone else's flaws and weak points, but it's hard to look in the mirror and find your own and be willing to embrace that about yourself. Before the pandemic, I loved being a part of groups, being around people. When the pandemic hit and that couldn't happen, it forced me to look in the mirror and identify my own flaws and embrace them. It forced me to grow a lot.
Q. Who would you like to thank?
A. I would like to thank my parents. They have made a huge difference on my life and I can say with 100% certainty that I would not be here today without them. The biggest lesson my parents taught me was to be confident in whatever I'm doing. To walk into a room and make sure everyone knows you care about them, that you're here to listen to them.
I'd also like to thank my friends and all of the different communities that I've been lucky enough to be a part of: CrossFit, swimming, medical services, surfing; so many people have welcomed me into their lives and I'm forever grateful for each and every one of them. I can't wait to start this next chapter of my life—meet new people, have new experiences, start going for it.
Stay in the Know
Keep up with all the latest from UC San Diego. Subscribe to the newsletter today.