From Landscaping to the Lab: David Gonzalez's Academic Journey
As students poured out of the classrooms at MiraCosta Community College, 20-year-old David Gonzalez looked on from his truck across the street. He had just finished a day of mowing lawns for his landscaping job. Down the road was the hospital where his wife would soon give birth to their first son. As the students exchanged laughs and adjusted their backpack straps, tears began to well up in Gonzalez's eyes.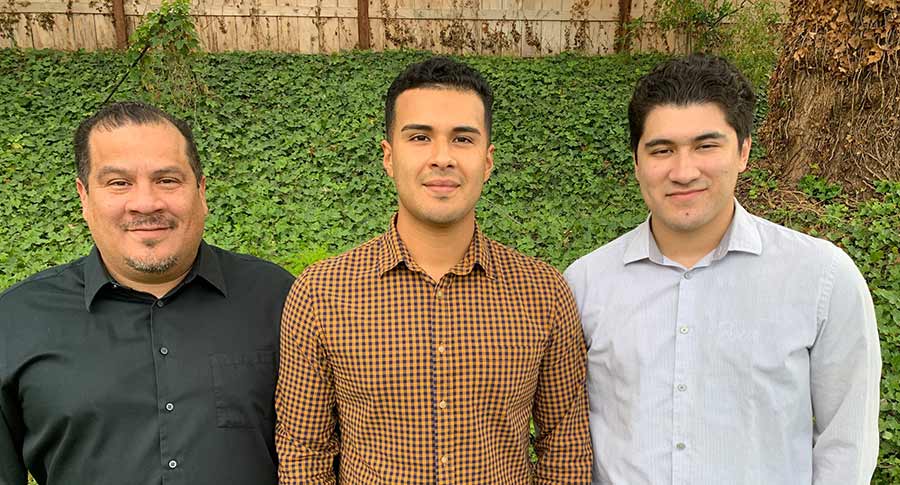 "I couldn't even explain what it was, but it was something yearning from my soul, from inside of me, saying, 'What are you doing?'" Gonzalez said.
Like his siblings, Gonzalez had dropped out of high school his freshman year. In his Mexican American family, having a job was always the priority. His parents had immigrated to their Southern California town with minimal education and worked at local chicken farms for much of Gonzalez's childhood.
But as Gonzalez watched these students, his same age, holding books like babies in their arms, he was hit by a strong sense of longing. Fatherhood and financial strain were looming over him and he realized he wanted something more for his family.
"Something told me education was the way to go, and I jumped in headfirst," said Gonzalez. The day after his son was born, he enrolled in his first class at community college.
The winding road to success
Twenty years later, Gonzalez is now an associate professor of pharmacology at UC San Diego School of Medicine and Skaggs School of Pharmacy and Pharmaceutical Sciences. A rising star in systems biology, he studies the hot topic of host-microbiome interactions. He suspects his colleagues would never be able to guess his grades that first semester.
"Four F's, and a C in Spanish. My parents won't let me forget about that," Gonzalez said with a laugh.
While he has always had a strong work ethic, those first few months of college forced Gonzalez to learn the many soft skills of academic life. One of the most important of those, he believes, is finding good mentors.
They've come in many forms since those early days: classmates who helped him study, professors who inspired his love of chemistry, and advisors who guided his research. But there was one person who made Gonzalez realize a career in science was even possible—Jose Mendoza.
Gonzalez struggled to embrace his Mexican identity during college, but something happened the day he walked into Mendoza's classroom at California State University San Marcos. Mendoza was an accomplished biochemistry professor from Mexico City, who delivered his lectures with a thick Mexican accent.
"When I saw him, it was like something hit me in the center of my forehead and said, 'That's what you're going to do. That's who you're going to be,'" said Gonzalez. "Ever since I left that day it was like, everything I do, every action I make, is going to be towards being a professor like Jose Mendoza."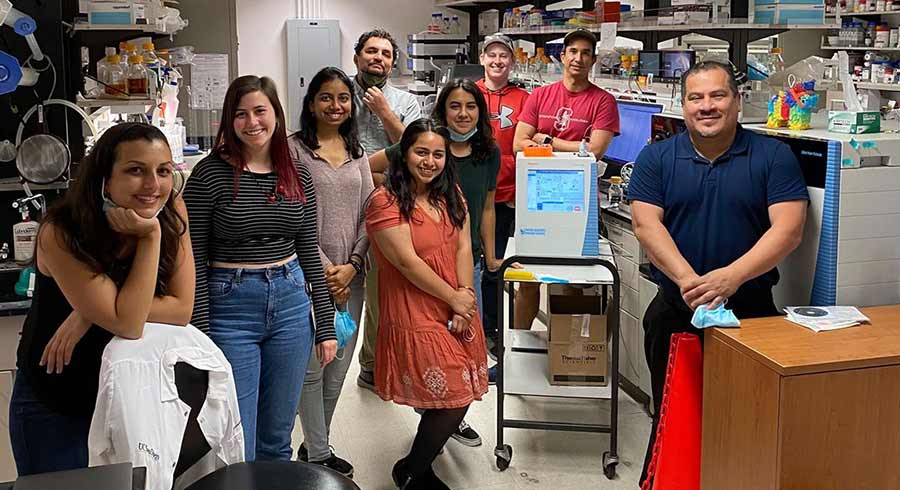 Gonzalez began to excel in his biochemistry studies and soon earned a research position in the UC San Diego Department of Chemistry and Biochemistry lab of Simpson Joseph. It was Joseph who encouraged him to apply to the school's biochemistry graduate program. After spending seven years completing his bachelor's degree, Gonzalez became a doctoral student.
When it was time to choose a thesis lab, he was drawn to new professor Pieter Dorrestein, a young and eager scientist in the Skaggs School of Pharmacy who was ready to push the boundaries of biology research. Their shared energy and drive seemed to be a clear match, despite the risks associated with joining such a new lab.
"The contemporary technology that Pieter was bringing to the campus really just blew me away," said Gonzalez. The risk quickly paid off, as he mastered these modern tools and successfully applied them to a wide range of research questions. This strategy allowed him to collaborate with other scientists, including UC San Diego renowned biologists Jack Dixon and Dr. Victor Nizet. They would soon become his postdoctoral mentors and inspire another period of prolific scientific output.
It did not take long for others on campus to notice Gonzalez's work. Palmer Taylor, then dean of Skaggs School of Pharmacy, reached out to the postdoc to discuss his career plans. But when Gonzalez received the email asking him to meet, his imposter syndrome kicked in.
"I got so scared," he said. "Being a student of color, I was immediately like, 'What's going on here? I don't remember doing anything wrong.'" As he read and reread the subject line—"Let's talk about your future"—Gonzalez became convinced his time at UC San Diego was over.
But these fears couldn't be further from the truth. Taylor actually encouraged him to consider starting his own lab at the university and helped him define his future research goals. In 2014, The Laboratory of David J. Gonzalez was born.
A growing legacy
Gonzalez has since launched a unique line of research and published numerous high-profile papers out of his UC San Diego lab. He is an expert in a technique called mass spectrometry, which measures how much of each protein is present in a biological sample. His innovative use of this tool allows him to understand the complex relationships between humans and bacteria. In his young career, he's already made strides in uncovering the mechanisms behind staph infections, strep throat, and irritable bowel syndrome.
"Everyone wants to Gonzalez-ify their research," said Nizet. A mentor-turned-colleague, Nizet praises Gonzalez's ability to bring scientists together and encourage them to take risks for the greater good.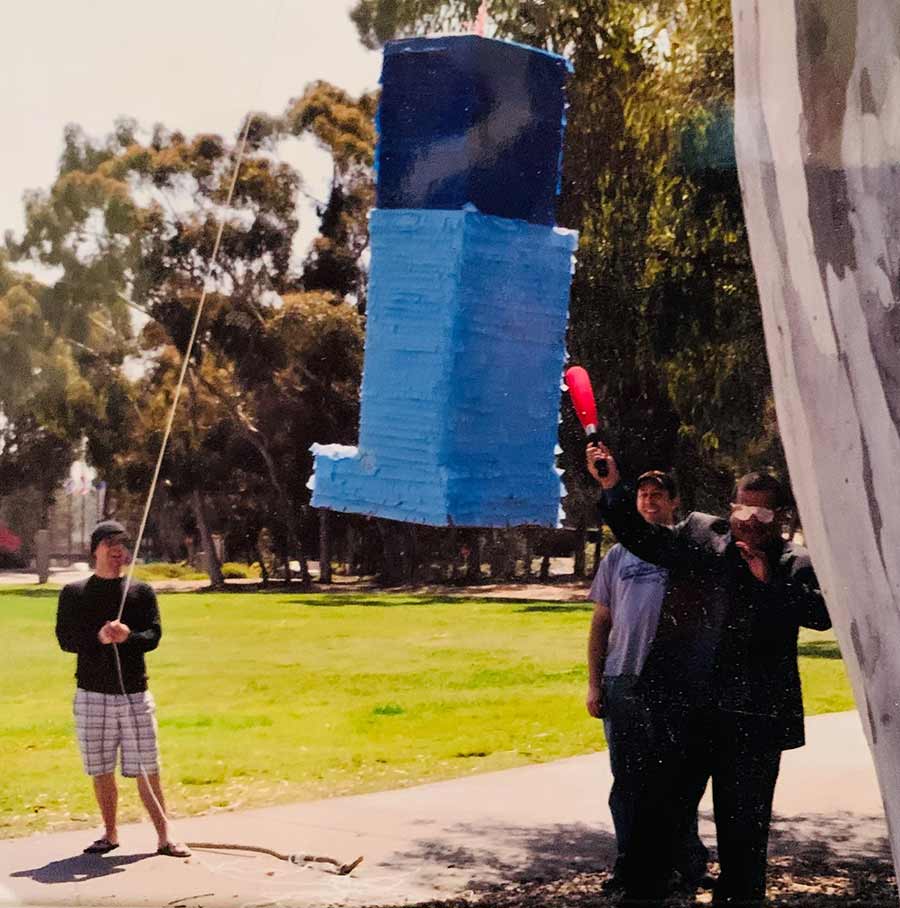 "What I really appreciate about him is his relentless optimism," said Nizet. "He just believes that if you do things right and your quest is a noble one, it's going to work out in the end. When there's a roadblock or hurdle to pass, he looks back at his life and thinks, 'I've done things that are so much more improbable or challenging than this little scientific hurdle,' so he's able to see the big picture and say, 'I know we can do this.'"
It is frequently assumed that the confidence necessary to withstand the challenges of an academic career must come with a certain level of bravado or naiveté. Nizet sees Gonzalez as offering an alternative model built on humility and learned resilience.
Now a mentor to a new generation of scientists, Gonzalez is intent on sharing his positive perspective with them.
"I always tell people, 'Come with honey, not a hatchet,'" he said. "This is really a business of relationships . . . follow what your heart is burning to follow, and do it in a nice way."
And as for the son that inspired it all, David Gonzalez III is now himself a Ph.D. student in the biomedical sciences, carrying on a new Gonzalez family tradition. His younger brother Isaiah recently graduated from UC San Diego and is applying to medical school this year.
Hear more of the story, and a few surprising anecdotes, in this episode of the N Equals One podcast by UC San Diego Health.
Nicole Mlynaryk is the Bigelow Science Communication Fellow at UC San Diego
Stay in the Know
Keep up with all the latest from UC San Diego. Subscribe to the newsletter today.