Published Date
Diversity Awards Recognize Dedication to Empowerment and Community Engagement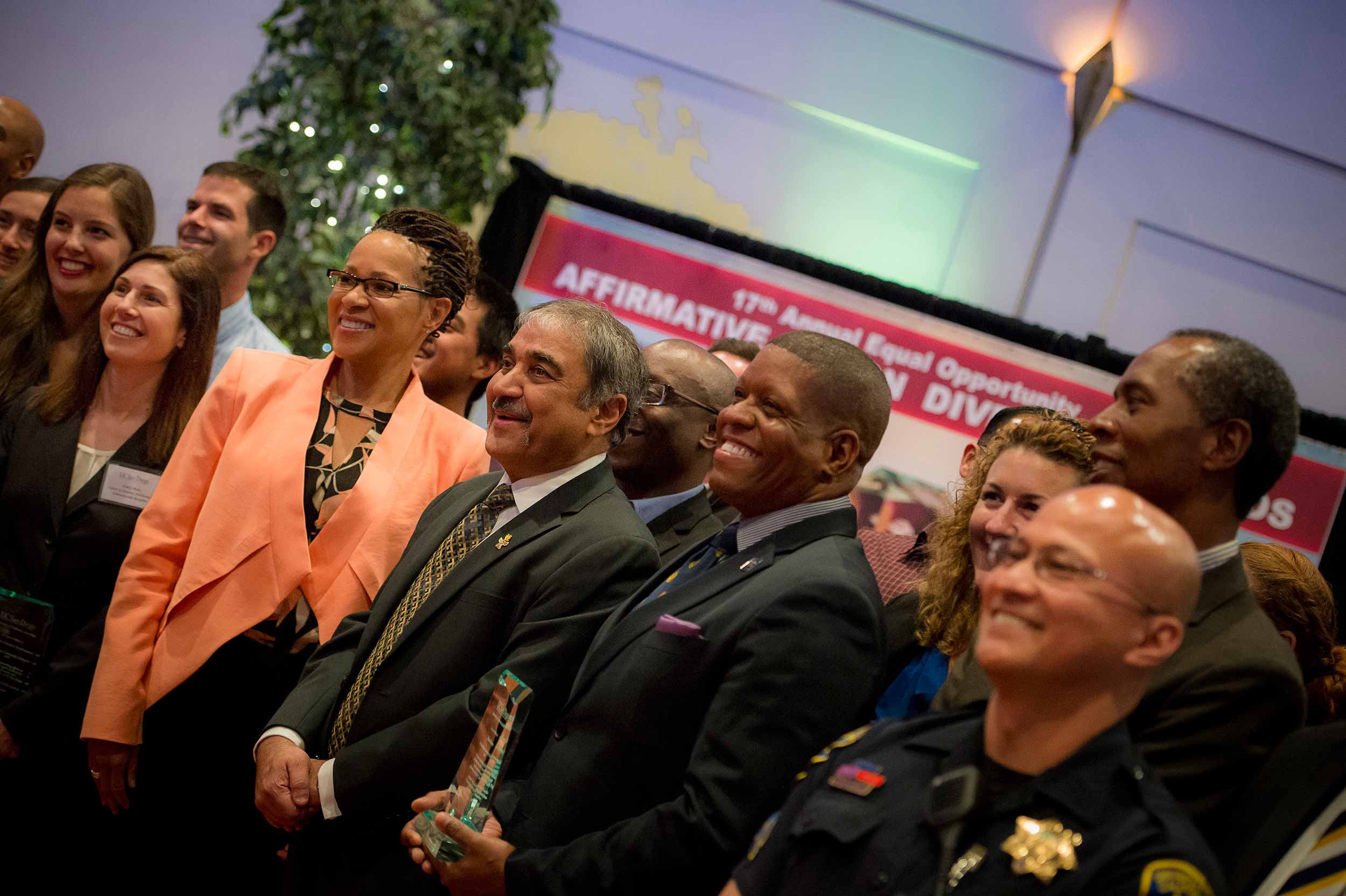 Photos by Erik Jepsen/UC San Diego Publications
A campus-wide interdisciplinary research collaborative, the Black Studies Project connects faculty, graduate and undergraduate students from across UC San Diego who are producing cutting-edge scholarship on black life, culture and experiences. Founded two years ago by UC San Diego Ethnic Studies Professors Dayo F. Gore and Sara Clarke Kaplan, the program's goal is to bring Black Studies research, teaching and public education to the forefront of the campus' intellectual life. Programming and events engage scholars from across the University of California system and visiting faculty from around the nation.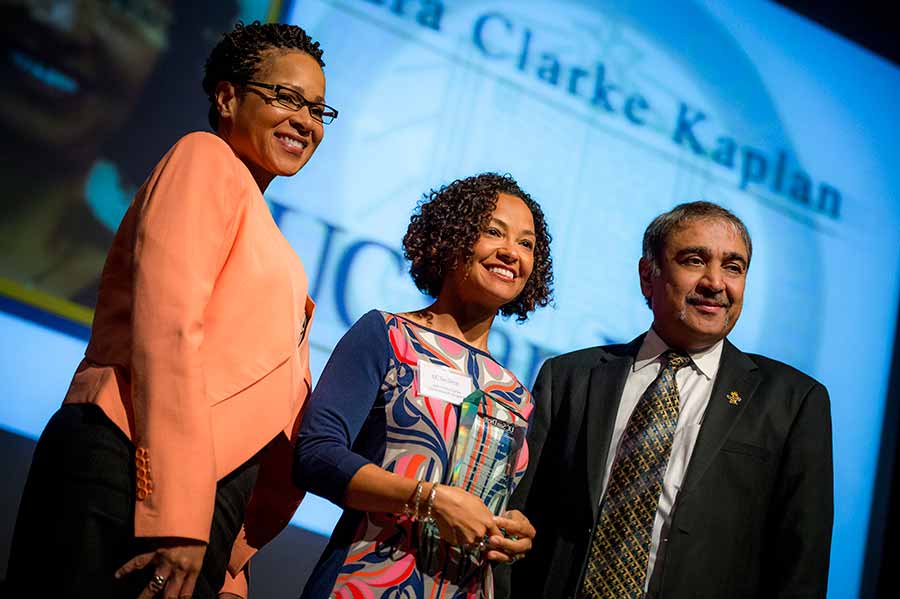 Gore and Kaplan were among 22 individuals, departments and organizational units recognized for outstanding contributions in support of UC San Diego's commitment to diversity. Recipients of the 21st Annual Equal Opportunity/Affirmative Action and Diversity Awards were lauded at a ceremony on March 3 at Price Center West Ballroom. All were celebrated for going above and beyond, from promoting the advancement of underrepresented students to addressing disparities in the community and improving cultural competency on campus.
"We are so grateful for the positive and broad impact of UC San Diego faculty, staff and students, who together have made great strides to increase and celebrate our campus diversity," said Chancellor Pradeep K. Khosla. "Their community outreach, recruitment efforts, mentoring programs and contributions have helped advance a culture of inclusiveness across UC San Diego."
Throughout the year, the Black Studies Project hosts numerous events, classes and public programs—from freshman seminars to visiting faculty panels and graduate student workshops. One of the newest additions to the program is "Emerging Conversations," a series designed to address Black Studies as it relates to areas such as science, technology and health in order to bridge the gap between scholars who may not always have the chance to interact.
"We wanted to develop an intellectual center of gravity for Black Studies at UC San Diego," said Kaplan. "Historically, the outstanding scholarship and teaching in Black Studies at UC San Diego has been dispersed across campus, and has lacked strong institutional support. So over the past three years, we have been working towards building an infrastructure that allows us to sustain, grow and showcase the Black Studies scholarship already flourishing at UC San Diego."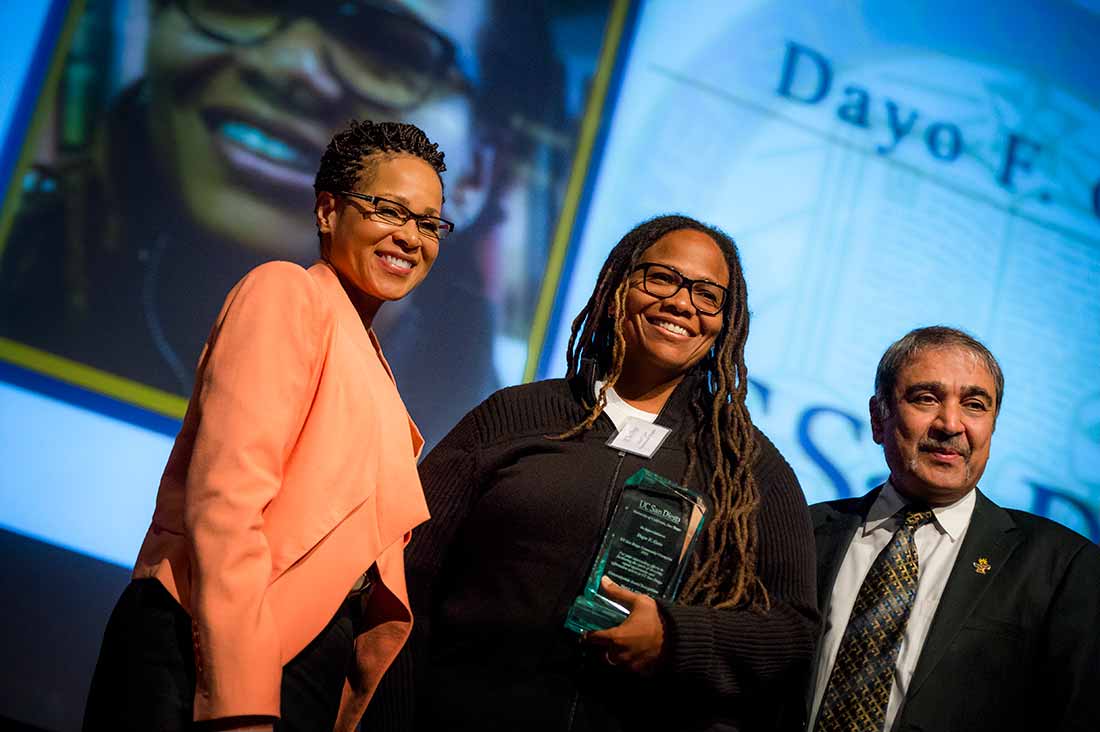 Ethnic Studies Professor Daphne Taylor-García also contributes to community-building efforts throughout the county. She co-founded the Mackey-Cua Project along with four other community members as a multi-generational organization created to address issues of race and class among queer, lesbian, gay, bisexual and transgender (LGBT) people of color in San Diego.
"We knew where to find general meet-ups for LGBT and different communities of color, but not one that centered on queer people of color advocacy," explained Taylor-García. "We wanted to create an organization where the politics of race, gender, class and sexuality were given equal importance and understood intersectionally."
Public gatherings are held to connect queer and transgender people of color in San Diego, share information, foster personal and professional networks and coalesce around activism efforts. The team rallies for undocumented immigrant rights, the Black Lives Matter movement and transgender youth support. Additionally the group also works to confront issues such as the prison-industrial complex and police brutality and serves on community boards and committees.
The UC San Diego Department of Intercollegiate Athletics also offers numerous opportunities for community engagement and takes a proactive approach to diversity education among staff, coaches and student-athletes from 23 teams. Two such initiatives, Team Up! and IMPACT (Increasing Movement and Physical Activity in Class Time) pairs UC San Diego student-athletes with local elementary schools that don't have physical education curriculums to help combat childhood obesity as well as foster physical activity, positive thinking and team-building.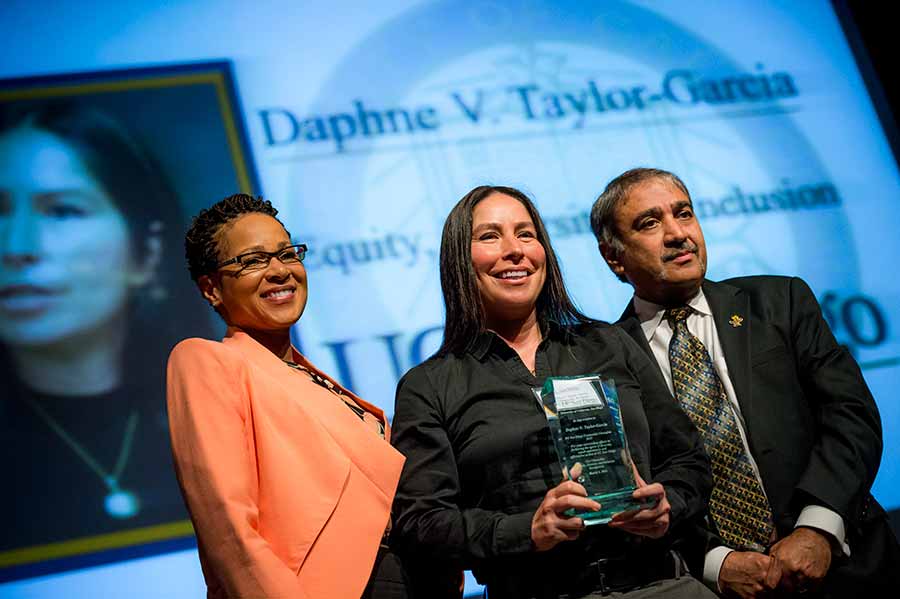 "These two programs both provide reciprocal benefits," explained Ken Grosse, Senior Associate Athletic Director. "For the youngsters involved, there's not only the opportunity to improve physical fitness but observe positive role models who are giving back. The UC San Diego student-athletes get a break from their structured academic-athletic routines, and are able to make a difference in the local community and truly embrace the relationships built with the kids they work with. In addition, the IMPACT program is organized in collaboration with UC San Diego Pediatrics and the San Diego Unified School District, so it's a great example of cross-campus community collaboration."
Undergraduate student Jennifer Maria Benavides also dedicates her time to giving back by working to inspire and encourage Latina women to pursue degrees in science. She is part of Hermanas Unidas, a student organization at UC San Diego that provides resources and leadership opportunities for Latina college students. Through the program, she has led campus tours for underrepresented high school students and worked to encourage their interest in earning a four-year degree.
"Being a role model for young Latina women seeking degrees in science is important and inspires me to seek higher education to break ground for students who are in situations similar to mine," said Benavides, who was motivated to pursue college after a university outreach program visited her high school.
Stay in the Know
Keep up with all the latest from UC San Diego. Subscribe to the newsletter today.