Crafting the Perfect Brew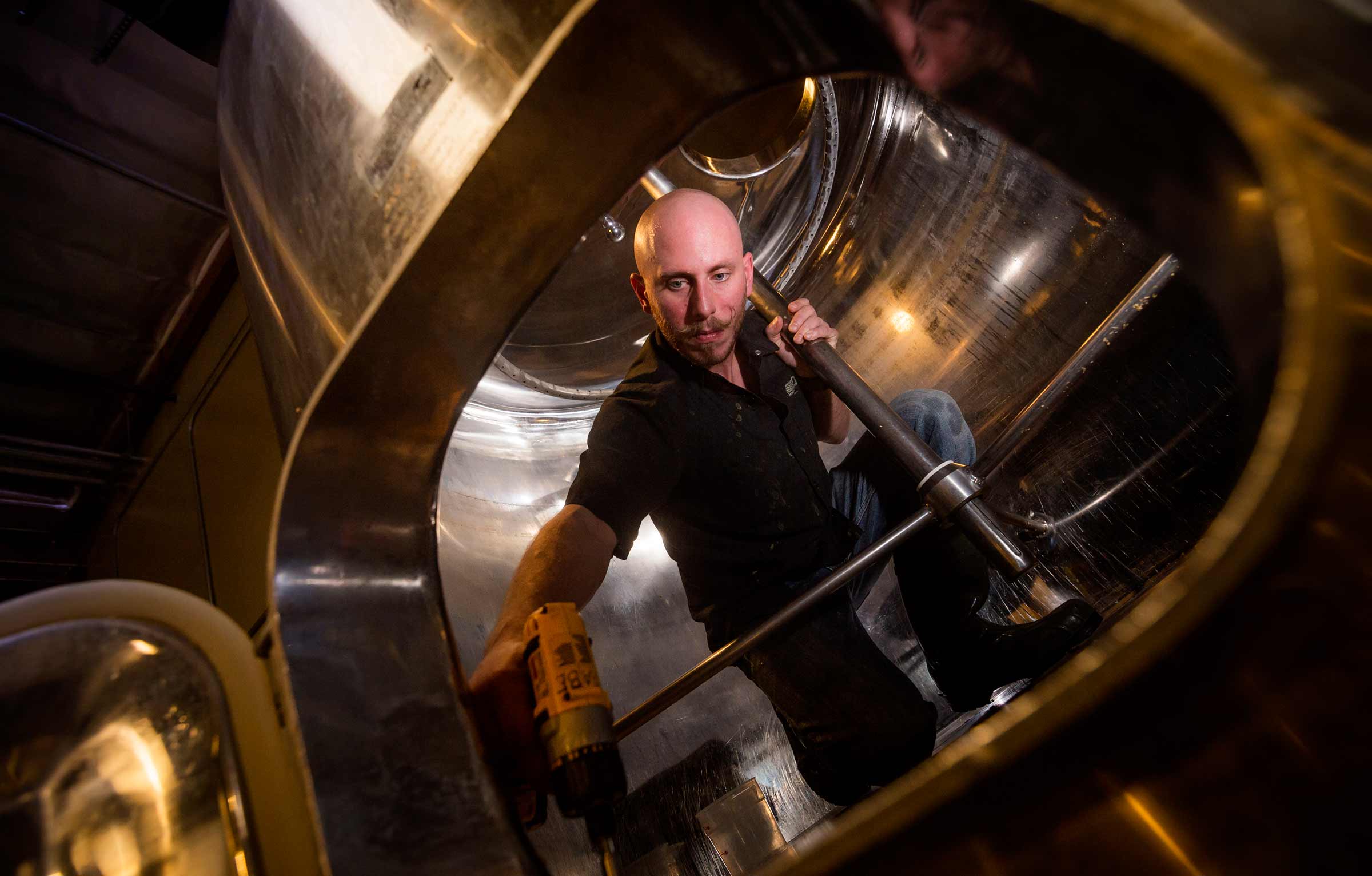 Photos by Erik Jepsen/UC San Diego Publications
UC San Diego alumni help lead San Diego's growing microbrew industry
George Thornton made his first batch of beer at his sister's apartment, using the spare bedroom to store the fermenting ale. Today, the UC San Diego alumnus is the owner of The Homebrewer in North Park, a supply store and educational resource for both beginning and advanced homebrewers. Here, customers can choose from a variety of hops, yeast, grains, additives and equipment, as well as participate in classes taught by fellow homebrewers. Next year, Thornton will open a small production brewery and tasting room next door.
Thornton is one of many UC San Diego graduates involved in the booming craft beer industry in San Diego. Many of the region's breweries—from Ballast Point and AleSmith to Rough Draft and Benchmark Brewing—got their start from homebrew operations.
Jeff Silver, a 1994 UC San Diego graduate, opened Rough Draft Brewing Company in 2012 after a career in finance and nearly 20 years of homebrewing as a hobby.
"We have a very strong homebrew community in San Diego," said Silver. "I think that's one of the reasons the industry has thrived here."
The craft beer revolution
President Jimmy Carter paved the way for the craft beer revolution in 1978 when he signed H.R. 1337 into law, allowing any adult to produce up to 100 gallons of beer or wine per year for local consumption. Not long after came the rise of homebrewing operations, some of which grew into commercial craft breweries. In San Diego, Karl Strauss Brewing Company became the city's first commercial craft brewery when it opened in 1989.
Since then, the region's craft beer industry has grown exponentially. Today, there are nearly 100 breweries throughout the county. A study last year by the National University System Institute for Policy Research estimated that in 2011, San Diego craft breweries generated $299.5 million direct regional economic impact, as well as $680.9 million in sales. To put that number in perspective, Comic-Con International generates a $180 million regional economic impact, the report stated.
Two UC San Diego alumni have played a significant role in the local rise of craft brewing: Yuseff Cherney, a 1992 graduate, and Chris White, a 1996 doctoral graduate. Cherney and White met on campus, when Cherney was teaching a homebrewing class at the Crafts Center and White, a graduate student in the department of chemistry and biochemistry, attended one of his first classes. They collaborated as homebrewers before each started their own projects.
White founded White Labs in 1995 to manufacture yeast cultures and provide fermentation services to brewing, wine and distilling industries. The enterprise has given San Diego brewers access to a variety of fresh yeast, encouraging experimentation on the traditional styles of beer.
Cherney teamed up with Home Brew Mart's Jack White to open Ballast Point Brewing and Spirits in 1996—one of the region's earliest craft breweries. From a "back room" brewery out of Home Brew Mart, Ballast Point has expanded to a larger production facility in Scripps Ranch and has opened a new brewery, restaurant and tasting room in Little Italy.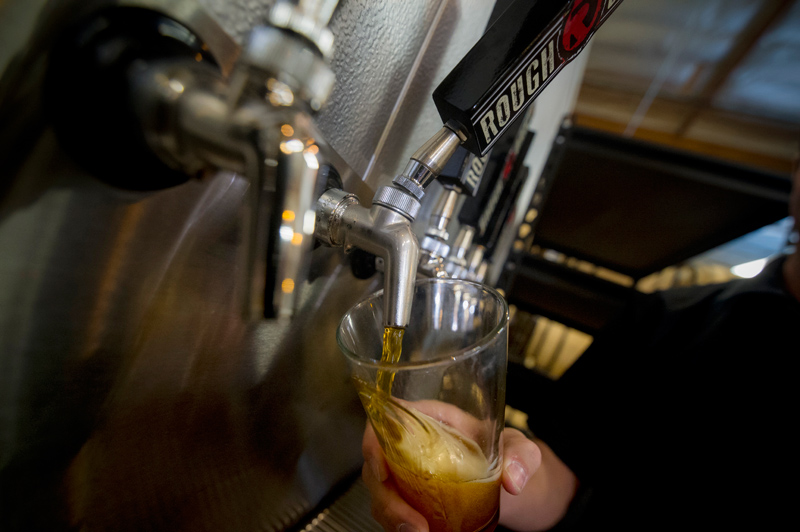 The science of beer
Making craft beer is both a science and an art. Like chefs, brewers use precise recipes and then tinker with different variations to come up with their own styles and new creations. It takes a combination of experimentation and experience to know how each ingredient and variable will influence the final result.
To do that well, an understanding of the chemistry and biology that turns barley, yeast, water and hops into a tasty brew is a must.
"Understanding the flavors is one level, understanding what each ingredient is contributing to the process of making the beer at a molecular level is a whole other level," said Matt Akin, a 2003 graduate and co-founder of Benchmark Brewing.
"Successful brewers have notebooks full of records of everything from pH at 10 stages in the process of beer-making to what the finished beer smelled like. The synthesis of all of that data into an understanding of how to repeat the process and improve upon it next time requires both science and art."
Silver, who earned his bachelor's degree in cognitive science, noted that the science and math classes he took at UC San Diego provided a good background for the art of beer-making. Thornton, who majored in history as an undergraduate before opening The Homebrewer, agrees. "Any good brewer knows that understanding the biology is very important to quality and consistency in beer."
Research and education are a core part of Thornton's vision for The Homebrewer. He plans to use their new production brewery to experiment with variations on recipes and collect data that will be a resource to his business, as well as to fellow homebrewers. That could mean trying different strands of yeast or varieties of hops to change the flavor profile of a particular beer—which customers could then sample side-by-side in the tasting room. Thornton also envisions more subtle experiments.
"We might change the number of yeast cells used, or amount of dissolved oxygen—changes that customers wouldn't notice in the results, but that brewers know are important for consistency and quality."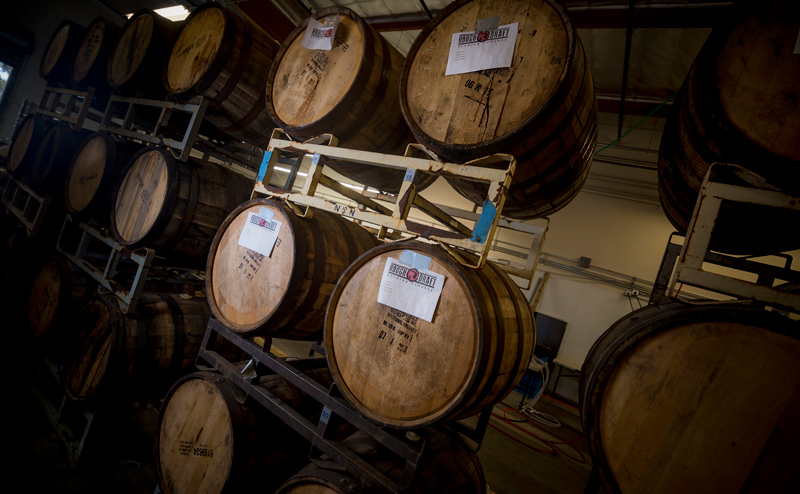 From UC San Diego to brewery and back
Today, UC San Diego alumni-crafted beer can be found on tap at campus eateries such as Home Plate, Round Table Pizza and Porter's Pub. Alumni brewers are also coming back to campus to help train the next generation of industry leaders.
In 2013, UC San Diego Extension began offering its Brewing Certificate program, designed to provide academic and practical training for entry-level brewing professionals. Alumni including Cherney (Ballast Point) and White (White Labs), as well as brewers from Stone, Rock Bottom, Karl Strauss and others, are among the program advisors and instructors. Students take courses ranging from "Yeast and Fermentation Processes" and "Wort Production and Recipe Formulation" to "Technology of Brewing." The program also includes business curriculum to equip students with the skills and knowledge necessary to administer the financial and managerial operations of a brewery.
"Craft beer is growing rapidly, so I'm very glad that UC San Diego has started a program to educate people who are looking to get into the industry," said Akin. "For quite a while, many of the people trying to get in had no experience or education and it made hiring and growing difficult. Now, with the flow of well-educated people entering the workforce, we are going to be able to grow even faster."
From homebrewers experimenting in their kitchens to established professionals who are training the next generation, UC San Diego alumni are playing a large role in the growth of San Diego's craft beer industry. It turns out, a campus steeped in science and research is also a fertile training ground for making good beer.
"I never imagined I would be doing this when I was in school," said Silver. "To come back to campus and see Rough Draft on tap is pretty wild."
Stay in the Know
Keep up with all the latest from UC San Diego. Subscribe to the newsletter today.