By:
Erika Johnson

Kaitlyn Avila
Championing the Voices and Contributions of Native American People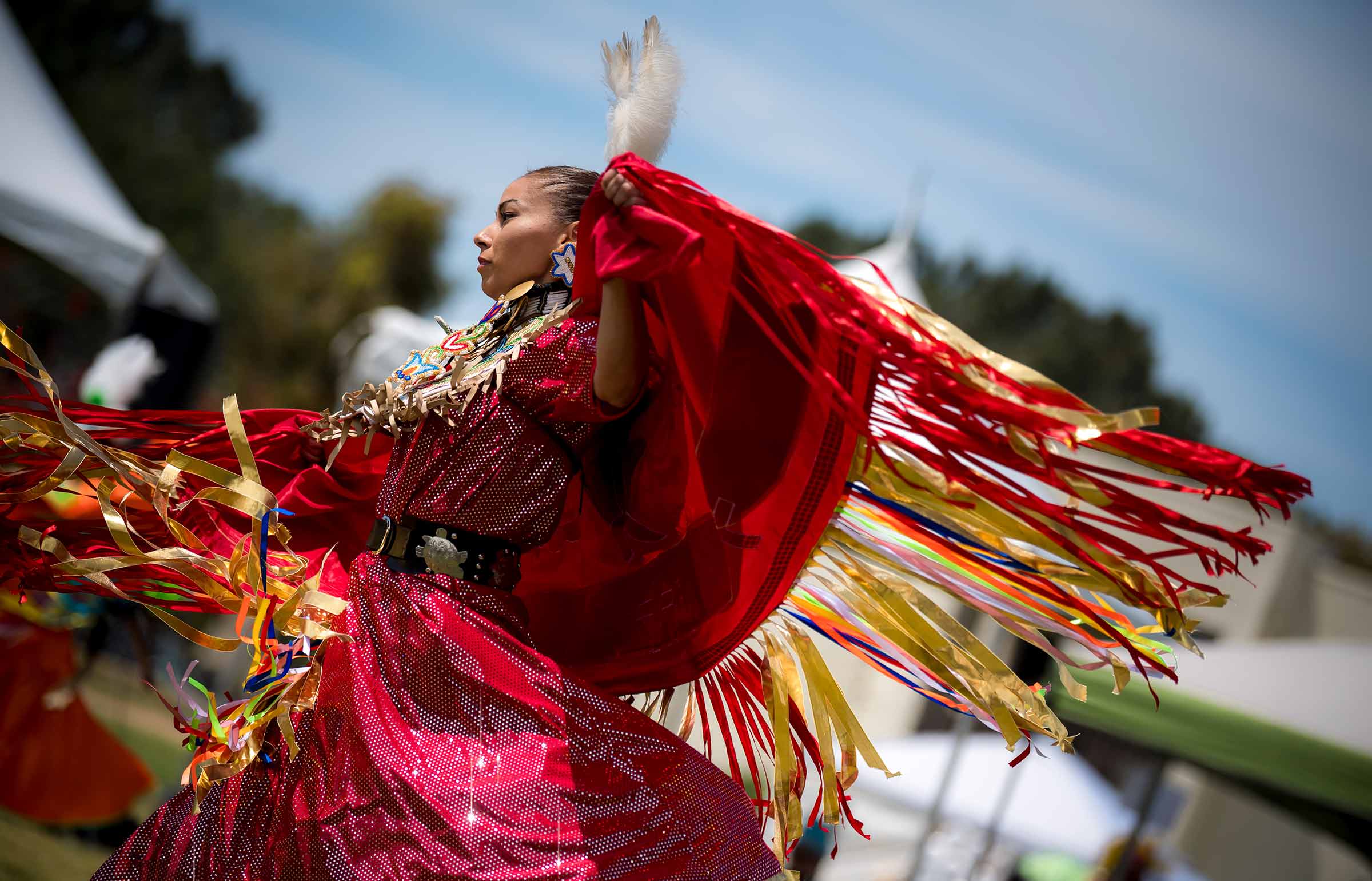 This November, UC San Diego celebrates the rich cultures, traditions and histories of Native American people and recognize the important contributions they continue to make. Photo by Erik Jepsen/University Communications.
Throughout November, our campus and our country celebrate Native American Heritage Month in honor of the rich cultures, traditions and histories of Native people. Locally, we recognize the tremendous contributions of the Kumeyaay people, who have inhabited the Southern and Baja California regions since time immemorial. UC San Diego is built on the un-ceded territory of the Kumeyaay Nation, and the campus community holds great respect for the land and original people of the area.
Students, staff and faculty are invited to join in a series of events throughout November that will include theatrical performances, culture and language workshops, a film screening, faculty lectures and more. The free 15th anniversary events, designed to provide education and build community, are led by UC San Diego's Intertribal Resource Center in coordination with a campus committee.
Love at first punch
The series of events kicked off Nov. 4 with a powerful story of triumph and tribulation by professional boxer Kali "KO Mequinonoag" Reis. An outspoken advocate for Native American rights, she shared how she is re-learning the culture and language of her family, who originated from Cape Verde (a cluster of five islands located on the west coast of Africa that were originally used as a slave port) as well as the Native Cherokee, Nipmuc and Seaconke Wampanoag tribes.
She also opened up about what led her to boxing and the ways that she built resilience in the face of several setbacks. One of the most important crossroads she met happened after she got "beat up" during her first boxing match. Reis contemplated the two scenarios of quitting or training harder, and ultimately decided to channel her inner warrior and become the best athlete she could be. And the work paid off—Reis became the International Boxing Organization (IBO) World Boxing Association (WBA) super-lightweight world boxing champion, the first mixed Indigenous woman to earn the title.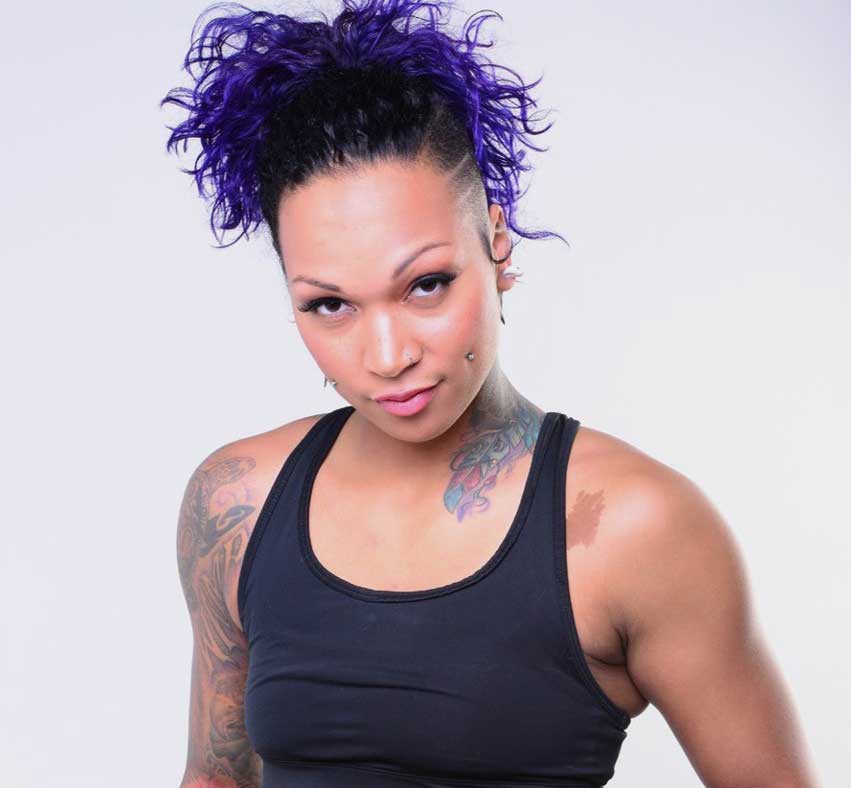 Taking the audience back to her childhood, Reis described how boxing became an outlet at a time when she struggled with finding her purpose and identity. Growing up, she took part in Native American powwow gatherings and attended a Christian church with her family. Reis also experienced difficulties in being biracial and growing up as an Urban Indian, not feeling true belonging with either of her identities. She also shared that she identifies as "two-spirit," having both male and female energies, which caused a rift with her mother.
"I had this warrior attitude; I had to fight for recognition, for love, for acceptance, from a young age. I got into boxing because I needed another outlet," said Reis. "When I first walked into the gym…my mind would quiet."
Even in the darkest moments of her life, Reis always knew she was destined for a greater purpose. She uses her platform as boxer to build awareness of Native American and Indigenous issues that aren't in mainstream media today—issues such as the Missing and Murdered Indigenous Women human rights crisis. According to the Urban Indian Health Institute, murder is the third leading cause of death among American Indian and Alaskan Native women.
Reis believes awareness is the first step toward change. "If I have a voice for the voiceless, and I fight for a purpose…then I'm going to do it. It might motivate and drive somebody to make a change." She encouraged all to get involved, whether it is having conversations about the Missing and Murdered Indigenous Women issue or learning about what Indigenous land that you occupy at work or home.
The kickoff event, held in a hybrid format, also included a live performance by Paul Cannon, a singer/songwriter from the San Pasqual Band of the Kumeyaay Nation. Cannon is a member of the acoustic group, Iron Sage Wood, representing the heart and soul of Southern California. A San Diego native, Cannon blends elements of folk, beach rock and pop sounds with lyrics that share intimate personal realizations and feelings about current issues.
Outstanding Native Tritons honored for leadership, outreach and activism
As part of the November celebration, the Intertribal Resource Center recognized two graduating Native students who have made significant contributions to the Native American community at UC San Diego through their leadership, outreach and activism. Seniors Anthony Hurtado and Brenna Deasy were each gifted blankets from Eighth Generation, a Native-owned business that promotes works by Native artists. A blanketing ceremony is a customary way of honoring those who have made important contributions to their communities.
Hurtado is a Payómkawichum and Tohono O'odham student at Eleanor Roosevelt College studying public health. He is also a celebrated artist who has created art for both Native American Heritage Month and the Intertribal Resource Center. A leader in the local community, Hurtado serves as co-chair for the Native American and Indigenous Student Alliance (NAISA) and is also a member of Rincon Storytellers.
Despite his continued contributions to the Native American community at UC San Diego and beyond, he maintains an air of humility regarding his selection as one of this year's Outstanding Native Tritons. "I really appreciate the recognition," said Hurtado. "I know there's so many other Native youths in this school and other schools that have contributed so much and are so talented, and I just want to also give shout outs to them because they're so amazing and we're all in this together."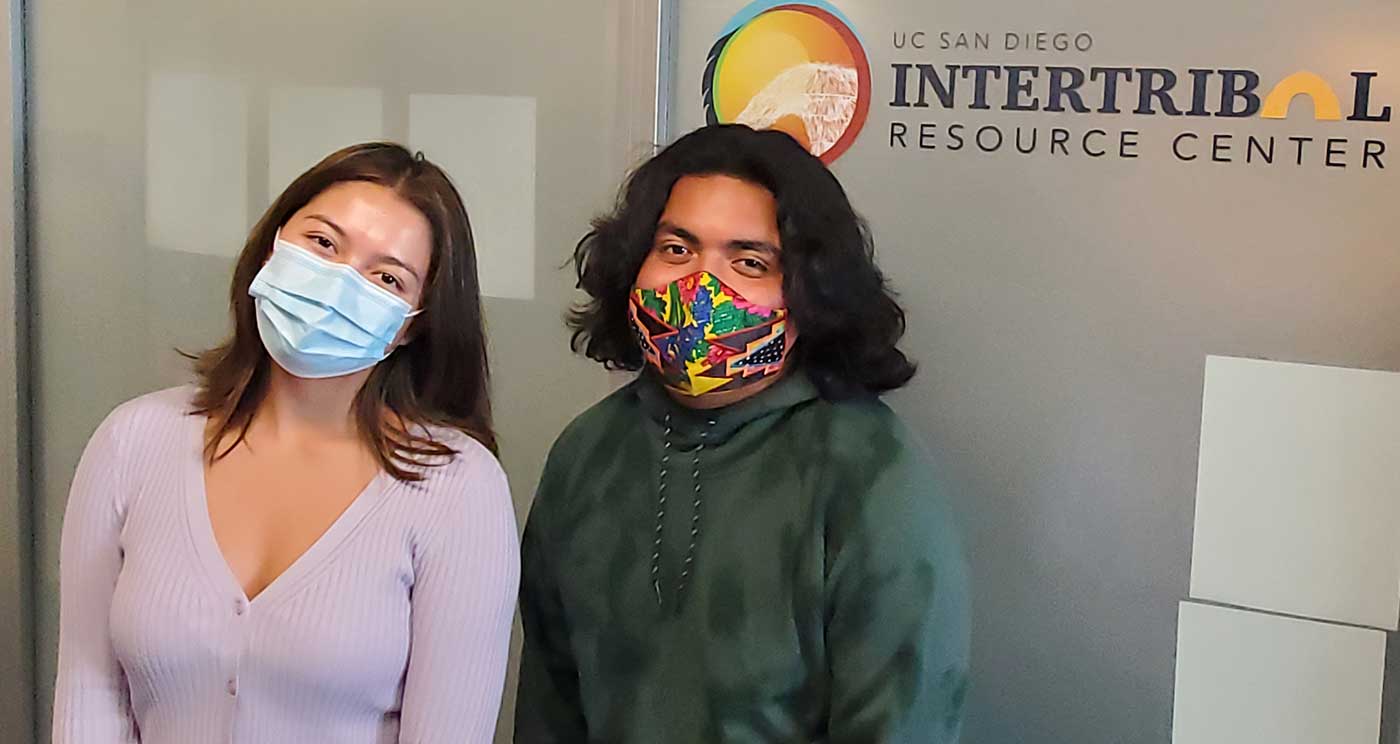 Deasy is a Navajo student at John Muir College studying psychology with a specialization in human health. She has been an active member of the Native American and Indigenous Student Alliance (NAISA) for several years, acting previously as the vice chair and the organization's representative at the Student Promoted Access Center for Education and Service (SPACES). She currently serves as co-chair of NAISA alongside Hurtado.
Raised outside of Native culture, Deasy explained that being involved in Native student life helped her grow in her identity, and she is proud of how her community shows up for each other. "I have loved being a part of this community for the past four years and reconnecting with my Navajo roots. I am just so grateful and happy to have been here and found a family here."
You're invited: Native American Heritage Month events
The Intertribal Resource Center and the Native American Heritage Month Planning Committee invite all campus community members to join in a monthlong series of events featuring speakers, performances, workshops, film screenings and more. Additional events may be added throughout the month, so be sure to check the Native American Heritage Month site for updates. Also, see current campus safety guidelines for how to celebrate safely.
IYA: The Ex'celen Remember
Nov. 12 | 6:30 p.m. and November 13 | 2 p.m. and 6:30 p.m.
The UC San Diego Ethnic Studies Department, in conjunction with Critical Missions Studies, Baktun12, and the Ohlone/Costanoan-Esselen Nation, will present a new play—IYA: The Ex'celen Remember—outdoors at the North Torrey Pines Living and Learning Neighborhood on the UC San Diego campus. All performances are FREE and open to the public.
Speaker Event: Elena Hood, Ph.D.
Nov. 15 | 6:00 p.m. | Zoom
Elena Hood is the director of the Intertribal Resource Center at UC San Diego with over 20 years of experience serving Native communities. She will present on her work to increase access to higher education for Native students.
Culture and Language Table with the ITRC
Nov. 18 | 12-1 p.m. | Zoom
Join the Intertribal Resource Center for a Culture and Language Table with Director Elena Hood. Fellow Native Triton and Chickasaw citizen Lauren Smith will present on the history and culture of the Chickasaw people.
Falling Rock Art Reception
Nov. 23 | 6-7:30 p.m. | Zoom
Join the Cross-Cultural Center for an online exhibit featuring the art of Gerald Clarke from the Cahuilla Band of Indians. This event will showcase art that reflects current issues faced by Native American communities.
"I Am Still Here" Film Screening
Nov. 30 | 5-6 p.m. | Thurgood Marshall College Room
Cordelia and Meg are Indigenous women separated by distance, age and experience, yet are connected by a resilience and perseverance that transcends their differences. This film urges you to look within at your own journey with culture, to believe others when they tell you their story, and to question what has been taught to you. This Intertribal Resource Center event will be followed by a Q&A with Meg, one of the film's storytellers.
Stay in the Know
Keep up with all the latest from UC San Diego. Subscribe to the newsletter today.