As California Cliffs Erode, UC San Diego Team Works to Track and Understand these Changes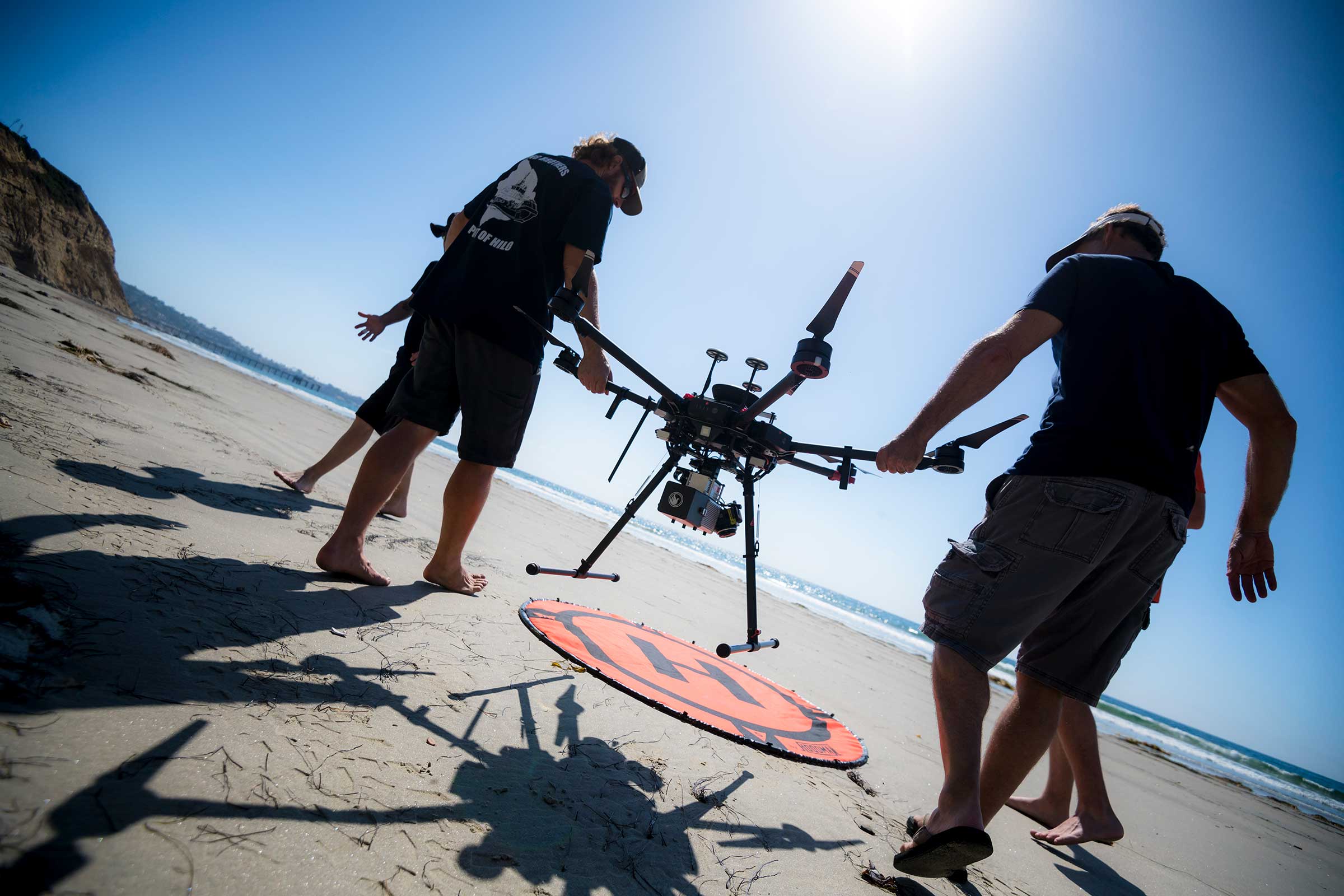 The Coastal Process Group at Scripps Instiution of Oceanography deploys a drone to conduct a LiDAR survey. Photo by Erik Jepsen/University Communications.
Advanced imaging and geotechnical technology are powering understanding of our coastline and its hazards
The cliff-top parking lot was fenced off and the trail marked "Unstable Cliffs - Active Landslide Area - Stay Back," but that didn't stop Adam Young and City of Encinitas officials from carefully traversing the uneven landscape at the Beacon's Beach switchback trail to get a closer look.
"There are definitely new cracks here," said Young, a coastal geomorphologist and researcher at UC San Diego's Scripps Institution of Oceanography.
Young studies coastal erosion, overseeing coastline surveys throughout the state of California that use advanced laser imaging technology—called LiDAR, which stands for Light Detection and Ranging—to create high-resolution maps of cliffs to measure how they are eroding and changing over time.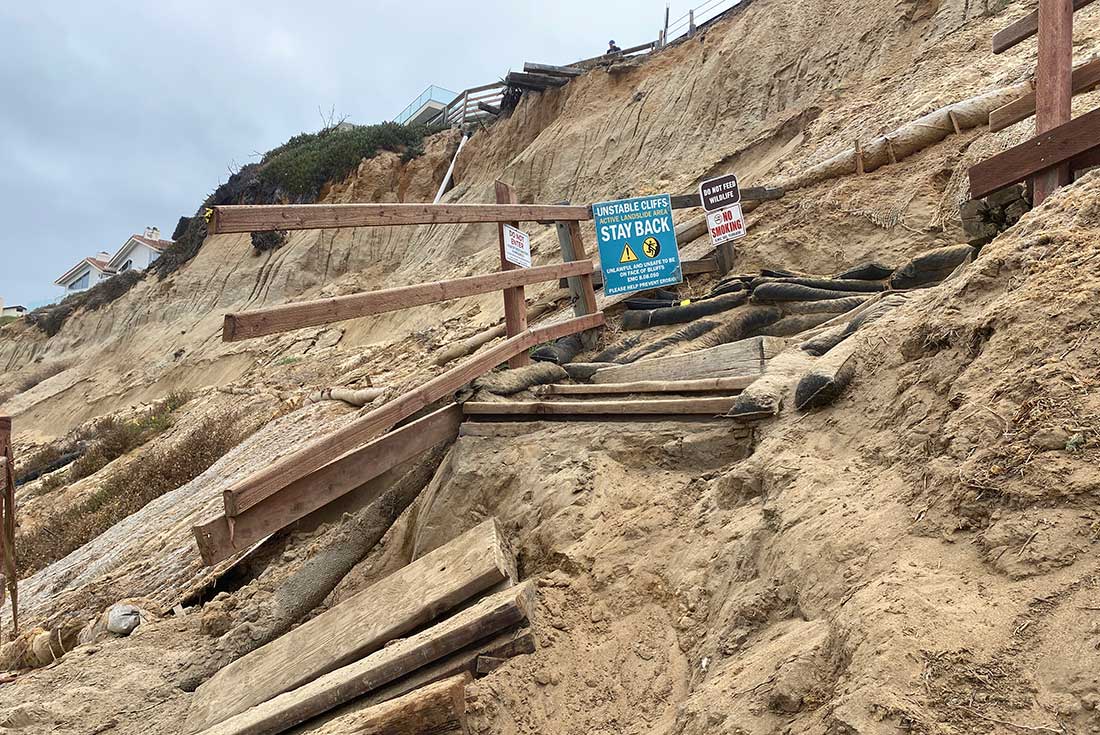 On May 2, 2022, a landslide at the Leucadia, California beach damaged part of the trail, closing the popular access point. Young and a team of fellow scientists from Scripps Oceanography went into rapid response mode, working with city officials to conduct a LiDAR survey of the landslide and install advanced geophysical instruments to determine if the landslide was still moving.
At the site, a seismometer now monitors any shaking in the cliff face, a GPS monument allows for measuring ongoing changes in position of the cliff top, and wave pressure sensors measure wave impacts hitting the base of the cliff. These pressure sensors allow scientists to measure how often the waves reach the base of the cliff and potentially contribute to the movement of the slide.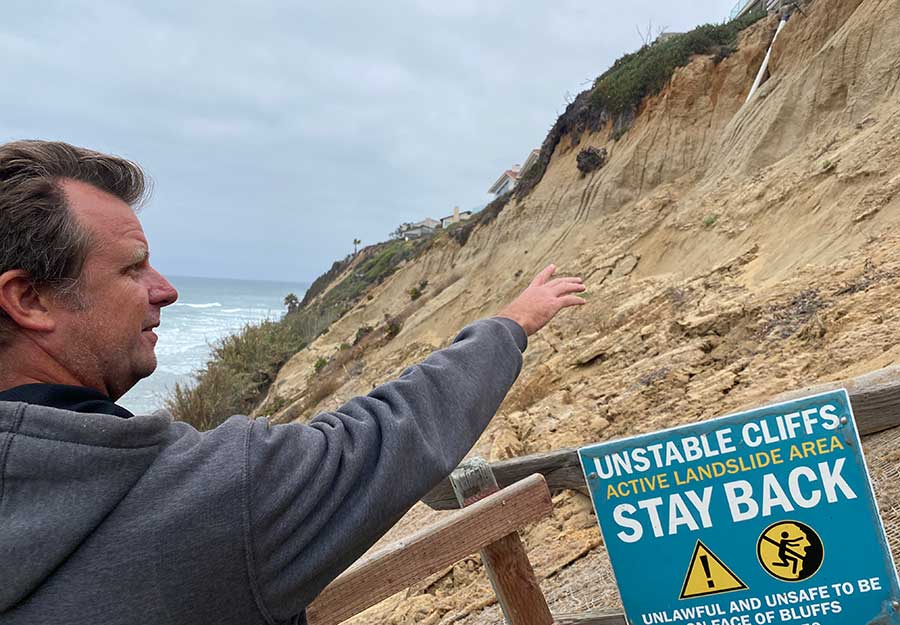 "Right now the beach is pretty eroded, and you can see the high tide water line is all the way up to the base of the cliff," said Young on May 17, when he was back for the installation and monitoring of equipment.
Tiltmeters, which Scripps geophysical engineer Frank Wyatt typically uses to measure movement of the San Andreas Fault, are instruments that can monitor slope stability, measuring to an accuracy of 10 micrometers if the ground is continuing to move. Tiltmeters have also been widely used across the U.S. and Europe to monitor railroad tracks. They get adhered to railroad ties to determine if a track has gone askew, and provide real-time monitoring to officials.
Most of the data is disseminated from the instruments using cellular signals to "the cloud." Results of the data collected will be shared with city geotechnical experts to help determine when the landslide is done moving, and when the trail can reopen.
And while the team went into rapid response following the landslide, Beacon's Beach is an area where Young and Scripps geophysicist Mark Zumberge are already conducting ongoing enhanced coastal monitoring. This research is funded as part of Assembly Bill 66, which was introduced by Assemblymember Tasha Boerner Horvath, whose district includes San Diego's coastal North County. The legislation was spurred in part by a fatal accident in which a 30-by-25-foot sandstone chunk broke loose and fell onto three women at Grandview Beach in Encinitas in August 2019.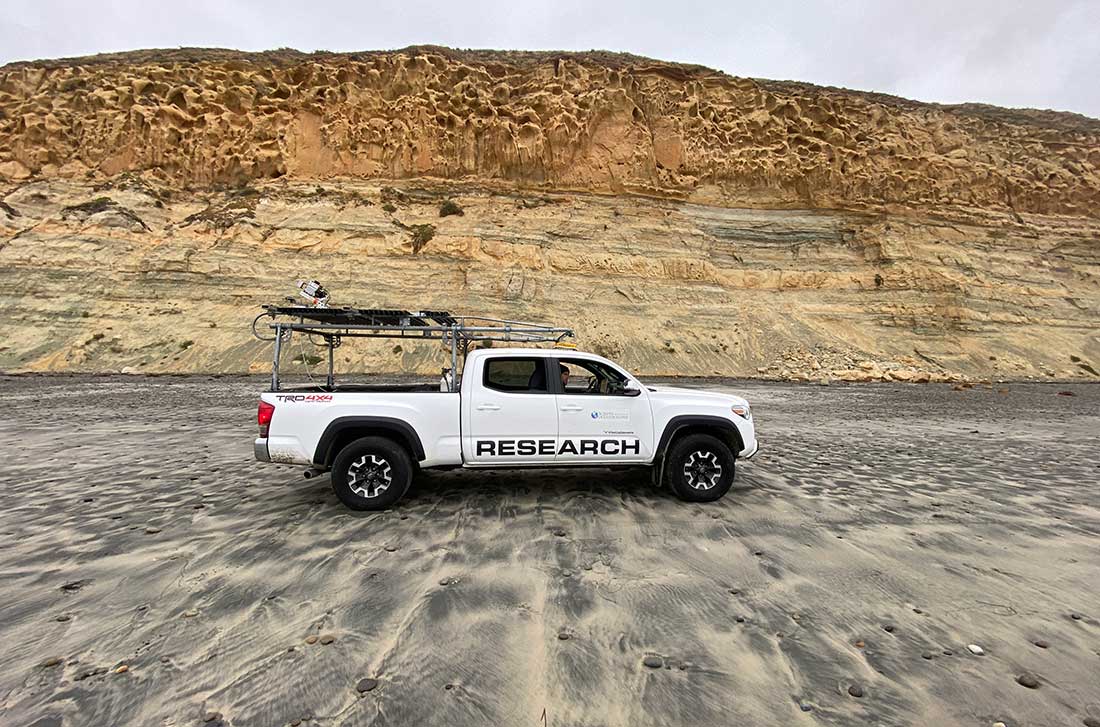 The bill has allowed for an expansion of coastal LiDAR surveys from Black's Beach to Carlsbad. The surveys are now being conducted weekly. The LiDAR system, which can be operated by a truck-mounted system or drone depending on the width of the beach and other factors, sends hundreds of thousands of laser pulses per second. When the laser pulse hits an object, the laser signal bounces back to the LiDAR instrument, yielding a detailed measurement of the time it takes the laser to return to the sensor. This results in a centimeter-scale resolution point cloud map of the cliff face, beach elevation and beach cobble—the smooth rocks that are often found on San Diego beaches in the winter.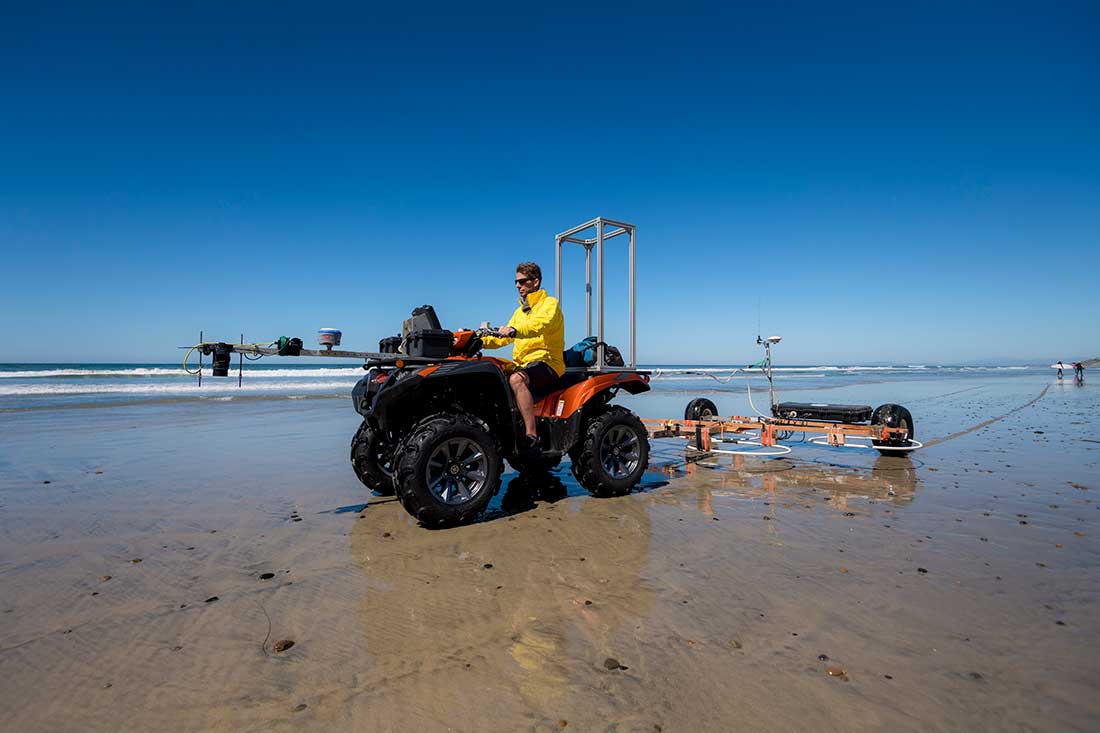 "Each LiDAR survey provides a snapshot that we compare to previous surveys, to measure and track erosion over time," said Young. "We use these surveys to quantify the erosion processes, identify erosion patterns on cliffs and beach, and examine stability conditions. The LiDAR surveys allow us to examine the site conditions before and after a landslide and help inform coastal management."
High tides, large surf, wave run up, groundwater intrusion, rainfall, weathering and sea-level rise can all contribute to beach and cliff erosion. Young and Zumberge are hoping to gain a better understanding of the complex processes that lead up to cliff failures.
Better understanding this interplay may help answer the question of whether signals exist that can forecast where and when an increased risk for collapse is developing. If these signals exist, they would be foundational to informing recommendations towards the development of a potential early landslide warning system also envisioned in the AB 66 bill.
The second phase of AB 66, which is still awaiting permitting approval, would also see the installation of optical-fiber strainmeters at key locations along the cliffs. The strainmeters, which were also developed at Scripps for earthquake research, can measure earth movements at the scale of nanometers.
The strainmeters would be installed by embedding a fiber cable near the cliff top. The quarter-inch cable "uses light as a measuring tape," according to Wyatt, to capture any strains of movements in the ground, sampling as quickly as 50,000 times per second.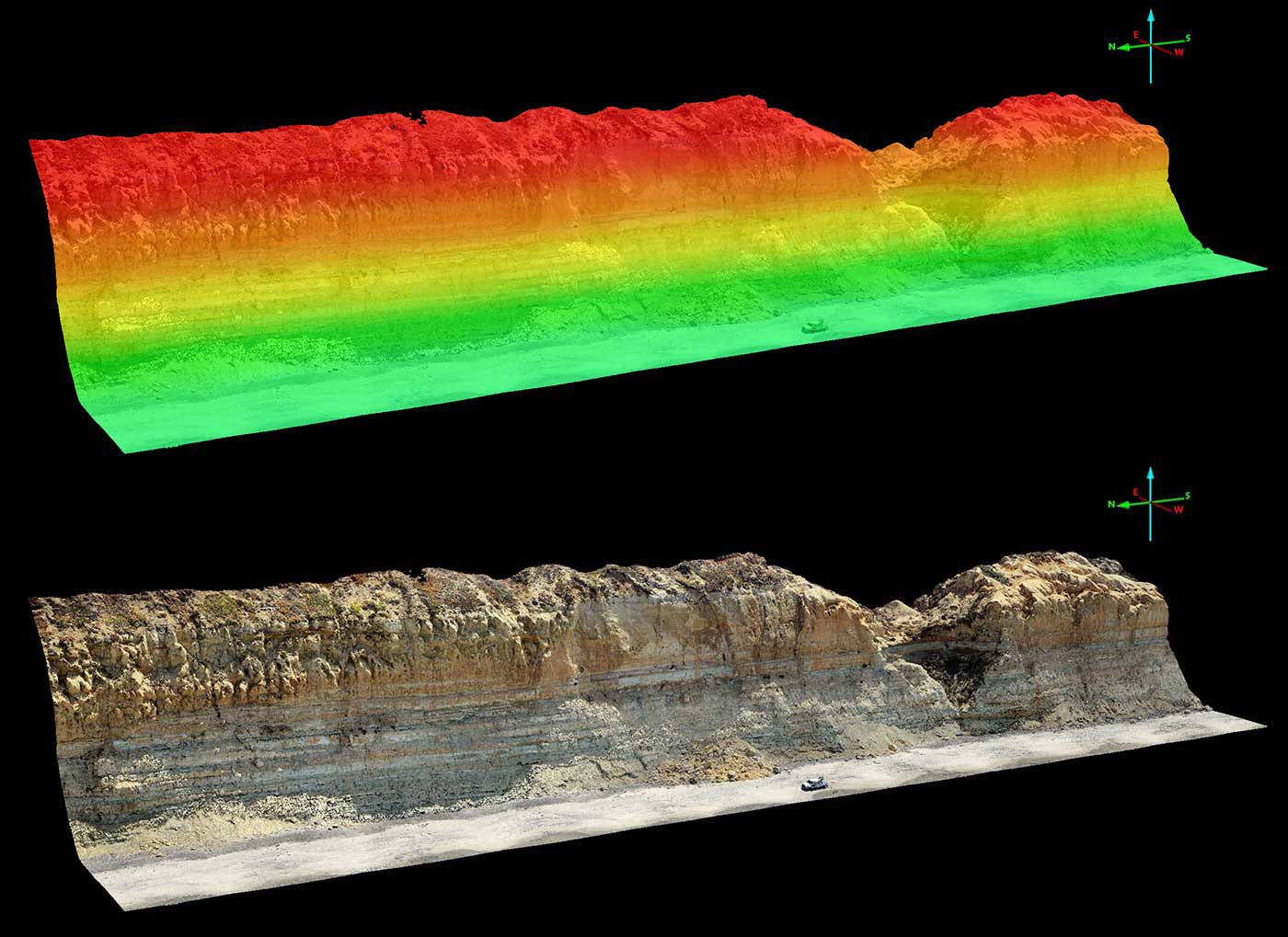 Any movement detected is measured instantly, creating a record similar to that from an earthquake seismograph. These important measurements may help identify small ground movement signals that precede a large cliff failure event.
These innovations are part of a suite of instruments helping oceanographers and geologists project the future of California's coastline in an era of changing climate. Other programs that complement this research include the Coastal Data Information Program at Scripps, which generates wave model forecasts that can help estimate how waves may interact with the coastline, and the Resilient Futures program, which works with the City of Imperial Beach to provide enhanced flood forecasting to help the community better prepare for sea-level rise.
The beaches in San Diego County are among the most studied in California. Routine beach surveys conducted by Scripps using all-terrain vehicles and GPS date back more than twenty years. The newer mobile LiDAR surveys provide improved coastal coverage including the cliffs and other coastal features. The surveys have expanded over time thanks to advances in technology and increased demand for this critical research to understand threats to infrastructure. The new truck- and drone-based mobile data collection have facilitated higher frequency repeat surveys and are proving critical to better understanding coastal processes.
The California coastline is home to significant and costly infrastructure on the coastline, including homes, railways, highways, wastewater treatment plants, military facilities, power plants and more. The railway corridor connecting San Diego to Los Angeles runs along the beach-top bluffs, with closures and service disruptions following cliff failures. There are calls to relocate the tracks off the bluffs, estimates of which could cost several billion dollars.
"By better understanding how the coastline is evolving now, we can make better predictions for the future," said Young.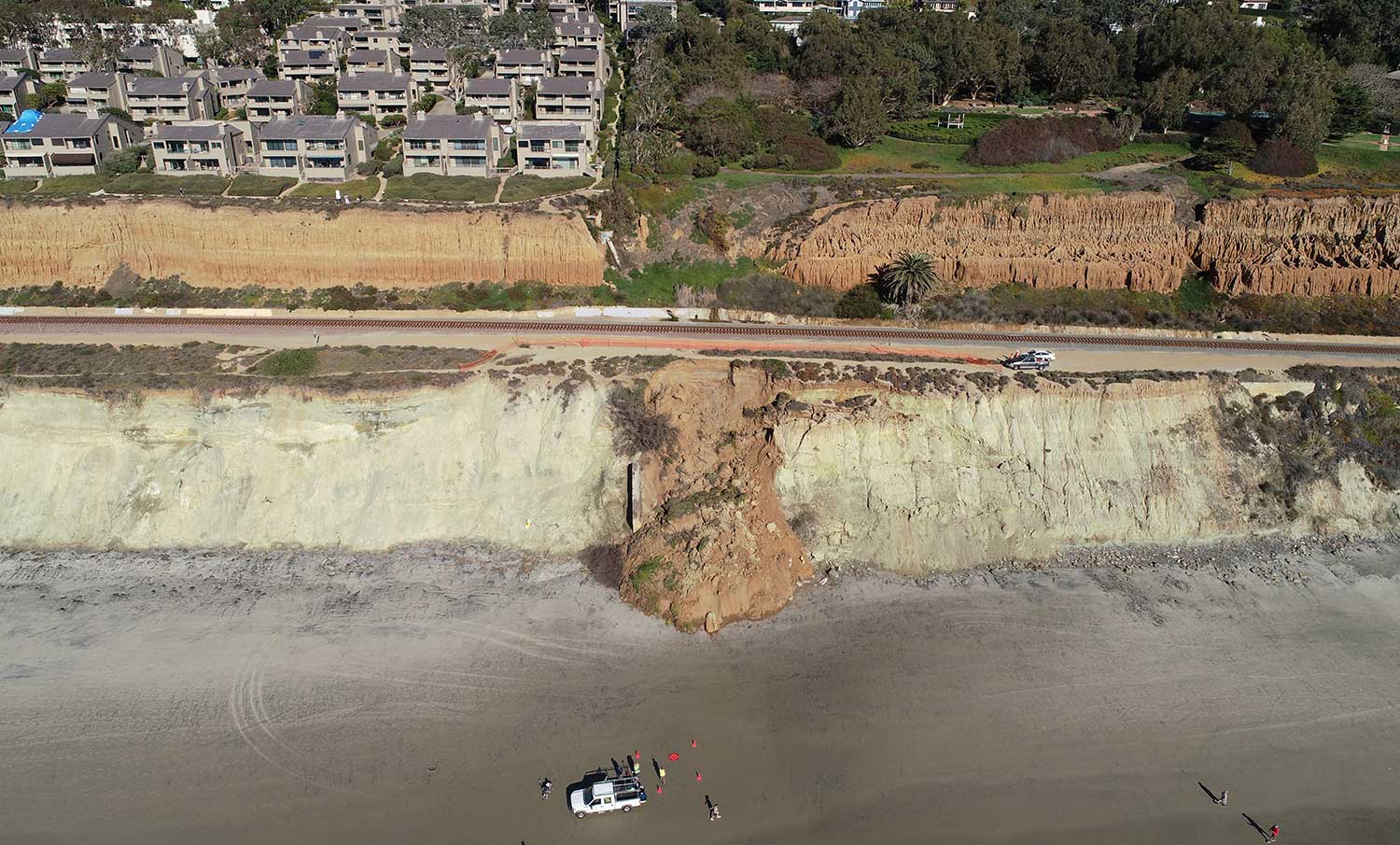 Stay in the Know
Keep up with all the latest from UC San Diego. Subscribe to the newsletter today.