Albert P. Pisano Joins UC San Diego as Dean of Jacobs School of Engineering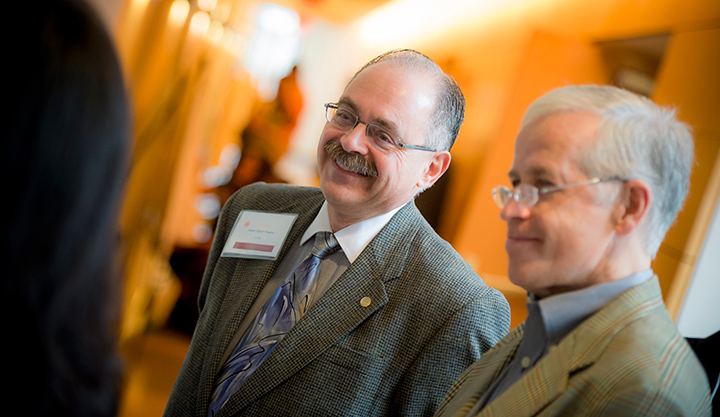 Albert P. Pisano. Photos by Erik Jepsen/UC San Diego Publications
When Albert "Al" P. Pisano, the new dean of the Jacobs School of Engineering, recently described UC San Diego, he said, "This is a campus of energy. It's a campus of surging forward. It's a campus of collaboration. This campus feels like home to me. I think it's a great place, and I'm very happy to be here."
A highly accomplished mechanical engineer, educator, entrepreneur and administrator, Pisano began serving as dean of the Jacobs School Sept. 1, 2013. He holds faculty appointments in the departments of mechanical and aerospace engineering (MAE) and electrical and computer engineering (ECE) at UC San Diego. Before coming to UC San Diego, Pisano served for 30 years on the engineering faculty at UC Berkeley, where he recently received its highest honor, the Berkeley Citation.
Pisano's research is driven by his passion for developing, mastering and advancing technologies in order to solve problems, a process he describes as engineering in the interest of society. One of his new projects is the development of an inexpensive yet rugged sensor system that will predict landslides in the Philippines, a country where landslides are a deadly, national problem.
Can you talk about your views on interdisciplinary collaborations, as they relate to addressing societal problems?
AP: Every single societal problem has many facets to it. Challenges such as the need for more clean water, a clean environment, more efficient manufacturing with less of an ecological footprint, and digital medicine — just to name a few — demand technological solutions that must be developed. Here at the Jacobs School, we are happy to collaborate with all the units on campus to develop these solutions.
But if you look at the problems more deeply, there is always a human side. There is a human motivation side. There are human factors and societal impacts. There is social acceptance. We have all these disciplinary experts in these areas on the campus, in addition to the engineering expertise.
I feel a pure technology solution to a problem usually doesn't work. You need to understand the system into which the technology goes. And the technology always goes into a mixed system of technology and people.
I think UC San Diego's spirit of collaboration is an excellent thing. And I think all the units working together is really the way for us to have the social impact that we want. So many people around here have that same feeling, and the community around the school has the same feeling. So each day that I wake up here, I just feel energized because I'm in the mix with a group of people that really want to do great things for the world using great technology.
Can you discuss your plans for undergraduate education at the Jacobs School?
AP: I am hoping to bring a deeper spirit of experiential engineering education to the curriculum so that our students are even better prepared than before. It's true that we have a lot of great programs like the Team Internship Program, but I think we need to do more. I'm working with everybody — the community, the companies, the faculty and the students — to really take this up a notch and really make an engineering degree from the UC San Diego Jacobs School not only a degree of deep engineering fundamentals but also of strong engineering application.
How do you describe your research?
AP: Much of my lab's current research involves the use of microelectromechanical systems (MEMS) to develop sensors that function in harsh and punishing environments such as within gas turbines, geothermal wells, jet engines and tires. MEMS are tiny machines with moving parts. These machines generally range in size from .02 to 1,000 micrometers.
In addition to developing small sensors for harsh environments, my team and I are developing larger sensors that can be manufactured at extremely low cost and made from sustainably sourced polymers. Low-cost and sustainable sensors will be necessary to realize the "trillion-sensor universe" that I foresee in which ubiquitous, inexpensive and environmentally benign sensors serve to improve health and environmental monitoring, food safety and much more.
Read more about Pisano's research in a Q&A in the San Diego Union Tribune.
Stay in the Know
Keep up with all the latest from UC San Diego. Subscribe to the newsletter today.