A Nursing Student's DREAM
Watching nurses tend to his beloved grandfather, diagnosed with terminal cancer, Christopher Vela decided he wanted to be a nurse, too. The level of care and attention was inspiring, and it has remained an enduring motivation.
"It was in that moment sitting in my grandpa's ICU room that I knew what I was meant to do with my life," said Vela. "His nurses were amazing. They treated my grandfather with dignity and cared for him as if he was their own family. They supported us and soothed our pain during our grief."
Vela's grandfather passed away a few days later, but the impact of that moment and those times left an indelible mark.
"Even now, I think about those nurses and what they did for my grandpa and our family, and I've wanted to do the same for others," Vela said. "I want to help people go through some of the toughest moments in their lives and to be there for them."
After graduating high school, Vela became the first person in his family to go to college. However, as a first-generation Mexican-American citizen and the sole financial provider for his family, nursing school seemed a distant goal.
"I first started the associate degree nursing (ADN) program at Southwestern College in 2015. During that time, I was also working two different jobs to help provide for my grandma and family," he said. "Unfortunately, due to personal circumstances, I had to drop out of school to work. I thought my dream of becoming a nurse was over, but I wasn't ready to give up."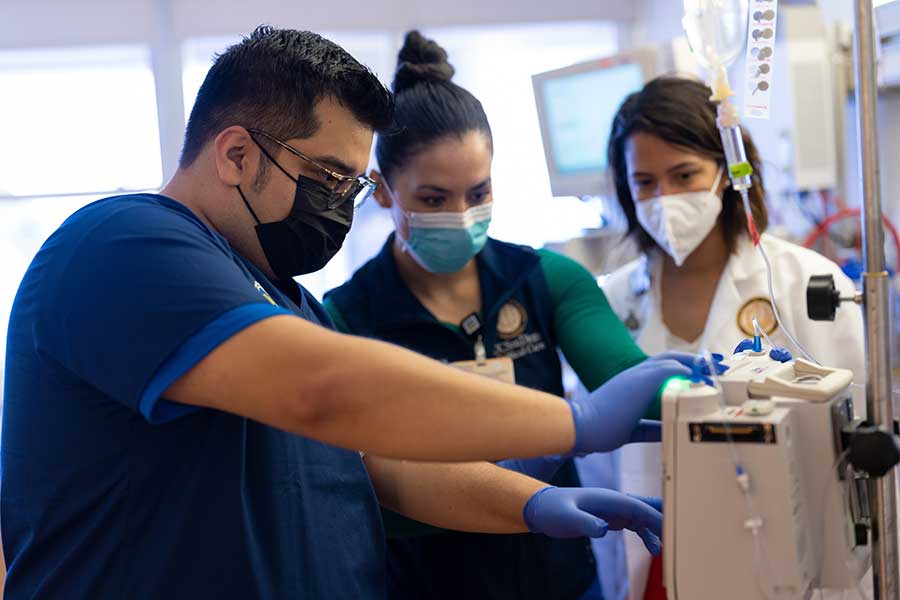 Five years later, Vela reapplied to the nursing program. He is scheduled to graduate this spring from Southwestern College with his ADN, and plans to take his National Council Licensure Examination (NCLEX) in the summer to become a Registered Nurse.
"I never lost sight of my dream and my hope to be a nurse."
As part of his training, Vela applied to be part of UC San Diego Health's inaugural DREAM Externship Program, which provides participants with career guidance and critical skills to support their transition to a professional clinical nurse.
One key goal of the program is to create and sustain a more inclusive nursing workforce to care for UC San Diego Health's diverse patient population. This is accomplished through collaboration between UC San Diego Health and local community colleges in San Diego, including Southwestern Community College, City College and Grossmont Community College.
"We recognized a disparity between diversity of our nursing staff and the patients we serve," said Cabiria "Bea" Lizarraga, nurse manager at UC San Diego Health. "So, we created a program that aimed to increase diversity within our team, as well as address opportunity gaps among nursing students currently underrepresented in the field."
Bea and fellow nurse leaders, Gwendolyn McPherson and Genesis Bojorquez, developed the DREAM Externship program in 2021. DREAM is short for Diversity, Retention, Equity, Aspire and Mentor.
The DREAM Externship provided Vela with valuable work experience.
"The program has provided such an incredible opportunity to associate degree nursing students like myself who might come from troubled upbringings or emigrated from another country or who couldn't devote their lives to nursing right away, but bring valuable life experiences that our patients can relate to," Vela said. "For patients, it's like we're talking to family because we've been through so much of the same."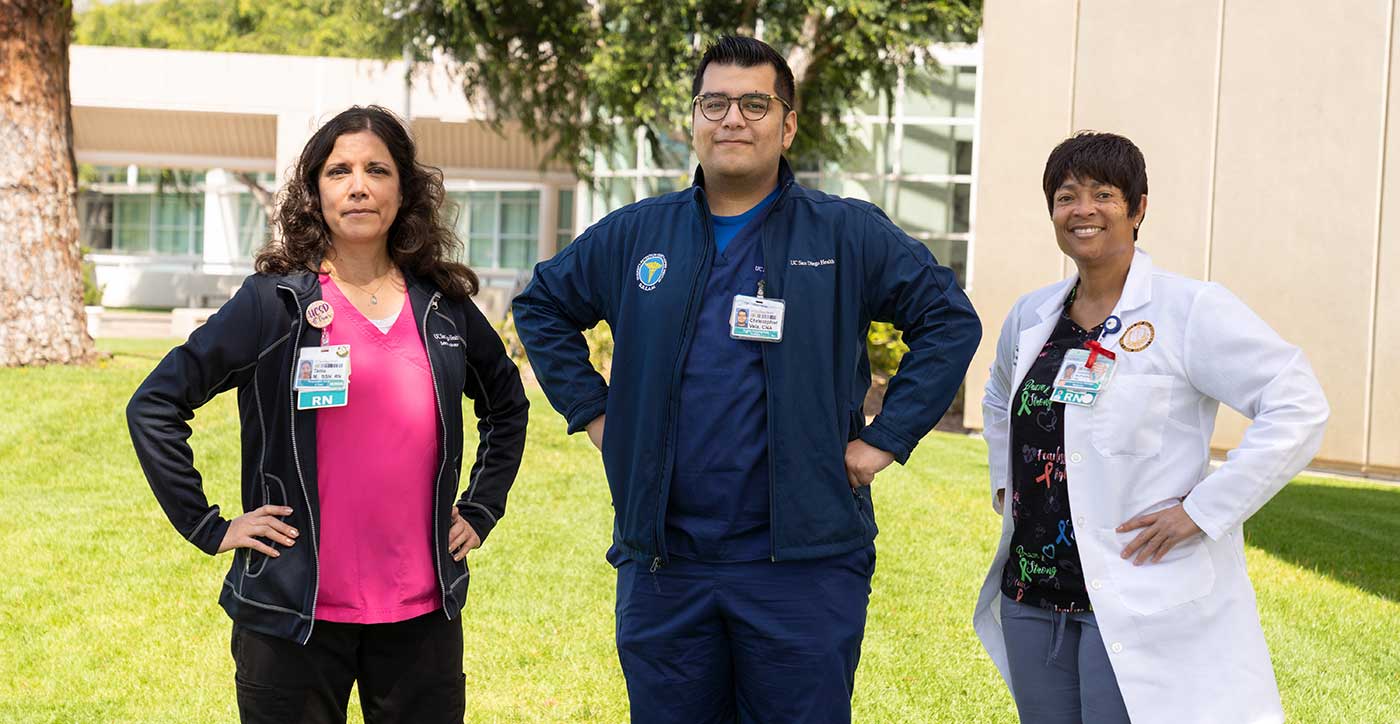 According to Lizarraga, there is a lack of diversity in nursing, noting that the majority of Hispanic and African American registered nurses obtain their ADN as their initial nursing education, which can be a barrier to entering the profession because many health care institutions prefer Bachelor of Science in Nursing degrees.
"Through this program, we've created a pathway for ADN students to join our institution, while partnering with them through mentorship to address any barriers and optimize each student's success," said Lizarraga.
Vela's mentor, Tania Miller, with UC San Diego Health, provided the opportunity for him to learn and practice in the field of medicine while he trained under her in the Medical Surgical Unit at UC San Diego Medical Center in Hillcrest.
"It was significant to work with Chris because there are very few male nurses who are Hispanic, and since we treat a large number of Hispanic males in our hospital, it is important that this population is represented in our workforce so our patients feel more comfortable, allowing them with the mental capacity to heal," said Miller. "I believe this was made possible through the DREAM program, which brings diversity to the nursing staff at UC San Diego Health and enriches our team."
For Vela, it felt like he was back in that ICU room with his grandfather, except this time he was the one providing care for patient and family.
"I work with a lot of Hispanic patients, and I can't describe the level of comfort they exude when I enter the room as their nurse; it's like we're family right away," he said. "I speak their language. We share the same culture and ideas. We're family. And it's such an honor to finally be here, where I've always dreamed of being."
Vela is currently interviewing for UC San Diego Health's New Graduate Nurse Transition to Practice Program. The program is designed to support new graduates with a comprehensive transition-to-practice experience through enhanced clinical learning and encouragement of peer-to-peer support. It also introduces graduates to professional development resources offered by UC San Diego Health.
"It's surreal to be so close to achieving this dream, after so many years and the obstacles," said Vela. "I'm so ready to help others in their time of need. I'm ready to be a nurse."
Stay in the Know
Keep up with all the latest from UC San Diego. Subscribe to the newsletter today.