University of California and Fudan University Mark Groundbreaking International Partnership
As the first academic institution established by a major Chinese university in cooperation with a leading U.S. university, the Fudan-UC Center has paved the way for contemporary China studies and a deeper mutual understanding between the United States and China.
The center, which opened its doors on the campus of UC San Diego in fall 2012, connects all ten campuses of the University of California system with Fudan University in Shanghai and brings together leading research scholars from both universities for conferences, lectures and collaborative research.

Photo by Erik Jepsen/UC San Diego Publications
In celebration of this groundbreaking international effort, Yang Yu-liang, president of Fudan University, and several senior members of the administration visited the UC San Diego campus last week where they explored the campus, interacted with scholars and met with UC San Diego Chancellor Pradeep K. Khosla.
"Fudan University is one of the mostly highly ranked research universities in mainland China," said Khosla. "We were pleased to welcome President Yang Yu-liang to campus to further collaboration between two of the finest universities in China and the United States."
Yang expressed his admiration for UC San Diego and said he's looking forward to Fudan University's enduring partnership with all of the campuses in the UC system.
"UC San Diego has left a deep impression on me and my colleagues as a dynamic university where innovative research and teaching take place every day," said Yang.
He added, "In this age of globalization, the China-U.S. relationship is too important to be left just for the political leaders. We educators play a critical role in promoting mutual understanding between the two peoples. I hope the Fudan-UC Center will contribute to a healthy and constructive relationship between the two countries through candid dialogue and collaborative research."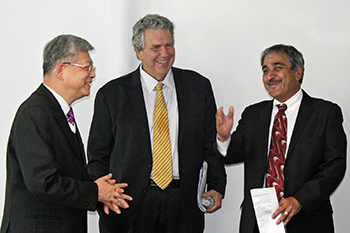 From left, President Yang Yu-liang of Fudan University, IR/PS Dean Peter Cowhey, and UC San Diego Chancellor Pradeep K. Khosla.
The Fudan-UC Center is housed within UC San Diego's School of International Relations and Pacific Studies (IR/PS), a preeminent school of international affairs with a unique focus on the Pacific region.
IR/PS is home to a large number of scholars in contemporary China studies who will work closely with the Fudan-UC Center.
According to Peter Cowhey, dean of IR/PS, the location of the Fudan-UC Center on the campus of UC San Diego perfectly positions the center to prepare the next generation of experts on China and U.S.-China relations.
"Collaboration between UC San Diego and Fudan faculty in the areas of environment, energy, public policy, and economics is extensive," said Cowhey. "During our time hosting president Yang and a delegation of leading scholars we have further defined new collaboration projects that we began outlining when we visited Fudan University in Shanghai this past summer."
The agenda for Yang and the Fudan delegation included a reception with more than 30 Fudan University alumni who are living in the San Diego region and informal meetings with UC San Diego deans, provosts, administrators, faculty members and community friends.
In addition, Yang and the delegation toured the UC San Diego Stuart Collection, and the Birch Aquarium at Scripps Institution of Oceanography. Larry Smarr, director of the Qualcomm Institute for Telecommunications and Information Technology, also led the group on a tour of the institute's labs and dynamic research spaces, including the StarCAVE.
As part of his visit, Yang gave a public talk on the place of humanities and social sciences education in China, entitled "Toward a More Harmonious World" that was well attended by members of the campus and local community.
"In his lecture, Yang advocated the study of society, culture, and the arts as a way to develop broad-minded intellectuals and global citizens," said Richard Madsen, director of the Fudan-UC Center.
Yang is a strong supporter for the strengthening of humanities and social science education in college and post-graduate studies. A renowned chemist and educator, Yang was elected as an academician of the Chinese Academy of Sciences in 2003, the highest honor bestowed on a scientist in China.
The Fudan-UC Center will also work closely with IR/PS's 21st Century China Program, which serves as an international hub for policy-relevant research and for interactive and scholarly engagement with China.
Both Fudan University and IR/PS are part of the Pacific Rim Digital Library Alliance that allows for cooperation among academic libraries to improve access to research materials. In addition, UC San Diego and Fudan University participate in the UC Education Abroad Program, fostering study abroad and international exchange between the two universities.
For more information on the Fudan-UC Center, go to http://fudan-uc.ucsd.edu.
Stay in the Know
Keep up with all the latest from UC San Diego. Subscribe to the newsletter today.