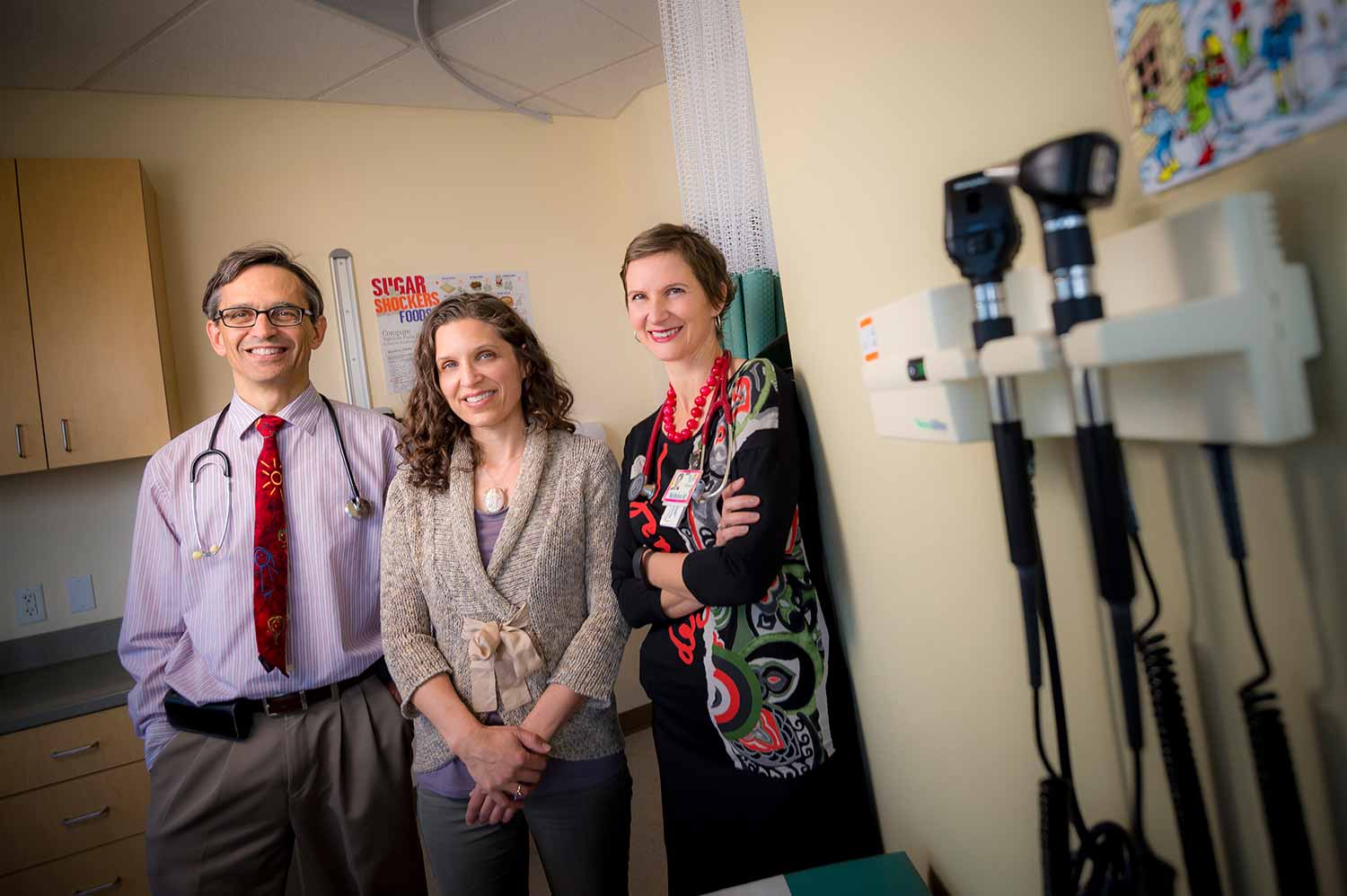 UC San Diego Physicians Head Clinic Offering Care to Children With Gender Identity Issues
When Sarah was 3 years old, she turned to her mother and asked when she was going to get the same body parts as her brother.
While born female, Sarah (not her real name) felt she was a boy and was querying her mother—with the matter-of-fact innocence of a child—about when her body would catch up. Although many young children may experiment with gender play and gender role expression, Sarah's feelings of being assigned the wrong gender were strong and persistent over years.
Sarah is one of many children around the country with gender dysphoria, a medical condition in which a person's biological gender and gender identity do not match. The Gender Management Clinic at Rady Children's Hospital-San Diego provides compassionate and comprehensive care to children and adolescents experiencing gender identity issues and their families. The center serves youth of all ages, some as young as 5 and up to 21 years of age, although most are in their teens.
"There are early presenters and there are late presenters," said Dr. Maja Marinkovic, assistant professor of pediatrics in the UC San Diego School of Medicine and the center's co-director. "There are children who are vocal at 3, 4 or 5 years of age and will tell their parents, 'I'm not a boy. I'm a girl.'
"Then there are other kids who kind of feel different, but they're not sure how to describe it or kids who don't have gender dysphoria until later in puberty."
Since opening in 2012, the clinic has seen more than 130 patients. Half of those patients arrived in 2015. Dr. Ron Newfield, who co-directs the clinic with Marinkovic, said the media's increased coverage of transgender people has raised national awareness and led more people to discuss and address gender identity issues. "We've seen a huge increase in the number of patients being seen," he said, noting the growing demand for services is also occurring nationally.
The clinic uses a multi-disciplinary approach, providing assessment of mental health needs and medical treatments, when appropriate, along with collaborating with local therapists experienced in treating the condition. The clinic also connects patients and their families with support groups and community resources, such as the San Diego LGBT Community Center or the LGBT Center in North County.
Treatment varies by age/stage of pubertal development and patient and family readiness. "Many of the children who come to the clinic already have a well-established gender identity different from their gender at birth," said Newfield, professor of pediatrics in the UC San Diego School of Medicine. "However, we also see patients who are still exploring."
Newfield said all cases are very carefully evaluated. "Treatment is based on well-established guidelines from the Endocrine Society and WPATH (World Professional Association for Transgender Health) and requires careful assessment by a therapist along with parental consent for treatment."
Marinkovic, a pediatric endocrinology specialist, said once younger patients with gender dysphoria reach adolescence, they can be started on puberty hormone blockers. "These medications are given to children to block unwanted changes of puberty, with which they don't identify. For instance, if someone is born a female, but feel their identity is male, they don't want to develop breasts or have a period."
For patients presenting to the clinic after puberty, treatment involves cross-sex hormone therapy, again, only after careful discussion about the risks and benefits and with parental consent, said Newfield, also a pediatric endocrinologist.
Marinkovic acknowledges that working through gender identity issues can be very stressful for both youth and their families. "A lot of these kids have been through bullying, discrimination and isolation from their peers," she said. About 75 percent of the clinic's teens have a history of anxiety, depression or self-harm, she added. "The good news is that many of these issues improve with treatment."
Transgender people also are at increased risk of suicide. A 2011 nationwide survey of 6,456 transgender/gender non-conforming individuals found that 41% of participants reported attempting suicide at least once. In San Diego County, four transgender teens have committed suicide in the last year.
Newfield said the clinic can serve as a life raft for kids with gender identity issues. "Some mental health issues improve just by being in the clinic," he said. "We treat them with understanding and compassion and the reassurance that they are not doing something wrong."
For parents, a child's gender issues can also take time to understand. "Developmental specialists have determined that around the ages of 3 to 4, children become aware of their gender," said Marinkovic, explaining that this can bring the issue forward very early for some families.
"For instance, when a child first tells a parent, 'there's been a mistake, I'm not a boy, I'm a girl,' parents tend to be dismissive," she said. "But some of these kids tend to be insistent.'
"I think of this process as a journey that starts with a child expressing their gender feelings followed by a process of parents responding to their kid's gender issues. Typically, the family will be seeing a therapist to help them through that journey."
Newfield and Marinkovic have seen many kids' lives greatly improve with treatment. ''They develop self-confidence and feel less anxious. They move on with their lives and feel proud of who they are," said Newfield.
"Some of the parents will tell us, 'we got our child back.'"
When they're not helping kids, Marinkovic and Newfield reach out to educate health care providers and the community about the specific needs and challenges of transgender people. "We give lectures and do media interviews. We want to raise awareness," said Marinkovic, who sits on the UC San Diego Chancellor's Advisory Committee on Gender Identity and Sexual Orientation Issues, which advises the chancellor on matters affecting LGBT students, faculty and staff.
"Hopefully, our society is changing and becoming a little more open and accepting of people who are different—not just in terms of gender and sexuality, but in all areas," said Marinkovic.
Stay in the Know
Keep up with all the latest from UC San Diego. Subscribe to the newsletter today.