UC San Diego Composer Soars with Science and Technology
Published Date
Article Content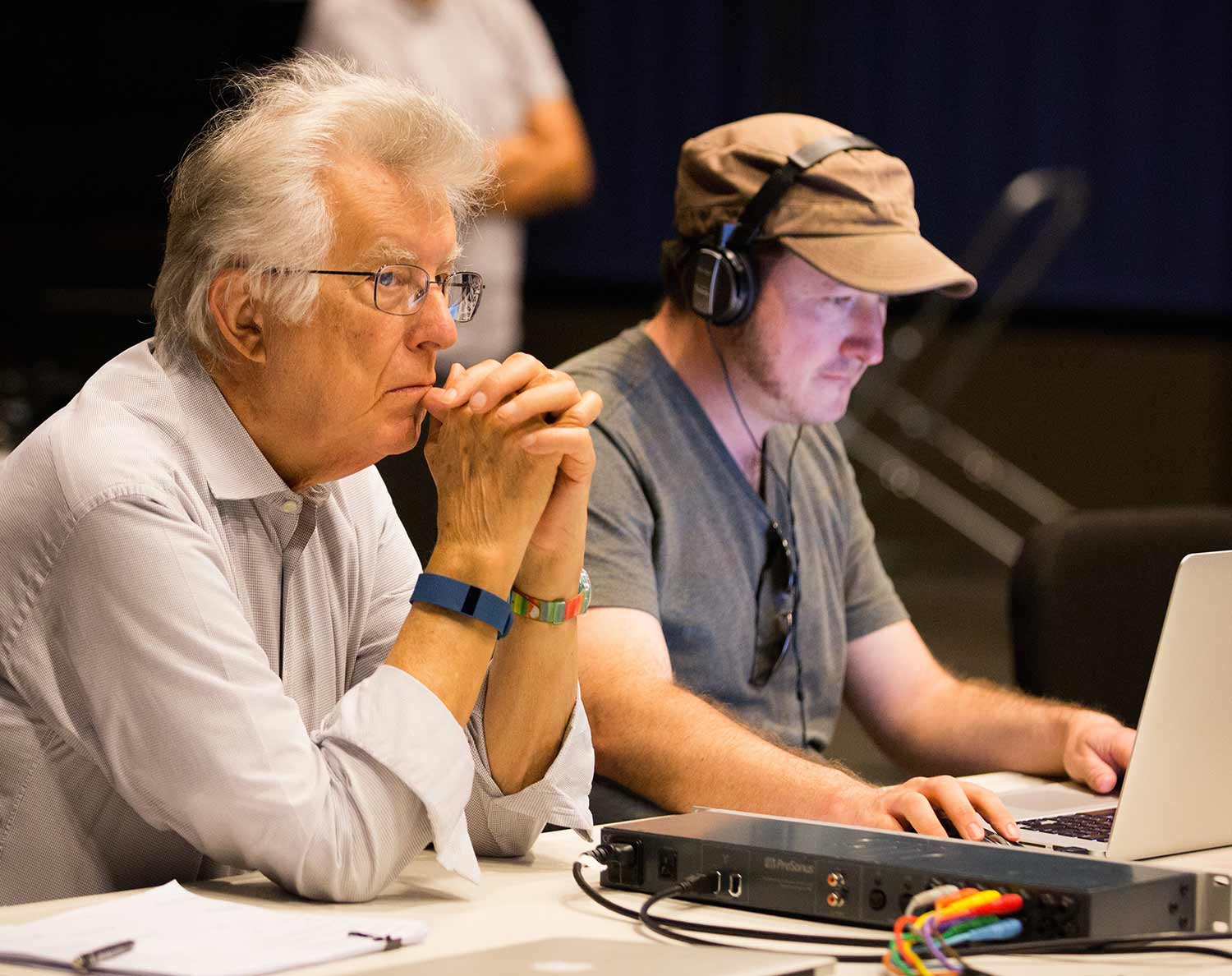 Composer Roger Reynolds' "FLiGHT," which premieres Oct. 30-31 at the Park Avenue Armory in New York City, is the latest landmark in a career distinguished by a quest for new modes of making music. It combines spoken word, musical performance, computer sound processing and video to create an immersive multimedia experience.
"FLiGHT" is sure to create a buzz among contemporary music followers. As acclaim for his music has increased through several decades, Reynolds has become a pillar of the University of California San Diego's Department of Music faculty—perhaps the most visible artist from a program built on innovation.
"Roger's free and open approach inspires our young composers, performers and computer musicians," said Department of Music Chair Rand Steiger. "He motivates them to reach higher."
FLiGHT is performed by the JACK Quartet, with sound design and computer music by Paul Hembree, who completed his Ph.D. ('15) in composition and computer music at UC San Diego, and video by Ross Karre, who graduated from UC San Diego with an MFA ('11) in visual art-film and video; as well as an MA ('07) and DMA ('09) in percussion performance. Hembree exemplies the music department's unconventional parameters.
"Some of what I do is similar to sound design in theater, when we build the sonic fabric of multimedia sections. But the algorithms we create behave more like instruments and can be played as such," explained Hembree. "In that sense my role is as a kind of chamber musician performing alongside the JACK Quartet."
Reynolds said that FLiGHT began with a four-part structure of Imagining, Preparing, Experience and Perspective. The story of human flight is told through a spoken-word text drawn from sources such as Plato and Ovid, Virgil and Shelley, the Wright brothers and Amelia Earhart, Gertrude Stein, Ralph Ellison, and astronaut Michael Collins. Reynolds also included excerpts from the Ramayana, the ancient Indian epic poem, as well as ancient Chinese texts suggested by UC San Diego Emeritus Professor of Literature Wai-lim Yip. The narrative is delivered by UC San Diego actors recruited and directed by the Department of Theatre and Dance's Robert Castro.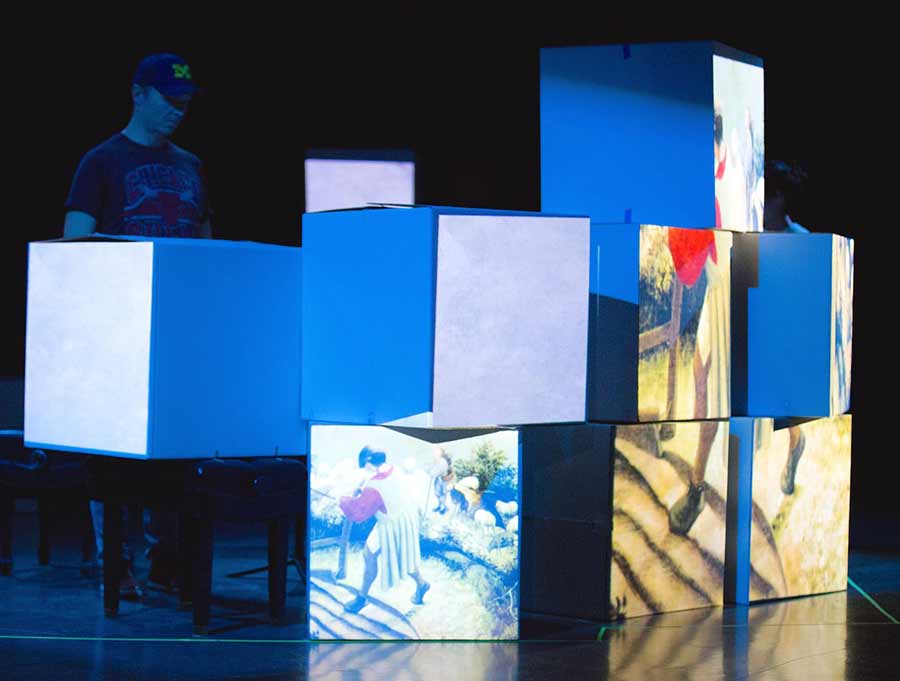 As a student, Reynolds earned an undergraduate degree in engineering physics and worked briefly in the defense industry. As his interests shifted, he returned to the university for a master's degree in musical composition. He began to compose seriously at age 25 and spent seven years traveling through Europe and Asia where he experienced music of various cultures and artists.
In 1965, at the invitation of Muir College Provost John Stewart, Reynolds visited UC San Diego. Stewart was building new music, visual arts and theater programs. He told Reynolds that the music department would be non-traditional, not bound by conventional curriculum and methodologies.
"It was obvious that UC San Diego could be remarkable," said Reynolds, who came to campus as a Regents Lecturer in 1968, joined the faculty the following year and soon spearheaded the creation of the Center for Music Experiment to explore collaboration and new technologies.
As technologies continued to evolve, Reynolds found new ways to harness them for remarkable works such as "Seasons," "Sanctuary," and "george WASHINGTON." In his current "FLiGHT," sound travels through three dimensions as images slide across multiple screens and spoken-word sections intertwine with the JACK Quartet's performance.
Reynolds' work has proven consistently captivating. Evidence of his impact is abundant. Over the years he has won Guggenheim, Fulbright, National Endowment for the Arts and National Institute of Letters awards. He was awarded the Pulitzer Prize in 1989 for "Whispers Out of Time," which was inspired by poet John Ashbery's "Self-Portrait in a Convex Mirror."
From 2007 to 2009, Reynolds was the first composer-in-residence in the UC San Diego division of Calit2. He has an online archive at the Library of Congress. In 2009, the UC Board of Regents appointed him "University Professor," the highest faculty honor.
Undoubtedly, there is more to come. Reynolds is planning additional performances of FLiGHT, possibly including one at UC San Diego. At 82, he exudes youthful vitality with no plans to retire.
"With stimulating colleagues, gifted and challenging graduate students from all over the world, and the superb facilities of UC San Diego's Conrad Prebys Music Center," Reynolds said, "there seems every reason to continue making whatever contributions I can to our internationally unique Music Department."
Since he joined the university, Reynolds has performed worldwide and mentored generations of young composers. UC San Diego's Department of Music celebrated his 80th birthday in 2015 with a concert, symposium and multimedia installation in his honor. Learn more about Reynolds on his webpage and by viewing the trailer to FLiGHT.
Stay in the Know
Keep up with all the latest from UC San Diego. Subscribe to the newsletter today.