UC San Diego Admits 38,954 New Freshmen and Transfers, San Diego Region Students on the Rise
Nearly one-third of the campus's diverse admitted class is the first in their family to attend a four-year college and almost 50 percent are from Southern California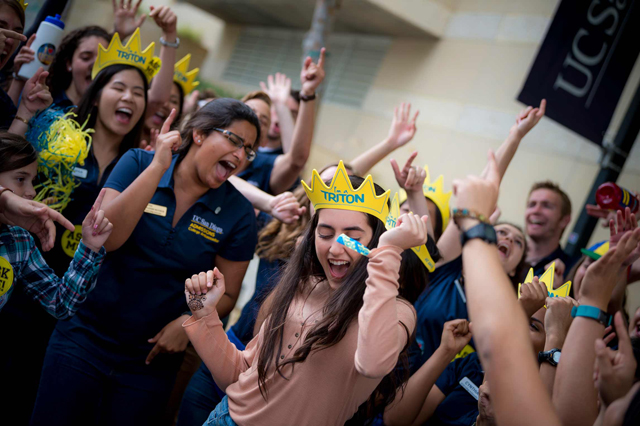 Published Date
Article Content
The University of California San Diego has admitted 29,601 freshman and 9,353 transfer students out of a record 116,452 applicants. The number of freshman admits is down slightly (two percent) compared to last year's record of 39,802 students; yet the university increased its offers of admission to first-generation students (up nearly five percent among freshman and transfers), with nearly one-third of the admitted class being the first in their family to attend a four-year college. In addition, the campus saw a 55 percent jump in admitted local, San Diego students, and admitted more underrepresented students compared to last year.
The academic caliber of UC San Diego's new students continues to be exceptional. The average GPA among new freshman admits is 4.13 and they bring average SAT scores of 629, 697, 644, respectively, for Critical Reading, Math and Writing. Among transfer admits the average GPA is 3.59.
"UC San Diego is proud to welcome this new class of stellar students and prepare them with the tools they need as scholars and global citizens," said Chancellor Pradeep K. Khosla. "These scholars are our future leaders and innovators who will help us continue to push the boundaries of knowledge, conduct groundbreaking research, and positively impact our planet and global society."
UC San Diego recently broke ground on the North Torrey Pines Living and Learning Neighborhood. The new campus addition, which is one of the largest in the history of university construction projects, will be comprised of two academic buildings, four residential buildings; a new underground parking area; auditorium; market; dining hall; retail space and a craft center.
In addition, the campus recently formally launched the Halicioğlu Data Science Institute, a new resource for researchers in every field across the campus, which is already helping scholars make sense of the massive amounts of data to further scientific discoveries.
The campus also kicked-off its Triton Faculty Firsts campaign this year, which highlighted members of the faculty who were the first in their families to graduate from college, while connecting them with current first-generation students. The campaign is ongoing and expected to grow with the university's increased numbers of new first-generation students.
The campus's world-class reputation continues to attract diverse students, and at the same time, UC San Diego has built upon its outreach and recruitment efforts to students of all backgrounds across the state. For example, between the months of August and November in 2017, campus admission officers participated in more than 1,500 high school and community college visits, as well as college fairs.
As a result of these efforts, the campus saw a 7.2 percent increase in first-generation admits, and the number among underrepresented freshmen increased by 4.5 percent. The number of transfer first-generation admits for this year is consistent with last year's numbers, with nearly 37 percent of the entire class consisting of students who will be the first in their immediate family to attend a university. The campus also saw a slight increase among transfer underrepresented students.
For both groups of new students, there was a sharp increase among admitted high schoolers from San Diego and Imperial Counties (up nearly 65 percent), and regional community college and transfer students (up nearly 37 percent). More than 90 percent of all UC San Diego transfer admits are from California Community Colleges.
Preliminary data of students who have accepted their offers of admission to UC San Diego (known as yield) indicates the campus will enroll more California residents this year, compared to last year, with more local students choosing to attend UC San Diego than ever before.
"UC San Diego is an incredibly desirable campus to students across the state, country and world," said Adele C. Brumfield, UC San Diego's Associate Vice Chancellor for Enrollment Management. "This year especially we experienced an enormous amount of success attracting more students from our own backyard, due to boosting our outreach efforts, and showcasing the campus and its many resources to more admitted students through on-campus events, regional receptions and digital recruitment."
UC San Diego had more than 18,000 students and their families visit the campus for Triton Days, which are campus-wide events for freshmen and transfers, where admitted students are invited to the campus to learn about its offerings. Thousands more attended receptions that the admissions office hosted across the state from March to May of this year.
More California undergraduates are currently enrolled at the University of California than at any point in its history, and after last year's enrollment jump of some 5,000 California students, the university anticipates it will have far surpassed its goal of adding an additional 10,000 Californians by the 2018-2019 academic year. Estimates are that the total three-year growth will be an additional 15,000 California resident undergraduates.
The five most popular majors for UC San Diego freshman admits are biology, economics, chemistry, and math, followed by computer science and engineering. For transfers, the most popular chosen areas of study are: economics, biology, political science, international studies and sociology.
The campus admitted more females to males among freshman (15,343 vs. 13,257). Among transfers, male admits were up slightly compared to females (4,599 vs. 4,577), and an overall total of 1,778 students chose not to respond to the question.
For more information about UC San Diego admissions, click here.
Stay in the Know
Keep up with all the latest from UC San Diego. Subscribe to the newsletter today.