UC San Diego Design Lab & California 100 Partner to Bring Top Talent to Design@Large Workshop Series
Published Date
Article Content
In order to get the future we want, we must take an active hand in designing it. Californians are creating many opportunities to shape the state's future, including Governor Gavin Newsom's statewide Future of Work Commission, responses to sweeping social changes brought about by COVID-19, exploring shifts in behavior needed to deal with the effects of climate change, and starting crucial conversations around transportation, technology, housing, immigration, education and health. This spring, a first-of-its-kind interactive speaker series addresses all these issues and more - and gives you a chance to participate.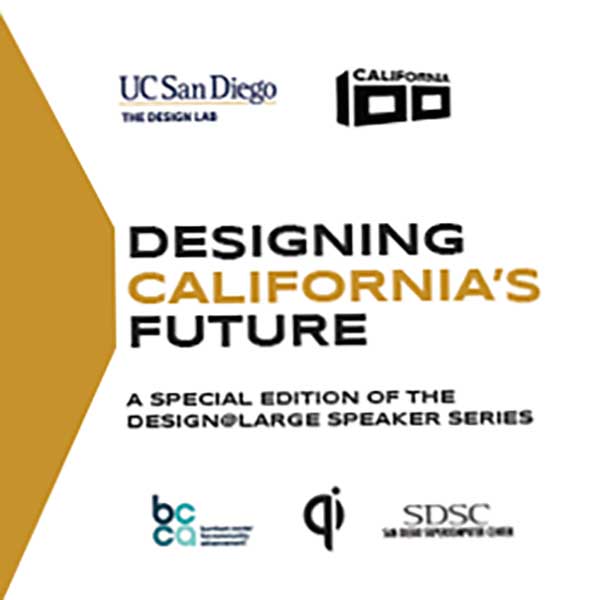 UC San Diego's Design Lab and California 100 are partnering to convene leading experts from across California for a transformative speaker series called Designing California's Future. The series, a special edition of UC San Diego Design Lab's staple Design@Large programming, will take place every Wednesday from April 13 through May 25 and focus on a specific issue area each evening. Unlike typical panel discussions, this series will allow students to interface directly with key civic, elected, academic, and organizational leaders, and brainstorm solutions for the state's next 15, 20 and 100 years.
"Most California leaders think in terms of two or four-year timeframes, usually aligning with election cycles, but our challenges demand longer-term thinking and solutions," said Mai Nguyen, Director of the UC San Diego Design Lab. "When we talk about designing California's future, we're talking about what our roads and public transportation will look like, figuring out who has access to education so all communities rise, and being thoughtful about the role technology plays in our lives. This partnership with California 100 will delve into these questions while centering UC San Diego design students and bringing San Diego and California leaders to campus to workshop ideas and problem solve."
California 100, incubated at the University of California and Stanford University, launched last year to strengthen California's ability to collectively solve problems and shape the state's long-term future through research, policy innovation, advanced technology, and engagement. The initiative works to identify, mobilize and support champions of innovative and equitable solutions to the state's most pressing challenges. This work is guided by an expert intergenerational commission with support from seasoned advisors. In addition, California 100 is sponsoring future-oriented research to examine where the state's been, where it is and where it's headed in thirteen key issue areas, harnessing the leading talent from research centers and institutes across the state. The research will be released in the spring and serve as a foundation for much of the Designing California's Future speaker series' topics of discussion.
"California 100 is an ambitious effort harnessing the talent of a diverse array of leaders, and is laser-focused on what we need to do to be better prepared for the future," said Dr. Karthick Ramakrishnan, executive director of the California 100 Initiative. "We're excited to partner with UC San Diego's Design Lab to bring some of the best and brightest minds throughout the region and state to think and act critically about our collective future."
This is the first time in the Design@Large program's history that the series is collaborating with an external partner. The series will include six hybrid experiences on the following topics:
Confirmed expert speakers and panelists include:
Ilkay Altintas De Callafon, Chief Data Science Officer at the San Diego Supercomputer Center
Ahilan Arulanantham, Faculty Co-Director at the UCLA Law School's Center for Immigration Law & Policy
Peter Callstrom, President & CEO, San Diego Workforce Partnership
Dana Cuff, cityLAB UCLA
Gustavo De La Fuente, Executive Director of the San Diego-Tijuana Smart Border Coalition
Cinthia Flores, California Agricultural Labor Relations Board Member
Tony Hoang, Executive Director of Equality California
Hasan Ikrata, CEO of the San Diego Association of Governments (SANDAG)
Laurie Johnson, Chief Catastrophe Response and Resiliency Officer, California Earthquake Authority
Danny Kennedy, New Energy Nexus
Chris Longhurst, Chief Information Officer and Professor of Biomedical Informatics and Pediatrics, UC San Diego Health
Lenny Mendonca, Former Chief Economic Advisor to Governor Gavin Newsom
Zach Pardos, Associate Professor of Education, UC Berkeley School of Education
Manuel Pastor, University of Southern California Equity Research Institute
Ninez Ponce, Director at the UCLA Center for Health Policy Research
Stephen Russell, San Diego Housing Federation
Elizabeth Simmons, Executive Vice Chancellor, UC San Diego
Tavae Samuelu, Executive Director at Empowering Pacific Islander Communities (EPIC)
Hon. Nora Vargas, San Diego County Supervisor
Geneva Wiki, Yurok Tribal Member
The series promises to stretch minds about what is possible in California's future. It will catalyze discussions about the future that go beyond what is mainstream, like work and climate change, and create a platform to think critically about our state's challenges and the immense opportunities.
Sponsors:
UC San Diego Design Lab
California100
San Diego Supercomputer Center
Qualcomm Institute
Burnham Center for Community Advancement
Stay in the Know
Keep up with all the latest from UC San Diego. Subscribe to the newsletter today.