UC San Diego Biochemistry Touches the Fashion World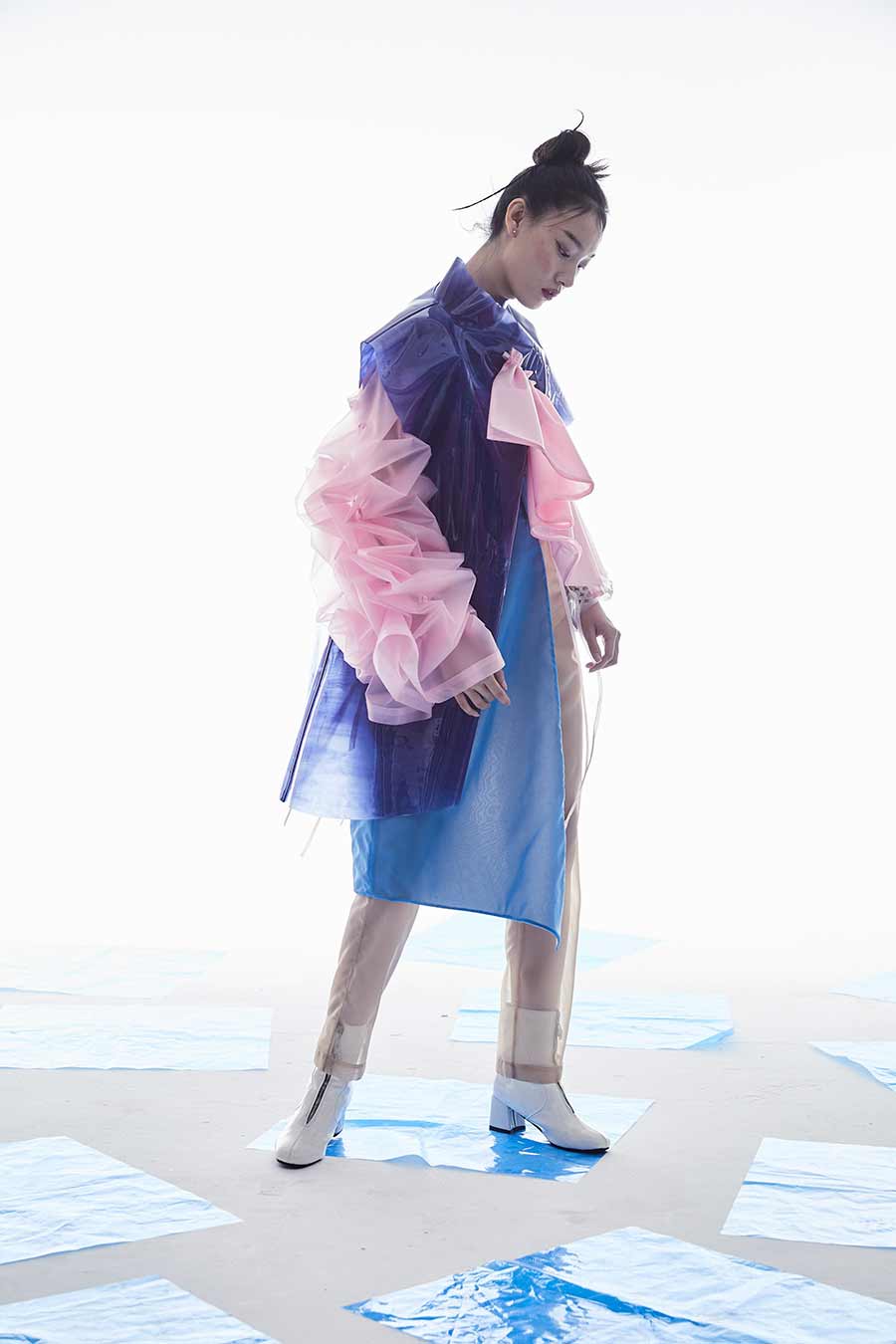 In the world of fashion, inspiration is born from the ordinary and extraordinary—city streets, nature, architecture, culture . . . and biochemistry? For UC San Diego alumna Jinghan Zong, absolutely.
"One thing I think that connects the world of science and art is the flow of rhythms," said the 2019 chemistry and biochemistry graduate, who now studies fashion at Savannah College of Art and Design in Georgia.
To Zong, these rhythmic flows emerge from things such as mathematical sequences and data patterns. "Although for most fashion designers, elements that can visually attract them are crucial, I also value mechanisms or theories that can conceptually inspire me," she said.
Threading the needle with nature's code and the bubble chamber
Zong cites the Fibonacci sequence as one source of inspiration. Also known as "nature's code," the sequence is a famous mathematics formula whereby each number in the sequence is the sum of the two numbers that precede it: 0, 1, 1, 2, 3, 5, 8, 13, 21, 34, etc. Another source of inspiration is Nuclear Magnetic Resonance (NMR) spectroscopy peaks—particularly how multiplets interfere with each other and form seemingly random yet reasonable patterns.
"I incorporate the NMR patterns of amino acids, which are profound and crucial to the human body, into my laser cutting patterns," Zong explained. "I'm also amazed at the secondary structure of proteins and how they become folded into quaternary structures, so I extracted these concepts and made them into shapes of sleeves."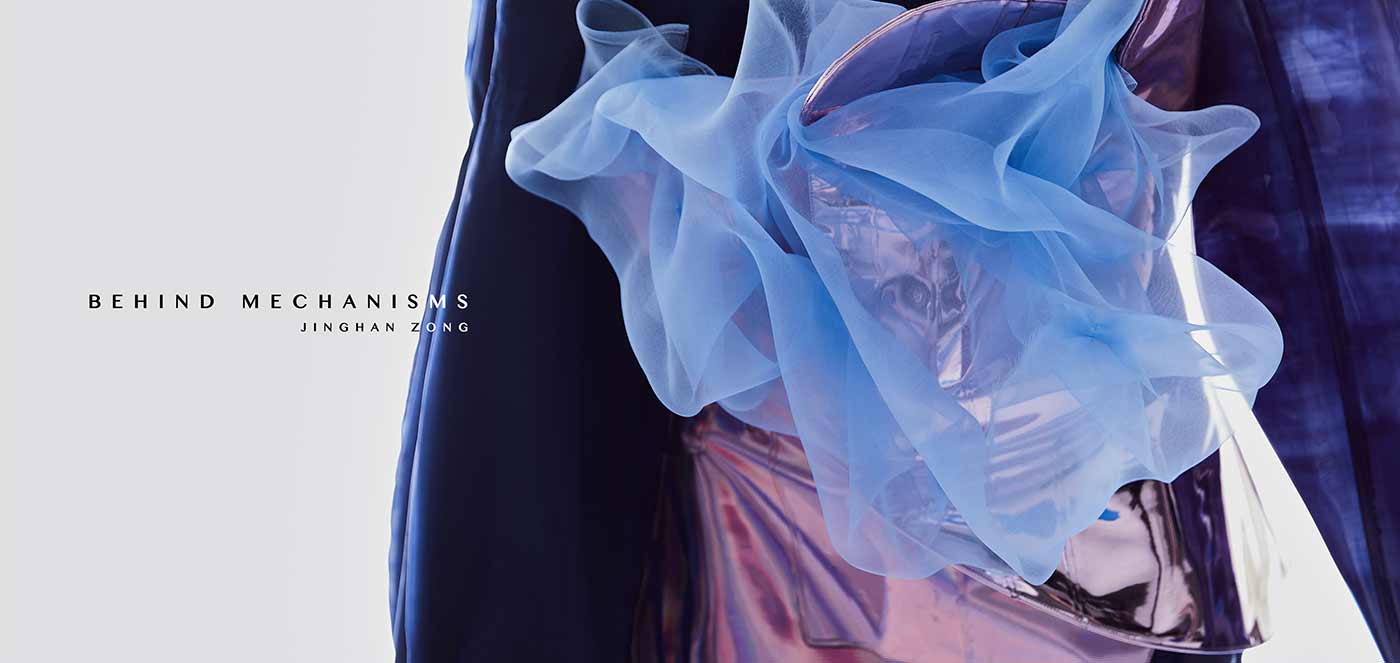 Zong's collection "Behind Mechanisms" showcases these methods, including her conversion of the beta-sheet structure into a unique hollowed-out pattern, which demonstrates the beauty of biomolecules. The collection further reveals her fascination with the natural shapes segmented by the "Bubble Chamber" experiments. A bubble chamber, by the way, is a radiation detector that uses a superheated liquid that boils into tiny vapor bubbles around the ions produced along tracks of subatomic particles. Zong designed silhouettes of clothing based on the resulting geometric segmentation.
"I believe many people without a science background have the expectation that chemistry is about something really magical, so I played a little trick of 'color-changing' by applying heat-sensitive paint on clear fabrics," she said. "Since at human body temperature the paint will change from ultramarine blue to colorless, the garments seem to be able to feel and respond to the presence of the wearer."
According to the aspiring designer, the collection turned out to be more experimental, with highly saturated colors, elements of ruffles and big volumes—like ballooned silhouettes of sleeves—that fit well with the trend of Maximalism in fashion. This retro-use of loud prints and bright colors is practiced to embellish clothing and add layers.
Fabricating sustainable fashion
Zong noted, that while the flow of rhythms can connect science and art, she thinks the intersection between chemistry/biochemistry and fashion is more profound.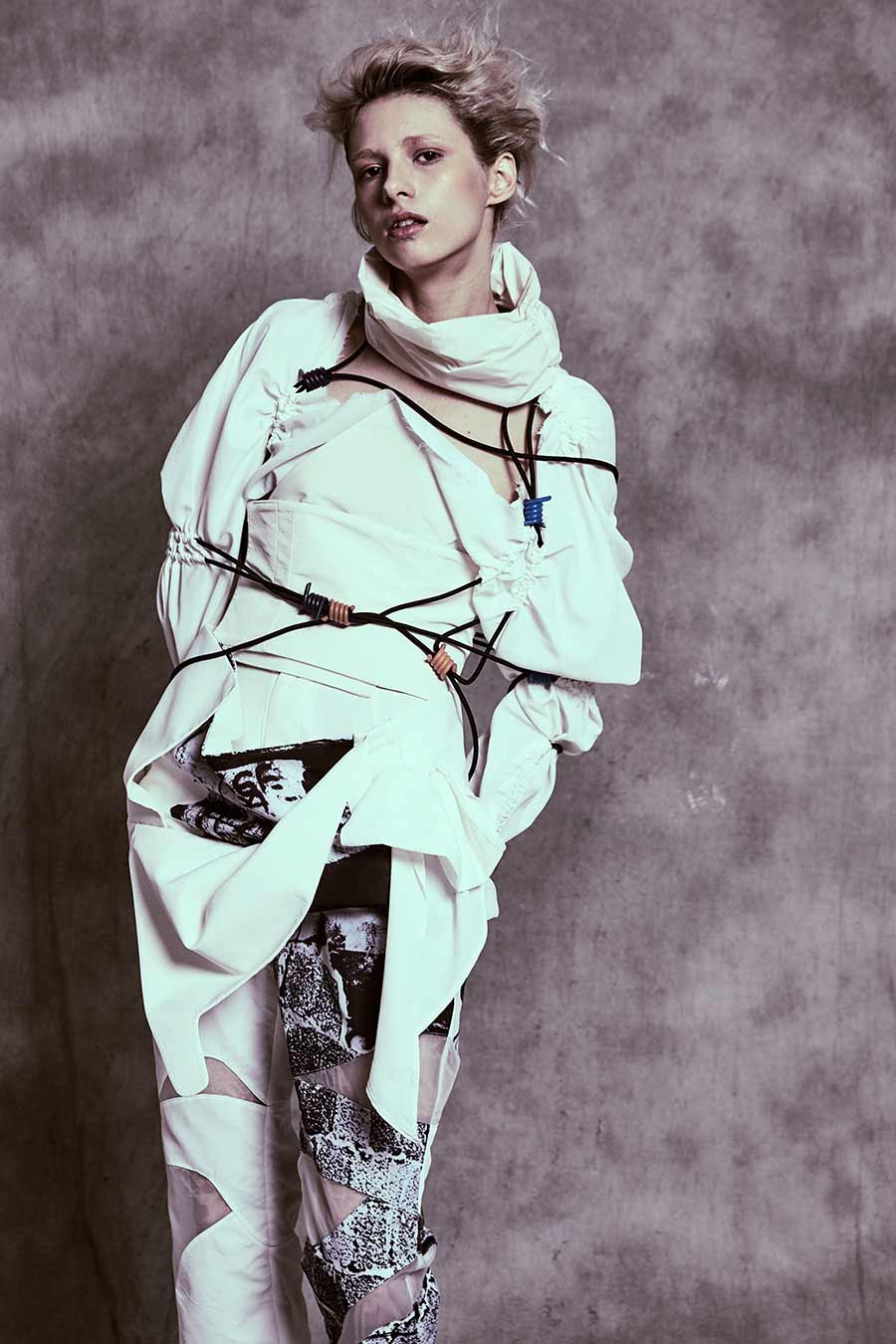 "Designs inspired by chemistry can also be functional, not only something 'grandiose' or 'superficial.' On the one hand, fashion can be a really good way of obtaining more attention and public exposure. It's a perfect method of advertisement. On the other hand, the world of fashion is facing serious problems in sustainability—pre-production, pre-customer and post-customer wastes are everywhere," she said.
In fact, according to a recent article in Vox, 8 to 10 percent of global greenhouse gas emissions comes from the fashion industry—more than the aviation and maritime shipping industries combined. Additionally, the fashion industry produces and sells between 80 and 150 billion garments a year globally, with nearly three-fifths of all produced clothing ending up in incinerators or landfills within years of manufacture.
But Zong notes that the fashion industry is seeking ways to help. For example, designers are exploring how to recycle used fabrics by shredding and re-twisting them into new fibers and by making bio-degradable fabrics with less impact on landfills and ocean pollution. In her most recent collection, Zong is experimenting with making "zero waste" garments that incorporate leftover fabric pieces generated during the pattern-cutting process into her designs.
Weaving together science and fashion
Zong said that while her collection Behind Mechanisms was inspired by techniques, structures and experiments she experienced while studying chemistry and biochemistry at UC San Diego, she was determined to pursue a career in the fashion industry. She said she looks forward to connecting her academic experiences at UC San Diego with her future art school thesis. In fact, another collection in her portfolio, "Chaika in Space," was inspired by the first woman in space, Valentina Tereshkova. Zong expressed her gratitude to UC San Diego Professor of Chemistry and Biochemistry Francesco Paesani and Instructor of Visual Arts Brianna Rigg for their support.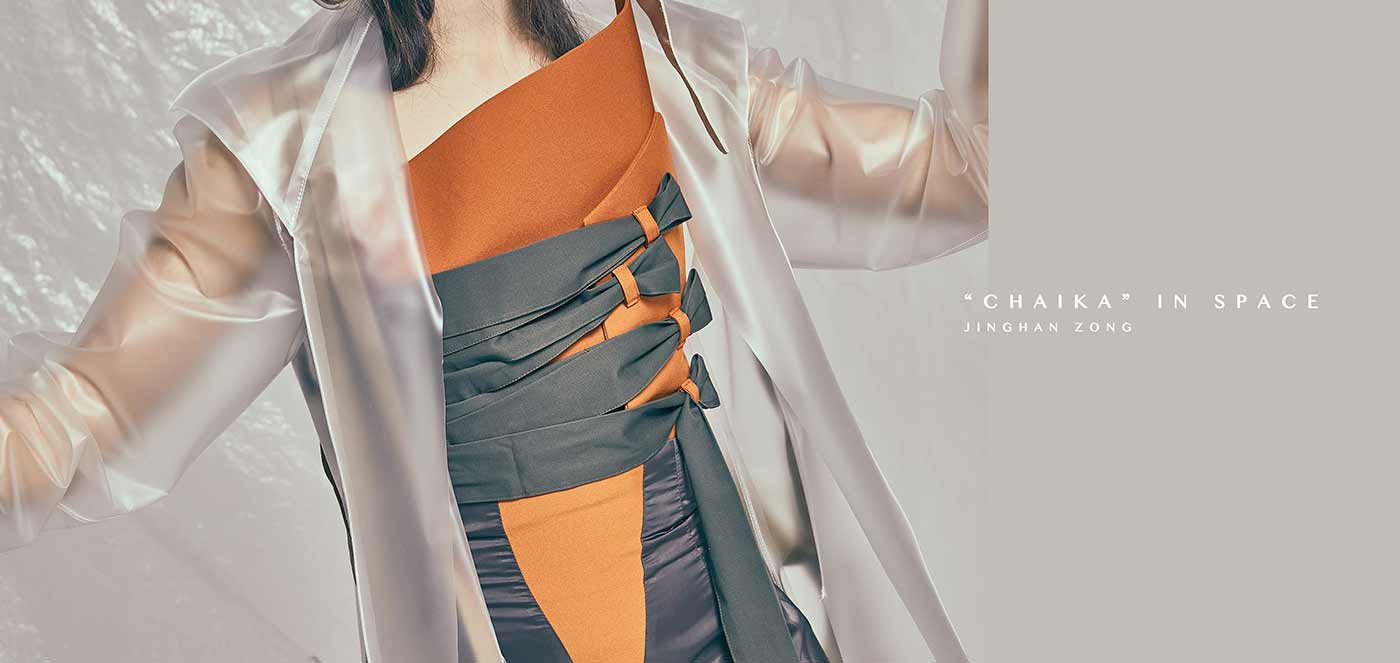 "I believe that enabling our undergraduates to explore their full potential is what makes being an educator and a scientist so unique and exciting," said Paesani. "It has been quite fascinating to follow Jinghan developing during her four years at UC San Diego, from being a freshman in my Chem 6BH to becoming an outstanding biochemist and a talented and creative designer. I am really looking forward to attending her first fashion show."
Paesani added that it is incredibly rewarding to keep in touch with students throughout their four years at UC San Diego.
"Symbolically, Jinghan's work is about overcoming obstacles, and her designs are personal in this regard because she is an ardent problem solver who has persevered in her education to transition from chemistry to fine arts and now fashion," said Rigg.
Stay in the Know
Keep up with all the latest from UC San Diego. Subscribe to the newsletter today.