U.S., Israeli Universities Open Marine Archaeology Research Station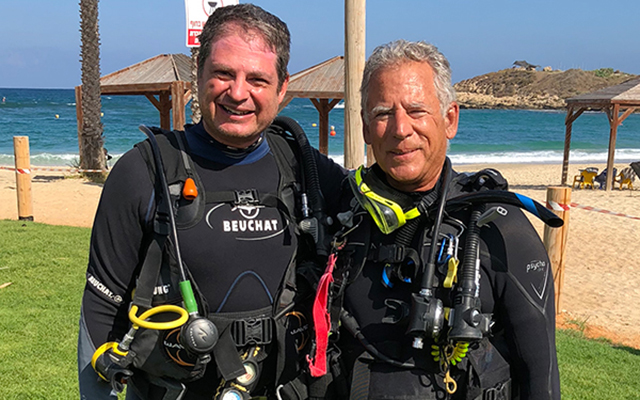 Published Date
Article Content
On April 20, a binational team of U.S. and Israeli archaeologists inaugurated a new field station in the Mediterranean coastal town of Akko (historically known as Acre) in northwestern Israel. The virtual opening ceremony unveiled the joint University of Haifa-University of California San Diego Marine Archaeology Research Station.
Funding for the Akko facility is part of a $1.3 million gift from the San Francisco-based Koret Foundation, announced in February 2020. The three-year grant supports binational U.S.-Israeli collaboration in marine archaeology between UC San Diego and the University of Haifa.
UC San Diego Department of Anthropology distinguished professor Thomas E. Levy opened the ceremony in front of a wall-sized computer display highlighting historical trade routes from the Mediterranean through East Asia.
"We are joining an international community of excellence in the exploration and research of submerged cultural heritage around the world," explained Levy. "Our Scripps Center for Marine Archaeology (SCMA) vision is to examine climate, environmental and cultural change in the connected ancient world, stretching from the Mediterranean world to India and China."
Levy co-directs SCMA with Scripps Institution of Oceanography Professor John Hildebrand and also leads the Qualcomm Institute-based Center for Cyber-Archaeology and Sustainability (CCAS), both at UC San Diego.
"This is the culmination of a most fruitful collaboration in the field of underwater and coastal archaeology," said University of Haifa professor Assaf Yasur-Landau, who directs the Leon Recanati Institute for Maritime Studies. "Our partnership combines decades of experience in underwater archaeology in the Recanati Institute with the world-leading oceanography in UC San Diego's Scripps Institution of Oceanography."
Archaeologists Yasur-Landau and Levy, who have collaborated since 2017, also confirmed that the U.S.-Israeli partnership was honored April 19 by the non-profit California Education Network Initiatives Corporation (CENIC) with its 2021 Innovations in Networking Award for Research Applications. In announcing the award, CENIC cited the work of more than 50 San Diego- Haifa participants in an archaeology collaboration during the pandemic that had Haifa archaeologists surveying sites in Israel while San Diego researchers were analyzing the data in near-real-time from thousands of miles away.
"Using the technological possibilities of the Pacific Research Platform supported by CENIC's 400-gigabit research network," according to CENIC, "the teams at UC San Diego and the University of Haifa not only went ahead with their expedition, but also drastically accelerated data analysis times."
"We've been very active in the last few years conducting a joint field school, conducting geophysical surveys and making exciting discoveries such as the brand-new Hellenistic (ca. 4th century BCE) port of Dor," Yasur-Landau told the audience over Zoom and YouTube during the opening celebration of the field station in Akko. "This joint research station aims to address the fundamental questions of human adaptation to climate change in past societies along the Carmel coast of Israel, one of the only places in the world in which there is an uninterrupted sequence of more than 10,000 years of human habitation."
Speaking on behalf of Scripps Oceanography, Deputy Director for Research Doug Bartlett thanked the University of Haifa. "Our strategic collaboration holds great promise and we deeply appreciate the partnership with the Recanati Institute," said Bartlett, who is also UC San Diego's Associate Vice Chancellor for Marine Sciences. "We hope this will develop into a long-term relationship with more post-doc and graduate student exchanges and joint research expeditions, and we support the even broader vision of enhanced research collaboration with Israel and countries around the Eastern Mediterranean."
University of Haifa president Ron Robin thanked the Koret Foundation for its ongoing support of the joint research effort in marine archaeology. "We are very proud of this program in marine archaeology, and we are grateful for the support of the Koret Foundation," Robin told the audience.
Other speakers during the inaugural ceremony included Koret Foundation board member Abraham Sofaer and UC San Diego Dean of Social Sciences Carol Padden. An expert in sign languages who has spent time in Israel for her research and also collaborated with scholars from the University of Haifa, Padden drew a parallel between her work and what the new field research station is doing. "While putting together my remarks," she said after the ceremony, "I realized what we all have in common: we're studying human diversity in deep time and finding richness everywhere we look."
In his closing remarks, Yasur-Landau also looked to the future. "We now have the funds to acquire new equipment that will give us the scientific edge we need for this collaboration, and I do hope that the next phase will be the establishment of a national center for underwater archeology in Israel," said the archaeologist. "This would be a scientific hub where the Israel Antiquities Authority, University of Haifa researchers, and of course our University of California San Diego colleagues can work on their research projects together with international students and scholars—creating a thriving community of knowledge with strong synergistic effects on scientific output."
Videos
Marine Archaeology Research Station - Akko, Israel https://youtu.be/rSxWtq6qIc8
Inauguration of Marine Archaeology Research Station: https://youtu.be/Npv1ycX1p8w
Stay in the Know
Keep up with all the latest from UC San Diego. Subscribe to the newsletter today.