Two UC San Diego Scientists Elected to National Academy of Medicine
Leaders in cell biology and anti-malarial drug development respectively, JoAnn Trejo and Elizabeth Winzeler were recognized by their peers with one of the highest honors in health and medicine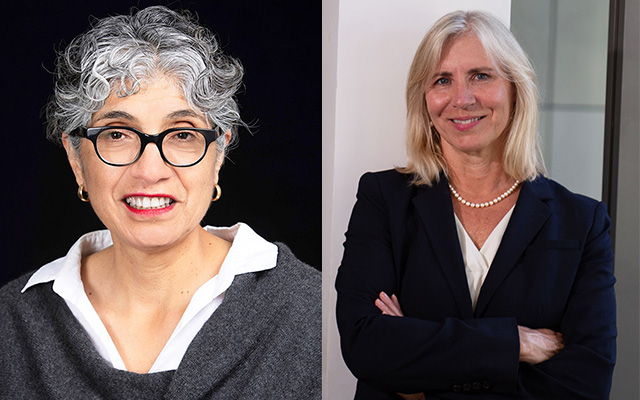 Published Date
Article Content
JoAnn Trejo, PhD, MBA, professor in the Department of Pharmacology at UC San Diego School of Medicine and assistant vice chancellor for UC San Diego Health Sciences Faculty Affairs, and Elizabeth Winzeler, PhD, professor in the Division of Host Microbe Systems and Therapeutics in the Department of Pediatrics at UC San Diego School of Medicine and adjunct professor in the Skaggs School of Pharmacy and Pharmaceutical Sciences at UC San Diego, have been elected to the National Academy of Medicine.
National Academy of Medicine membership is considered one of the highest honors in the fields of health and medicine. New members are elected by current members through a process that recognizes individuals who have made major contributions to the advancement of the medical sciences, health care and public health.
"We are extremely proud of Drs. Trejo and Winzeler, not only for their accomplishments in advancing our understanding of human health, but also their significant contributions to developing health leaders on our campus and across the country," said David A. Brenner, MD, vice chancellor of health sciences at UC San Diego. "They both represent the very best of UC San Diego's culture of innovation, creativity and collaboration, and I have no doubt they will inspire the next generation of scientists."
JoAnn Trejo, PhD, MBA
Trejo is known for discovering how cellular responses are regulated by molecules known as G protein-coupled receptors, particularly in the context of vascular inflammation and cancer. Her findings have advanced the fundamental knowledge of cell biology and helped identify new targets for drug development. Trejo's research has been continuously funded by the National Institutes of Health (NIH), including a recent NIH R35 Outstanding Investigator Award.
For example, she recently made the discovery that a tumor-suppressing protein is linked to dysregulated G protein-coupled receptor signaling in metastatic breast cancer, advancing the status of these molecules as cancer drug targets. In addition, her team published a study in Science Signaling detailing the molecular events that cause leaky blood vessels associated with sepsis, opening new possibilities for treatments.
Trejo is held in high regard as an educator, mentor and a leader actively engaged in numerous initiatives aimed at enhancing inclusive excellence. She leads the UC San Diego Health Sciences Office of Faculty Affairs, where she is widely recognized for her effective strategies to enhance faculty career development. She directs the San Diego Institutional Research and Academic Career Development Award (IRACDA) postdoctoral training program, in its 19th year of NIH funding, Health Sciences Faculty Mentor Training Program, Hispanic Center of Excellence faculty development program and three NIH-funded programs for faculty research development that promote the success of women and scientists from underrepresented backgrounds.
"The induction into the National Academy of Medicine is truly an honor," Trejo said. "As a first-generation Mexican-American, accomplished scientist, mentor and leader, I hope to provide valuable new perspectives and insights to the Academy's efforts to address issues critical in health, science and medicine.
"I also acknowledge that my highest scientific achievements would not have been possible without the dedication and hard work of my postdoctoral fellows and students and the strong collaborative environment at UC San Diego."
Trejo has served on multiple NIH and Howard Hughes Medical Institute Study Sections and currently serves on the National Cancer Institute Board of Scientific Counselors for Basic Sciences. She was also elected Fellow of the American Society for Cell Biology and elected to serve on the leadership councils for the American Society for Cell Biology and American Society for Biochemistry and Molecular Biology.
She has been recognized with the prestigious American Heart Association Established Investigator Award, American Society for Biochemistry and Molecular Biology Ruth Kirschstein Outstanding Scientist Award, American Society for Cell Biology EE Just Award for Outstanding Scientific Achievement, UC San Diego Chancellor's Award for Excellence in Postdoctoral Scholar Mentoring, and American Society for Cell Biology Inclusive Excellence Award. She was named to Cell Mentor's list of 100 Inspiring Hispanic/Latinx Scientists in America.
Trejo was born in French Camp, Calif. and raised in Stockton. She earned her bachelor's degree at UC Davis, her PhD at UC San Diego School of Medicine and an MBA from the Rady School of Management at UC San Diego. She completed a postdoctoral fellowship at UC San Francisco and served on the faculty at University of North Carolina, Chapel Hill before returning to UC San Diego as a tenured faculty member in 2008.
Elizabeth Winzeler, PhD
Winzeler is known for her early contribution to the field of functional genomics, where she worked primarily in the model yeast, Saccharomyces cerevisiae. Concerned about global health disparities and the alarming rise in the number of worldwide malaria cases in the early 2000s, she shifted her research focus to malaria, beginning with functional genomics and then moving to drug discovery.
Working previously in a joint position between the Scripps Research and the Genomics Institute of the Novartis Research Foundation, her group developed high-throughput chemical screening methods that ultimately led to the discovery of numerous novel drug candidates that have been developed into new antimalarial medicines, including cipargamin and ganaplacide, which in combination with another drug recently successfully completed Phase IIB clinical trials.
She also developed forward genetic methods that have led to the discovery and validation of numerous antimalarial drug targets. At UC San Diego, worked with the Bill and Melinda Gates Foundation to establish what has now become the Malaria Drug Accelerator (MalariaDA.org), a consortium of 18 laboratories working to prime the early stages of the drug development pipeline with a goal of creating next-generation medicines.
"I credit my success to having great mentors and exceptionally broad molecular biology training that allowed me to adapt to changing circumstances and tackle health problems as they emerge," Winzeler said.
At UC San Diego, Winzeler has also become interested in identifying institutional barriers that prevent female scientists from reaching their full potential.
Winzeler has authored more than 200 publications that, collectively, have had a sustained impact on the fields of functional genomics, genetics, microbiology, parasitology, bioinformatics, systems biology, cheminformatics, medicine, chemical biology and medicinal chemistry.
She was elected Fellow of the American Academy of Microbiology and has received numerous recognitions for her research, including the Keck New Investigator Award and Ellison Medical Foundation New Scholars Award, Bailey-Ashford Medal for distinguished achievements in tropical medicine, ASTMH Craig Lecture, UC San Diego Health Science Women Leadership Award, Rady Children's Hospital Award of Excellence in Basic Research, William Trager Award, CC Wang Award in Molecular Parasitology, and Project of the Year from the Medicines for Malaria Venture.
Winzeler was raised in Reno, Nev. She earned her bachelor's degree in Natural Sciences and Art at Lewis and Clark College in Portland, Ore. She worked as a computer programmer for several years before returning to graduate school, obtaining a master's degree in biophysics and biochemistry from Oregon State University. She later earned a PhD in developmental biology at Stanford University, where she also received postdoctoral training.
About the National Academy of Medicine
Established originally as the Institute of Medicine in 1970 by the National Academy of Sciences, the National Academy of Medicine addresses critical issues in health, science, medicine, and related policy and inspires positive actions across sectors. The National Academy of Medicine works alongside the National Academy of Sciences and National Academy of Engineering to provide independent, objective analysis and advice to the nation and conduct other activities to solve complex problems and inform public policy decisions. The National Academies of Sciences, Engineering, and Medicine also encourage education and research, recognize outstanding contributions to knowledge, and increase public understanding of STEMM. With their election, National Academy of Medicine members make a commitment to volunteer their service in National Academies activities.
Stay in the Know
Keep up with all the latest from UC San Diego. Subscribe to the newsletter today.