Together We Build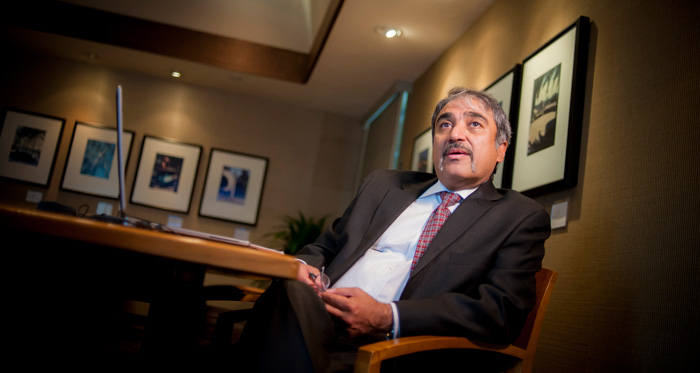 Chancellor Khosla. Photo by Erik Jepsen/UC San Diego Publications
I'm honored and excited to begin my tenure as UC San Diego's eighth Chancellor. Yesterday, on my first day, I had the opportunity to meet with staff and faculty, interact with students who are here for summer camps, visit the Sapphire Energy company founded by UC San Diego faculty, and chat via Skype with alumni who are also beginning new chapters in their lives. They gave me great insight into how UC San Diego has shaped their lives and careers, and the positive impact the university has on our community and the world.
More on Khosla's First Day
UC San Diego is one of the top research universities in the country – an impression that is supported by several national and international rankings. Our faculty is innovative and entrepreneurial. Our students are bright and motivated. And our staff is hard-working and collaborative. Collectively, this team of Tritons has already achieved so much in the first five decades of this campus, and I am pleased to be a part of this talented group of high achievers.
I recognize that the greatest strength of any university is its people. In the days, weeks and months ahead, I look forward to meeting with our campus and community members, and to have an inclusive process to develop a vision and plan for the future of this campus. It is my goal to support the exceptional scholarship and education here, and to take UC San Diego to the next level.
I am impressed with the strength of our education and research in a diverse array of disciplines. I think UC San Diego is poised to play a critical role in addressing societal challenges – issues such as water, environment, energy, food, healthcare and wellness for human beings. We have capabilities in every one of these areas, and our people have the ability to work seamlessly across disciplines and departments. And that makes this a unique research university that will continue to make an impact on our world.
I am aware of the challenges ahead, especially with the decline in state funding. I think we have a choice – we can wait for the state budget to rebound or we can seek other reliable revenue through partnerships and our own innovation. I like the latter approach since it is not mutually exclusive of the former. I will be looking for ways to empower faculty members and administrators at all levels so that we can expand our academic programs and research enterprise, to work with government and industry, and to boost philanthropy at the university.
We must do everything we can to ensure the success of our faculty, staff and students. They are our current and future leaders; they advance knowledge, improve our quality of life, give back to our community and contribute to our economy.
Although I am new to the university, I want you to know that this is my new home. I am very energized by the warm welcome I have received from the campus and also the local community. Together, we will build on the university's success, and the leadership of our former Chancellors, and we will continue to shape and impact the world, addressing local, national and global challenges.
Best regards,
Pradeep K. Khosla
Chancellor
Stay in the Know
Keep up with all the latest from UC San Diego. Subscribe to the newsletter today.