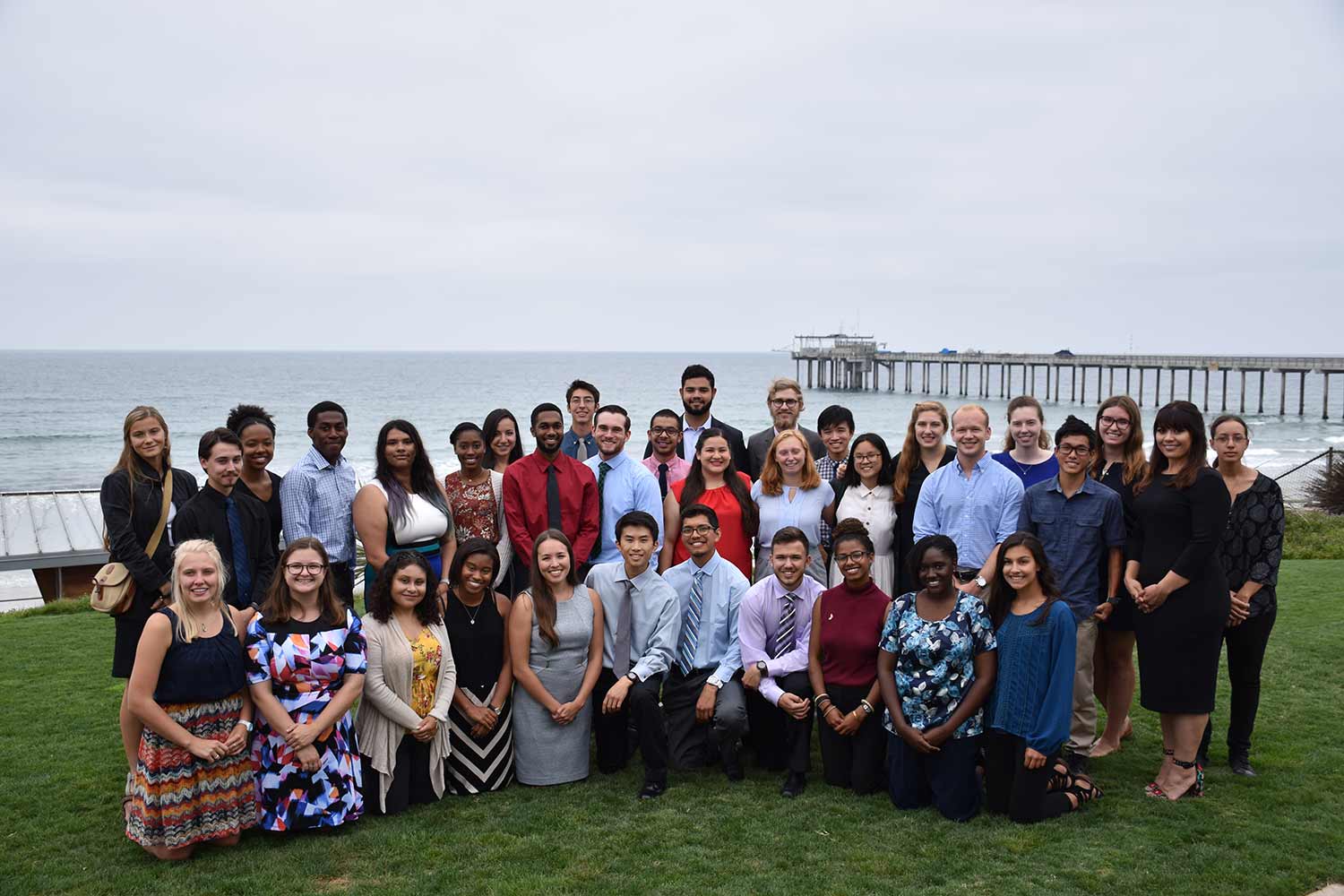 SURFing into Science Research
Scripps program provides stepping-stone for diverse students considering graduate programs in earth and ocean sciences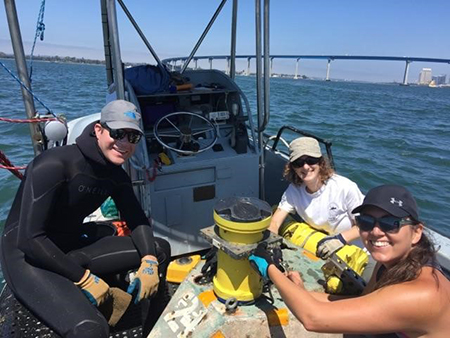 Six years ago, visiting college senior Angelica Rodriguez spent the summer conducting oceanographic research at Scripps Institution of Oceanography at UC San Diego. In the lab, she plowed through data and analyzed in situ observations to understand the oceanic mechanisms that transport heat onto the Antarctic continental shelf in the Southern Ocean. Though Rodriguez was new to the field of oceanography, she received training and mentorship from Scripps Professor Sarah Gille and researcher Matt Mazloff. After spending ten weeks as a researcher, she was hooked.
Rodriguez was a participant in the inaugural year of the Scripps Undergraduate Research Fellowship (SURF) program, a hands-on summer research experience funded largely by the National Science Foundation Division of Ocean Sciences. The program engages undergraduate students from colleges across the United States in cutting-edge research alongside a scientist mentor, helping them prepare for graduate school and careers in science. In efforts to increase diversity among science fields, the SURF program actively recruits underrepresented students and those from institutions with limited undergraduate research opportunities.
The program concludes in late summer, when students create posters and present their scientific findings at a research symposium.
The SURF experience was so unforgettable for Rodriguez that she applied and was ultimately accepted into the Ph.D. program at Scripps Institution of Oceanography.
"I started off knowing nothing about oceanography, but learned so much by the end of the summer, that I wanted to learn more!" said Rodriguez, now a fifth-year physical oceanography student studying estuarine and coastal dynamics in the lab of Sarah Giddings. "When I decided to come to Scripps, I knew that the breadth of research done here would be beneficial to my personal and professional growth and that the rigor of the coursework and program expectations would make me a better scientist."
Scripps graduate student Kiefer Forsch, a fellow SURF alumnus, echoed Rodriguez's comments and said he "can't speak highly enough of the program." Forsch studied chemical oceanography in the lab of Lihini Aluwihare during the program and credits this experience with expanding his knowledge of the possibilities available in the earth sciences. Outside of the lab, he interacted with Scripps faculty and graduate students, engaged in GRE prep courses, and gained exposure to grant writing, a key component of research in academia.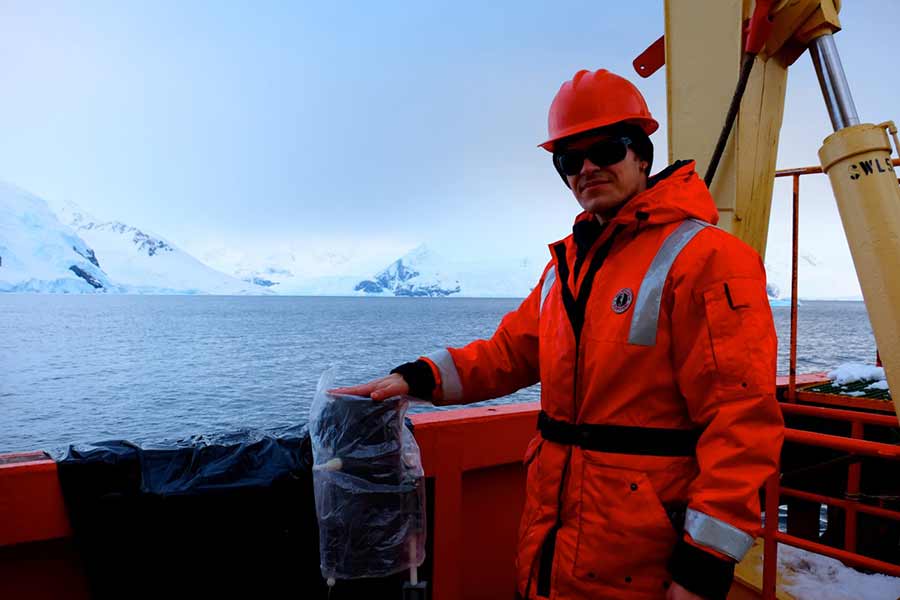 "All these 'firsts' opened my eyes to the possibility of continuing in graduate school," said Forsch, now a fourth-year student in the lab of Professor Katherine Barbeau, where he studies marine trace metal biogeochemistry. "Looking back, it's been one great adventure."
In total, there are ten former SURF participants now making a splash at Scripps as admitted graduate students, eight in the Ph.D. program and two as master's students. These success stories are welcome news to SURF Program Director Jane Teranes, who has led the program since its inception in 2011.
"Our goal is to increase diversity in our fields at a national level, and some of the outcomes that we're most proud of from the SURF program are that we now have so many students across the country that are in careers and grad school in the ocean, earth, and atmospheric sciences," said Teranes. "Of course, we're particularly happy when students come to UC San Diego and Scripps for graduate school. It's super energizing to work with these students."
Scripps recently received a grant renewal from NSF that supports 16 students in the SURF program each summer for the next five years. Supplemental grants and funding from other sources, including donors, also support a small number of students each year.
"We are thrilled and grateful to receive our recent five-year renewal from NSF, and we look forward to providing high-quality ocean-themed research opportunities for undergraduates for even many more years in the future," said Teranes.
The 2017 class of SURF fellows comprised 23 students from a wide-range of colleges in the United States (including the Virgin Islands and Guam). Here are just a few of the SURF students who participated in innovative research at Scripps this summer:
Magdalena Lara | California State University, Dominguez Hills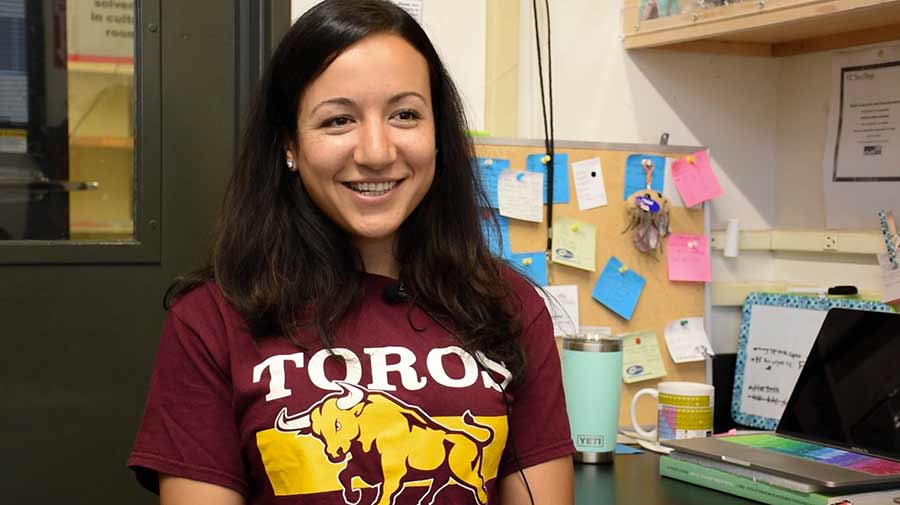 Los Angeles native and first-generation college student Maggie Lara researched chemical ecology under the mentorship of Scripps Professor Paul Jensen at the Center for Marine Biotechnology and Biomedicine. She looked at the relationship between the marine actinomycete Salinispora tropica and other environmental marine bacteria collected from the seafloor off Mexico. The bacterium Salinispora tropica, discovered in 1991 by Scripps scientists Jensen and William Fenical, shows promise for producing compounds that could treat diseases such as cancer.
"The goal of the research is basically to discover new natural products or chemicals that could potentially be used as antibiotics, anti-cancer drugs, or some form of medicinal therapy," said Lara, who is excited to bring her newly-acquired lab skills back to her home university, where she studies molecular biology and biochemistry.
Lara enjoyed having one-on-one experience working with Jensen, a master in the field of biomedicine, and she appreciated the mentorship provided by Teranes and the graduate students, who taught her about academic research expectations and how to apply for programs and fellowships.
"I'm a first-generation college student, and I'm the daughter of immigrant parents, so the whole idea of research never occurred to me until I started applying to these programs," she said. "Being able to do science for the rest of my life is a dream, so this has been a very cool opportunity."
Justin Higa | University of Hawaiʻi at Mānoa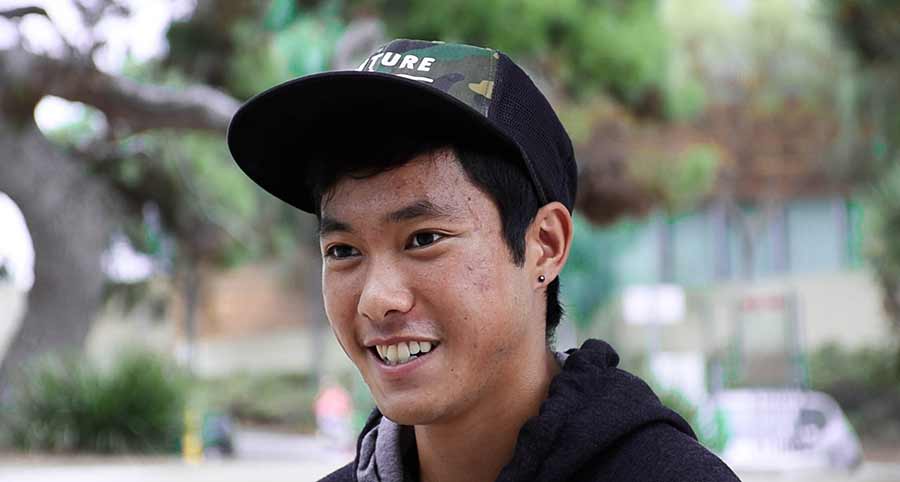 Honolulu native Justin Higa studied the ancient paleomagnetic intensity of Cambodia during the ages of 1000-1500 CE in the lab of Lisa Tauxe, a distinguished professor of geophysics at Scripps.
"I came here and knew completely nothing about paleomagnetism, so it's totally new," said Higa, who majors in geology and geophysics. "It really solidified the fact that maybe I do want to go to grad school, or continue doing research."
Higa said it's important to study paleomagnetism in Cambodia because this research will make global models of ancient magnetic fields more accurate. Previous studies have only focused on Europe and the Middle East.
In addition to gaining lab experience and creating his first scientific poster, Higa picked up another new skill this summer: surfing. "Even though I'm from Hawaii, I had never surfed before, so this was super cool and I'm definitely going to go home and practice!"
Tia Rabsatt | University of the Virgin Islands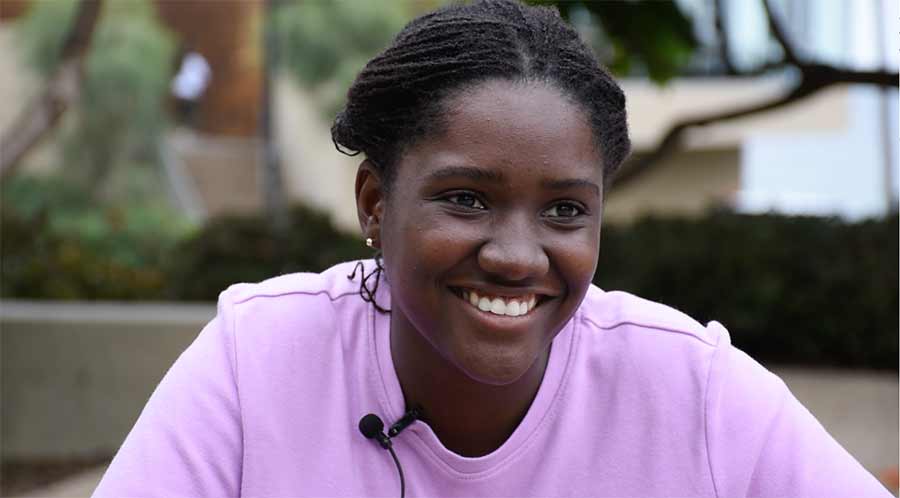 Marine biology student and Virgin Islands native Tia Rabsatt studied microbiology in the lab of Scripps Assistant Professor Jeff Bowman during the summer program. She worked on a project to determine whether the presence of seagrass affects the abundance of bacteria in the San Diego Bay.
"We're trying to see if seagrass has the ability to filter pathogenic bacteria that could spread disease," said Rabsatt. She performed DNA extractions and polymerase chain reaction (PCR, which amplifies the DNA) on seawater samples she collected from the bay. These samples were later sent to a lab for sequencing, so Rabsatt and other researchers can determine the genres and types of bacteria found within the collection sites.
"After being in the SURF program I feel really accomplished because this was actually originally my own idea and I got to see it flourish," said Rabsatt, reflecting on her thesis project. "This is something that I can actually now take back to my home country in the Virgin Islands and do there as well."
Ivan Moreno | California State University, Dominguez Hills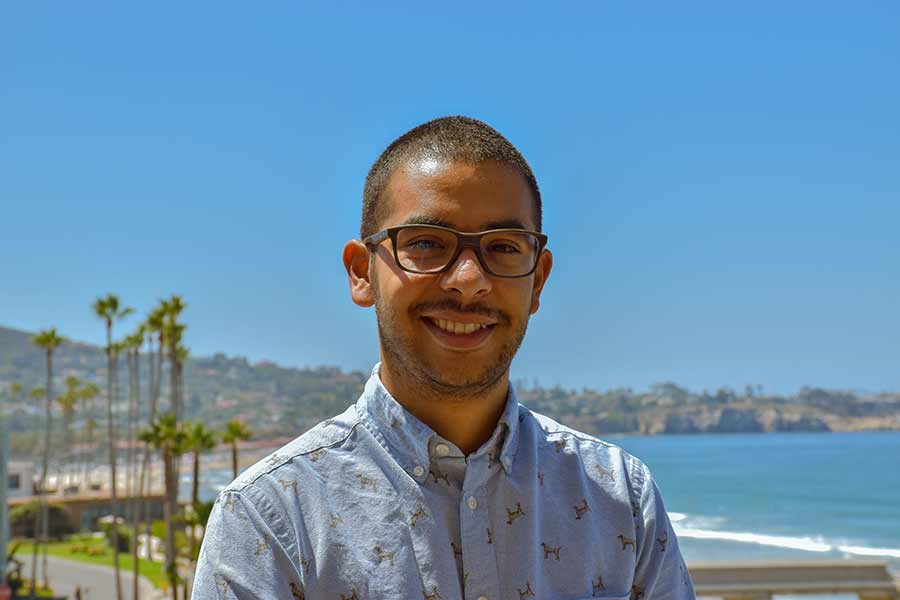 First-generation college student Ivan Moreno spent his summer studying thermophiles, microbes that can survive in very hot temperatures. Under the mentorship of Scripps Professor Brian Palenik, Moreno characterized the microbial community found in the hot springs of Black Canyon in South Nevada.
"By studying thermophiles and by studying any extremophiles, we get to test the limits of where microbes can live, how they survive, and how they thrive," said Moreno, a biology major with a concentration in cellular and molecular biology.
Moreno said he's found the SURF program to be "essential" as he applies to graduate programs and considers a future in science research.
"As a first-generation college student, it's interesting being able to speak to my family about what research is, because to them research is completely unfamiliar," said Moreno. "They had no idea that this world of science existed."
Learn more about the SURF program at: https://scripps.ucsd.edu/undergrad/surf.
Stay in the Know
Keep up with all the latest from UC San Diego. Subscribe to the newsletter today.