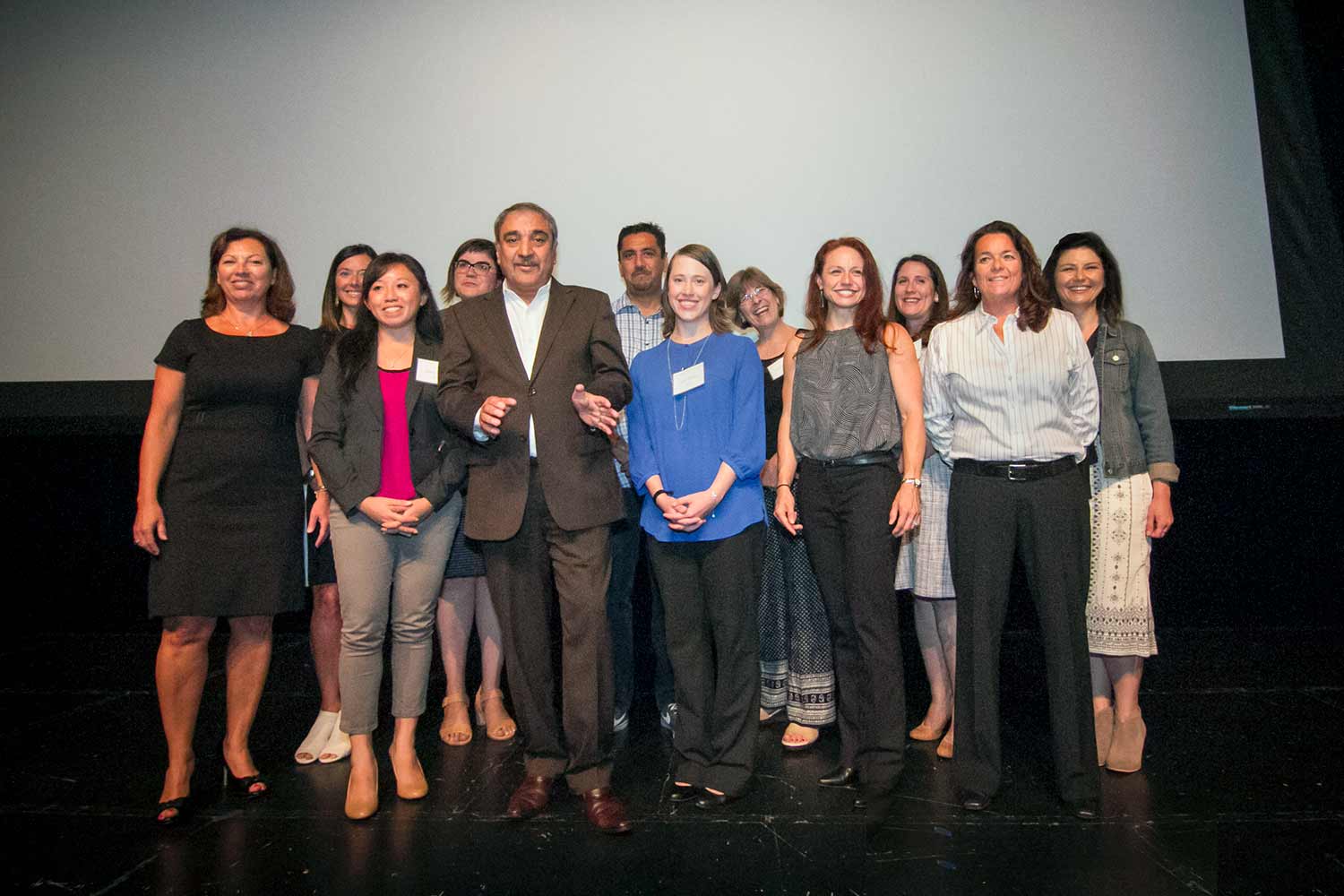 Staff Members Honored for Advancing the Greater Good
Her enthusiasm for all things "green" is infectious. Jennifer Bowser is known for her talent in activating teams to inspire sustainability efforts at UC San Diego and share knowledge about how to preserve our natural world. As Sustainability Program Coordinator, she goes above and beyond to engage students as peer education leaders and brings to life innovative projects that have contributed to UC San Diego's reputation as one of the greenest campuses in the country.
Bowser was named Principal Exemplary Staff Employee of the Year and was honored along with nine other recipients at the 32nd annual UC San Diego Exemplary Staff Employee of the Year Awards on May 22. The program recognizes professional and support career employees who make exceptional contributions to the campus and local community in support of UC San Diego's mission and vision.
"Congratulations to our 10 honorees; I know it's not every day that I come and thank you personally, but I can tell you that I notice your contributions on a daily basis," said Chancellor Pradeep K. Khosla at the ceremony. "Our campus is doing extremely well. I'm very excited about our future and vision, and each and every one of you have an important role to play in our growth."
Among her many roles, working with students is a top priority for Bowser. In addition to serving as an advisor for the undergraduate Inter-Sustainability Council, she helped create the Sustainability Ambassador Program, which offers 12 students the opportunity to become peer leaders. Through workshops, social media and other projects, student ambassadors teach other students about sustainability issues, from climate change to food systems and renewable energy.
"What I enjoy most about my job is working with students," said Bowser. "I believe in protecting our planet's resources for their generation and the future generations to come. I have the pleasure of meeting and working with so many students that are dedicated and passionate about sustainability. They inspire me to never give up."
Bowser first joined UC San Diego in 2014 as an accountant in Business and Financial Services. She devoted her time to promoting campus sustainability, including serving as chairperson of the Staff Sustainability Network. Since taking on a leadership role at the Sustainability Resource Center, she has expanded the success of both the "Green Office" and "Green Lab" certification programs. Twelve offices and 22 labs have been recently certified, resulting in reduced energy and water usage and less waste. Bowser was also instrumental in cultivating partnerships and teams to expand Earth Week celebrations to a full month of activities ranging from composting workshops to research seminars on climate change and a sustainability career fair.
More than 60 nominations were submitted this year in recognition of UC San Diego staff members who inspire and lead others on campus and in the community. Elle Mari, Director of Urban Food Environments at UC San Diego's Center for Community Health, was acknowledged for her extraordinary contributions to the community. For the last two years, she has worked one-on-one with more than a dozen small markets in Southeastern San Diego, City Heights and other low-income neighborhoods to help improve access to fresh and healthy foods as well as stimulate economic growth. As an urban agriculture advocate and food justice leader, she believes everyone deserves to live in a neighborhood that offers affordable, healthy food.
According to Mari, local markets are much more than simply a place to shop; they fulfill cultural food needs, serve as a social gathering place and act as an important catalyst for neighborhood change. Through the Live Well Community Market Program, Mari works with store owners to promote their business, access financing and grant opportunities, become connected to local food procurement options and get involved in peer learning exchanges.
"Small food markets have the potential to serve as an anchor for neighborhood change because residents are already invested in that place," explained Mari. "These markets usually have daily shoppers who walk from their homes; many market owners know them by name. This foundation is a great place to start in order to rebuild economic activity, health and safety in a neighborhood."
Mari also co-chairs the Urban Agriculture Working Group of the San Diego Food System Alliance. The group is working to promote urban agriculture incentive zones, which would provide a property tax reduction to private landowners who lease their property for agricultural use. The lack of space can serve as a barrier to growers who are looking to maintain or expand operations. Mari has engaged the urban growing community in San Diego and promotes the benefits of urban agriculture—from transforming unused spaces into vibrant green areas to educating others about fresh food production and creating a place for neighborhood recreation.
2016-17 Exemplary Staff Employee of the Year Award Program recipients:
Principal Exemplary Staff Employee of the Year:
Jennifer Bowser—Administrative Analyst (video)
Resource Management and Planning: Sustainability Resource Center
Exemplary Staff Employees of the Year:
Jennie Chen—Administrative Analyst (video)
Academic Affairs: Chemistry and Biochemistry
Laura Majoch—Student Services Advisor 2 (video)
Academic Affairs: Division of Biological Sciences
Mercedes Alcoser—Administrative Specialist (video)
Health Sciences: Pediatrics
Sandra Diaz—Staff Research Associate 3 (video)
Health Sciences: Cellular and Molecular Medicine
Elisabeth (Elle) Mari—Senior Public Administration Analyst (video)
Health Sciences: Pediatrics
A'verria Martin—Staff Research Associate 4 – Supervisor (video)
Health Sciences: Psychiatry
Victor Aguilar—Senior Marine Mechanician (video)
Marine Sciences: Integrative Oceanography Division
Virginia (Ginger) Hazen—Program Representative 3 (video)
Research: Office of Research Affairs
Maria Orozco—Senior Food Services Manager (video)
Student Affairs: University Centers
Stay in the Know
Keep up with all the latest from UC San Diego. Subscribe to the newsletter today.