Sharing Common Bonds
Excitement was in the air as the UC San Diego campus welcomed Pradeep Khosla on his official first day as chancellor Aug. 1. Khosla kicked off the day with a Skype conversation with UC San Diego alumni who all share a common bond—beginning a new, exciting stage in their careers.
More on Khosla's First Day
Participants of the video conference included Daniel Quirós, a recent Ph.D. graduate in literature who is embarking on his first position as a college professor; Melanie Aiken, a graduate of the UC San Diego School of Medicine and mother of three who is beginning a preliminary medicine internship; and Allegra Mascovich, a first-year Preuss School UCSD teacher who is a UC San Diego alumna.
The alumni shared their anticipation about embarking on a new career while discussing how UC San Diego prepared them for their journey. They were also able to give Chancellor Khosla some words of advice and encouragement as he starts his tenure on campus.
Mascovich spoke about the importance of strengthening ties with the community, especially with underrepresented communities. Quirós agreed and added, "I know that a lot of the underrepresented minorities would like to see more of a presence on campus."
He also urged Khosla to continue support for the humanities despite the continuous budget challenges. Quirós said he's concerned about the availability of funding and maintaining the quality of education that he enjoyed. Khosla agreed that the humanities are important, noting that it's important that we train the next generation of students to use both the left and right brain.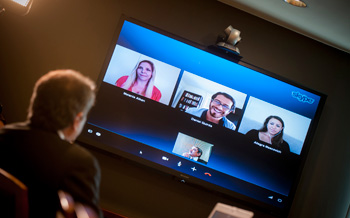 Khosla shared that he is a strong believer in the student experience and asked the group about their experiences here. Quirós responded, "Intellectually, I had a great experience at UC San Diego. I was surrounded by amazing faculty and intellectual peers. It was nice to be able to share ideas and be a part of a community. That really shapes your world, impacts your outlook, and how you interact with the world. Socially, you can feel isolated because the campus is so big, and people come and go. The addition of the new Price Center has helped with that."
Aiken said she was very satisfied with her time at the UC San Diego School of Medicine. "I had nothing but positive experiences, both socially and academically," she said. "My class was supportive, and that trickled down from the deans who set a tone of camaraderie. We worked together as a group, we played together as a group, we reached out to the community as a group. I made lifelong friends. I liked it so much I didn't want to leave." To which Khosla replied, "That's what a chancellor likes to hear."
As a single mother of three daughters, Aiken said she appreciated receiving a high-quality education where the tuition is reasonable. Her advice to Khosla on what to share with community members and donors: "I think it's important to share a sense of gratitude for people like me who had the opportunity to go back and realize my dreams, create opportunities for my children and reach out to the community. That is what their donations are providing for people who wouldn't otherwise have that opportunity."
Khosla shared with Aiken that access was an important issue to him because he was a scholarship recipient himself.
"If not for a scholarship, I wouldn't be here," he said.
Stay in the Know
Keep up with all the latest from UC San Diego. Subscribe to the newsletter today.