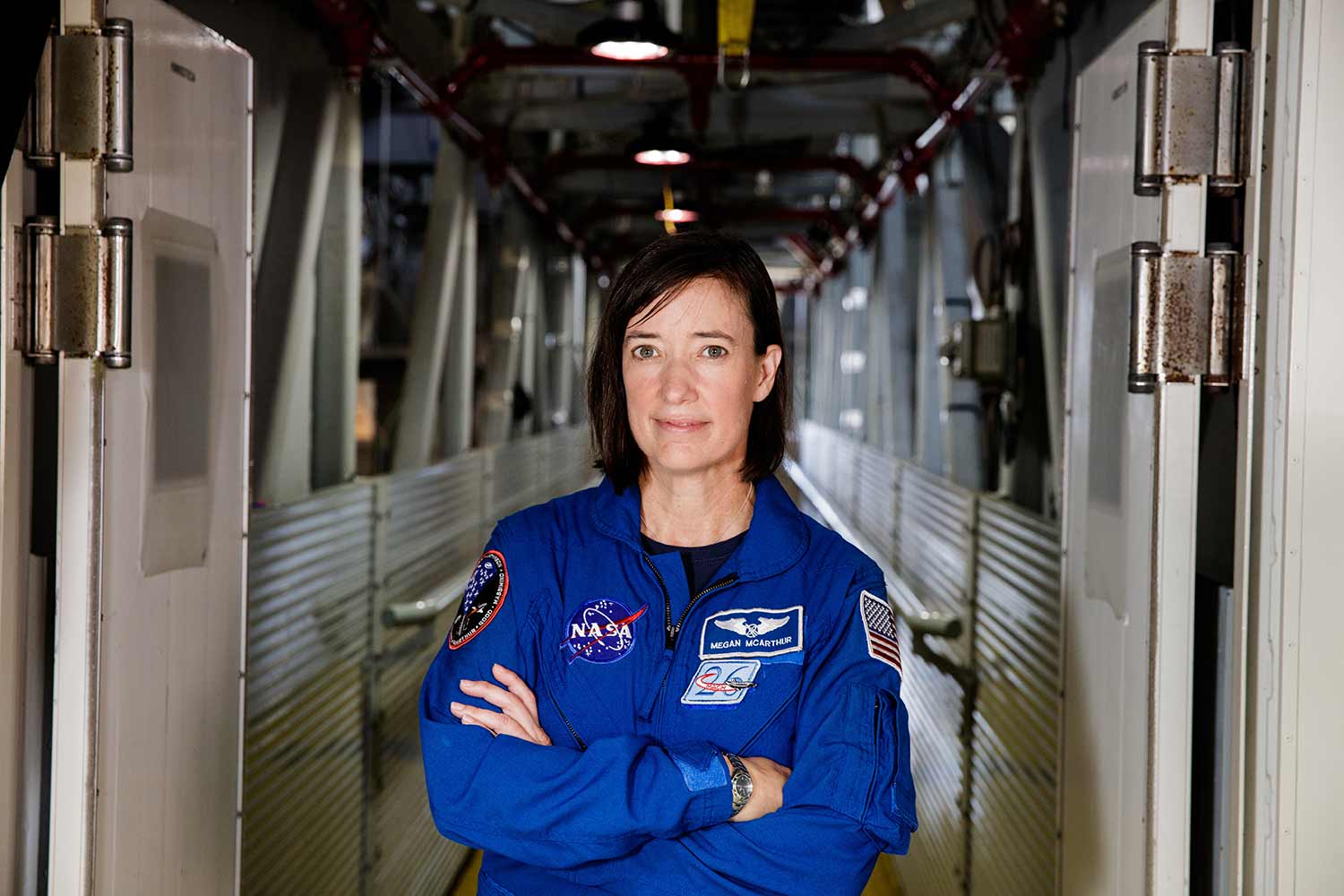 Ready for Liftoff
UC San Diego alumna Megan McArthur to pilot NASA's SpaceX Crew-2 mission to International Space Station
With more than two decades of scientific training under her belt, NASA astronaut Megan McArthur is ready for her return mission to space. The accomplished alumna of Scripps Institution of Oceanography at UC San Diego (Ph.D. '02) will achieve her aviation dreams when she serves as pilot of the upcoming NASA SpaceX Crew-2 mission to the International Space Station. The launch is targeted for April 23 at 5:49 a.m. EDT from the Kennedy Space Center in Florida.
As part of NASA's Commercial Crew Program, the mission is the second crewed flight of a SpaceX Dragon spacecraft, which will launch atop a Falcon 9 rocket. McArthur, who is responsible for spacecraft systems and performance, will make the journey alongside NASA astronaut and commander Shane Kimbrough and international partner astronauts Akihiko Hoshide and Thomas Pesquet.
The Crew-2 mission will mark McArthur's first visit to the Space Station and second trip to space. During her six-month visit to the orbiting laboratory, she'll conduct science research in areas such as medical technology, human health and materials to benefit life on Earth, before returning in the fall of 2021.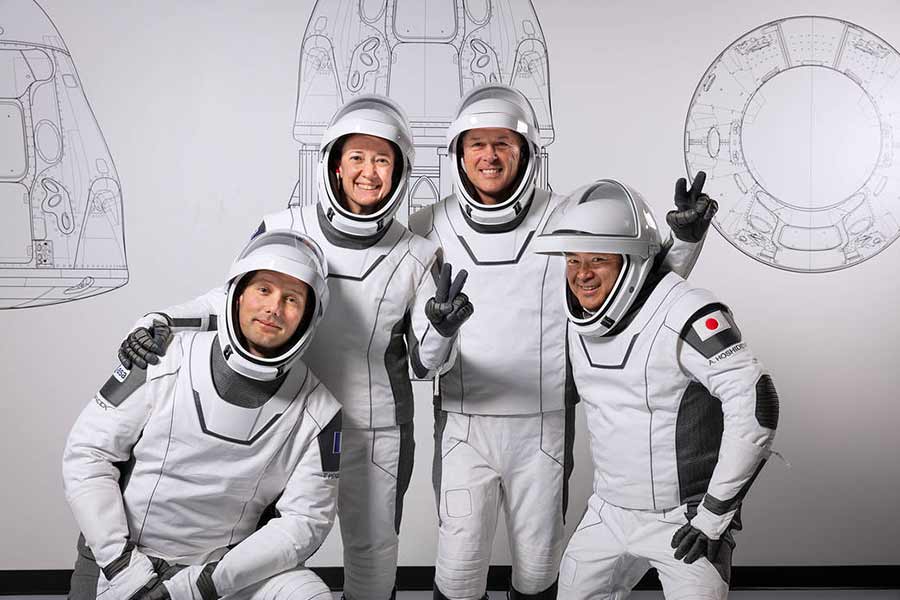 In a conversation with This Week@UC San Diego, McArthur said that she's looking forward to all aspects of the journey, though she can't pinpoint one activity in particular. Rather, she's focused on the success of the entire mission and tackling each task as it comes.
"I'm just looking forward to meeting that everyday challenge of what's on the schedule today," said McArthur, who holds a doctorate in oceanography from Scripps. "You know, how can we be successful today? Because every single day is going to be different."
McArthur is no stranger to handling complicated tasks. In 2009, she logged nearly 13 days in space when she participated in the final mission to service the Hubble Space Telescope. As mission specialist, McArthur operated a 50-foot robotic arm from inside the Space Shuttle Atlantis while her colleagues conducted lengthy spacewalks outside. McArthur is considered the last person to have "touched" the telescope, and it remains in operation today thanks to her and the crew's efforts.
Prior to becoming an astronaut, McArthur was trained as an oceanographer and engineer. She credits the education she received at Scripps Oceanography and her work as an ocean-going scientist in helping her prepare for the challenges of space.
"I think in general, the operational aspects of doing sea-going oceanography have a lot in common with going into space," said McArthur. "We're not suited to survive underwater any better than we are in outer space, so we use technology and different kinds of instrumentation to help us do that. When you go out on a ship and you're going to deploy and recover an instrument, if something breaks, you need to be able to fix it with what you have on board."
Path to Science
A self-described military brat, McArthur was born in Hawaii and lived in several places around the world during her childhood, including California, Japan, and England. Her early interest in airplanes and aviation was sparked by her father's work as a U.S. Navy aviator. Later on, she decided to pursue a bachelor's degree at UCLA, where she studied aerospace engineering.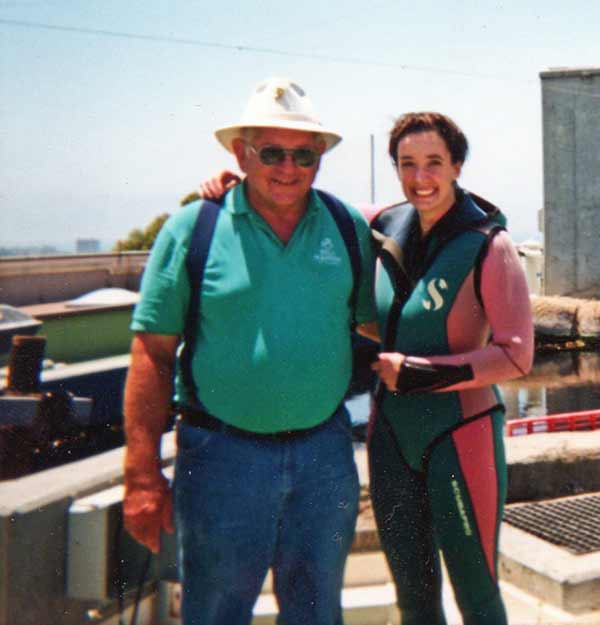 While an undergraduate, McArthur participated in UCLA's Human Powered Submarine Project and was part of a team that built a small two-person submarine. As the smallest member of the team, she was the only person who could fit in the submarine's pilot seat, which meant she had to get scuba certified in order to operate the vehicle—an experience that helped spark her interest in the ocean, and later, ocean engineering.
After some "post-college wandering" including working for a dive shop in Ireland and an ocean engineering company in California, McArthur decided to pursue a graduate degree in oceanography at Scripps, where she was part of the applied ocean sciences program. Her doctorate research focused on underwater acoustics in a nearshore environment and digital signal processing.
With funding from the Navy, McArthur and her advisor Bill Hodgkiss had the opportunity to spend several weeks conducting acoustic experiments off the coast of Red Beach, part of Marine Corps Base Camp Pendleton, an area north of San Diego that is closed to the public.
"Being able to do some nearshore acoustics work at Camp Pendleton with Megan was a really unique opportunity because it was essentially free of surfers, people swimming, small boating, and other traffic," said Hodgkiss, a distinguished professor of signal processing and acoustics at Scripps.
McArthur made the most of her time in the near-shore region, deploying instruments in the water to record and project sounds in the area, and then used the resulting information to determine what the ocean bottom properties were and how sound would propagate in that environment.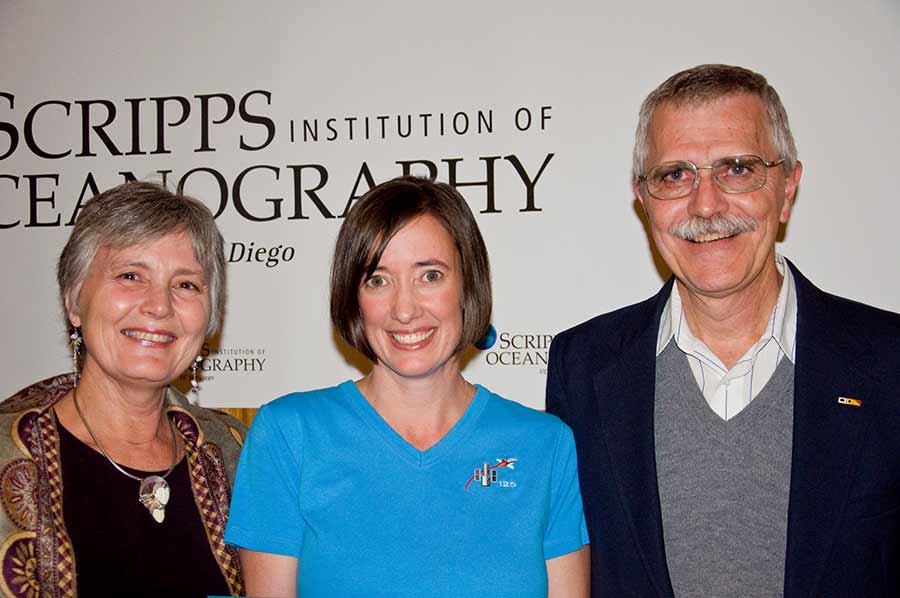 "The work that Megan did was called geoacoustic inversion," explained Hodgkiss. "It's a complicated sounding word that basically means that we're using acoustic data collected by hydrophone sensors; that's the acoustic part. And you can project sound into the water, listen to it with a hydrophone array or acoustic sensors, and then infer the properties of the seafloor based on the characteristics that you see in the sound you recorded."
As a graduate student, McArthur had the opportunity to participate in several sea-going missions that involved scientific diving, testing and deploying instruments, and collecting marine plants, specimens and sediments.
"Graduate students are always banding together to help each other out; you know, free labor basically," said McArthur with a laugh. "So I had the opportunity to go on other seagoing missions basically to deploy and recover larger instruments, like ocean bottom seismometers, in much deeper parts of the ocean."
McArthur said she assisted her friends and roommates, who were biologists, with collecting marine specimens for their research, which often involved scuba diving. "I got a really broad spectrum of operational experiences by basically just helping them out," said McArthur, "and then of course they would help me out with my work as well."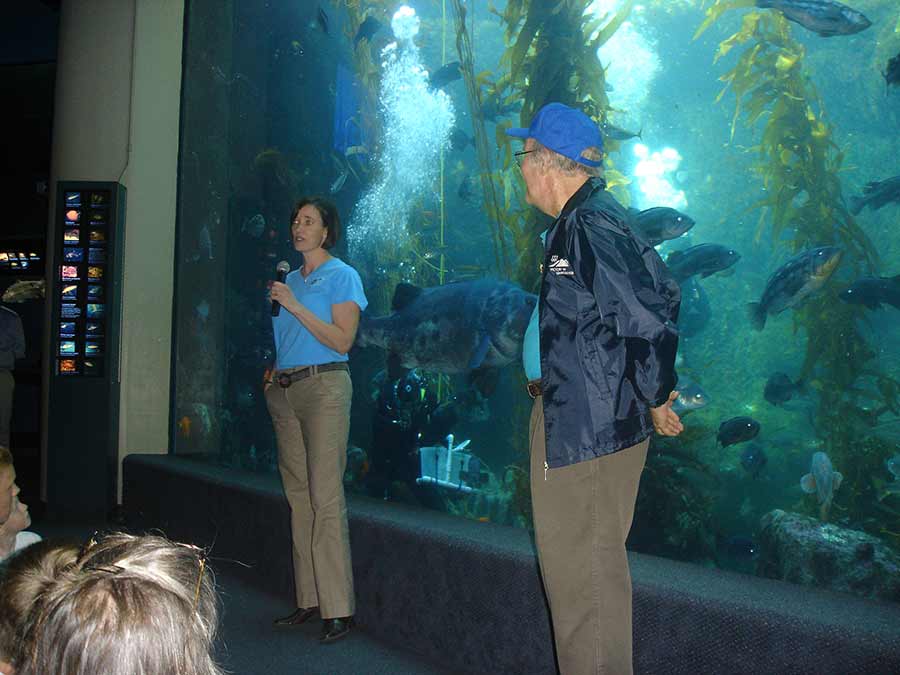 Hodgkiss said he remembers McArthur as a dedicated student who had a deep interest in all aspects of the ocean, beyond her own research. Part of her extracurricular activities included volunteer work at Birch Aquarium at Scripps, where she conducted educational demonstrations for the public while scuba diving in the 70,000-gallon Giant Kelp Tank.
Over the years, McArthur has stayed in contact with several of her former colleagues at Scripps and Birch Aquarium. During a return visit in 2009, she made a special presentation of some items she took with her to space, including a rock from the Tonga Trench (one of the deepest parts of the ocean) and a small American flag. She also hosted her wedding reception at the aquarium when she married fellow astronaut Bob Behnken.
Selection to NASA
McArthur was still a graduate student when she was selected to NASA's astronaut program in 2000. The timing presented some challenges, as it meant the end of her doctorate program overlapped with the start of astronaut training, a notoriously difficult program. Still, she managed to come back to Scripps to finish up her research and defend her thesis in 2002.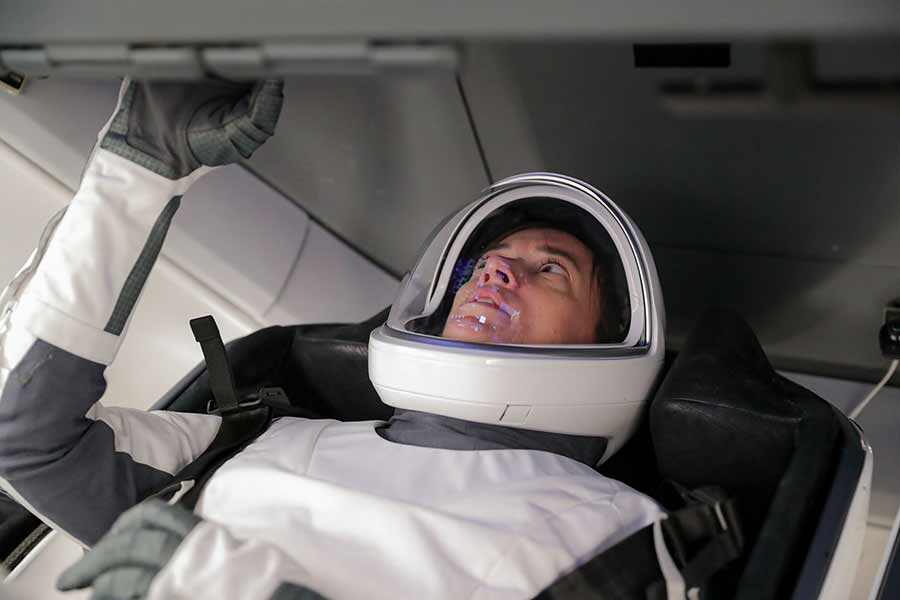 "Megan was literally within months of her finishing her Ph.D. thesis, and then she was given this once-in-a-lifetime opportunity to be part of the astronaut program," said Hodgkiss. "She was actually trying to manage two careers at the same time, but it did work out. It worked out because of her intense perseverance."
A testament to the value of a world-class education at UC San Diego, McArthur is among three female astronauts who are graduates of the university. The stellar cohort includes fellow Scripps Oceanography alumna Jessica Meir (Ph.D. '09) and Biological Sciences alumna Kate Rubins (B.S. '99), both of whom were recently selected as members of NASA's ambitious moon exploration program, Artemis. Rubins is currently wrapping up her second mission at the Space Station, while Meir—who completed her first space mission in 2020—will be working ground control for the Crew-2 launch.
Hodgkiss said he is incredibly happy that McArthur has been able to achieve her goal of becoming an astronaut, and that she'll soon pilot a mission to space. He never dreamed that one of his students would make it to such great heights.
"The astronaut career path is not one that I would necessarily expect of most oceanography students," said Hodgkiss. "But on the other hand, space exploration and exploring in the ocean are just aspects of exploring the planet, the earth, and the environment we're in. I think you take that same enthusiasm of exploration with you, whatever your career may be."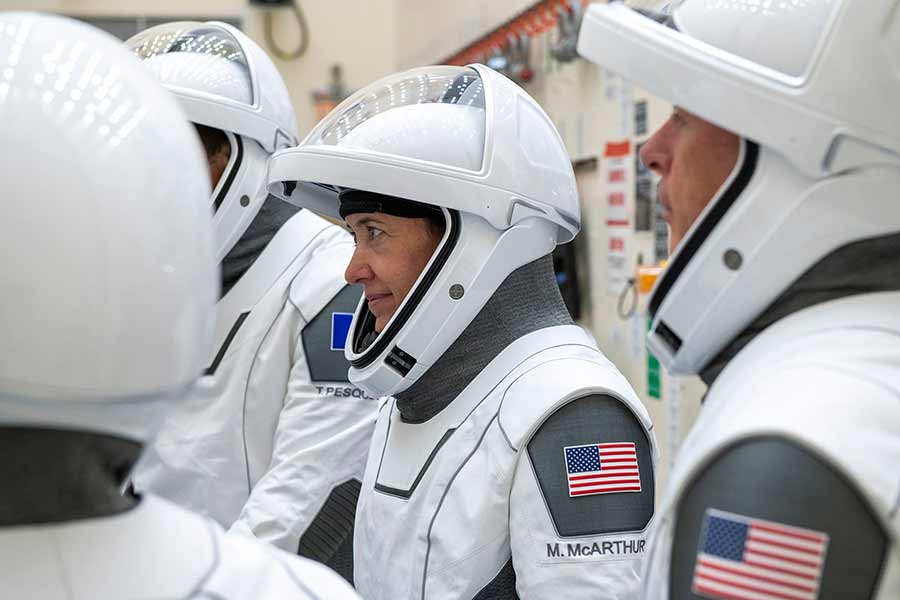 When asked about the most important lesson she's learned throughout her career, McArthur stressed the importance of learning—really digging in and learning about the topic at hand—and developing an operational philosophy. Big, bold endeavors in potentially dangerous environments are made possible by years of training, working as a team with classmates and crewmates, and being aware of how to operate safely in any given environment, she noted.
Her biggest takeaway? "Always show up, ready to learn."
Those interested in viewing the launch and affiliated coverage can view a livestream on NASA's website. Stay tuned for mission updates on NASA's social media channels as well as on Megan McArthur's Twitter profile @Astro_Megan.
Stay in the Know
Keep up with all the latest from UC San Diego. Subscribe to the newsletter today.