Persistence Pays Off
UC San Diego celebrates the resilience of the Class of 2021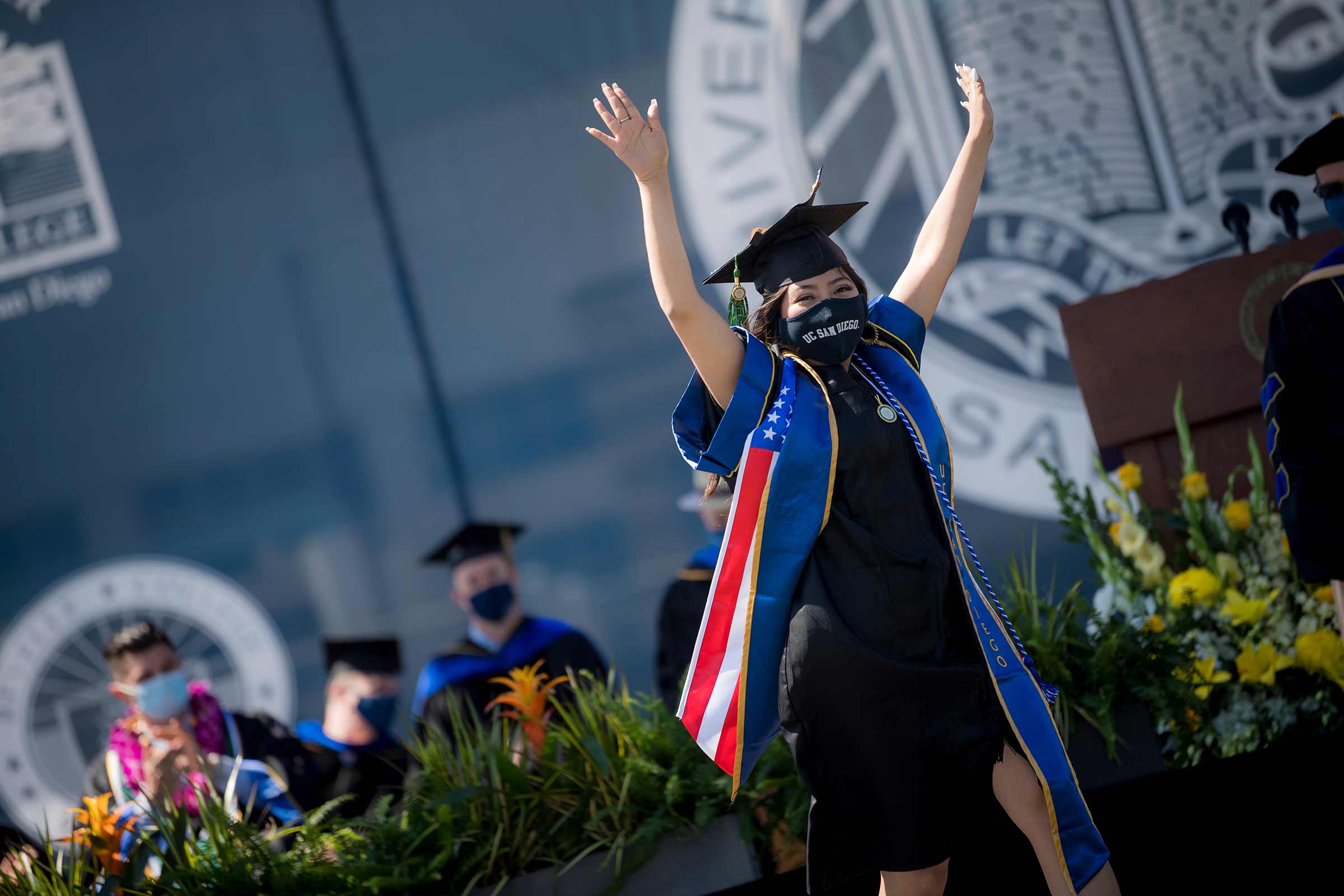 A UC San Diego student raises her arms in celebration as she crosses the stage during the John Muir College Commencement ceremony. Photos by Erik Jepsen/University Communications.
Thousands of graduates and their guests streamed into RIMAC Field and Triton Track this past weekend to celebrate Commencement. The long-anticipated event was a chance for students to reconnect with classmates outside the virtual world and revel in the joy of achieving their dream during a time of great uncertainty.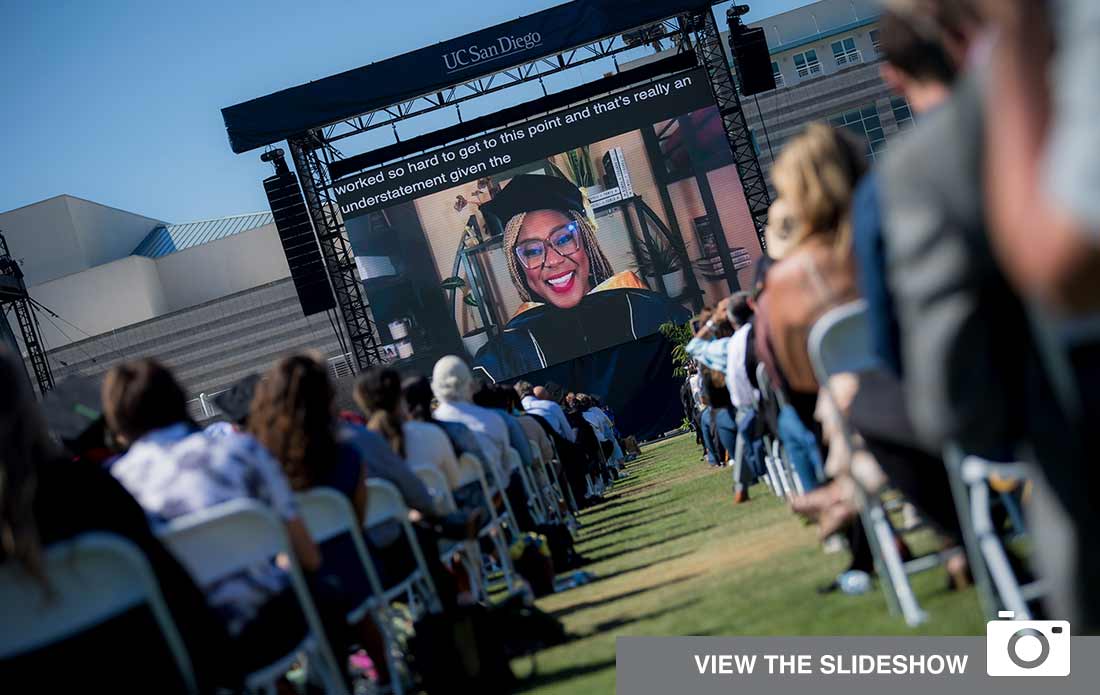 A total of 10 ceremonies were held, one for each of the undergraduate colleges and two for the Graduate Division as well as the Rady School of Management and School of Global Policy & Strategy. Each graduate invited up to two guests to join and were seated in pods throughout the field to ensure appropriate physical distancing.
The festivities were full of flowers and decorative leis; big hats and headbands featuring graduate photos; cheering and whistling from families on the field and onlookers on the balcony of the Rady School—even fluttering Monarch butterflies, symbolizing the lightness and happiness of the weekend.
In his recorded message to the Class of 2021, Chancellor Pradeep K. Khosla lauded graduates for their perseverance during a historic time of tumult. "I watched this class closely in the early days of the pandemic. I saw how you pivoted during an unimaginable situation; I saw you rise to meet every single challenge that presented itself," he said. "And here you are today, graduates of UC San Diego. You are the personification of persistence. You have set a new bar for excellence. And you are going to do amazing things in your lives."
Persistence personified
Several years ago, Shakur Collins wasn't sure if achieving a college degree was possible. She was originally accepted to UC Irvine but had to disenroll after becoming sick and losing her vision. But she continued despite her doubts. She attended Cuyamaca Community College and transferred to UC San Diego to study psychology. Collins expressed her excitement at the Muir College commencement ceremony and reflected on lessons learned.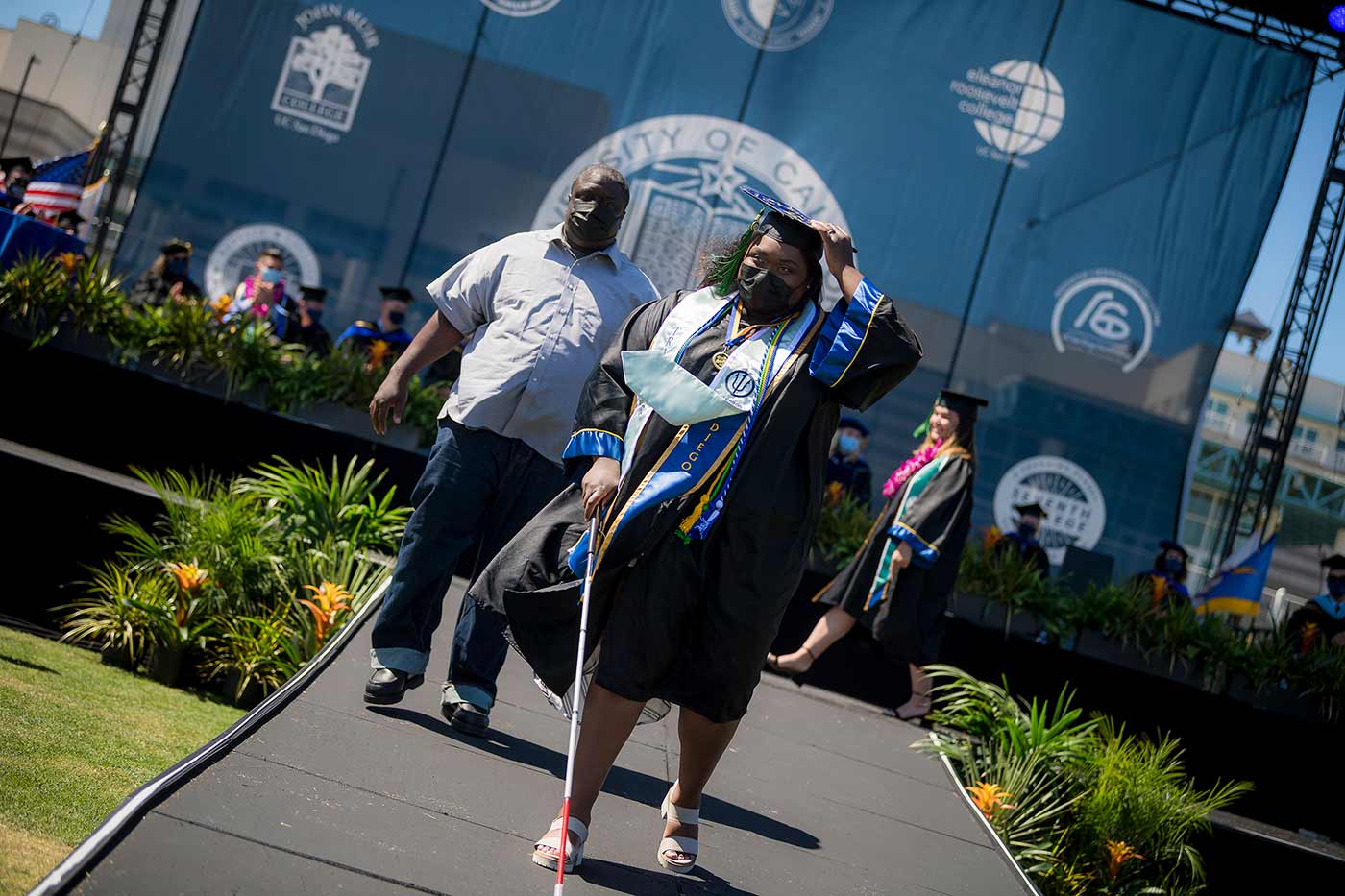 "When the going gets tough, you don't fold, you adapt," said Collins, who will be serving as a diversity, equity and inclusion facilitator and trainer with the National Conflict Resolution Center after graduation. "My journey here wasn't easy. But you have to roll with the punches of life and adapt. If you stay steadfast but still fluid, like a tree riding a wave, then I think you'll be good."
It was this message of adaptability and the notion of embracing change that alumna Alicia Garza spoke about in her recorded keynote. She shared that 19 years ago she crossed the same stage, earning dual degrees in sociology and anthropology from UC San Diego. Garza also related how she worked in several different positions after graduation before she discovered her calling as an organizer, political strategist and movement builder—which led to co-founding the Black Lives Matter Global Network.
She reminded students that they don't have to have it all figured out just yet. "I really wish someone had told me that my best made plans would defy me at every turn and that the skill I really needed to develop was to navigate this thing called life," said Garza. "It's less about knowing exactly what you want to do and more about being able to be nimble, to be resilient and always, always, always to find your best contribution."
As principal of The Black Futures Lab, Garza is dedicated to transforming Black communities into constituencies that change the way power operates—locally, statewide and nationally. She spoke to graduates about their individual power to create change within the new political, social and economic landscape that has emerged following a massive public health crisis.
"Politics—the act of determining who gets what, where, how and why—is our collective responsibility," explained Garza. "Don't leave it up to someone else to figure it out. Be engaged, be informed, get activated, get inspired, get creative, but most importantly, get involved as if your life depends on it because without a doubt, it does."
Leading with love
In the sea of mortarboards, students presented artistic messages of resilience, gratitude and pride on top of their caps, many outlined in glitter and framed by flowers. They read, "First in the family tree to receive a college degree," "Soy el fruto de sus sacrificios," and "The flower that blooms in adversity is the most rare and beautiful of all." Others infused humor: "Done with the BS," and "Hotter by two degrees."
Commencement student speaker Francesca Hart encouraged these opportunities for self-affirmation in her recorded speech to her peers. She reminded classmates that each individual matters, and it is important to recognize and cultivate personal strengths to be more powerful when united with others in a common cause. Or said simply—love yourself first.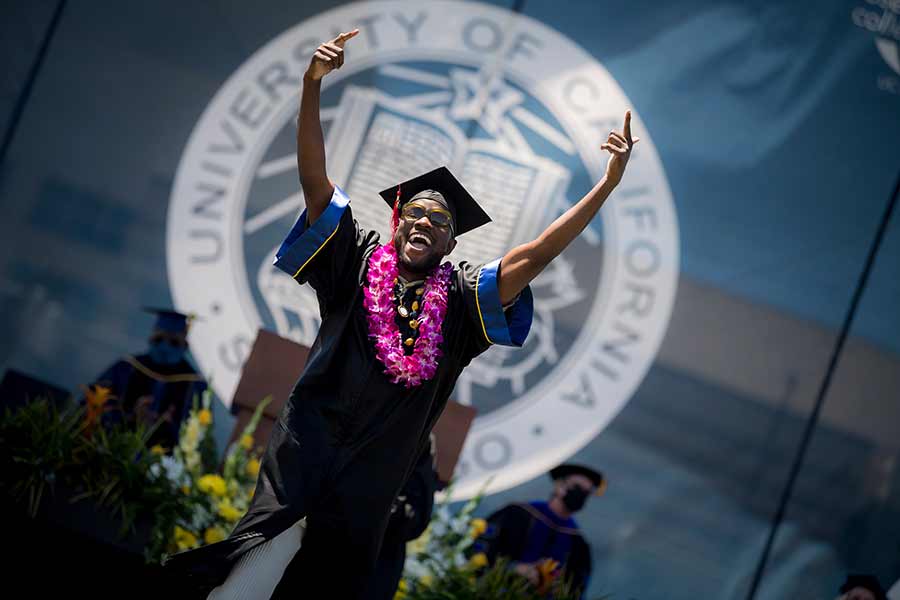 "Each and every one of you has the potential to influence others and will go on to contribute to the union of the collective," said Hart, who graduated from Muir College with a major in political science and minor in economics. "And while this year has highlighted some of life's toughest lessons, that should never take away from the victories—big or small—that brought us here today. Don't discredit your story; think about the thousands of times you could have given up, but you didn't. You could've stayed down, but you didn't. I hope you are as proud of yourself, as I am of you."
Graduate student Dylan Shields shared how he experienced challenging moments as a master's student, but he always found the determination to keep moving forward. Growing up, he enjoyed taking things apart and learning how they worked. Shields enrolled in UC San Diego's engineering program and continued on to earn a master's degree in electrical engineering with emphasis on communication theory and systems. This summer he will begin a position at Qualcomm, Inc., conducting wireless research and development for 5G networks.
"It feels like a vindication of everything that I worked towards," said Shields at the Graduate Division Master's Ceremony. "There were a few points during my master's where I felt like giving up, and looking back on it now, I'm so glad that I pushed through it. I'm just really happy, it feels good, feels like I'm on the right track to go wherever my life takes me."
Lessons learned
Commencement marks a new chapter in each graduate's life. They begin their next journey equipped with an interdisciplinary education from UC San Diego, bolstered by new skills in resilience developed during the pandemic.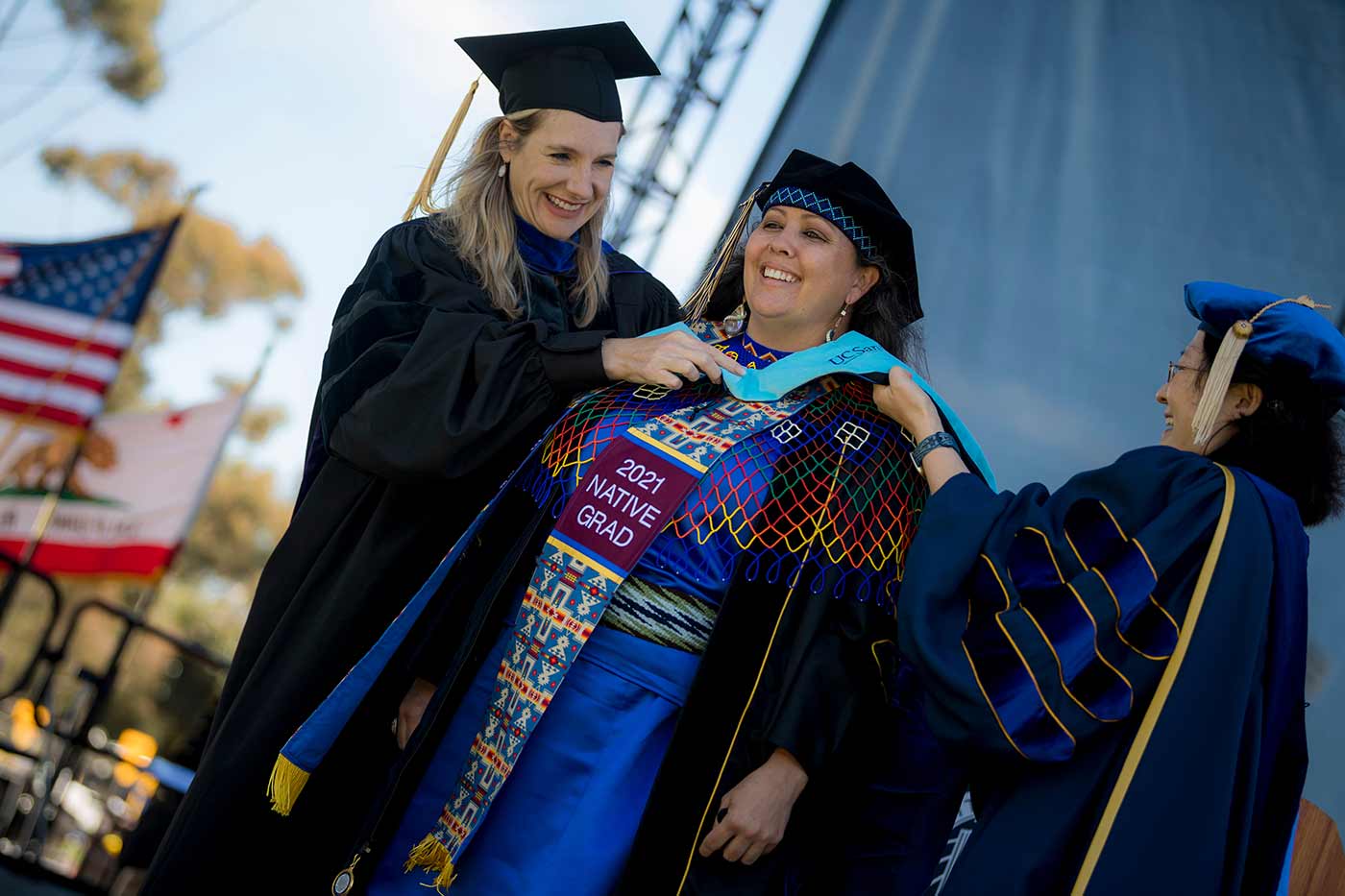 Executive Vice Chancellor Elizabeth H. Simmons conveyed her pride in all that the Class of 2021 accomplished during their academic careers in recorded remarks to graduates: "The COVID-19 pandemic has presented extraordinary challenges for everyone over the past two years, but your resilience, compassion and dedication to academic excellence paid off and supported the completion of your educational journey in ways you probably never imagined."
Twins Mina and Dima Kamal, who both studied general biology, found it difficult to stay motivated to study when learning happened remotely. Yet, they made the most of their time as transfer students by joining student organizations such as the Pre-Dental Society, staying on track for their goal of attending graduate school and becoming dentists. The sisters were excited to experience Commencement in-person, with just one small worry: "I'm afraid I'm going to fall on stage in my heels," laughed Mina Kamal.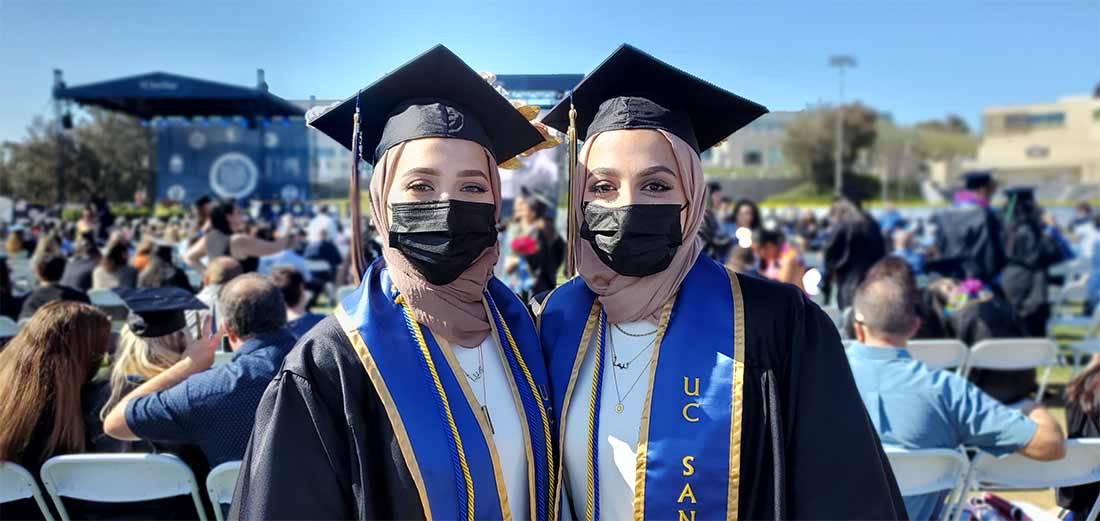 The past year also shifted the perspective of graduate student Hannah Griffith, who came to realize the importance of human connection. "For so long I put my school ahead of my relationships, and this past year has made me realize how I really love my family and friends and need to make more time for them."
An aspiring high school English teacher, Griffith graduated with a degree in Education Studies, a dual program that includes a master's degree and teaching credential. As a first-generation student who has seven siblings, she hopes to serve as a role model to her younger family members. "Never stop learning," she said. "No matter your background or where you come from, you can break the pattern and carve out your own path."
For those who were not able to attend ceremonies in person, each event will be available to view online at commencement.ucsd.edu.
Stay in the Know
Keep up with all the latest from UC San Diego. Subscribe to the newsletter today.