New Campus Restaurants Diversify and Delight
While working on his MBA as part of Rady School of Management's FlexWeekend program, Lijun Liu noticed that the campus cuisine lacked diversity. Despite the 15+ restaurants at University Centers which offer everything from build-your-own bowls at Seed + Sprout to wings and pub fare at Dirty Birds, there were few Asian food offerings.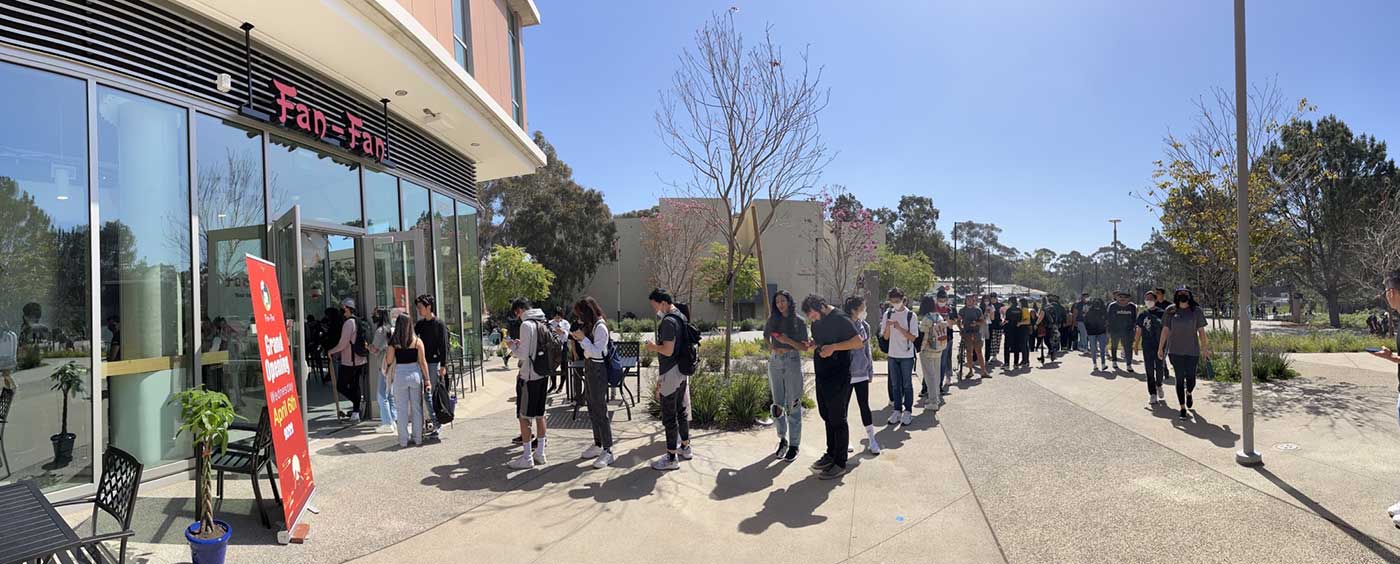 "UC San Diego only had Americanized Chinese food," Liu said. "I wanted to fill that gap by bringing authentic Chinese cuisine to campus and be a part of the Asian culture here."
Liu and his business partner, Chef Tony Wu, are the masterminds behind Fan-Fan, one of the new restaurants that opened its doors this spring in the campus's North Torrey Pines Living and Learning Neighborhood.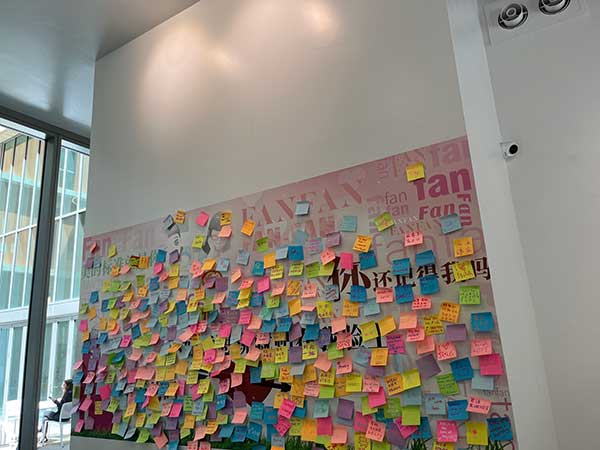 Fan-Fan, which serves Hunan and Asian fusion dishes at affordable prices, aims to be a home away from home for Asian students by offering a warm atmosphere based on innovation, teamwork and quality. Offering dishes ranging from spicy mapo tofu, pan-fried black pepper pork (a Hunan classic) and Fan-Fan's signature lobster tails, everyone can find something to enjoy. This is not Liu and Wu's first restaurant partnership either; Taste of Hunan in Scripps Ranch also features spicy, aromatic flavors and Crazy Duck in Poway serves a variety of dishes featuring roast duck.
"I'm very happy to serve this community. UC San Diego means a lot to me," Liu shared. "Both my wife and I are alumni and we live nearby. It's been such a rewarding journey from start to finish, especially seeing the students leave feedback on our sticky note wall. We plan to sponsor student groups and give back to the campus that brought us together."
Shōwa Ramen
North Torrey Pines Living and Learning Neighborhood is also the home of Shōwa Ramen, Julian Hakim's latest restaurant in a lineup that includes The Taco Stand (multiple locations in the San Diego Region) and Himitsu (La Jolla). Known for its blend of traditional, authentic flavors and a modern, slick design, Shōwa serves classic dishes like shoyu, tonkotsu and spicy miso ramen. Diners can also choose from an array of donburi bowls, salads and starters, with options that will satisfy meat-eaters and vegans alike.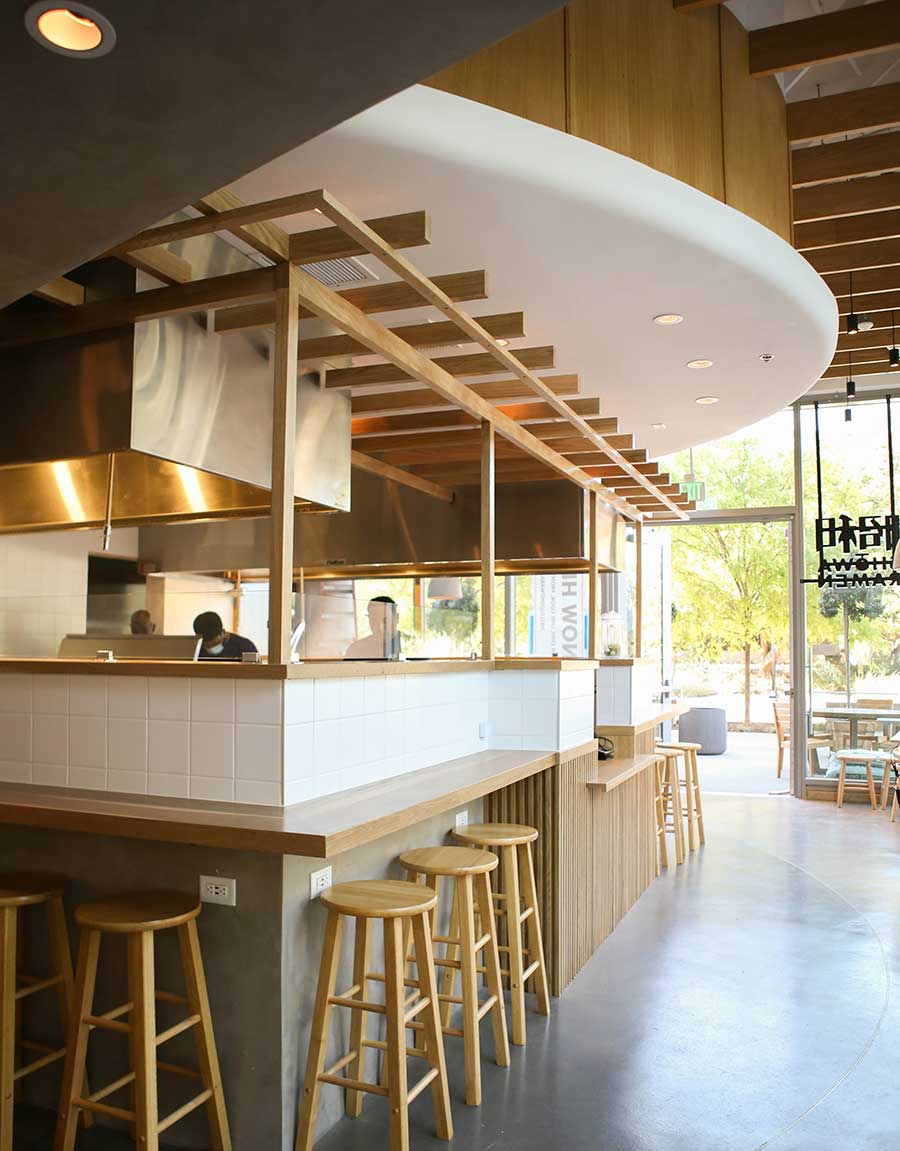 "I really enjoyed the self-ordering at the entrance and the staff, who were very friendly," said Eleanor Terner, a third-year student. "The layout of the restaurant itself has an authentic Japanese ramen place atmosphere that stands out from other dining areas on campus."
The restaurant draws its name and inspiration from Japan's Shōwa period (1920s-1980s), an era of intense modernization that drew on history to keep old traditions alive. This balance of new and old, tradition and innovation, shines through Shōwa's appetizers and architecture alike.
"The response from the students of UC San Diego has been so rewarding," said Hakim. "The community is embracing us and we are thrilled to be a part of it. Anything we can do to bring joy into people's lives is why we're here—that is what hospitality is all about."
Curry Up Now
Not all the new restaurants on campus are at North Torrey Pines Living and Learning Neighborhood. Curry Up Now, the Price Center's latest addition, has taken campus by storm and continues to surprise and delight diners with its Indian street fare. With offerings like Deconstructed Samosa plates, Vada Pav (a mashed potato fritter served inside a bread bun with chutney and pepper) and Kashmiri Lamb burritos, Curry Up Now puts a decidedly new spin on familiar flavors.
"We serve authentic Indian food in not-so-Indian formats like burritos, tacos, quesadillas and pizzas," said Akash Kapoor, CEO and "Chief TroubleMaker." "At heart, we remain a food truck brand. It's in our DNA!"
Originally from the Bay Area, Curry Up Now started as a single food truck in 2009. With seven brick-and-mortar locations and three food trucks, the business has grown but has kept its down-to-earth roots and loving care for customers and employees alike. Kapoor shared that the Curry Up Now team was "beyond elated" to receive an invitation to the Price Center and bring Indian street food to San Diego.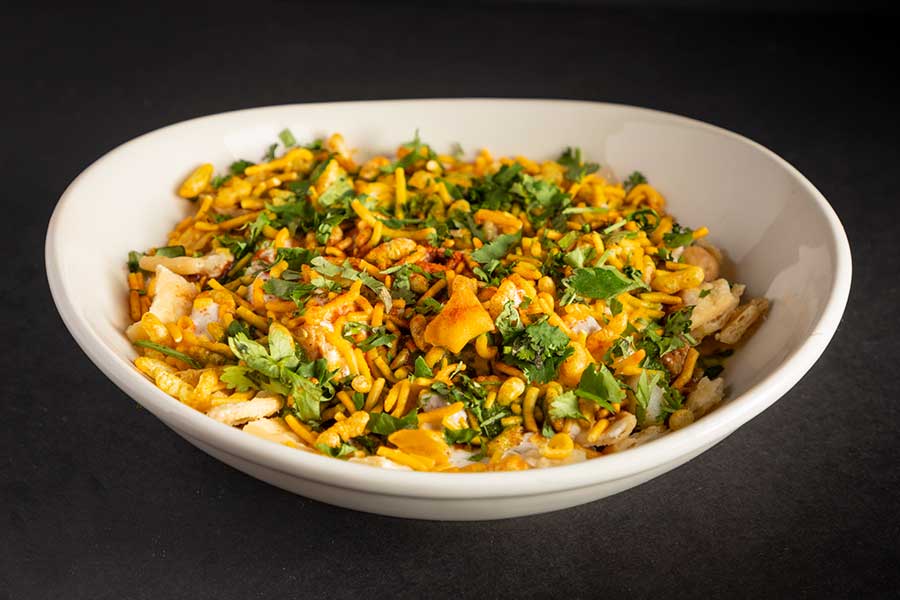 Their favorite part about being a part of the UC San Diego community? "Seeing the smiles on the faces of hungry students," said Kapoor. "Watching their satisfaction right after they eat and preparing food while they are in line is pretty amazing."
These restaurant openings mark another step in implementing the overall campus retail vision developed by a committee of UC San Diego students and other campus stakeholders. The goal is to provide students, faculty and staff with access to an array of dining, entertainment, products and services provided by popular local small business owners at affordable prices. The diversity and quality is intended to reflect the many vibrant urban neighborhoods of San Diego.
Fan-Fan
Address: 9625 Scholars Road North, Suite 0125 La Jolla, CA, 92093 (across from The Jeannie)
Hours: 10 am - 8:30 pm Mon-Fri; 11 am - 8:30 pm Sat-Sun.
Menu available on the on the Fan-Fan website.
Shōwa Ramen
Address: 9625 Scholars Drive North MC 0305, La Jolla, CA 92093 (in Social Sciences Public Engagement Building across from Plant Power)
Hours: 11 am - 8 pm Mon-Sat; Closed Sun.
Menu available on the on the Shōwa Ramen website.
Curry Up Now
Address: 9700 Gilman Dr Pmb 275, La Jolla, CA 92093 (adjacent to Sunshine Market)
Hours: 11 am - 9 pm Mon-Fri; 11 am - 8 pm Sat-Sun
Menu available on the Curry Up Now website.
Stay in the Know
Keep up with all the latest from UC San Diego. Subscribe to the newsletter today.