Navy Selects Shipyard to Build Scripps' New State-of-the-art Research Vessel
Washington shipyard chosen to construct new 'ocean class' ship to support a mix of vital areas of research and education
Published Date
Article Content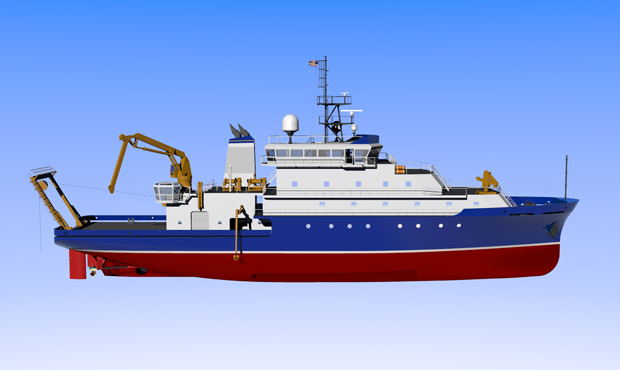 AGOR 28, owned by the Office of Naval Research and operated by Scripps, will be launched in 2015. Photo credit: Guido Perla Associates
The U.S. Office of Naval Research (ONR) has announced the shipyard responsible for constructing the next chapter in ocean exploration for Scripps Institution of Oceanography at UC San Diego. The new research vessel will be owned by ONR for the Department of the Navy and operated by Scripps under charter party agreement.
Dakota Creek Industries Inc. (DCI) of Anacortes, Wash., will build AGOR 28, a new "Ocean Class" research vessel that will advance Scripps' pursuits of the planet's most vital environmental and scientific challenges. Specifically designed to operate globally, this vessel will support both U.S. Navy and national oceanographic research objectives. National security research objectives include exploring science and technology in the areas of oceanographic and meteorological observations, modeling and prediction in the battlespace environment; submarine detection and classification; and mine warfare applications for detecting and neutralizing mines in both the ocean and littoral environment.
AGOR 28, which will be launched in 2015, will be a highly capable modern research vessel designed to support ocean science for the next 30 years. As a seagoing laboratory supporting research and education, the new ship will feature powerful research instrumentation to fuel scientific exploration, including mapping systems, sensors and profilers that will investigate features from the seafloor to the atmosphere.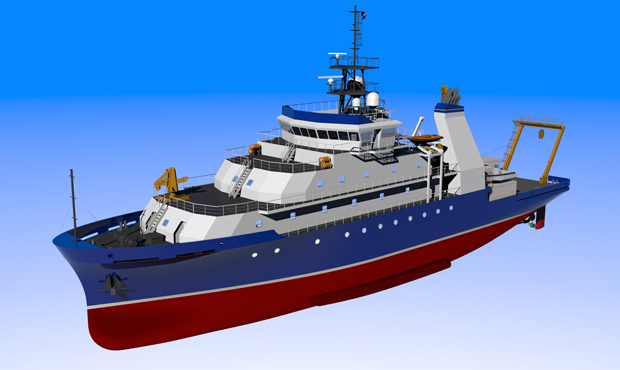 AGOR 28 Photo credit: Guido Perla Associates
"Scripps Oceanography awaits with excitement the launch of AGOR 28 and especially its ability to take Scripps further into its second century of ocean exploration," said Tony Haymet, director of Scripps. "The new vessel will continue Scripps' strong leadership in the management and operation of the United States' fleet of academic research vessels."
The arrival of AGOR 28 is projected to carry $10 million in annual economic impact. Scripps currently expends more than $25 million per year to support its San Diego-based fleet of research vessels.
With the shipyard selection, AGOR 28 will now enter a final design and construction phase. Scripps' ship operations personnel have been involved in designing the new ship's specifications since the vessel was announced in 2010.
"DCI is pleased to have been awarded the construction of AGOR 28," said Richard Nelson, president and owner of Dakota Creek Industries. "We are currently gearing up for construction and expect to hire people skilled in many trades. As an organization with deep roots in our community, DCI looks forward to offering employment opportunities for years to come. AGOR 28 is a win for Scripps, for DCI and for our local community."
The U.S. Naval Sea Systems Command has been providing program management throughout the design and construction stages for the ship, for which the U.S. Navy is providing more than $88 million.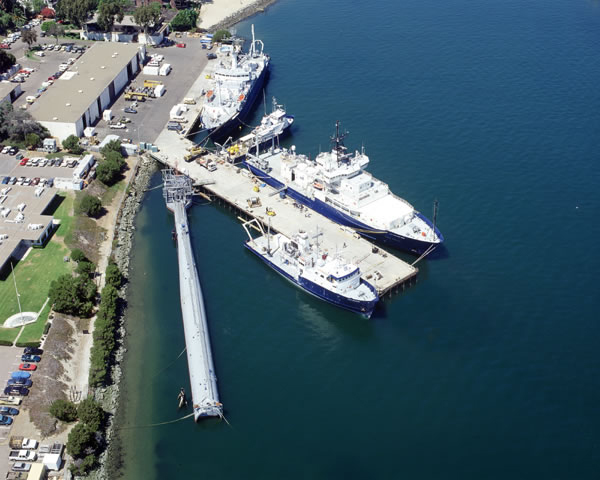 Scripps Institution of Oceanography's fleet of four research vessels and the research platform FLIP.
"Research ships remain the indispensible tool for oceanography," said Dr. Frank Herr, ONR director, Ocean Battlespace Sensing Department. "These new ships to be operated by Scripps and Woods Hole will enable basic research to create global prediction of the ocean-atmosphere system. Navy and the nation will benefit through this new multidisciplinary knowledge."
The vessel will be the fifth in the Scripps fleet, the largest among U.S. research institutions. Like all Scripps-operated ships, AGOR 28 will serve scientists from throughout the U.S. as part of Scripps' participation in the University-National Oceanographic Laboratory System (UNOLS). Scripps is a charter member of UNOLS, a consortium of oceanographic institutions collaborating with federal agencies such as ONR to foster efficient use of research vessels.
"Scripps was successful in a fierce competition among U.S. oceanographic institutions to operate AGOR 28, and we're excited about the ship's role in the future of the Scripps fleet," said Bruce Appelgate, associate director for Ship Operations and Marine Technical Support at Scripps. "Scripps ships enable scientists to conduct groundbreaking research, and with great facilities like AGOR 28 our scientists do great things."
The new vessel's home port will be the Scripps Nimitz Marine Facility in San Diego's Point Loma community. The facility, which employs more than 150 in activities related to ship operations, is the home port for Scripps research vessels Roger Revelle, Melville, New Horizon, and Robert Gordon Sproul, in addition to FLIP, the only scientific research platform of its kind in the world.
Stay in the Know
Keep up with all the latest from UC San Diego. Subscribe to the newsletter today.