Natalie Rodriguez: The Whole Person
2021 AAMC Humanism in Medicine Award winner Natalie Rodriguez sees every student and patient in their entirety. Now, it's her time to be seen.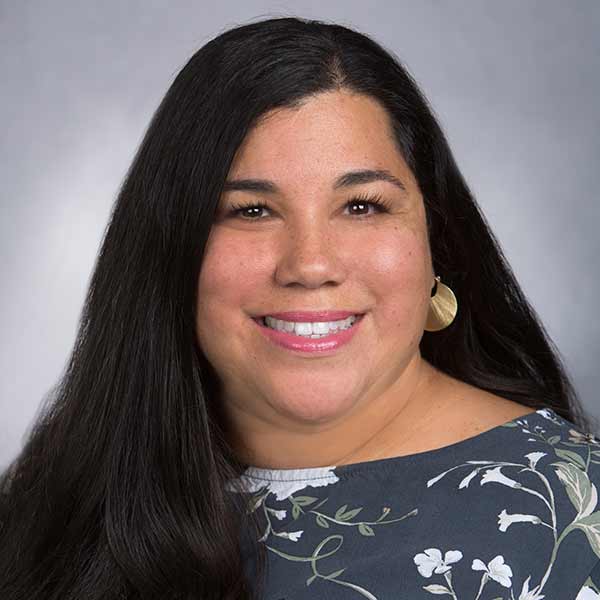 As San Diegans settle down to watch the sunset at Pacific Beach, the Student-Run Free Clinic Project picks up speed a few blocks away. Health care workers move through the small space with focus and urgency. Pharmacists painstakingly fill and sort pill boxes. Patients line the halls and receive treatments late into the night. The scene can feel hectic or intimidating to new medical students, but one figure in the crowd is always ready to help: Dr. Natalie Rodriguez.
Rodriguez is the associate director of UC San Diego's Student-Run Free Clinic Project, which reaches underserved communities such as Normal Heights, Lemon Grove and Downtown San Diego. In these rooms, she seems to have an eye on everything and everyone. It's not a vigilant stare, but rather a warm, attentive gaze that says: "I see you. I've got you."
Her presence serves as a life raft for students and patients alike. Nervous volunteers can rely on her for advice on a clinical case or looming career question. Patients antsy to catch their bus home in time are relieved to know she's remembered their routes and filled their prescriptions in advance. She manages to keep track of it all, providing calming comfort and infectious laughs along the way.
It comes as no surprise to her team that Rodriguez was recently named the 2021 recipient of the Arnold P. Gold Foundation Humanism in Medicine Award from the Association of American Medical Colleges (AAMC). It's a national honor of compassionate care and mentorship, which students and colleagues believe she embodies to the fullest. But after years of tending to those around her, the humble Rodriguez is still getting used to the recognition.
The doctor will see you now
"I try to treat my patients as a whole person," said Rodriguez. In their conversations, she gets to know not only the patient's physical ailments, but also how their families, finances, language, transportation, and other factors influence their health and access to care.
"It all starts with the patient-physician relationship," she said. "We have to be open and authentic with each other. Once that safety and trust is established, that's when the best patient care happens."
Her practice gives new meaning to the phrase "family medicine." Rodriguez has been invited to numerous quinceañeras and weddings by her patients. When a longtime elderly patient passed away a few years ago, she mourned the loss with the patient's son and daughter, who now come to her for treatment themselves.
This level of personalized care didn't stop when San Diego was shut down by COVID. Rodriguez and students immediately began driving to patients' homes delivering medications to their door, and her home served as the pick-up hub for all medications and clinic supplies. Under her leadership, the clinics swiftly began meeting patients virtually, and never had to cancel a single appointment.
An attentive mentor
UC San Diego second-year medical student Justine Panian, who led the award nomination, worked at the free clinic when the pandemic hit.
"I was worried about coming into the clinic in this new environment, so I sent Dr. Rodriguez an email," said Panian. Rodriguez called her right away, and the two talked over the phone for nearly an hour. "I've never had an attending as busy as she is, but she took that time to speak with me and address my concerns. As a student, it means so much to have a mentor hear and see you that way."
The first years of medical school can be intensely challenging, especially for students who are struggling to feel belonging in their new environment. For many medical students, Rodriguez and the clinic have become a home away from home.
"As an LGBT, first-generation, and Native American medical student from a rural community, it can be difficult to find mentors that will take the time to understand issues through my own lens," said Paul Michael Acosta II, a second-year medical student and member of the PRIME-Health Equity program at UC San Diego School of Medicine. "I specifically remember my struggles with moving across the country and losing all the community I knew when I came to UC San Diego. Dr. Rodriguez not only opened her home to me for meals but provided me the comfort of a support system, and I truly do not know if I would have been able to deal with the isolation I felt without her."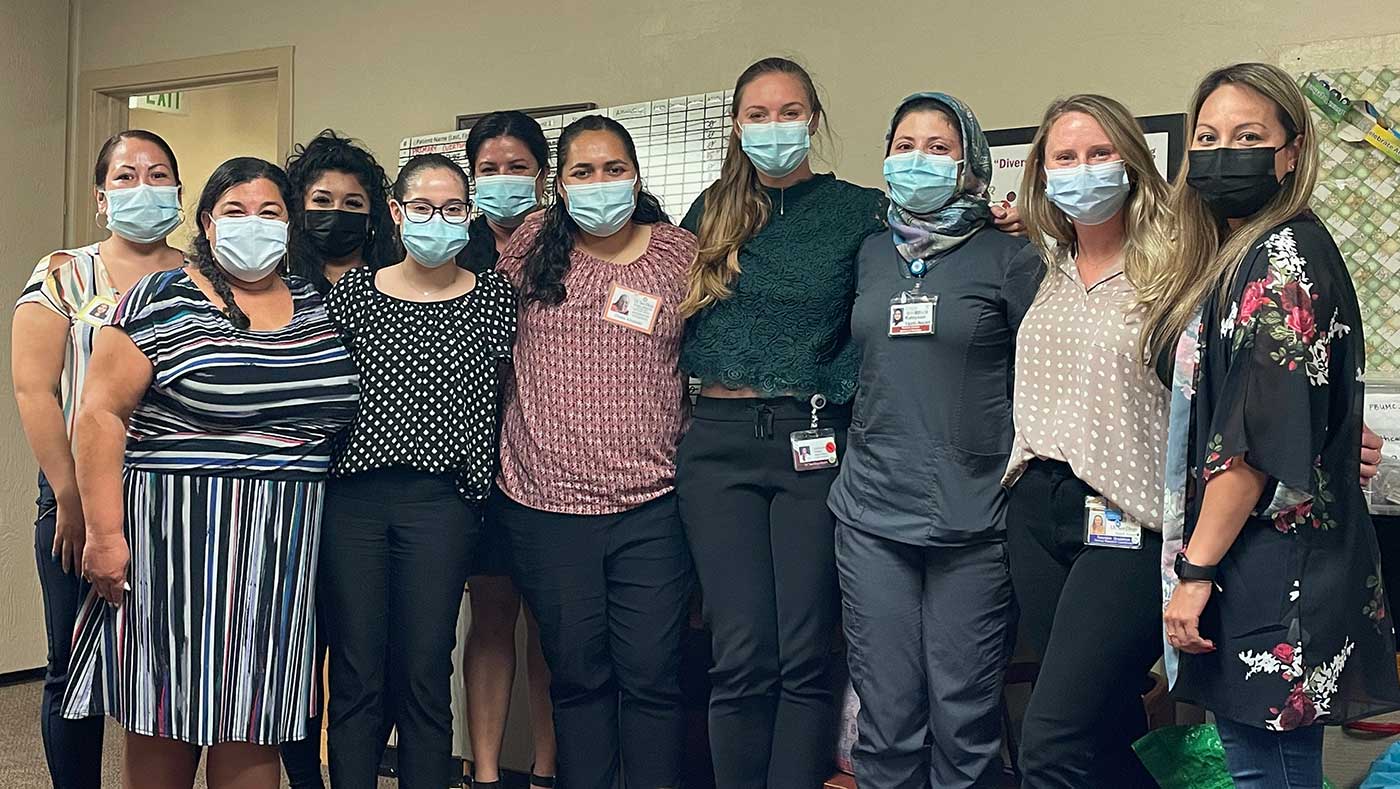 Committed to the dream
This drive to support students through their academic journeys is inspired by Rodriguez' own early struggles breaking into the field. She enjoyed school and always dreamed of being a doctor, but was faced with new obstacles when starting as undergraduate at UC San Diego.
"I was not prepared for the challenges of college, and as supportive as my family was, they didn't know how to guide me through that experience," said Rodriguez. Her parents, who immigrated from Cuba to Los Angeles, had not been to college themselves.
The prevailing notion among students at the time was that if you didn't have perfect grades, you wouldn't get into medical school. A discouraged Rodriguez tried exploring other career paths, but just couldn't shake her desire to become a physician. She decided to enroll in UC San Diego's Post Baccalaureate Premedical Program, where she was first introduced to the Student-Run Free Clinic Project.
"That place sustained me," said Rodriguez. "I met patients that reminded me of my grandma, and physicians who were serving the kinds of communities I wanted to serve. I was offered support that I couldn't find elsewhere, and it cemented my heart to the free clinic."
Rodriguez was later accepted into UC San Diego School of Medicine, where she now teaches students as an associate clinical professor. The campus has been a major through line in her career. Much like her dedication to students and patients, she is committed to helping UC San Diego be the best it can be.
All eyes on her
When the time came to submit nominations for the award, Panian immediately thought of her mentor. She asked her classmates if they had any anecdotes to share, and it didn't take long for stories to start pouring in.
"It was so amazing to see all these students from such different backgrounds and circumstances all have this universal connection to Dr. Rodriguez," said Panian. "Everyone felt so cared for by her, and so inspired by her philosophy." She notes that many peers have been motivated to go back and serve their own communities after medical school, thanks to their time at the clinic.
To Rodriguez, the nomination was already enough of a reward. By the time she saw the message from AAMC, it had nearly left her mind altogether.
"We were on the phone one night discussing a shift at the clinic," said Panian, "when she finally said, 'By the way, what was that award you nominated me for again?' I immediately knew she must've won and started screaming in excitement. She just deserves it so much."
When asked what the award means to her now, Rodriguez took a breath and allowed the emotion to run through her.
Finally, she said, "I just feel—seen."
"Like not in a center of attention kind of way," she continued. "I do what I do because I love it and I love our patients, and I would do it alone in a closet if no one ever saw me. This is more than just my job; it really does speak to who I am as a person. So, to be seen in this way, it's really so touching and I feel overwhelmed with gratitude."
Her humility prevents her from sitting in the spotlight for long, though. "This isn't just a win for me—it's a win for the patients and students too. It's a recognition that this work, this mission and these people all matter. So, I see it as inspiration to do more and greater things."
Learn more about UC San Diego's Student-Run Free Clinic Project and how you can support it.
Nicole Mlynaryk is the Bigelow Science Communication Fellow at UC San Diego
Stay in the Know
Keep up with all the latest from UC San Diego. Subscribe to the newsletter today.