MFA Directing Student Juliana Kleist-Méndez Reflects on Sold-out Production
Department of Theatre and Dance opens wait list for latest show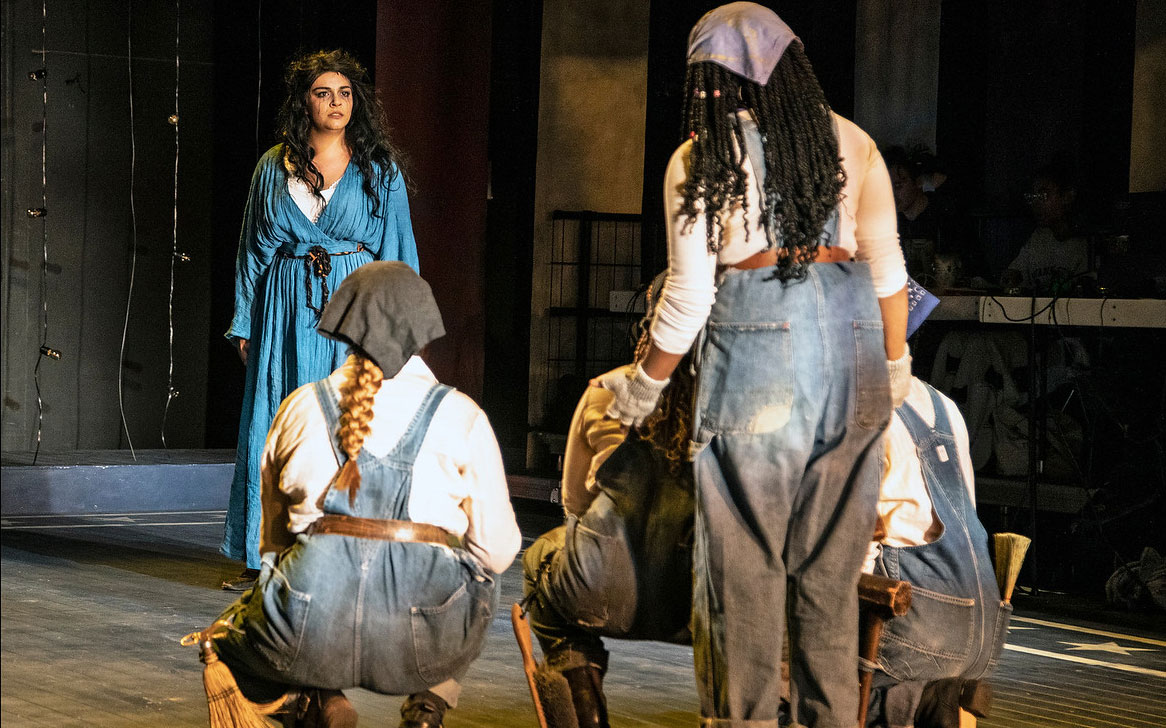 Published Date
Article Content
Closing the UC San Diego Department of Theatre and Dance fall season is the classic play "Elektra," written by Sophocles more than 2,000 years ago. The sold-out run opens Dec. 4.
Current MFA student Juliana Kleist-Méndez, who last directed "Duchess! Duchess! Duchess!" for the 2019 UC San Diego Wagner New Play Festival, is at the helm, directing and collaborating with fellow graduate and undergraduate students in the department.
"Working on an Ancient Greek tragedy is thrilling and terrifying," she said weeks before opening. "The actors have leapt into these circumstances with a verve and fearlessness that has been truly inspiring."
The play's setup is simple: Elektra — waiting for her exiled brother to avenge the death of their father — finds herself in an endless circus orchestrated by the queen and "The New King," the queen's lover.
But there's a twist: this 2009 translation by Timberlake Wertenbaker is a quasi-musical.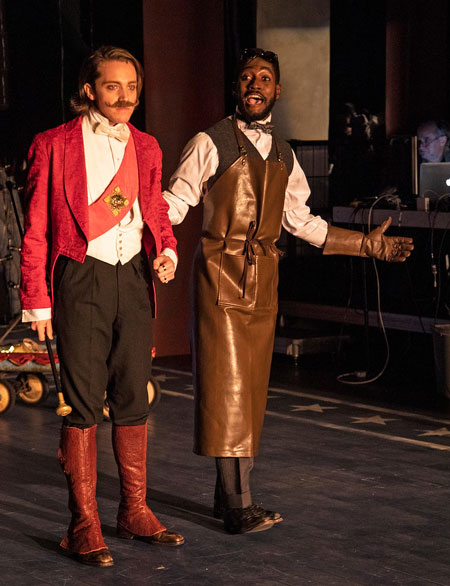 "I was fascinated by this version of Elektra because of the addition of music and the musicality of the translation. Timberlake Wertenbaker created a Musical Chorus in addition to a Chorus Lead who frequently chants in Greek," Kleist-Méndez said. "It has been really exciting to collaborate with fellow student, and composer, Andrew Lynch as we wade through and bring to life the different functions music plays in this story: from harmony, to spectacle, to protest."
Kleist-Méndez is a second-year MFA student previously based in Brooklyn, New York. She is an Iowa-born Cuban American, and said she is committed to embodied storytelling collaborations. In addition to Lynch (sound design), she's working with fellow students Nicholas Ponting (scenic design), Kristin Leadbetter (dramaturg), Topaz Cooks and Gemma Rose Maliszewski (stage managers), and Daniella Toscano (costume design).
In discussing the play, Kleist-Méndez said "Elektra" isn't necessarily a subtle production. In single scenes, the actors have to move through intense emotions, and much rehearsal time was focused on both exploring what drives the characters, and understanding each and every situation.
Another way the Theatre and Dance students are helping to tell the ancient story is through costume design, and Toscano — a second-year MFA student originally from Las Vegas — is rooting her design in the traveling circus shows of turn-of-the-century United States.
"The first round of research led me to old, vintage posters of the golden age of circus," Toscano said. "While I've taken note of the fashion history of the era, the posters show us a totally different world of 'performance costume,' with stripes, short skirts, leotards, exotic fabrics. It's very exciting material for a costume designer."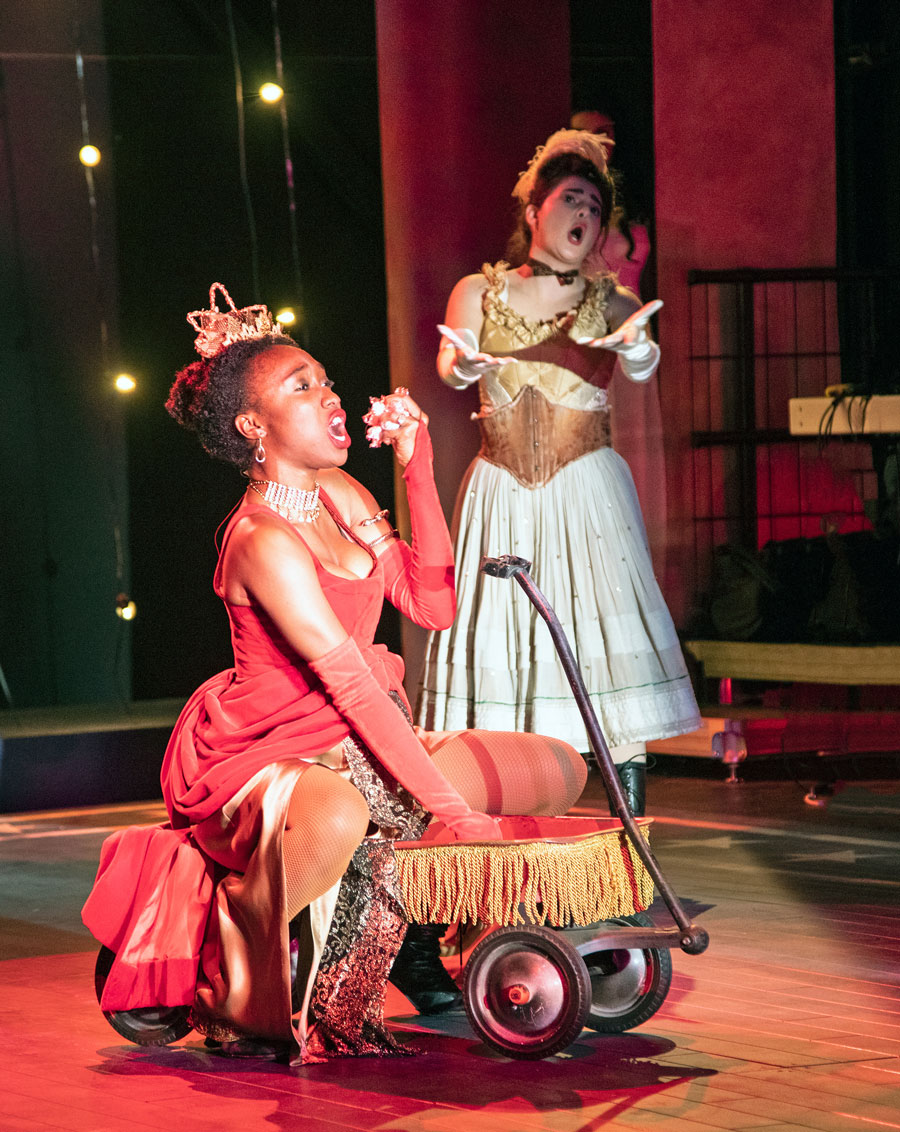 Toscano used both historical material and positive, "inspiring" collaboration with Kleist-Méndez in designing the costumes. The process, Toscano said, was incredibly successful.
"She has such a strong female-centric vision, pumping energy into the classic story of Elektra. It pumps me up as well," Toscano said. "It's always a challenge getting the production team together due to all our crazy grad-school schedules, but I find that our particular team has learned ways to actively pursue communication with each other."
Primarily a graduate-student production, MFA actors include Savanna Padilla, Anthony Adu, Amara Granderson, Lee Vignes and India Gurley, with Vita Muccia, Amir Aftabi and four additional undergraduate students in the chorus: Sophia Donner, Rickie Emilie Farah, Adriana Lopez and India Williams.
"I feel a definite support system, which is vital for such a collaborative art like theater," Toscano said.
Kleist-Méndez said the historical context will help audiences understand some themes of the play, including antiquated ideas of personal agency: in this time period, women were denied the right to vote, and there were few laws protecting labor workers. The result, she said, was that these circus swindlers made off with huge fortunes.
"In addition to setting us in a historical period, the costumes serve to place us at 'the Circus.' Structurally, this play is a series of debates over the nature of justice, grief and who has the power to create change in the world," Kleist-Méndez said.
"For me, I feel like American public debate along with our Democracy in general feels like a circus. It is a spectacle where anything can be said because nothing is considered 'True' anymore. Ultimately, the production is interrogating, 'who is served by this circus?'"
"Elektra" by Sophocles, translation by Timberlake Wertenbaker and directed by current MFA directing student Juliana Kleist-Méndez
graduate theater production
Show dates: Dec. 4, 5, 6 and 7 @ 7:30 p.m.; Dec. 7 @ 2 p.m.
Bummed to miss it? Join the wait list — and don't make the same mistake next quarter: check out the department's season subscription: six plays for $50 (PDF).
Stay in the Know
Keep up with all the latest from UC San Diego. Subscribe to the newsletter today.