UC San Diego Atmospheric Chemist Kim Prather Elected to American Philosophical Society
Prather recognized for her work on emissions, pollutants and climate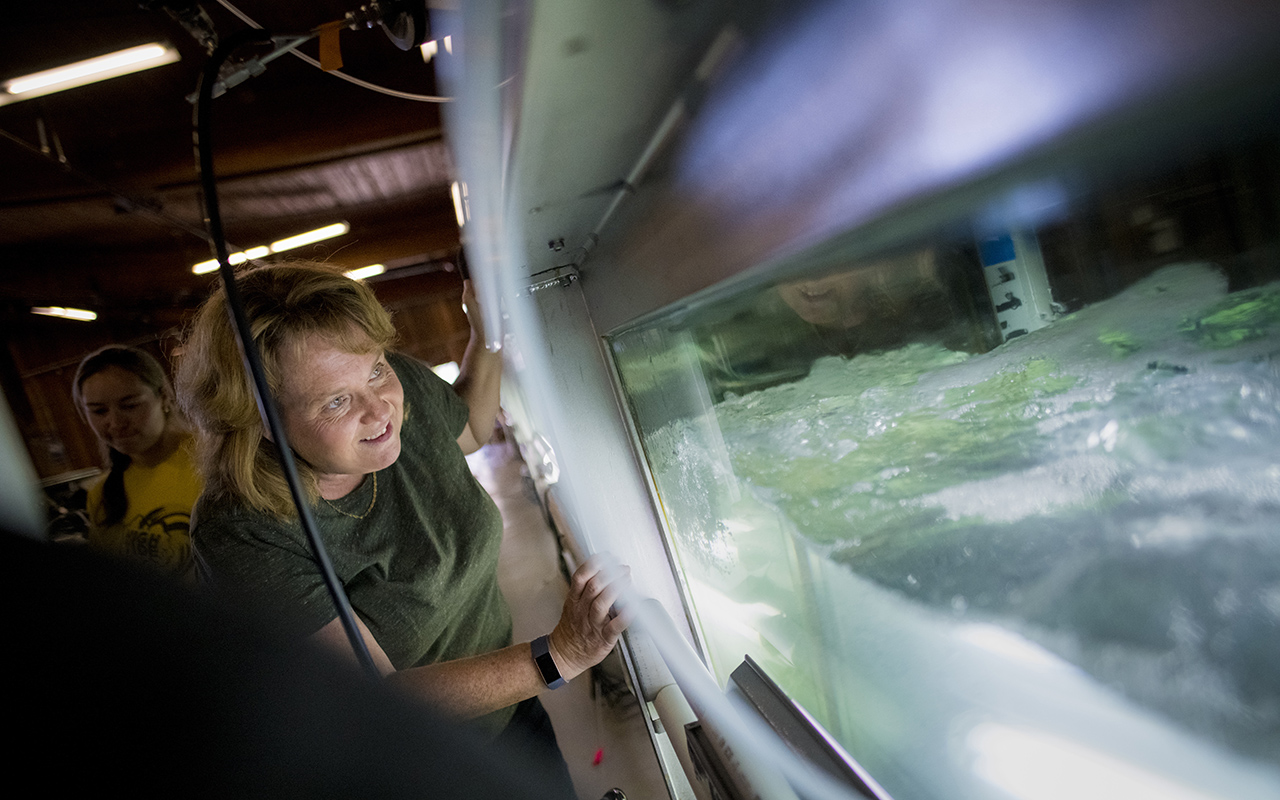 Published Date
Article Content
A distinguished scientist and professor at the University of California San Diego has been inducted into America's oldest learned society, joining the ranks of other noteworthy Triton faculty and alumni. Kimberly Prather, Distinguished Chair in Atmospheric Chemistry and Distinguished Professor at the Scripps Institution of Oceanography and the Department of Chemistry and Biochemistry in the School of Physical Sciences has been selected to join the American Philosophical Society. Prather is among 37 new members elected in 2022, and the first from UC San Diego since 2010.
"I am honored to join the APS along with so many other academic and cultural luminaries," said Prather. "It's a reflection of the efforts of my research group and support I've received from the UC San Diego community in addressing the importance of our work in confronting the challenges of climate change head-on, using innovative strategies."
Prather's work focuses on how human emissions affect the atmosphere, climate and health. She joined the faculty of UC San Diego in 2001 and has five patents for her innovations in mass spectrometry for environmental chemistry lab and field studies. In 2019, she was elected to the National Academy of Engineering. In April 2020, she became a member of the National Academy of Sciences for her contributions to aerosol chemistry. She is an elected fellow of the American Geophysical Union, the American Association for the Advancement of Science and the American Academy of Arts and Sciences. Prather is also an advisory board member for UC San Diego's Institute for Practical Ethics.
She is the founding director of the NSF-funded Center for Aerosol Impacts on Chemistry of the Environment, and is currently working to understand the health and environmental impacts of ocean-derived pollutants and toxins in runoff and outfalls and the concentration of particles small enough to lodge deeply in human lungs and impact our health.
"The urgency of addressing pollution and climate issues cannot be overstated," Prather said. "It motivates me each day to wake up and share my findings with local, federal, and world leaders to help drive these issues into our broader conversation that will lead to solutions."
During the COVID-19 pandemic, Prather co-authored several high-profile publications, as well as a letter to the Biden Administration, calling for immediate action to address and limit airborne transmission of COVID-19 and inhalation exposure, which helped improve public-health protections for people around the world. She has advised local and federal government officials, school districts, businesses, and the public at large on how to safely reopen and remain open, with a focus on cleaning indoor air using filtration and ventilation.
Founded in 1743 by Benjamin Franklin to "promote useful knowledge," the APS honors and engages distinguished scientists, humanists, social scientists and cultural leaders in a spirit of interdisciplinary intellectual fellowship. It provides the nation's top intellectuals and scholars with opportunities for research, networking and public engagement. Over the years, members have included George Washington, Thomas Paine, Charles Darwin, Robert Frost and Albert Einstein. Since 1960, 22 prominent UC San Diego members have been elected including astronomer Margaret Burbridge, philosopher of science Nancy Cartwright, biologist Francis Crick, and professor of chemistry and former chancellor Marye Anne Fox.

Stay in the Know
Keep up with all the latest from UC San Diego. Subscribe to the newsletter today.