International Women's Day Conference Focuses on Making a Difference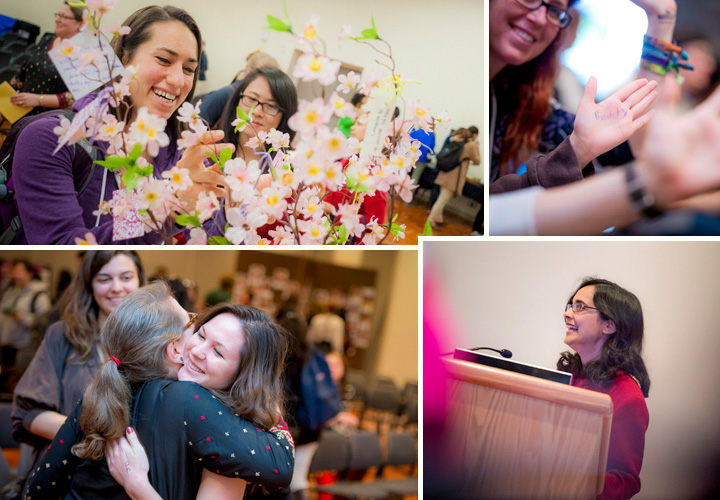 Photos by Erik Jepsen/UC San Diego Publications
Key speakers at an International Women's Day conference held on campus Friday encouraged women to help pursue their own dreams through giving back.
"Are you feeling stuck or lost or unmotivated? Volunteer for one day and serve someone else," said Barbara Field, a senior analyst in UC San Diego's Business and Financial Services said. "You never know what you will get back in return."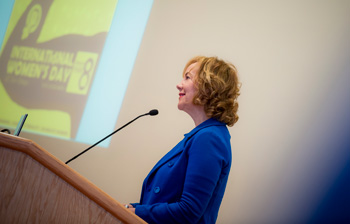 Barbara Field
Highlights of the conference, which was held in the Price Center, also included displays about inspiring females around the world and a spoken word performance. This year's theme, "The Gender Agenda: Gaining Momentum," was addressed through the personal stories and words of encouragement by Field and Anita Raj, professor of medicine in UC San Diego's School of Medicine.
Field shared her experiences about how she overcame obstacles in her career. "When I moved here in the late '80s, being a writer in San Diego was kind of like being a surfer in Aspen." She later joined UC San Diego and worked in different areas on campus. Her work and involvement in community service enriched her life and fueled her passions, she said.
In her spare time, Field authored an award-winning novel, The Deeper, the Bluer. She also became a mentor for the Afghan Women's Writing Project, an endeavor designed to recognize and give voice to women who have faced oppression. She also dedicates her time as San Diego's regional director for the Op Ed Project, which supports women in publishing op-eds in the nation's most widely-read newspapers.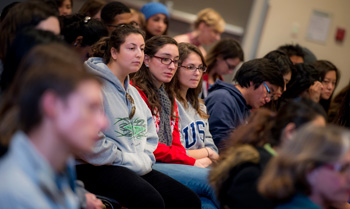 Following Field's talk, Raj spoke about the power each individual has to make a difference and how her work has had a tremendous impact on women's rights. Raj has been conducting research and promoting awareness of domestic violence toward immigrant women. She authored a study in 2003 that was a major proponent in the renewal of the 2004 and 2012 Violence Against Women Acts—a bill that helps create a pathway to citizenship and provide protection for non-resident women affected by abuse.
Raj's study focused on small communities of South Asian women residing in the U.S., many of them dependent upon their spouses for their visa. Her findings indicate that 40 percent of these women experience abuse in their current relationships, and do not know about the resources available to get help.
The 2012 Violence Against Women Act was first introduced to Congress in April 2012, but it faced opposition from the House of Representatives and wasn't reinstated until February 2013.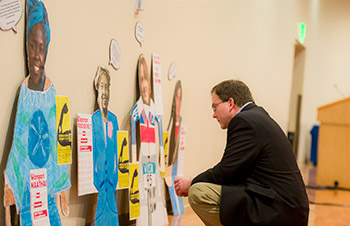 "I was almost sure [the 2012 bill] was not going to pass with the pathway to citizen provision," said Raj. "But earlier this week, I got a call and was told that my research was going to be used again to support the full passage of the bill, this time with even more protection for women."
Raj's research focuses on women who are victims of domestic violence, many of whom have no family or community support. Raj seeks to change the realities for these women, and provide hope to those who are underserved.
"I did a small study involving 160 people and made a difference," said Raj. "You can make a change as well."
Stay in the Know
Keep up with all the latest from UC San Diego. Subscribe to the newsletter today.