Holocaust Living History Workshop Series Continues at UC San Diego in 2022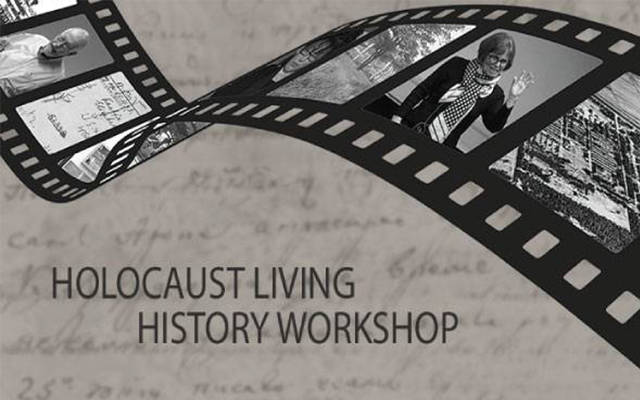 Published Date
Article Content
The University of California San Diego's Holocaust Living History Workshop (HLHW) 2021-2022 series continues with five profound events that underscore this year's theme, "Beyond the Great Silence: The Holocaust in Art, Memory, and Life."
Established in 2008 as a collaborative project between the UC San Diego Jewish Studies Program and the UC San Diego Library, HLHW aims to broaden understanding of the past, foster tolerance and preserve the memory of victims and survivors of the Holocaust while emphasizing their continued relevance in the world today.
Members of the public and campus community are invited to attend these free events to hear personal stories and memories from Holocaust survivors, witnesses, relatives and scholars. Remaining lectures in the 2021-2022 workshop series include:
A Child in Birkenau with George and Stephanie Heimler
January 19, 2022, 5 p.m. PT, Online Event
It would be difficult to imagine a more hostile place to spend one's childhood than the Nazi concentration camp Auschwitz. Yet this was the fate, at least for a time, for hundreds of children during the Holocaust. Among them were George and Paul Hadl, twins born in February 1938 in Budapest, Hungary. Deported to Auschwitz-Birkenau in the fateful summer of 1944, the twins, their older sister Eva and their mother Irene were lodged in the children's barracks (Kinderlager). Despite the horrible conditions in the camp and frequent medical experiments, the twins survived the war. Upon liberation, the Hadls returned to Budapest, and in 1956, George left Hungary for the United States. At this event, he will share his memories and insights in conversation with his granddaughter Stephanie Heimler.
Registration for this event is required and now open. This event has been made possible by the Lou Dunst Memorial Endowment.
The Moral Triangle: Germans, Israelis, Palestinians with Sa'ed Atshan and Katharina Galor
March 2, 2022, 5 p.m. PT, Online Event
When World War II came to an end, Berlin, the capital of the Third Reich, lay in ruins. Few contemporaries, if any, could have anticipated that 70 years later, Berlin would boast large diaspora communities of Palestinians and Israelis who have made a home among Germans.
In "The Moral Triangle," Sa'ed Atshan and Katharina Galor draw on ethnographic fieldwork and interviews with Israelis, Palestinians and Germans in Berlin to explore the fraught relationship between the three groups in the context of official German policies, public discourse and the private sphere.
Atshan is Associate Professor of Peace and Conflict Studies at Swarthmore College and the author of "Queer Palestine: Empire of Critique." Galor, an art historian and archaeologist specializing in the visual and material culture of Israel-Palestine, is currently the Hirschfeld Visiting Assistant Professor at the Program in Judaic Studies at Brown University. Her publications include "The Archaeology of Jerusalem: From the Origins to the Ottomans" (co-authored with Hanswulf Bloedhorn) and "Finding Jerusalem: Archaeology Between Science and Ideology."
This event will be introduced by DAAD visiting professor Jörg Neuheiser with UC San Diego professor of history Frank Biess providing comments.
Registration is required. More information is forthcoming. This event has been made possible by Laurayne Ratner.
Hugo Marcus: A Muslim Jew Under the Swastika with Marc David Baer
April 6, 2022, 5 p.m. PT, Hybrid Event (In-Person and Online)
Location To Be Determined
Hugo Marcus was a man of many names and identities. Born a German Jew in 1880, he converted to Islam and took the name Hamid, becoming one of the most prominent Muslims in Germany prior to World War II. Renamed Israel by the Nazis, he was sent to the Sachsenhausen concentration camp before escaping to Switzerland. In exile, he fought for homosexual rights and wrote queer fiction under the pen name Hans Alienus.
In his new book "German, Jew, Muslim, Gay," Marc David Baer tells the story of a highly unconventional man and reveals new aspects of the interconnected histories of Jewish and Muslim individuals and communities, including Muslim responses to Nazism and Muslim experiences of the Holocaust.
Marc David Baer is professor of international history at the London School of Economics and Political Science and the author of several books, including "The Dönme: Jewish Converts, Muslim Revolutionaries, and Secular Turks" and "Sultanic Saviors and Tolerant Turks: Writing Ottoman Jewish History, Denying the Armenian Genocide."
Registration is required. More information is forthcoming. This event has been co-sponsored by Middle East Studies with support from Thurgood Marshall College
"The Labyrinth: The Testimony of Marian Kolodziej" Film Screening and Discussion with Ron Schmidt and Michael Berenbaum
May 4, 2022, 5 p.m. PT, Online Event
Memory, art and hell collide as an Auschwitz survivor finally confronts the horrors of his past after 50 years of silence. Marian Kolodziej, a Polish Catholic, was on one of the first transports to enter Auschwitz. He survived five years of imprisonment and never spoke of his experience until after a serious stroke in 1993. He began rehabilitation by doing pen-and-ink drawings depicting his terrifying experience. His drawings and art installations, which he called "The Labyrinth," fill the large basement of a church near Auschwitz. Through the blending of his testimony and graphic drawings, this documentary explores the memories and nightmares that were buried for years. The post-film screening discussion features producer Father Ron Schmidt, a Jesuit priest and award-winning documentary filmmaker, and renowned Holocaust scholar Michael Berenbaum.
Registration is required. More information is forthcoming. This event has been made possible by Nancy and Joel Dimsdale.
Holocaust Landscapes: The Spatiality of Death and Survival with Tim Cole
May 25, 2022, 5 p.m. PT, Hybrid Event (In-Person and Online)
Location To Be Determined
As a child, Gabriella Karin was separated from her parents and placed in a Slovakian convent for three years. Although physically safe, she did not emerge unscathed. Suppressed memories of her past came flooding back once she began to fashion sculptures related to the Holocaust later in life. Hear about her journey and how it offers important insight into trauma and how creativity can be used as a tool to process memories of oppression, persecution, and loss.
This event will begin with a talk given by Rose Schindler, a Czechoslovakian Jew who was deported to Auschwitz at age 14. Her story is told in the recently published book "Two Who Survived: Keeping Hope Alive While Surviving the Holocaust."
Registration is required. More information is forthcoming. This event has been made possible by July Teper Galper with support from the Department of Urban Studies and Planning.
For more information about the events above or help with registration, contact UCSDLibrary@ucsd.edu.
Stay in the Know
Keep up with all the latest from UC San Diego. Subscribe to the newsletter today.