By:
Sheena Ghanbari

Inga Kiderra
Graduate Student Artists Throw Open Doors to Public at Open Studios Event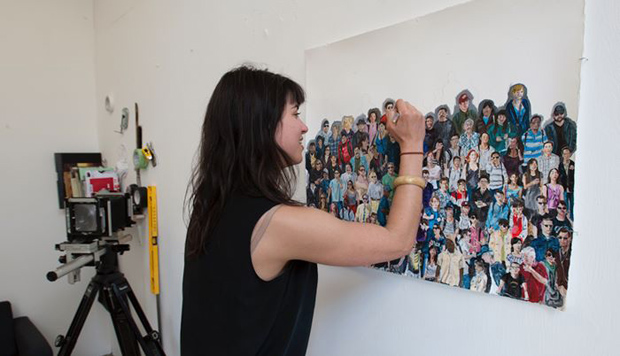 Photos by Alan Decker
Doors open at Open Studios. They open literally, for the campus and larger San Diego communities, as visual arts MFA and Ph.D. students invite people to view their creative spaces, and figuratively, for the participating graduate students themselves, as they make connections that may continue far beyond the day.
The annual event, known by different names over the years, has been a department tradition for the last 20-plus.
On April 7, Open Studios 2012 featured 46 artists and their studios in the Visual Arts Facility. Also showcased this year were a group exhibition and a graduate student conference, both called "New Institutions."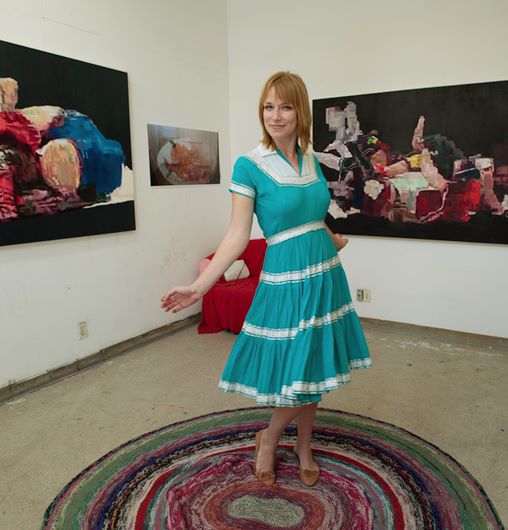 This year's event coordinator, MFA candidate Jamilah Abdul-Sabur said, "There is great potential for interweaving with the local arts community and arts schools, and Open Studios is an opportunity to bring people to campus and showcase our practice."
Open Studios is the largest showcase of graduate student artwork on campus and the benefits are made evident by the connections, exhibitions and art sales that have been realized as a result.
Abdul-Sabur noted that holding Open Studios 2012 in conjunction with Triton Day, the 5th Annual Graduate Student Conference and two off-campus exhibitions created even more energy around an already exciting event.
Also adding to the energy of this year's Open Studios was a new joint effort with the Museum of Contemporary Art San Diego (MCASD): Avant Garde Open Studio Visit.
UC San Diego's visual arts department and MCASD have a longstanding collaborative relationship and this particular initiative came together after Abdul-Sabur and fellow MFA candidates Nina Preisendorfer and Brian Zimmerman gave a talk as part of the museum's "Perspectives" series. Abdul-Sabur and Cris Scorza, MCASD education curator, created an Open Studios experience for MCASD's newest special interest membership group of art enthusiasts.
The museum group began the day with a tour of the "New Institutions" group exhibition lead by the exhibit curators, Lara Bullock, Sascha Crasnow and Elmira Mohebali. The curators are visual arts graduate students from the Ph.D. and MFA programs, and they showed how the selected pieces were inspired by the theme of the graduate student conference taking place next door to the exhibit.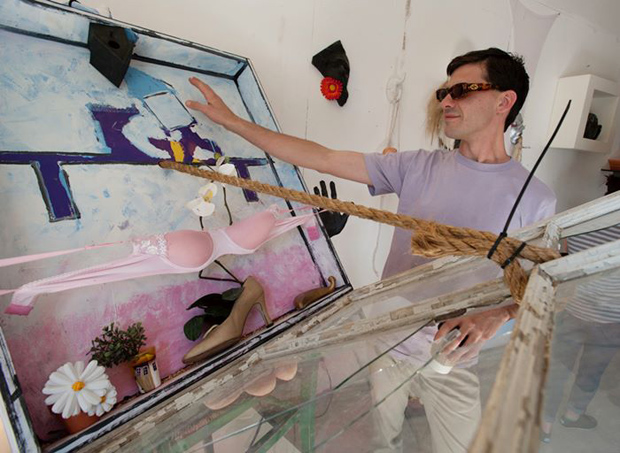 The group show featured the work of several MFA candidates and investigated "ways that artists are exploring alternative methods for producing and exhibiting work that extends beyond the boundaries of the 'institution.'" For example, one of the pieces on display was Emily Grenader's series of gelato pints with black and white portraiture of select chefs on the label. The curators explained how each chef is placed on his or her favorite flavor of gelato. The illustrations also function in a commercial institution outside of the gallery space because the gelato is manufactured by Trentino and is sold at Whole Foods Market.
After the "New Institutions" tour, the group of MCASD art enthusiasts explored the studios and interacted with open studio artists. Scorza feels that it is important for this group to meet the emerging talent at UC San Diego.
Although many participating artists have exhibited their work nationally and internationally, she said, "MCASD constituents can get a preview of student work before they fully break into the arts market."
Some of the Open Studios students also went off campus this year. Visual arts MFA candidates Matt Savitsky, Ela Boyd, and Kate Clark spearheaded collaborations at Helmuth Projects and SD Space 4 Art.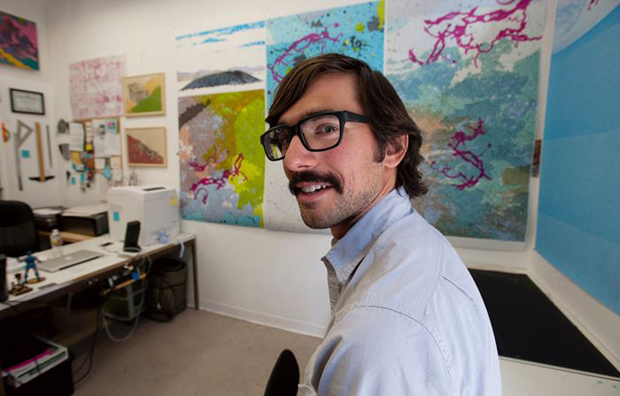 Savitsky and Boyd approached Joss Helmuth, the director of Helmuth Projects, an underground project space that is focused on supporting experimental or difficult work. They worked in partnership to create an exhibition where "certain members of our program frame out areas of their practice by responding to a general prompt," Savitsky explained. The result is "Hyperstudio," curated by Savitsky and Boyd and featuring nine of their fellow MFA candidates. The exhibit opened at Helmuth Projects the day before Open Studios and seeks to illuminate how digital tools and networked systems affect art practice. Savitsky said that this project is a way to "show potential admits and San Diegans the wide variation of contemporary art practices happening in San Diego, within and beyond UCSD."
SD Space 4 Art is another downtown gallery and artist residency facility that worked with UC San Diego artists to coordinate a satellite exhibit for Open Studios. Building from a past one-night performance at the venue, Savitsky and Clark were invited back to curate a performance art series titled "Explosive Time." Their first showcase opened one night prior to Open Studios and included the work of two participating artists, MFA candidates Elizabeth Chaney and Benjamin Lotan.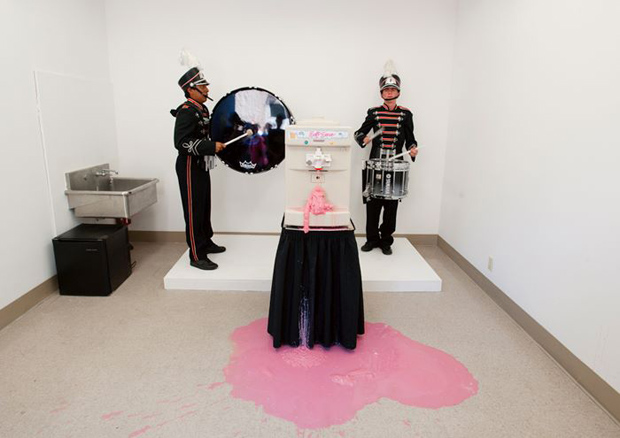 Savitsky said she believes these events help provide visibility for artwork that is based upon experimentation and cross-disciplinary action, both of which are central elements in the visual arts department's graduate programs.
In addition to engaging with the San Diego arts community, Open Studios is also an event that helps visual arts undergraduate art students connect with their graduate student counterparts.
"Open Studios is a great opportunity for undergraduate volunteers to become acquainted with the immense diversity of artistic practices in the Vis Arts graduate department," said Misael Diaz, MFA candidate and undergraduate student involvement coordinator. "By working closely with graduate students, they are able to get a glimpse of the coordination such an event entails, witnessing the work and logistical details that we all have to organize to pull this off,."
Diaz also believes that Open Studios helps undergraduate artists "see and hear how artists interface with the public, how to express a creative vision and artistic intent in a non-academic setting, a great opportunity for those who are interested in pursuing a career in the field."
Whether it is forging new connections or inviting back alumni and past collaborators, Open Studios is a catalyst for engaging in dialogue around current artistic happenings on campus. Abdul-Sabur says that there is an overwhelming amount of creative energy and ideas generated by Open Studios and for UC San Diego artists the possibilities of where these conversations will lead are endless.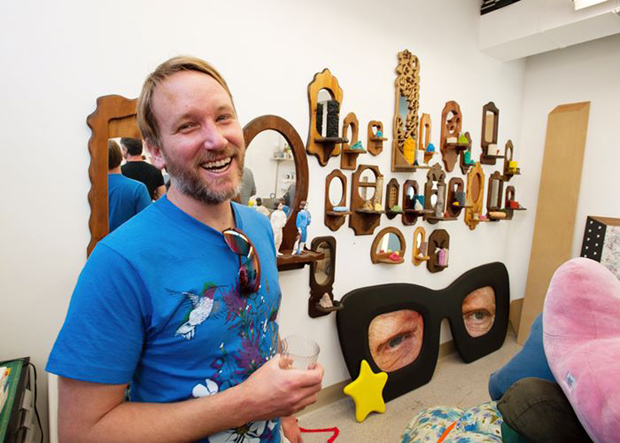 Stay in the Know
Keep up with all the latest from UC San Diego. Subscribe to the newsletter today.