Family Comes First in New Latinx/Chicanx College Prep Program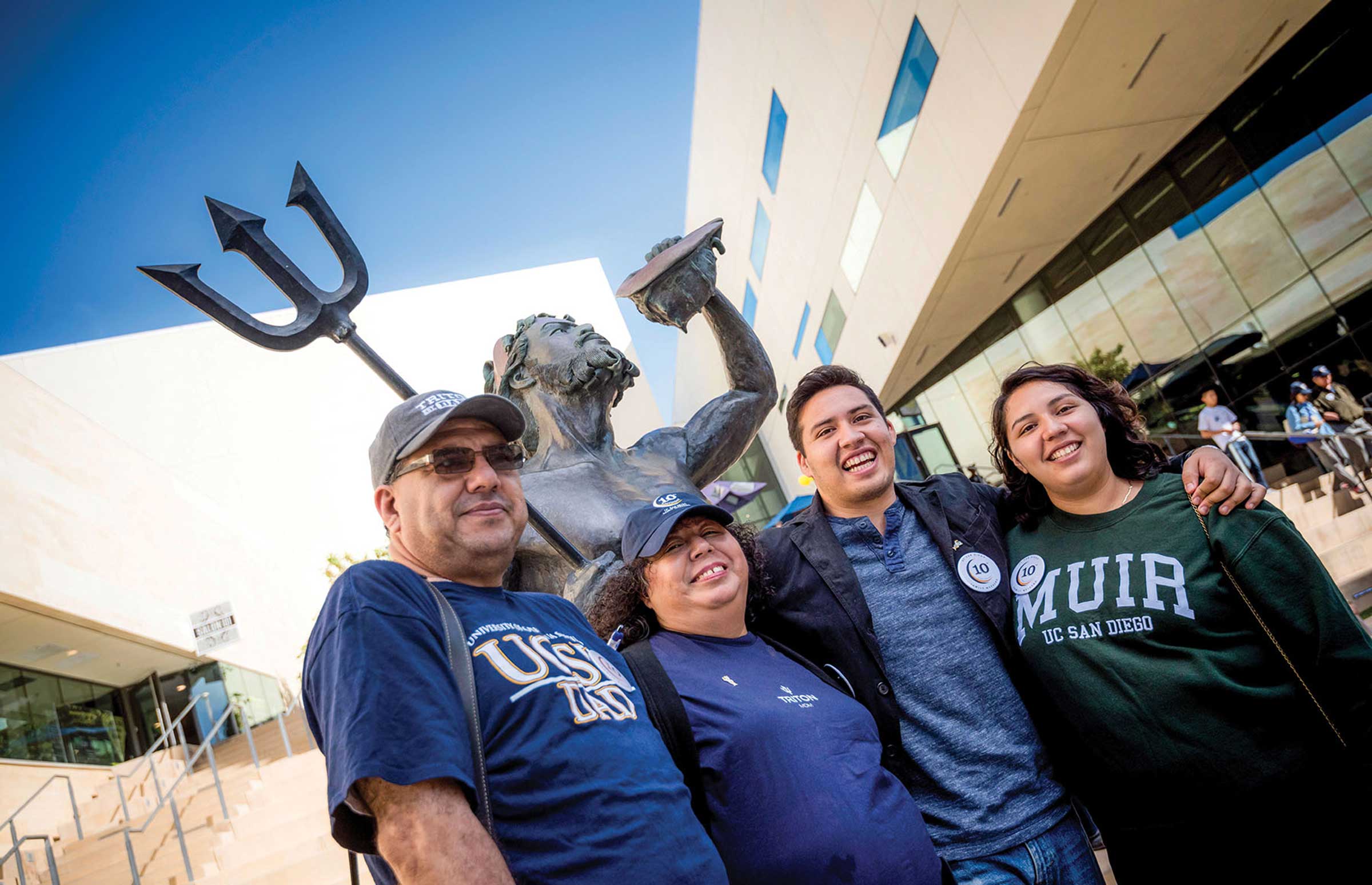 Recognizing that students do not come to college alone, a new partnership with the Parent Institute for Quality Education engages Latinx/Chicanx parents in helping their scholar apply to college and navigate the transition to the university. Photo by Erik Jepsen/UC San Diego Communications. Photos captured prior to the pandemic.
UC San Diego partners with Parent Institute for Quality Education to integrate Latinx/Chicanx family and culture into pre-college programming
Family ties are central to success and wellbeing in Latinx/Chicanx culture. It is the "familismo," or connection to family, that lends strength and purpose to each new generation. For many students, significant decisions such as where to attend college are discussed and decided upon as a family unit. However, these choices can become daunting when students are navigating the path to a university as a first-generation scholar—nearly half of all Latinx college students—and they cannot turn to their parents for advice.
"Going to college for me was not only a great accomplishment, but it also felt pioneer-like," explained Cynthia Hinojosa, a first-generation graduate of UC San Diego, who now serves as an admissions officer with Enrollment Management. "My parent's support meant everything to me when I was deciding on a university. All parents should feel confident when providing their students with that support."
UC San Diego has partnered with the Parent Institute for Quality Education (PIQE) to launch a pilot program that is designed to eliminate barriers to college success by educating parents about the pathway to college. The program serves local Latinx/Chicanx families, including those who are low-income as defined by the Supplemental Poverty Measure, identified English Language Learners and first-generation college students.
"We recognize that students do not come to college alone; they are bolstered by the advice and support of their families," said Vice Chancellor for Equity, Diversity, and Inclusion Becky Petitt. "By partnering with PIQE, we are able to advance our continued engagement of Latinx/Chicanx families in our community by increasing access to information that all families need to facilitate college going aspirations."
The program is part of UC San Diego's Latinx/Chicanx Academic Excellence Initiative that unifies and expands services dedicated to attracting and supporting a diverse faculty, staff and student community. The partnership also involves the collective work of campus K-12 outreach programs CREATE, EAOP and TRIO as well as UC San Diego Extension, Admissions, Undocumented Student Services, members of the Hispanic-Serving Institution (HSI) work group and the Office for Equity, Diversity, and Inclusion.
"Collectively, we are working with PIQE to ensure that Latinx/Chicanx families receive multiple culturally relevant touch points from UC San Diego," said Frank Silva, co-chair of UC San Diego's HSI work group. "This program is one of the many that is advancing the mission and core values of the Latinx/Chicanx Academic Excellence Initiative."
Final destination: the university
Nayra Valdivia and her family immigrated to the United States five years ago. Managing highs and lows, they kept an open mind to help their daughters move forward, even though they did not know how the education system worked. "My oldest daughter entered an unknown world," shared Valdivia during the program graduation. "As a mother you always try to do best for your children, and you feel the same desperateness when you are not able to. Thanks to the PIQE program, I feel better prepared now to help her on this road to a college education."
Valdivia and her family were among the 650 families invited to take part in a series of parent education workshops, hosted by PIQE and led by UC San Diego staff. Families were invited from six South Bay high schools that have a high number of applicants to UC San Diego but low acceptance rates. The free virtual workshops were delivered in English and Spanish and focused on increasing awareness of admission requirements, how to connect with university staff and ways to be engaged in their students' college journey.
"Students look to their parents as a source of inspiration," explained Maruth Figueroa, assistant vice chancellor for Student Retention and Success, who also spoke at the program graduation. "PIQE provides a curriculum for parents that breaks down how to prepare for college and empowers parents to be their students' advocate. Additionally, the program creates a network of support so that parents can meet other parents, college counselors and principals to open up lines of communication."
During the workshops, families learned about UC San Diego first-year and transfer admission requirements, the seven-college system, how to navigate online resources and more. "I think it is important that we do everything we can to make sure our prospective families are informed, prepared and welcomed in this new chapter of their lives," said Hinojosa, who led the admissions-focused workshops. "It was beautiful to see how engaged parents were during the sessions, asking plenty of great questions. They are doing what they can to be more informed and provide their students with encouragement, support and guidance."
Parents were also introduced to financial aid resources, including how to complete the FAFSA application and options for scholarship support. In addition, undocumented families learned about how to apply for AB540 status to qualify for in-state tuition, as well as the California Dream Act to gain eligibility for certain types of UC and California financial aid. "My goal was to demystify for the parents in this new program what it means to attend college; you don't need to be a resident or U.S. citizen to attend a university in California," said Daniel Alfaro, program manager for UC San Diego's Undocumented Student Services Center.
Serving California's fastest growing population
Over 50% of California high school graduates identify as Latinx, and 45% meet the requirements to attend the University of California, according to a new report by UCLA's Institute for Immigration, Globalization, and Education. The success of these students plays a fundamental role in the state's social, economic and cultural fabric. As a university located in a trans-border region, UC San Diego is uniquely positioned to serve these students.
UC San Diego is an emerging Hispanic-Serving Institution (HSI) with a 20% full-time population of Latinx/Chicanx students. Through partnerships, such as the newest with PIQE, the university is proactively preparing the next generation of scholars and their families to achieve and succeed in higher education.
PIQE is a national organization that engages and empowers parents to become actively involved in their children's education. President and CEO of PIQE Gloria Corral attended UC San Diego, where she earned bachelor's degrees in English Language and Literature and Political Science. She also went on to receive a master's degree in Public Policy from UC Berkeley.
"The influence of family on Latino students' college choice is significant, but there is a lack of understanding of higher education among Hispanic families," explained Corral. "The PIQE and UC San Diego pilot program values and integrates family and culture to develop trust and increase engagement throughout the entire pre-college experience, transition to college and matriculation."
Following participation in the PIQE family program, parents can continue to learn through pre-college programs offered through UC San Diego Extension such as conducting summer research, gaining college credit in the sciences, hands-on learning about career pathways, test preparation courses and more. In addition, parents of high school students are invited to take part in bilingual workshops each winter during Comienza con un Sueno.
In addition, parents can join two conferences called Adelante Latino and Adelante Mujer each spring to learn about university requirements, student life through a cultural perspective and community support. The Adelante conferences are sponsored by the Office of the Vice Chancellor for Equity, Diversity, and Inclusion and administered by UC San Diego's EAOP/TRIO program and the Sweetwater Unified School District.
Ultimately, parents provide a critical source of emotional support and advice for their children as they pursue higher education, especially in Latinx/Chicanx family units. "It is programs like this that help ensure that you are dotting all of your "i's" and crossing all of your "t's" to ensure that your child is prepared and can walk into the next phase of their educational journey feeling confident and supported," said parent Sheryll Celladora at the PIQE program graduation.
Stay in the Know
Keep up with all the latest from UC San Diego. Subscribe to the newsletter today.