Engineering Graduate Students Honored as Siebel Scholars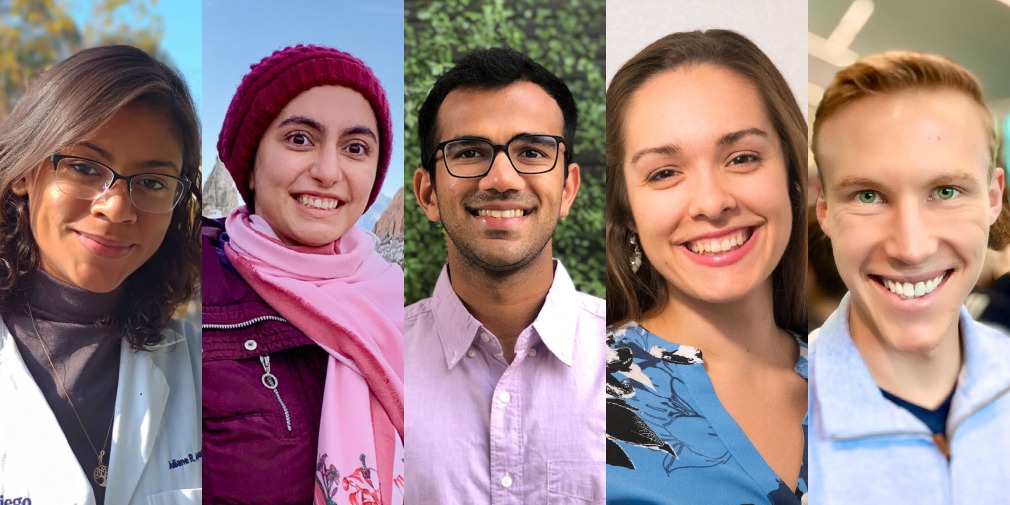 Published Date
Article Content
Five Jacobs School of Engineering graduate students pioneering tools to treat rare genetic disorders, studying microbes in cancer, developing noninvasive wearable biosensors, studying the physical principles underlying cell membrane deformation, and developing noninvasive methods for evaluating cardiovascular function, have been named 2021 Siebel Scholars. The Siebel Scholars program recognizes the most talented students in the world's leading graduate schools of business, computer science, bioengineering and energy science. The students are selected based on outstanding academic performance and leadership, and each receive a $35,000 award toward their final year of study.
Three of these students are pursuing research through the UC San Diego Department of Bioengineering, while one conducts biomedical research through the Department of NanoEngineering and one in the Department of Mechanical and Aerospace Engineering. UC San Diego's Department of Bioengineering was ranked the No. 1 bioengineering doctoral program in the nation according to the National Research Council rankings, while the Department of Mechanical and Aerospace Engineering was ranked the No. 1 public university program in the country by the Academic Ranking of World Universities. The Department of NanoEngineering at UC San Diego was the first in the country to offer undergraduate and graduate courses of study in nanoengineering.
"These students are shining examples of the power of engineering for the public good," said Albert P. Pisano, Dean of the UC San Diego Jacobs School of Engineering. "The research that these Siebel Scholars are doing will have profound impacts on human health in the future. My hearty congratulations on this prestigious recognition and honor."
The five 2021 Siebel Scholars from UC San Diego and some of their accomplishments are outlined below.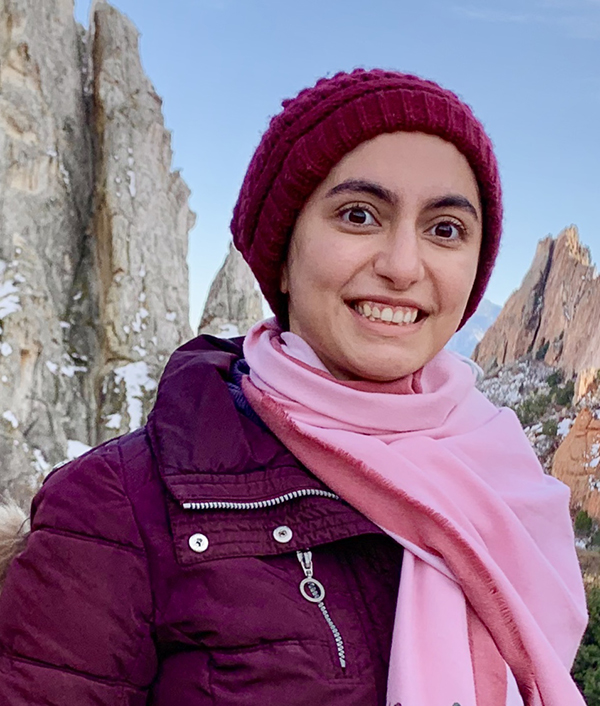 Haleh Alimohamadi
Haleh Alimohamadi is a Ph.D. candidate in the Department of Mechanical Engineering working with Professor Padmini Rangamani. Her research focuses on developing theoretical frameworks that can tightly integrate experiments with computational models to study the physical principles underlying the cell membrane deformation by subcellular force generating mechanisms. In addition to research, Alimohamadi is passionate about STEM education, and has volunteered with multiple programs that aim to increase undergraduate and minority research in engineering, including the ENLACE program, the JUMP mentorship program, and the MAE Graduate Women's Group.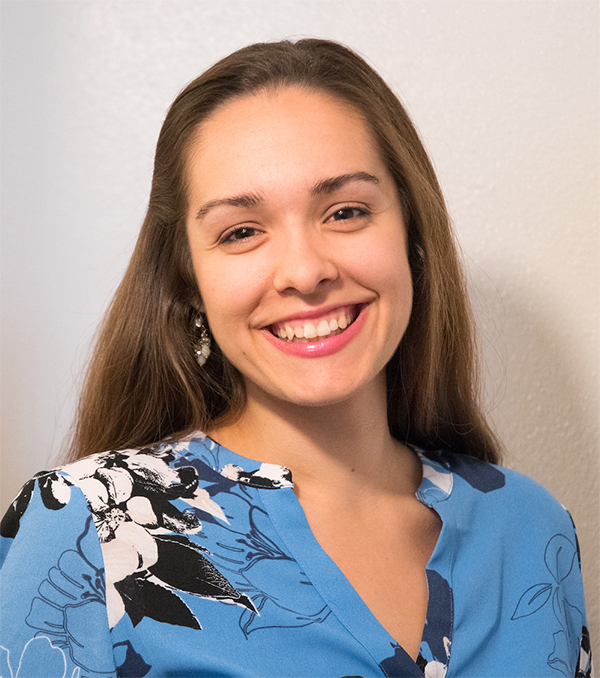 Gabrielle Colvert
Gabrielle Colvert is a bioengineering graduate student in the Cardiovascular Imaging Lab under the mentorship of professor Elliot McVeigh. Her PhD research is dedicated to developing noninvasive methods for evaluating cardiovascular function using four-dimensional computed tomography. Colvert has established successful collaborations with physicians, researchers, and industry partners both in the US and internationally which have led to multiple co-authored manuscripts and conference presentations. She was nominated by her department to be an ARCS Scholar and awarded an NIH F31 Predoctoral fellowship. At UC San Diego she has trained and served as a mentor to several undergraduate students. Outside of UC San Diego, she is involved with organizations that empower girls to become leaders, creators, and problem-solvers.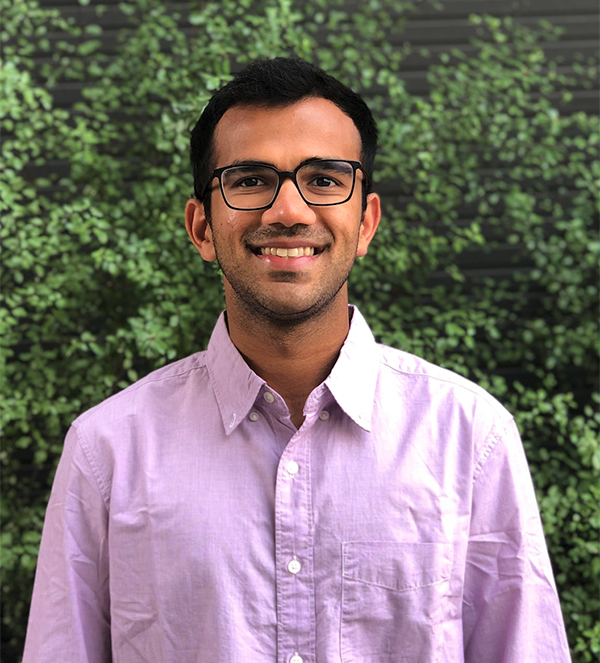 Dhruva Katrekar
Dhruva Katrekar is a Ph.D. candidate in the department of Bioengineering at UC San Diego, and works towards addressing some of the key challenges of in vivo gene therapy. During his graduate studies, advised by professor Prashant Mali, Katrekar has pioneered the development of an RNA editing tool for the treatment of rare genetic disorders. He has won awards for presentations at premier gene therapy conferences and garnered acclaim for his work in the broad research community. In addition to a strong publication record, he has been granted multiple provisional patents for his inventions. In the near future, Katrekar aims to enable clinical translation of his research as a novel therapeutic agent to positively impact the lives of patients suffering from rare genetic disorders.
Greg Poore
Gregory Poore is in his fifth year of the UC San Diego Medical Scientist Training Program (MSTP), having completed two years each of medical school and of the Bioengineering Ph.D. program. He has a unique background in oncology and microbiology, with his PhD research focused on building the most comprehensive survey of microbes in cancer to date, and studying the three-way interactions between intratumoral microbes, cancer cells, and immune cells. Poore is also an entrepreneur and has co-founded two companies: a medical device company for managing respiratory diseases (Vigor Medical Systems) and a cancer diagnostic company (Micronoma). Outside of academia, Poore is a triathlete—he completed his first Ironman in 2019-- and a servant leader, who founded and has actively mentored a food recovery initiative at his alma mater Duke University that has donated more than 100,000 lbs of food since 2013.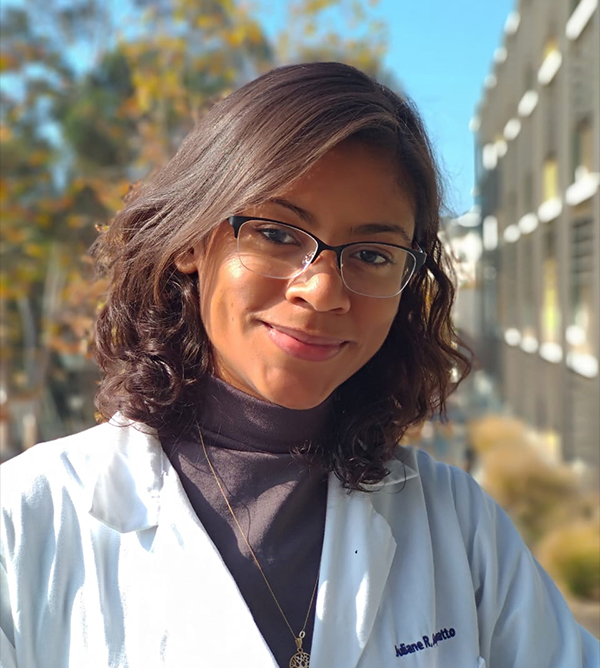 Juliane Sempionatto-Moreto
Juliane Sempionatto-Moreto is a Ph.D. candidate in the Department of Nanoengineering working in profesor Joseph Wang's Laboratory for Nanobioelectronics. Her research aims to develop much needed non-invasive wearable biosensors with a focus on real-life applications. Her research has broadened the field of wearable sensors with her significant contribution and innovation. Sempionatto-Moreto's innovative ideas have resulted in five patents, two of which were licensed to a company exclusively focused on the development of her device. She is also strongly committed to diversity and mentorship.
Siebel Foundation
The Siebel Scholars program was established by the Thomas and Stacey Siebel Foundation in 2000 to recognize the most talented students at the world's leading graduate schools of business, computer science, bioengineering, and energy science. Each year, more than 90 graduate students at the top of their class are selected during their final year of studies based on outstanding academic performance and leadership to receive a $35,000 award toward their final year of studies. Today, the active community of over 1,400 Siebel Scholars serves as advisors to the Siebel Foundation and works collaboratively to find solutions to society's most pressing problems.
Stay in the Know
Keep up with all the latest from UC San Diego. Subscribe to the newsletter today.