ECE's Pamela Cosman Honored with Inaugural Dr. John and Felia Proakis Chancellor Faculty Fellowship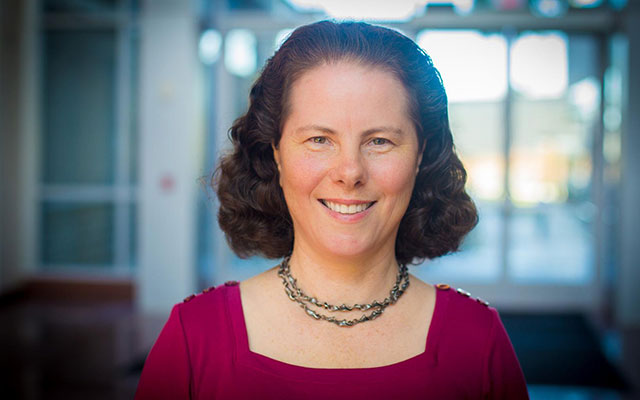 Published Date
Article Content
A new fellowship from UC San Diego's Office of the Chancellor ensures research funds to support the studies of a scientist on campus. Pamela Cosman, a professor in the Department of Electrical and Computer Engineering, is the fellowship's inaugural recipient.
"Pam is the ideal faculty to hold the inaugural Dr. John and Felia Proakis Chancellor Faculty Fellowship because of her dedication to the research, education, equity, diversity and inclusion mission of our department," says Professor Truong Nguyen, Chair of the ECE department. The fellowship will be established with funds from John Proakis, an adjunct professor in ECE, and his wife, Felia, as well as a matching amount from the Office of the Chancellor.
A leader in wireless communications and video compression and processing, Cosman specializes in developing algorithms that can compress image and video files for wireless transmission without reducing their quality. Her work has been used to restore color in underwater images among other projects, and she hopes that in the future, her research on using eye-tracking to assess gaze behavior and attention might aid in evaluation and therapy for those on the autism spectrum.
"I am absolutely delighted to be recognized by my peers for my technical contributions," says Cosman.
The Proakis fellowship will support preliminary research for Cosman's studies. Cosman says this will aid her in "laying the groundwork for something new. So that's something I'm very excited about."
Cosman has more than 200 publications under her name in highly-regarded journals and has previously been awarded a Career Award from the National Science Foundation, a Powell Faculty Fellowship, and the 2017 Athena Pinnacle Award.
Notably, she is also active in diversity and outreach activities. She co-directs UC San Diego's Center for Research on Gender in STEMM, published a children's book titled The Secret Code Menace, and previously served as Associate Dean for Students in the Jacobs School of Engineering. As Faculty Equity Adviser, Cosman helped increase the number of women and members of underrepresented groups hired by the department.
The Dr. John and Felia Proakis Faculty Fellowship is one of a number of programs launched through the Chancellor's Endowed Chair and Faculty Fellowship Challenge, established in 2016. The challenge has helped establish both chairs and fellowships with secure funding.
"My wife and I spoke with the Chancellor about making a gift to UC San Diego that would benefit present and future faculty in ECE," says John Proakis. "It is our hope that the fellowship will provide support that enhances the research activities of the recipient."
Stay in the Know
Keep up with all the latest from UC San Diego. Subscribe to the newsletter today.