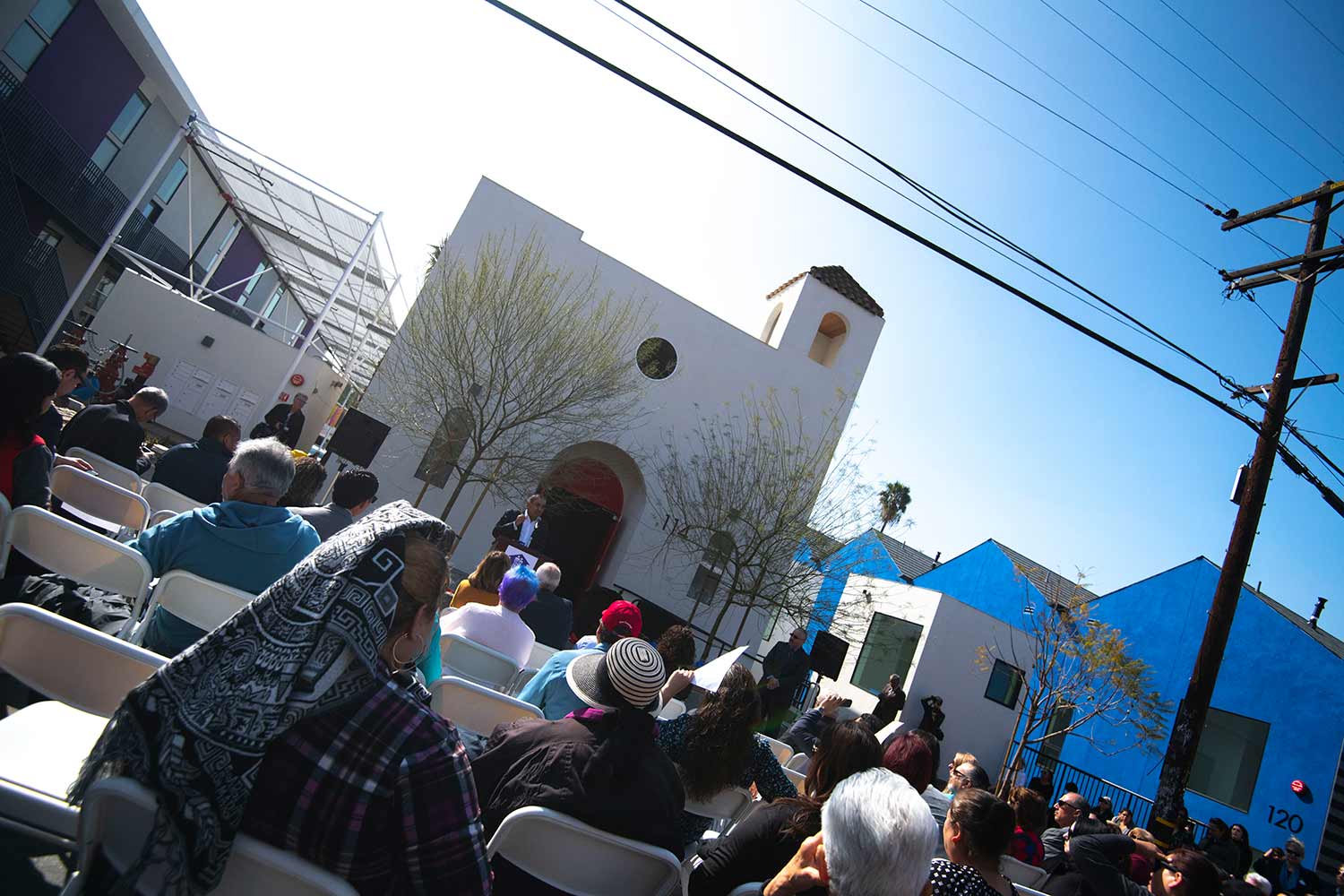 'Community Station' Opens at U.S.-Mexico Border
UC San Diego field hub is part of a mixed-use, affordable housing project in San Ysidro
A mixed-use project almost 20 years in the making is now a real place that both people and some powerful ideas can call home. Among these is a UC San Diego "community station," one of several field hubs in the San Diego-Tijuana region where the university and a local nonprofit collaborate closely on pressing social needs to make change on the ground.
The project is called "Living Rooms at the Border" and is situated in the historic heart of San Ysidro, a predominantly Latino community at the southernmost end of San Diego. It sits just blocks from Mexico and combines 10 units of affordable housing with critically needed space dedicated to both cultural activities and social services.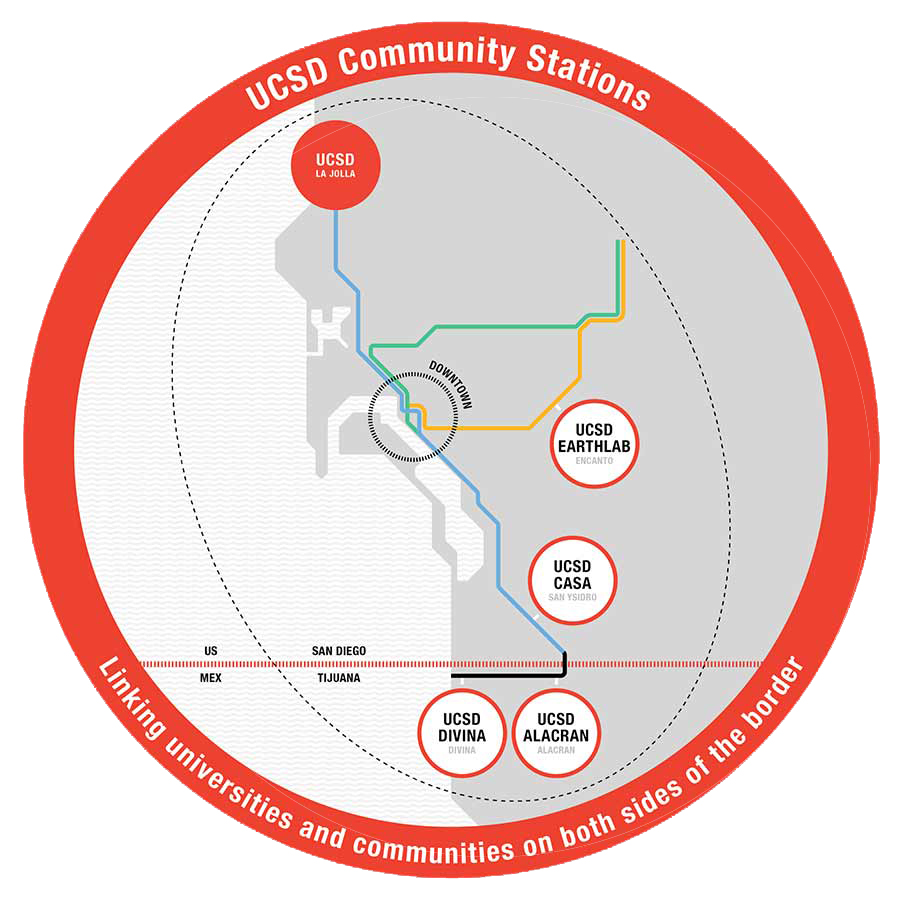 Designed by Estudio Teddy Cruz + Fonna Forman, the project was developed by local nonprofit Casa Familiar in partnership with UC San Diego and others. Architect Teddy Cruz is a professor of public culture and urbanism in the UC San Diego Division of Arts and Humanities. Fonna Forman is a political science professor in the Division of Social Sciences. Together, they direct the university's Community Stations initiative out of the Center on Global Justice.
At the core of the 13,500-square-foot Living Rooms project is a multimedia theater—a restored and reimagined Our Lady of Mount Carmel Church, originally built in 1927. The theater is flanked on one side by an open-air pavilion, which will host both neighborly and educational events. On the other side are mini office units for social services. On either side of these public spaces, which are central and integrated with the entire development, are 1-, 2- and 3-bedroom apartments. Thirty low-income residents of San Ysidro moved into the apartments Feb. 1.
The community station, dubbed the "UCSD-CASA Community Station" will operate out of several of the Living Room's public spaces, with the nonprofit Casa Familiar and UC San Diego joining forces to coordinate year-round social, educational, cultural and civic activity. The partners will also collaborate on neighborhood programming that improves quality of life in the community and provides access to higher education for neighborhood youth.
A ribbon-cutting ceremony for Living Rooms was held at the site on Feb. 18. Among those speaking at the ceremony were County Supervisor Greg Cox, UC San Diego Chancellor Pradeep K. Khosla and Lisa Cuestas, CEO of Casa Familiar.
Supervisor Cox spoke of Living Rooms as a "great leap forward," a testament not only to San Ysidro's economic revitalization but to its cultural renaissance as well.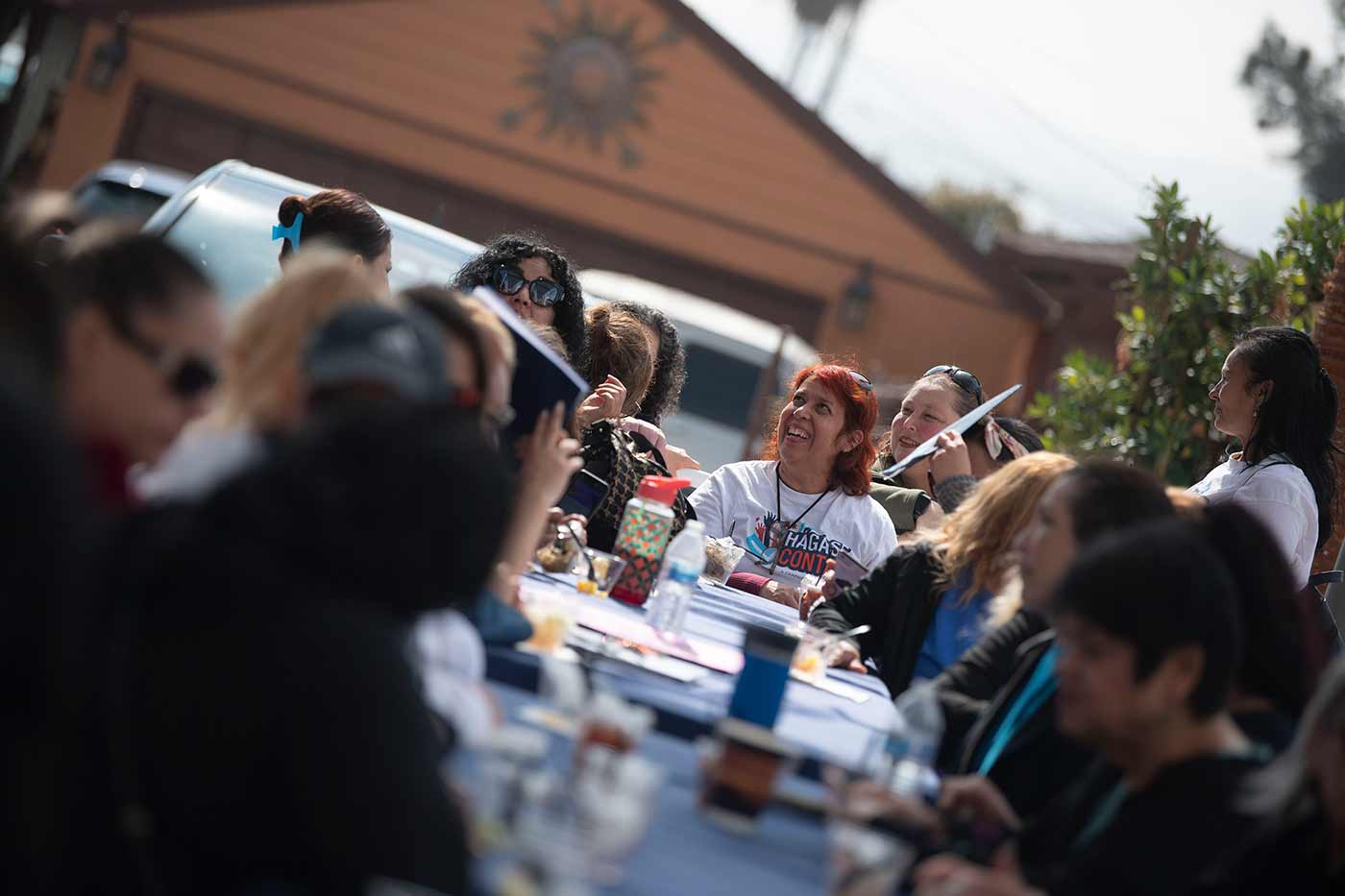 Chancellor Khosla noted that the development is transformational for both the neighborhood and for UC San Diego. The university is striving to be both "a resource and a destination for the community," he said. With the UC San Diego Blue Line Trolley just blocks from the Living Rooms site, San Ysidro students will have easier physical access to the campus in La Jolla—at the same time as the university is working hard and with "great pride" on improving academic access and becoming a Hispanic-serving institution.
This collaboration, Khosla said, "shows the way for new partnerships between a public university and the community," focused on bidirectional transformation. "Change works both ways," he said. "Keep on changing us."
Living Rooms at the Border was one of 11 designs world-wide featured in the exhibition "Small Scale, Big Change: New Architectures of Social Engagement," at the Museum of Modern Art in New York back in 2010. Now that the project is a reality, Cruz and Forman hope it will be an inspiration for other urban development projects across San Diego, modelling how housing and public space connect and how arts and culture can be tools for community development.
"This project illustrates that affordable housing in low-income neighborhoods cannot be sustainable as residential 'units' only," Cruz said, "but needs to be embedded within an infrastructure of support, to facilitate social, educational and cultural programming through community participation."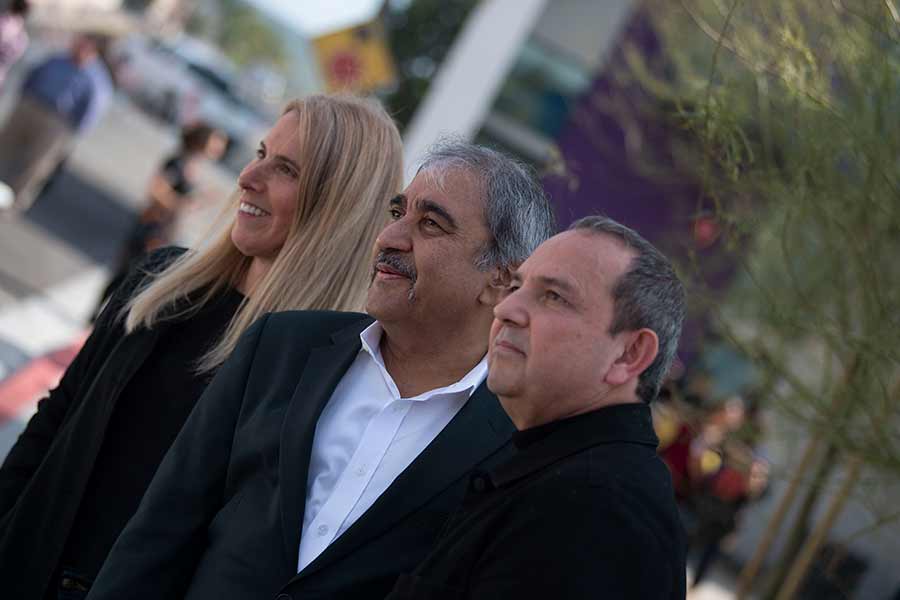 The mixed-use Living Rooms project includes expansion space for Casa Familiar's immigration services and for its barista youth training program. In addition to featuring cultural programming by UC San Diego, the theater will become home base for veteran theater troupe Teatro Máscara Mágica.
"Living Rooms at the Border is about building arts and culture, affordable housing, workforce training, university-community engagement, and the services that our community needs all in one place," said Casa Familiar's Lisa Cuestas. "It is place-based community development in San Ysidro, and we thank the many people and organizations who partnered with Casa Familiar and invested in San Ysidro to make it happen."
It truly took a village to bring the project to life, Forman explained, with many different entities coming together in service of the bigger vision to help make it possible: "Inclusive urban development in low-income neighborhoods demands creative cross-sector collaborations, synergizing the resources of foundations, civic philanthropy, nonprofits and universities."
An example, Forman and Cruz said, is that the university partnered with Casa Familiar to secure grant funding from the PARC Foundation and ArtPlace America, "whose initial investments in the project's public spaces became leverage for Casa Familiar to develop the housing components."
The UCSD-CASA Community Station, Cruz and Forman said, will be an ongoing illustration of these synergy and collaboration concepts. The station will engage faculty and students from many of UC San Diego's academic divisions with the unique culture and people of San Ysidro.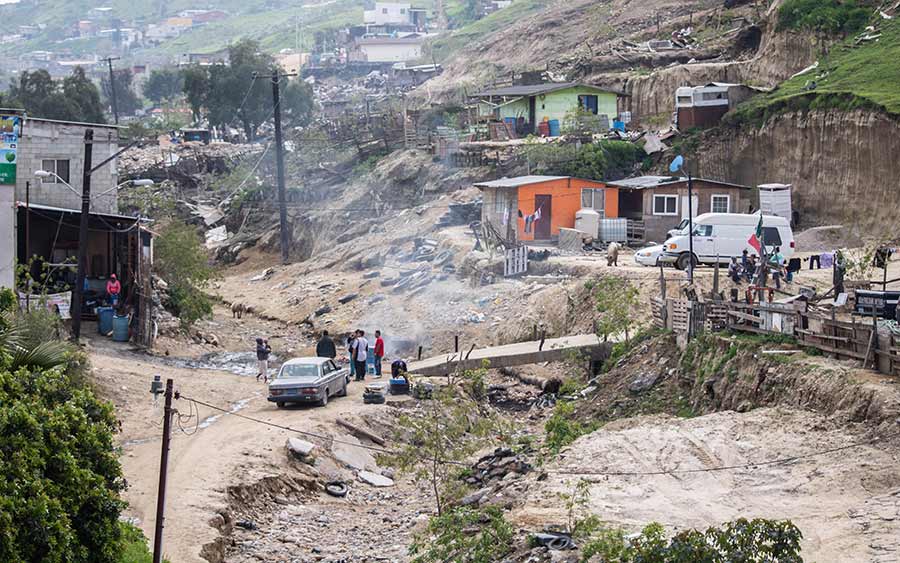 "We're summoning a federation of programs across the campus, from the Arts and Humanities to the Social Sciences, from the Medical School to Engineering and beyond, to collaborate with Casa Familiar on community-based research, cultural events, youth mentorship initiatives and summer internships, workshops, public lectures and other community-engaged activities," said Forman. "It will provide amazing opportunities for experiential education for UC San Diego undergrads as well."
Three additional community stations are currently in development: UCSD-EarthLab in the Southeast San Diego neighborhood of Encanto, a 4-acre climate-action park being co-developed with Groundwork San Diego and the San Diego Unified School District; UCSD-DIVINA in Tijuana's Laureles Canyon; and UCSD-ALACRÁN, also in Tijuana, an emergency migrant housing development. This last development has social and educational services embedded in it, as well as employment opportunities for the migrants.
The community-station initiative is supported by University of California Regent Richard C. Blum and a grant from the Andrew W. Mellon Foundation. UCSD-ALACRÁN is beginning construction with philanthropic support from Robert Rubin and Stéphane Samuels.
Stay in the Know
Keep up with all the latest from UC San Diego. Subscribe to the newsletter today.