Chancellor Pradeep K. Khosla Honored by VAPA Foundation for Supporting the Arts in Local Schools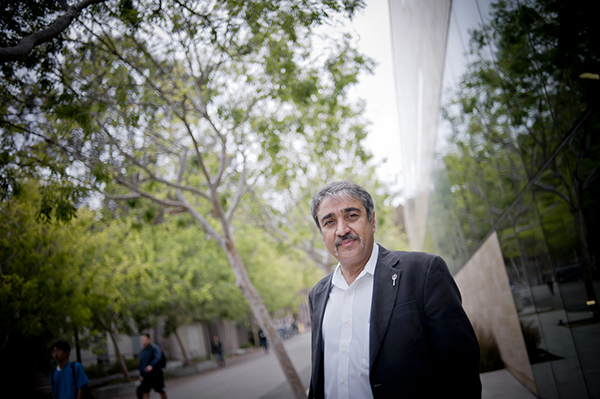 Published Date
Article Content
Pradeep K. Khosla, chancellor of the University of California San Diego, was honored recently by the Visual and Performing Arts (VAPA) Foundation at the organization's annual Spotlight benefit, Beyond Brilliance. Khosla was recognized for his partnership and support of the arts in San Diego Unified School District.
The VAPA Foundation was established in 2017 to enhance the quality of and access to arts education in SDUSD. Under Khosla's leadership, UC San Diego has provided arts-related enrichment to SDUSD including curriculum and instruction, professional development opportunities and community collaboration.
I am honored to be recognized by the VAPA Foundation," said Chancellor Khosla. "At UC San Diego, we believe the arts are an imperative, not an add-on. The arts are a dynamic part of UC San Diego's transformative, multi-disciplinary environment and we are excited to be able to partner with San Diego Unified School District and the VAPA Foundation to make the arts more accessible to more local students."
With the support of partners, friends and philanthropists, the VAPA Foundation provides SDUSD teachers with opportunities for artist residencies, as well as funding for field trips, professional development or materials that go beyond school budgets. Support from the foundation also enables students from across the district to audition, collaborate and play together for the community in professional settings, and creates bridges between SDUSD and local artists and organizations committed to transformative arts learning.
Khosla is UC San Diego's eighth Chancellor. As UC San Diego's chief executive officer, he leads a campus with more than 39,000 students, seven undergraduate colleges, five academic divisions, and seven graduate and professional schools.
He initiated and led UC San Diego's first-ever Strategic Plan and the ambitious Campaign for UC San Diego. The Campaign, which will conclude in June 2022, exceeded its initial $2 billion goal three years early in 2019, making UC San Diego the youngest university in the country to reach a multi-billion-dollar milestone in a single campaign. Khosla has significantly expanded college access and affordability for underserved populations, initiated interdisciplinary research initiatives to foster collaboration and solve societal challenges, and strengthened university and community relationships and partnerships.
U.S. Deputy Secretary of Education Cindy Marten, who earned her master's degree from UC San Diego in 1995, was also celebrated at the event. Marten served as superintendent of SDUSD from 2013 to 2021.
The 3rd annual VAPA Foundation benefit event, Beyond Brilliance, was held April 10 at the Conrad Prebys Performing Arts Center in La Jolla. The event was co-chaired by Doreen Schonbrun and Phyllis Epstein, who is also a trustee of the UC San Diego Foundation and serves as the chair of the campus's Donor Relations and Stewardship Committee. She is also a member of the UC San Diego Arts and Humanities Dean's Advisory Council.
Stay in the Know
Keep up with all the latest from UC San Diego. Subscribe to the newsletter today.