Celebrating 20 Years of Sally Ride Science
Organization cofounded by late astronaut marks major milestone of providing STEM inspiration for the next generation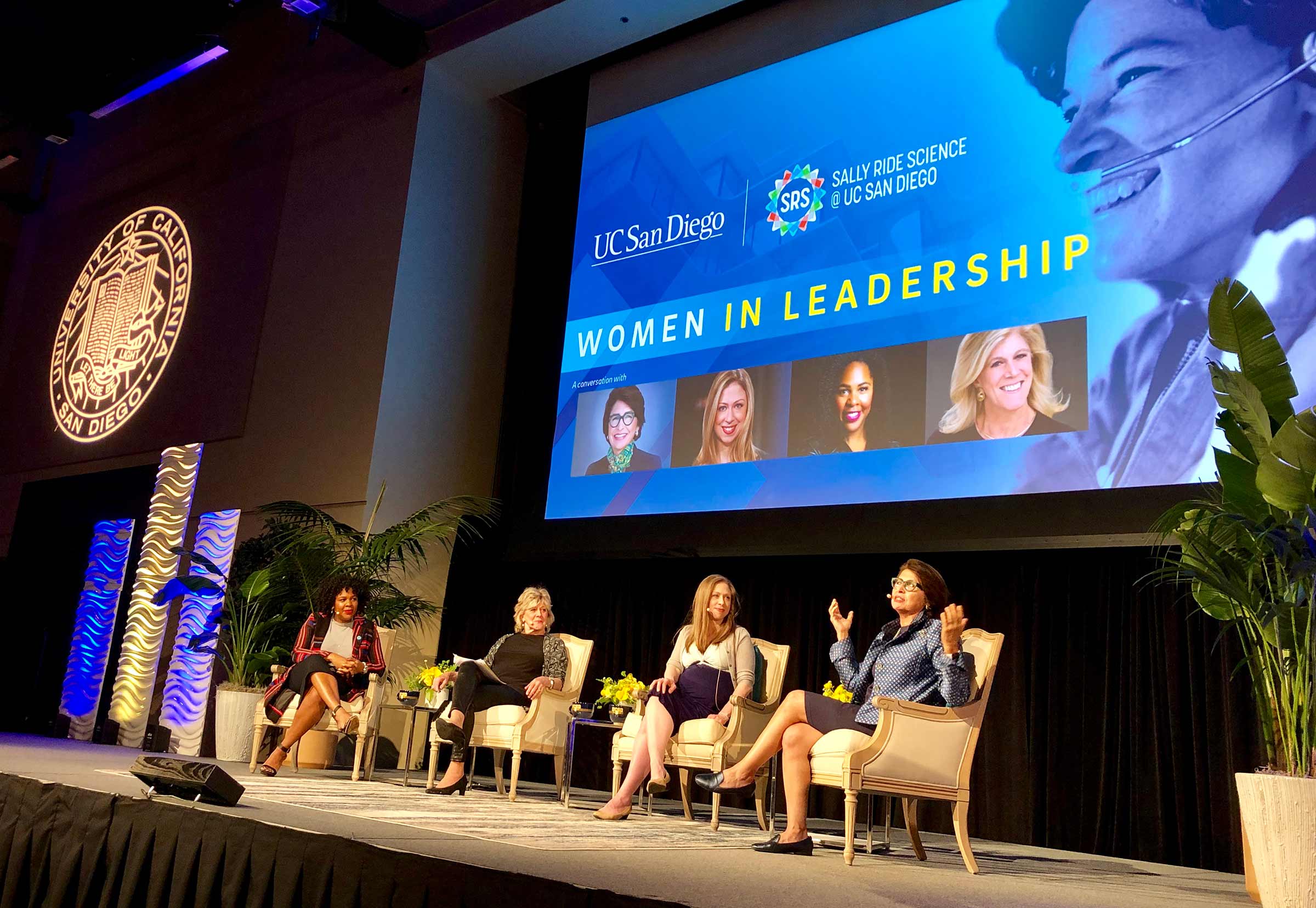 The 2019 Women in Leadership event brought together (from left) astrophysicist Jedidah Isler; journalist Lynn Sherr, who served as moderator; former first daughter Chelsea Clinton; and Girl Scouts CEO Sylvia Acevedo. Candace Norton/Photo.
After America's first woman in space retired from NASA, she had plenty of opportunities to capitalize on her celebrity, but she preferred to keep a low profile.
Then in 2001, while teaching physics at UC San Diego, Sally Ride decided the time was right to use her famous name for a cause she cared about—narrowing the gender gap in science and engineering. She would do it by cofounding a company called Sally Ride Science.
"I felt that this was something that was really worth using my name and using the visibility that I could bring to it," she said later. "It felt worthwhile."
This year, as it celebrates its 20th anniversary, Sally Ride Science is carrying on the late astronaut's educational legacy as part of UC San Diego. Under the direction of UC San Diego Extension, the former company is now a nonprofit offering innovative STEM (science, technology, engineering and math) programs for students, educators and the community.
Science for all students
After Ride blasted off aboard shuttle Challenger in 1983 to shatter NASA's gender barrier, she realized her example was a powerful tool for inspiring young people, especially girls, in science. One of her goals in starting Sally Ride Science was to make sure girls and boys of all backgrounds could see role models who looked like them.
Founding the company was a team effort. Ride joined with her life partner, Tam O'Shaughnessy, who has a doctorate in school psychology, and three colleagues: Karen Flammer, a UC San Diego physicist; Terry McEntee, Ride's longtime executive assistant; and Alann Lopes, a tech expert. Ride served as CEO, pitching investors and taking a hands-on role in all aspects of the company, which was based in La Jolla.
The response was gratifying. "When we started seeing the reaction of girls and their parents to our programs, it started feeding on itself, and we drew our energy and encouragement from them," Ride said.
Over the years, Sally Ride Science created acclaimed STEM programs that reached students and educators across the country. Assessing the company's impact, O'Shaughnessy said, "Those programs, along with Sally's high-profile advocacy of diversity in STEM, helped kickstart the national dialogue about the need to involve girls and students from underrepresented groups in STEM studies and careers."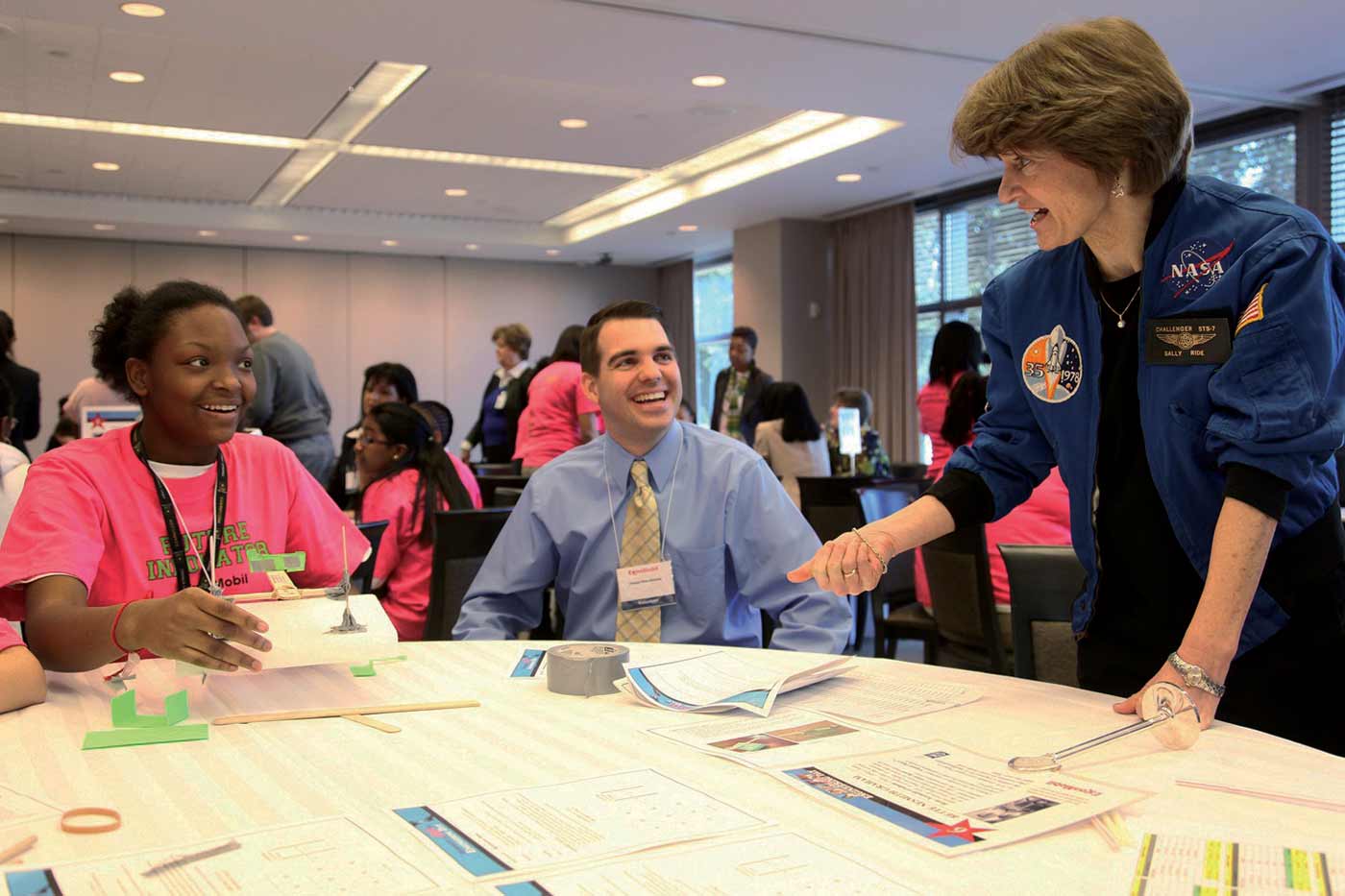 Ride died of pancreatic cancer in 2012, and Sally Ride Science found a new home at UC San Diego in 2015. Extension's Dr. Edward Abeyta, associate dean for Education and Community Outreach, oversees Sally Ride Science programs, and O'Shaughnessy serves as executive director.
"We're honored that UC San Diego continues to blaze trails in Sally Ride's name," Abeyta said. "Her name is in the history books, but we're proud that she is also helping inspire the next generation of physicists, biologists, engineers and astronauts through Sally Ride Science programs offered at UC San Diego and globally online."
To mark the 20th anniversary of Sally Ride Science, here's a look at the impact of some of its key programs.
Sally Ride Science at UC San Diego Programs
Sally Ride Science Junior Academy: Initiated and managed by UC San Diego Extension, the Junior Academy was launched in 2016. The annual summer program offers dozens of STEAM (STEM plus arts) workshops for elementary, middle school and high school students. Nearly 1,500 students have taken part, many of them on scholarships. The pandemic forced the academy to go online in 2020; this year's academy, from July 12 to August 6, will also be virtual.

Sally Ride Science Junior Academy offers a wide range of summer STEAM workshops for girls and boys from elementary grades through high school.

Library NExT: Through a partnership between San Diego Public Library and Extension, Sally Ride Science presents free workshops in library branches around the city. The workshops started in 2017 in six library branches and gradually expanded to 23 branches before the program went online due to the pandemic. Nearly 4,500 students in grades 3-12 have taken part.
Online Teacher Training: Extension offers online professional development for educators based on curriculum developed by Sally Ride Science. So far 90 educators have taken the online classes, which include "Ignite Student Interest in STEAM" and "Teaching STEM Using the 5Es."
Partner programs: Programs with a variety of partners, including San Diego Unified School District, Fallbrook School of Arts and Southwestern College, have made Sally Ride Science workshops available to hundreds of students.
Women in Leadership: Sally Ride Science hosted the first Women in Leadership panel discussion in 2018 at UC San Diego's Price Center to celebrate the release of the U.S. Postal Service's Sally Ride stamp. Panelists at the annual event have included tennis great Billie Jean King, former U.S. Secretary of State Condoleezza Rice and former first daughter Chelsea Clinton. More than 250,000 people have viewed the events on UCTV. This year's event will take place virtually and debut May 20.
Sally Ride Science programs
Sally Ride Science Festivals: From 2001 to 2014, Sally Ride Science hosted more than 100 festivals on college campuses across the country, including UC San Diego. More than 50,000 students, mostly girls, attended the one-day events, which featured workshops, street fairs and keynote speeches from female astronauts.
TOYchallenge: In 2002, Sally Ride Science created a national engineering design competition where student teams, which had to be at least 50 percent girls, created toys and games in categories like "Toys that Teach," "Remarkable Robots" and "Get Out and Play." Over seven years, about 1,000 students took part in TOYchallenge.

Each Sally Ride Science Festival featured a keynote speech by a woman astronaut. Ride is shown talking to girls at a 2009 festival.

Books: Between 2004 and 2013, Sally Ride Science published 90 books, along with teacher guides, for upper elementary and middle school students on topics ranging from astronomy and STEM careers to climate change and sustainability. Two book series—Cool Careers in STEM and Key Concepts in Science—reached an estimated 6 million students, according to evaluators from the University of Texas at Austin.
Sally Ride Science Academy for educators: Starting in 2009, Sally Ride Science brought educators from around the country to San Diego for in-person training on how to embed diverse role models into science lessons. Using a train-the-trainer model, the academy reached more than 30,000 teachers over 5 years—600 in person and the rest trained by academy graduates.
Sally Ride EarthKAM: Ride started EarthKAM in 1995 to allow young people to share the learning experience of observing Earth from space. Under the NASA program, which is still going strong, students request images of specific places on Earth from a camera on the International Space Station. Sally Ride Science operated EarthKAM at UC San Diego until 2015, when the program moved to the U.S. Space and Rocket Center. NASA says more than 600,000 students from 80 countries have taken part.
GRAIL MoonKAM: Sally Ride Science ran the educational outreach program for NASA's 2012 GRAIL mission, which sent twin satellites to orbit the Moon and map its gravity. GRAIL MoonKAM allowed more than 100,000 students around the world to request photos of the lunar surface from cameras on the satellites. At the end of the mission, NASA crashed the satellites into the Moon and named the impact site in honor of Ride, who had died five months earlier.
Morgan Appel, Extension's assistant dean for Education and Community Outreach, who helps oversee Sally Ride Science, noted that moving offerings online during the pandemic has had an unexpected upside, making it possible to reach a wider audience.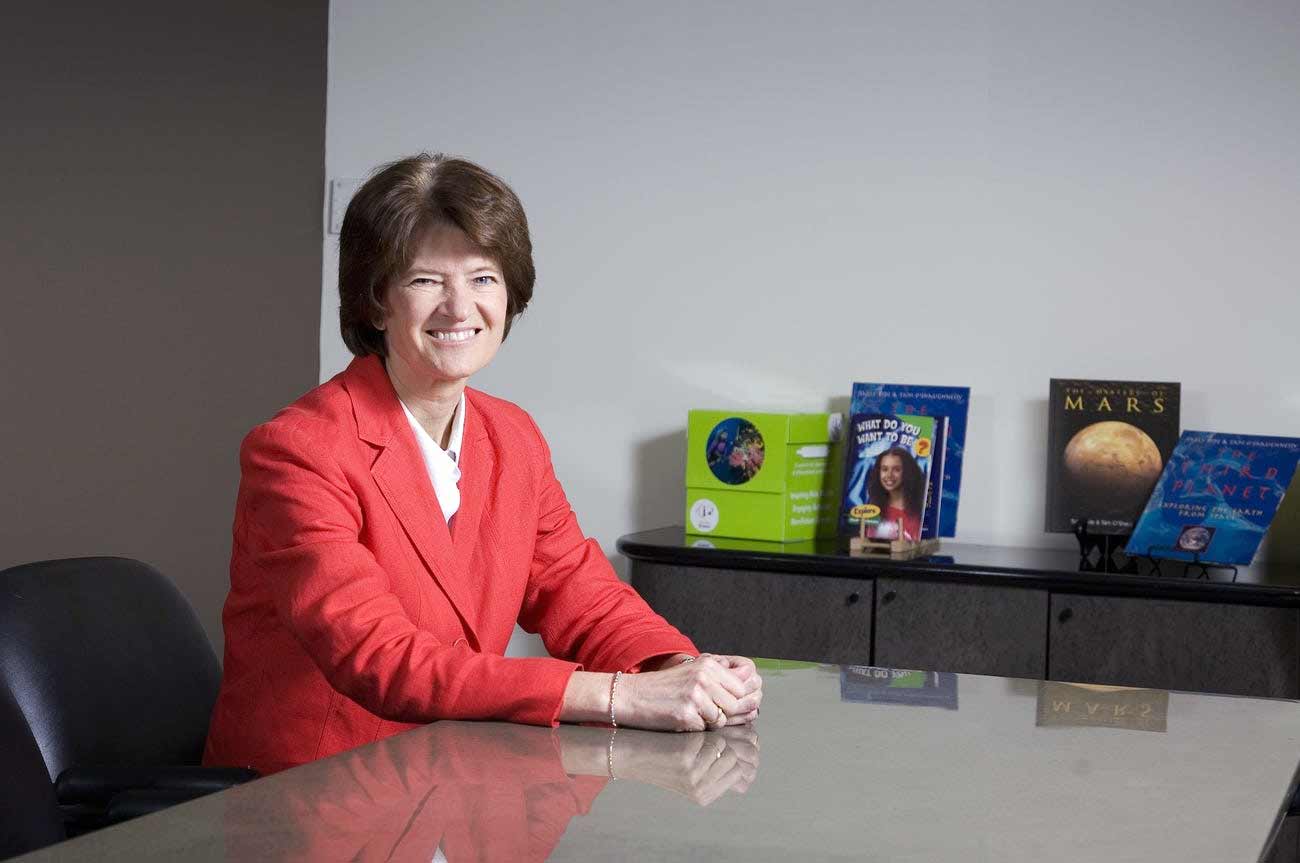 "The name Sally Ride is synonymous with possibility, adventure and exploration," Appel said. "This spirit has been pervasive across our programmatic efforts in California. Our expansion online means that we are able to offer these opportunities across the globe, bringing together intrepid scholars, practitioners and parents to celebrate and build on Sally's legacy over the next 20 years."
Stay in the Know
Keep up with all the latest from UC San Diego. Subscribe to the newsletter today.