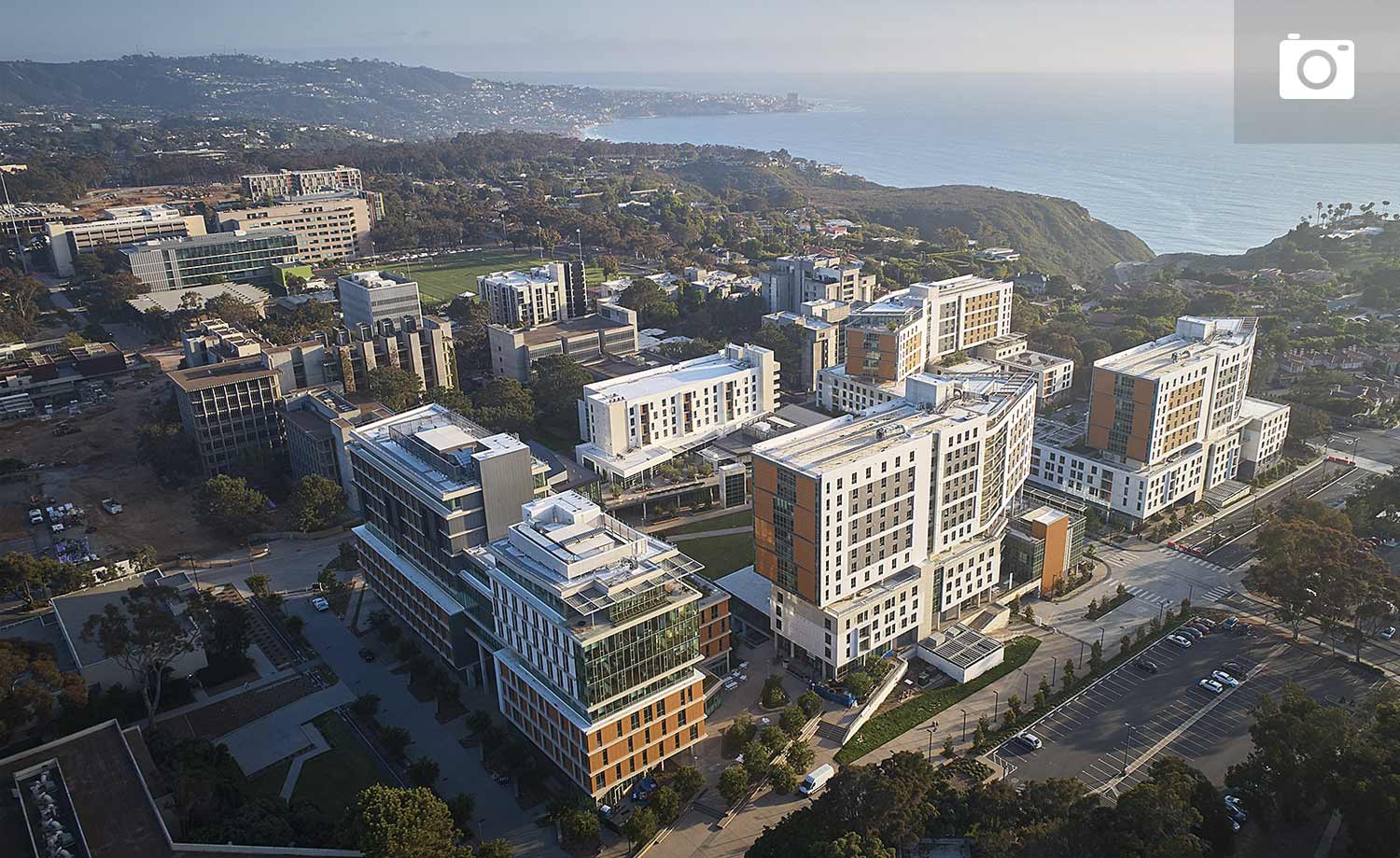 Celebrating 10 Years of UC San Diego's Physical, Cultural and Intellectual Transformation
New connections, medical facilities, labs, housing and places to reflect, innovate and celebrate
UC San Diego is experiencing a significant and exciting transformation. Multiple projects are underway across the region to enhance UC San Diego's presence as a premier destination for students, employees, health personnel, patients and community members.
In just 10 years at the helm, UC ˙San Diego Chancellor Pradeep K. Khosla has elevated UC San Diego into a global research and academic medical powerhouse with more than $6.9 billion (FY22) in annual revenues and $1.68 billion (FY22) in sponsored research. Today, UC San Diego is the second-most applied to institution for undergraduates in the country and the university celebrates top-10 national and top-20 global rankings in a wide array of disciplines across campus. Adding to its prestige and distinction, UC San Diego has also raised an impressive $3 billion through its comprehensive Campaign for UC San Diego. It is the youngest university ever to reach a multi-billion-dollar goal.
In addition to strong student demand, a sharp increase in research funding and a dedicated army of supporters, Khosla has assembled a leadership team that has delivered a breadth of physical improvements to the university for researchers, faculty, students, staff, patients and the surrounding community—with more than $7 billion invested in new connections, medical facilities, labs, housing and places to reflect, innovate and celebrate.
Upon his arrival in 2012, Khosla initiated and led UC San Diego's first-ever Strategic Plan. This shared vision of a physical, cultural and intellectual transformation was developed through an inclusive bottom-up process that engaged more than 10,000 campus and community members.
"When I arrived, I could see we needed to create a space for people to talk about their aspirations for the university," said Khosla. "At the end of that year and a half, I knew there would have to be growth to support our ambition and vision of UC San Diego."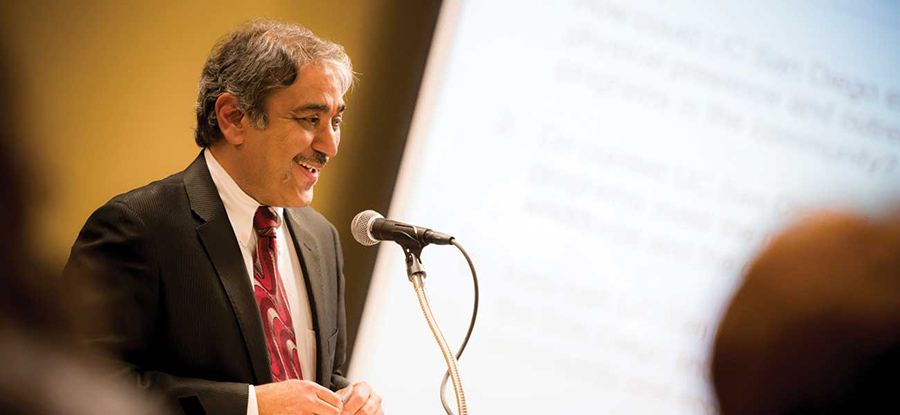 When the Strategic Plan published in 2014, the vision was summarized in eight words—the university would align efforts to be a student-centered, research-focused, service-oriented public university. An ambitious 10-year, multi-billion dollar Campaign for UC San Diego was already underway to help bring the vision to life, and in 2018, a Long Range Development Plan helped guide the physical development of the campus.
In the years to come, the profound campus transformation would serve as a tangible reminder of the effort to enhance the student experience, enrich the community and spark research and innovation.
"It has been gratifying to witness the transformation of the UC San Diego campus and the consistent emphasis on enhancing the student experience," said Cristina Chiriboga-Hahn, UC San Diego alumna and chair of the Chancellor's Community Advisory Board. "Throughout his tenure, Chancellor Khosla has focused on fostering community involvement and has sought meaningful input on key decisions. He has also built on the university's scientific prowess by expanding cutting-edge science facilities and, more importantly, attracting premier faculty—thus ensuring that UC San Diego remains a mecca for research and development that impacts the San Diego community. His leadership has made all the difference."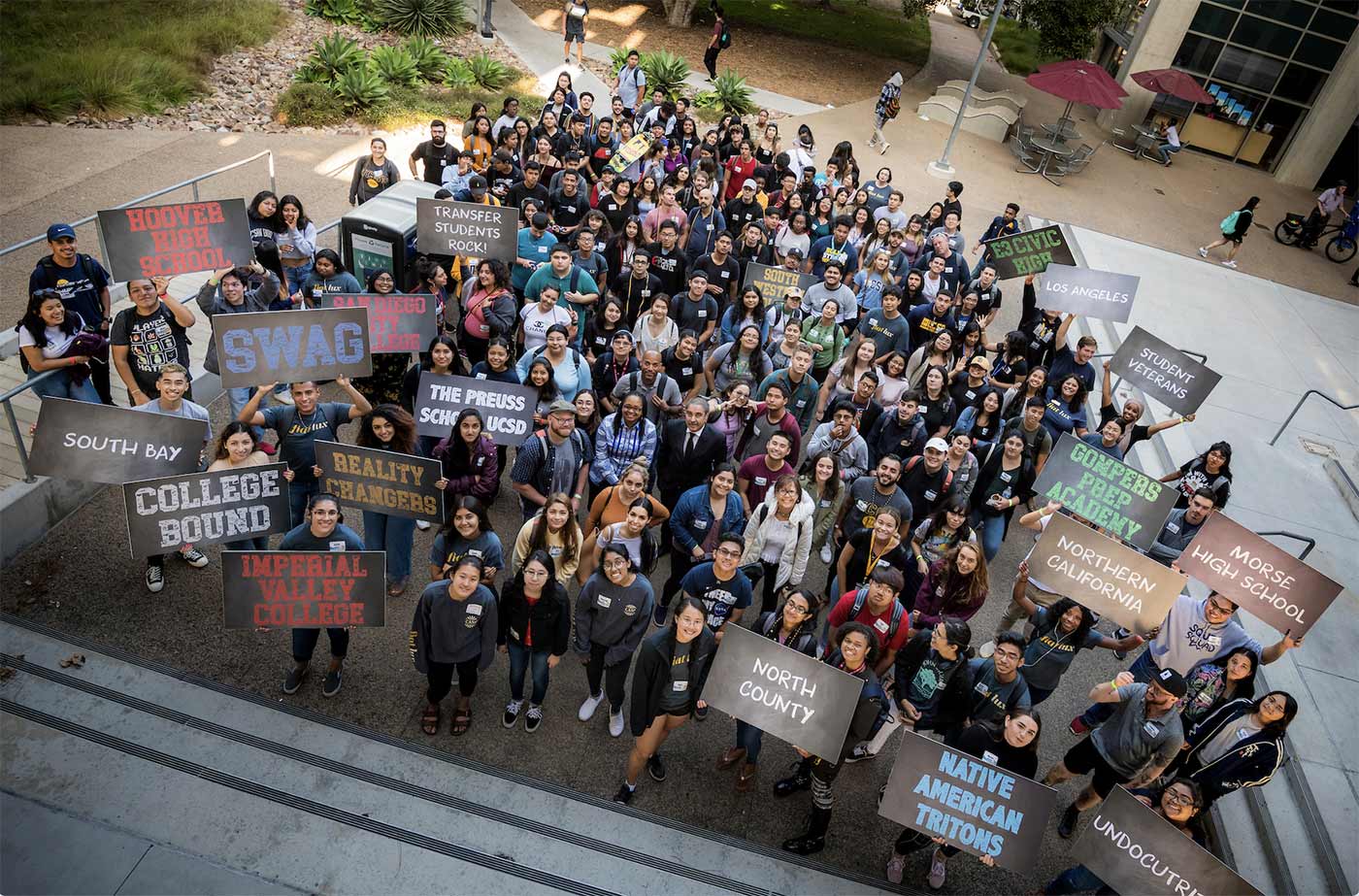 Enhancing the student experience
Everything UC San Diego does is motivated by its academic and research mission, with a specific focus on meeting the needs of our students. UC San Diego enrollments have continued to rise in an effort to increase access to the university for California residents. UC San Diego initiated a plan to provide additional infrastructure and facilities, with student housing being a key component. On-campus housing provides many benefits by expanding opportunities for students to fully integrate into the academic and social life of the campus. Part of the attraction is the on-campus community and setting, as well as being close to academic, research, social support and recreation facilities.
In the past decade, the university has built below-market rate housing for more than 5,500 students, including the University of California's first Living and Learning Neighborhood. Three additional Living and Learning Neighborhoods are planned between fall 2023 and fall 2025, which will provide housing for more than 5,300 additional students. By the fall of 2025, UC San Diego will be able to provide on-campus housing to nearly 22,000 students.
The overall approach of the living and learning neighborhoods is to enhance the student experience, cultivate community and support interdisciplinary research. In 2020, North Torrey Pines Living and Learning Neighborhood became the new home for Sixth College and 2,000 undergraduate students. With open spaces, art, dining and the new Craft Center, it soon became a buzzing hub for the entire campus.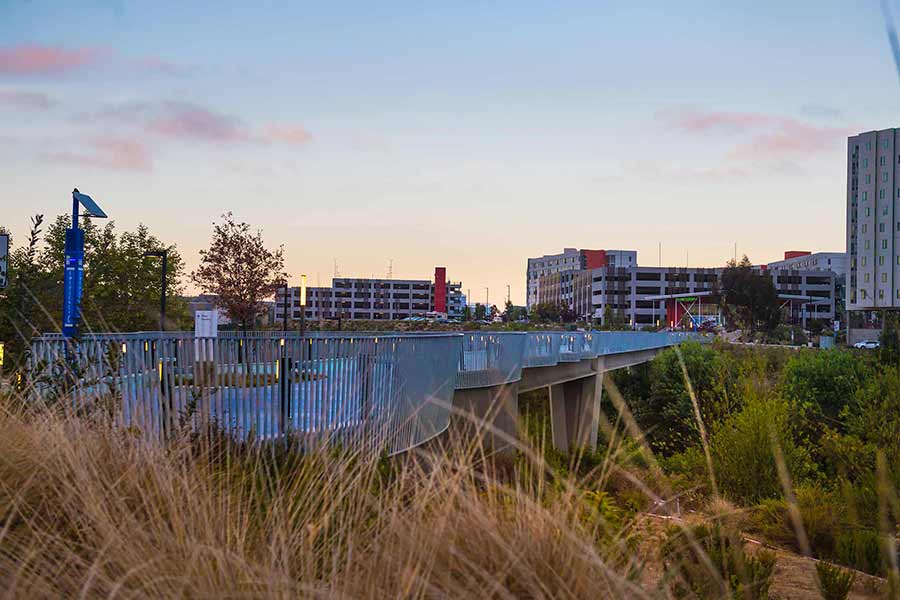 North Torrey Pines Living and Learning Neighborhood provided space for the School of Social Sciences and a new department committed to civic education, the Department of Urban Studies. It is also the location of the School of Arts and Humanities.
"Having the Arts and Humanities Building in this prominent location on our campus is a game changer for our students, faculty and staff," said School of Arts and Humanities Dean Cristina Della Coletta. "We have long known the important contributions our disciplines bring to educating each and every student at UC San Diego. Not only is this location an acknowledgement of these contributions, but being centralized gives better access for our students and provides our faculty the opportunity to make important, interdisciplinary connections that are unique to our research university.
To ensure that our students continue to benefit from a world-class education in the smaller, more intimate environment offered by UC San Diego's college system, the university added a new undergraduate college in 2019, Seventh College, and plans for a second, Eighth College, in 2023.
The Chancellor significantly expanded college access and affordability for students. Founded in 2013, the Chancellor's Associates Scholars Program (CASP) has provided more than 1,800 scholarships to deserving students, guaranteeing a debt-free education. CASP is built on a commitment to diversity and inclusion, with outreach to high-achieving students from high schools, community colleges, organizations for underrepresented communities and students enrolled in federally recognized Native American tribes from all across California.
"My parents and my siblings are some of my biggest supporters and my most important role models, so the fact that I was able to alleviate some of the pressures of college with the CASP scholarship was a huge relief for everyone," said Chancellor's Associates Scholar Jay Wilson. "I hope that future CASP students are able to recognize the privilege that this scholarship gives them and take full advantage of the opportunity and try new things—live out their life in a healthy balance of academic success, professional skill development, and socializing with their peers."
In addition, over the last decade, UC San Diego has sustained disproportionate growth in undergraduate students from underrepresented groups. While the university's total undergraduate population grew by 47%, the campus saw an increase of 100% in undergraduate students from underrepresented groups. This includes a 97% increase in Hispanic/Latinx students, a 136% increase in African American students and a 32% increase in Native American/Tribal students.
To meet the needs of a rapidly growing and diverse student population, the proposed Triton Center is designed to provide expanded student support services at the heart of the campus when it opens in 2025. Instructional support, student health and wellness services and other student academic services and resources will be included in the project, along with an alumni and welcome center, a 500-person event space and flexible use gallery for various campus programs, public realm improvements and accessible parking.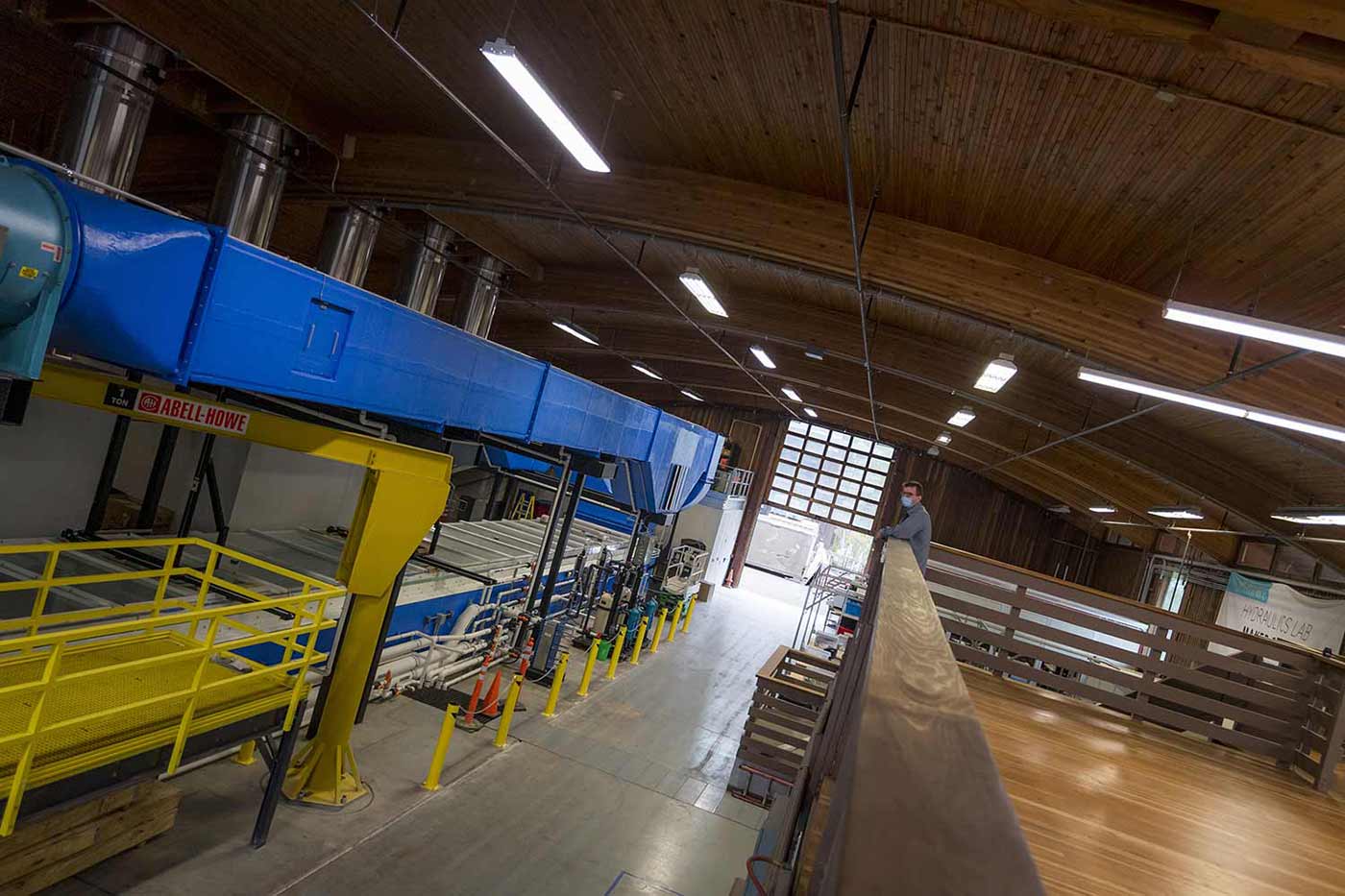 Sparking research and innovation
Every day, UC San Diego is transforming lives and society through multidisciplinary research. In the past decade, research funding has been on a steady upward trajectory. In fiscal year 2021, UC San Diego earned $1.54 billion in sponsored research funding, the largest number ever for the university. Projections for fiscal year 2022 show a 10% year-over-year increase to $1.68 billion. Since 2012, research funding has grown by 62% overall.
As part of UC San Diego's transformation, new space is being added for classrooms, research labs and areas for collaboration, all of which spark the innovation and experimentation for which our campus is known.
Health science research was bolstered by the opening of Biomedical Research Facility II in 2014, and two years later, in 2016, the Altman Clinical and Translational Research Institute opened, to turn discoveries into drugs and therapies. Jacobs Medical Center opened in 2016, followed by the Koman Family Outpatient Pavilion in 2018.
"The transformation on the east campus has been remarkable, most notably the Jacobs Medical Center and the adjacent Altman Clinical and Translational Research Institute," said Dr. Gary Firestein, Senior Associate Vice Chancellor for Health Sciences. "This led to a quantum leap in the integration of clinical care with translational research to find new cures, perhaps best exemplified by the walkway that connects the two structures. I cannot think of another academic medical center that has committed as much effort and resources to bring science to the bedside to benefit our patients."
Tata Hall, home of the Tata Institute for Genetics and Society and the Kavli Institute for Brain and Mind, provided new research and teaching space for the schools of Biological and Physical Sciences when it opened in 2018. That same year, the cross-disciplinary Halıcıoğlu Data Science Institute became the campus hub for data science, training students in the latest techniques and transforming the research of scholars. The Herbert Wertheim School of Public Health and Human Longevity Science was founded in 2019 with a mission to create and promote healthier populations on a local, national and global scale through public health research and education.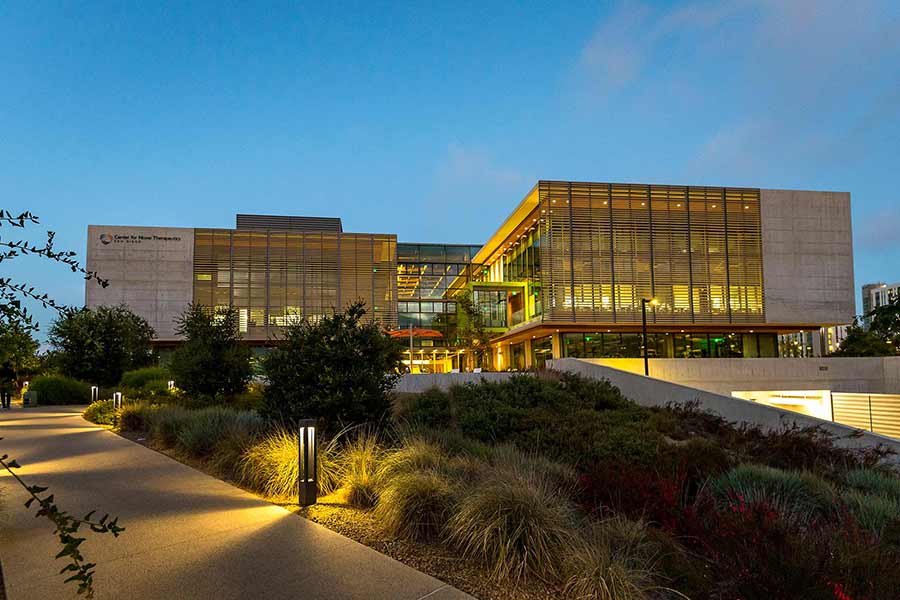 As a billion-dollar research enterprise in the heart of one of the most densely concentrated innovation hubs in the nation, UC San Diego is a unique place where fresh ideas are translated into solutions to benefit society. The Center for Novel Therapeutics opened in 2019 as the only academic-industry drug discovery incubator in San Diego. Completed in 2021, the Design and Innovation Building supports UC San Diego's strategy of innovation and entrepreneurship across campus with four distinct spaces to incubate and accelerate groundbreaking ideas—The Basement, Maker Space, The Design Lab and the Entrepreneurship Center. Students have the opportunity to guide products through the full lifecycle of design, prototype creation, testing, fabrication and commercialization.
"The Design and Innovation Building is more than just a place to work, it represents the future of entrepreneurial and innovative collaboration," said UC San Diego alumnus Eric Shnell, founder of startup Craitor. "Everyone is there to support each other and find a way to make their goals and dreams into reality. The most unique, and important part is the melting pot of entrepreneurs, innovators and mentors, bringing people from many walks of life together for a unified purpose—innovation."
Two research facilities at Scripps Institution of Oceanography opened in 2022. The Scripps Marine Conservation and Technology Facility is focused on interdisciplinary research to maintain the integrity of ocean ecosystems and manage their use in the face of global change and the Scripps Ocean Atmosphere Research Simulator allows scientists to study the air-sea interface and simulate future ocean conditions.
"This is about the future," said Grant Deane, an oceanographer at Scripps Institution of Oceanography and a SOARS principal investigator. "This is about what choices we are going to make as a species on the planet over the next 10 years and 20 years and 30 years. We can't make those choices well if we don't understand the consequences of our actions. We need to understand the complexity of the world. And we need a whole community of scientists and people to do that. SOARS is a call to action and that's why we built it."
This fall, the university will open Franklin Antonio Hall. Named for the late UC San Diego alumnus and co-founder of Qualcomm, this major new engineering building is designed to facilitate interactions between Jacobs School of Engineering faculty and students, with research spaces organized into "collaboratories" housing multiple teams, each led by a different professor. This provides students with the opportunity to interact with complementary teams, more professors and collaborators from industry.
Serving the community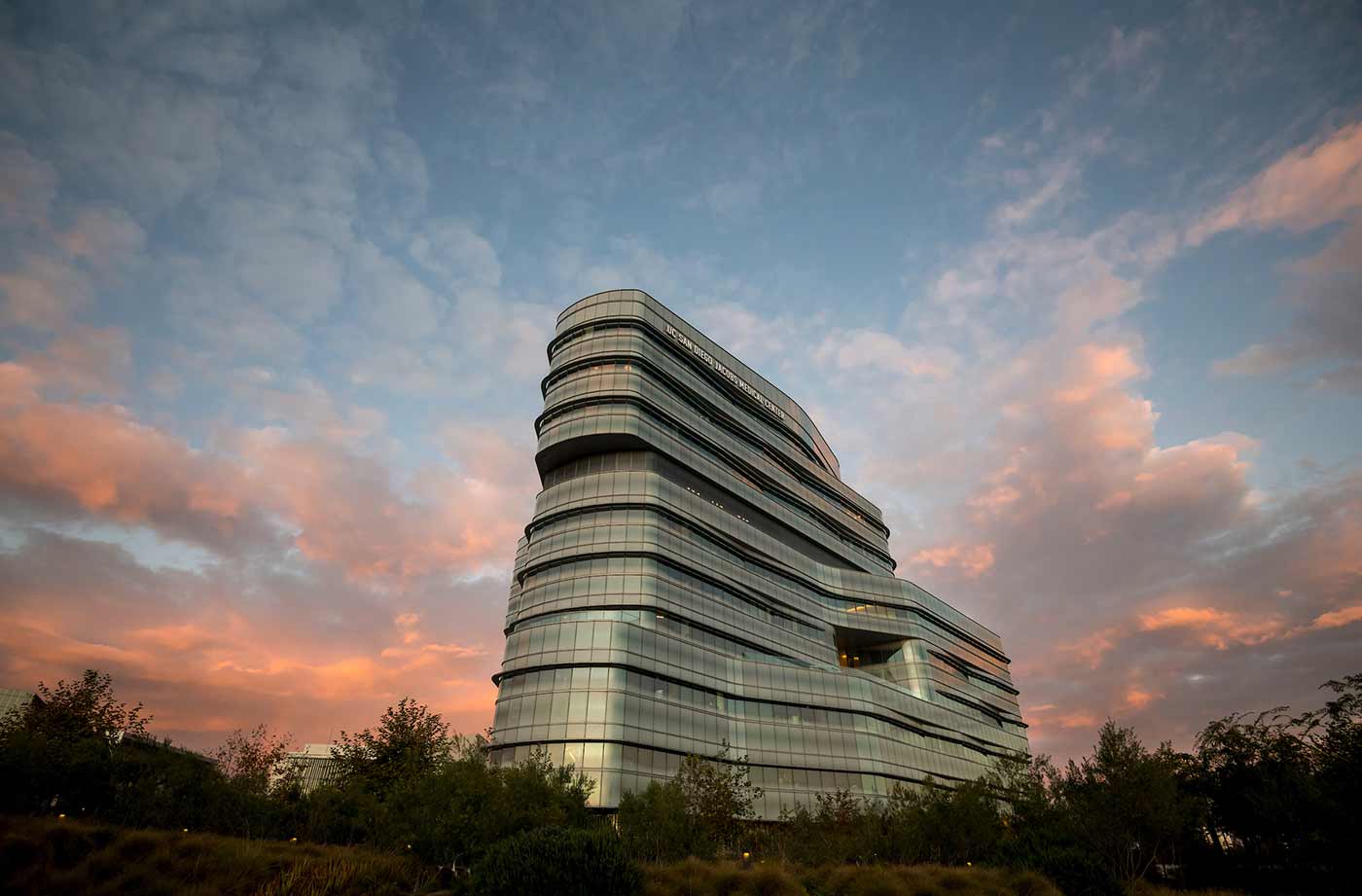 As UC San Diego continues to grow, the campus seeks to open itself up as a premier destination for the greater community, a welcoming place for patients and a vibrant center that supports students' development and provides opportunities for academic, personal and professional success.
"Chancellor Khosla is making sure that we look inward, but also outside of UC San Diego into the community, to open the dialogue," said Yen Tu, UC San Diego alumna and former chair of the Chancellor's Community Advisory Board. "UC San Diego is our region's pride and joy; it is our jewel. I worked closely with him to broaden the advisory board to hear perspectives from communities throughout the region and include leaders from different walks of life."
In 2016, construction started on one of the largest infrastructure projects in San Diego's history, the 11-mile extension of the UC San Diego Blue Line trolley. When two new trolley stations opened on the campus in 2021, the university was connected to the region like never before. For the first time, direct, fast and cost-effective trolley service enabled students, faculty and staff to travel throughout the region. It was also a significant step in welcoming the community to take advantage of the educational, cultural, employment and medical care offered by UC San Diego.
"For students who are committed to community-based work, this is an amazing asset, and essential to getting students off the campus and into the world, and opening our doors to the community," said Fonna Forman, a political scientist in the School of Social Sciences. "The university is increasingly committing itself to experiential education for our students. This connection is going to change the way we do community engaged research and teaching forever."
Steps away from the Blue Line trolley downtown is UC San Diego Park & Market, which opened this year. Located on a full city block at the intersection of Park Boulevard and Market Street in San Diego's East Village neighborhood, it is a social and intellectual hub for civic engagement, learning and collaboration. The flexibly designed space represents the university's commitment to connecting with the cultural heritage and shared values of the region's diverse social, cultural and economic community.
"It is clear that UC San Diego is branching out to all of the communities that have access to the Blue, Green and Orange lines. By choosing a location downtown, the university has made a bold statement that it is intentionally connecting to the broader community," said San Diego Mayor Todd Gloria. "This decision plants a flag in the neighborhoods south of the 8 and lets residents from every part of town know that they now have a connection to the university. I look forward to the transformational change that will connect our communities and provide opportunities to all San Diegans."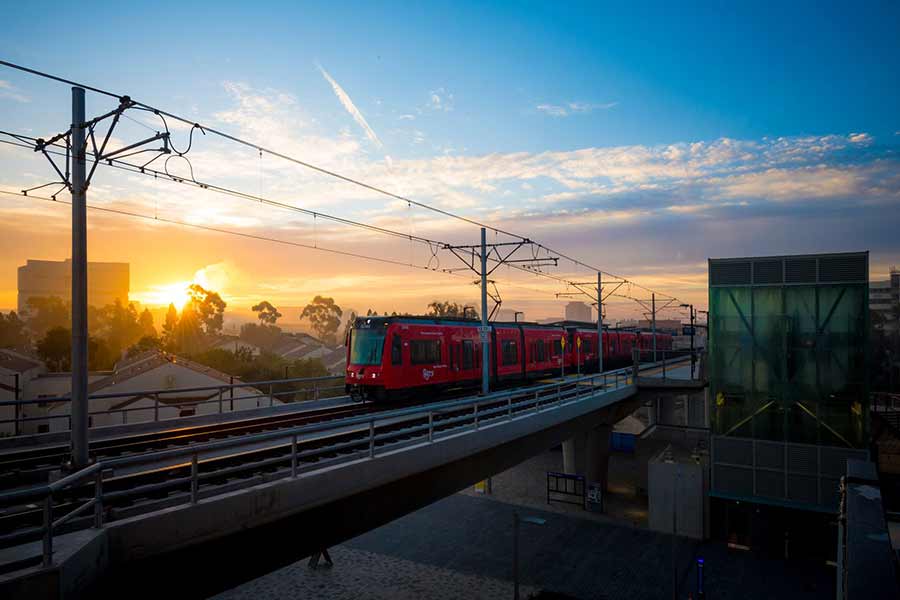 The Epstein Family Amphitheater, a new state-of-the-art performance venue, will open on campus this fall. The 2,850-seat open-air venue is steps from the Central Campus station of the UC San Diego Blue Line trolley, and will showcase everything from large-scale rock concerts to classical quartets and theatrical dance.
The past decade has seen a tremendous investment in patient care, with one major hospital built in La Jolla and another planned for Hillcrest. In 2021, UC San Diego broke ground on a multi-phase, multi-billion-dollar redevelopment of the Hillcrest medical campus. Over the next 15 years, construction on the $2.5-$3 billion project will continue in five major phases. The first phase of redevelopment includes a 250,000-square-foot outpatient pavilion anticipated to open in 2025, which will house specialty clinical programs. A new hospital will be the cornerstone of the redevelopment project that will also feature open spaces, a wellness center for campus and community and workforce housing.
"I have worked at UC San Diego Health for many years. The Hillcrest hospital and our superb multi-disciplinary staff have been through many severe flu seasons, the AIDS crisis, wildfire disasters and now the COVID-19 pandemic. We show up for each other and our patients every day," said Dr. Ted Chan, chair of the Department of Emergency Medicine at UC San Diego Health. "As our region continues to grow, particularly in the central and south county areas, a new Hillcrest facility will allow us to amplify our advanced care to the community for common illnesses and complex conditions, strengthening our position as the beacon of health care."
UC San Diego's community contributions extend beyond its top-tier education, research, healthcare, programs and partnerships. From envisioning new ways to relieve local traffic congestion and increase regional transit use, to partnering with local agencies to improve public services, UC San Diego's efforts reach far beyond the campus.
The university plays an important role in the economic vitality of the state and contributes significantly to the regional economy (up to $9.3 billion, including $4.3 billion in direct spending). One in every 17 jobs in the City of San Diego (62,516 jobs) is linked to the university, which contributes $493.7 million in annual state and local tax revenue.
"All of this is aimed at my view of what a public institution should be and the role of a public institution in a community," Khosla said. "We want to make sure the community knows we are there for them and are expanding opportunities for the greater San Diego community like never before."
Stay in the Know
Keep up with all the latest from UC San Diego. Subscribe to the newsletter today.