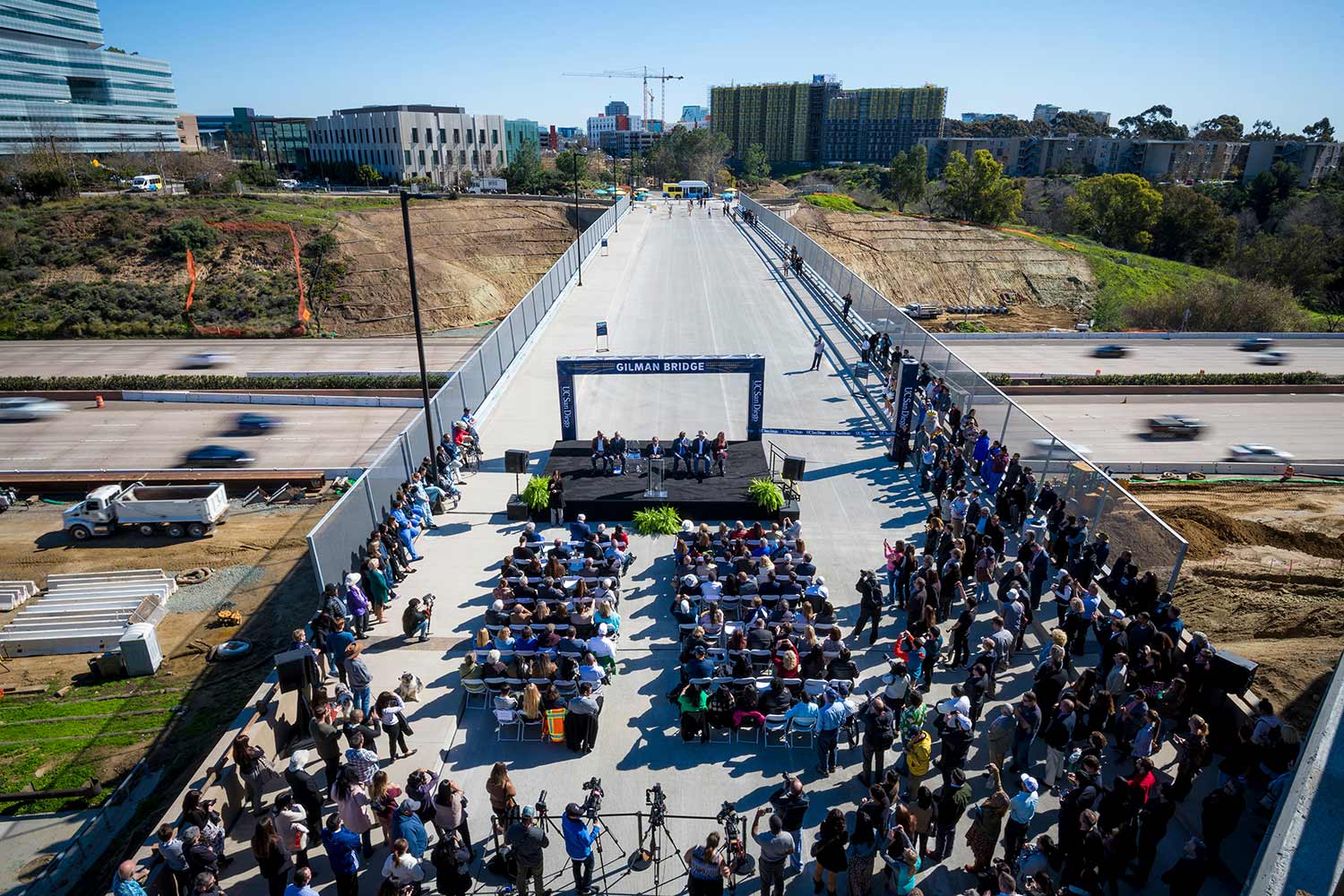 Building Connections: Campus Celebrates Gilman Bridge Opening
The Gilman Bridge opened last week to much celebration and fanfare. It will connect the east and west sides of campus at the heart of the university. What many don't realize is that the much-anticipated project was actually conceived many decades ago—with roots in the Jacobs School of Engineering.
"For me, this project goes back to 1993, when I was doing my Ph.D. work at UC San Diego," said alumnus Tony Sánchez, M.S. '95, Ph.D. '98. "My colleagues in the structural engineering department were studying a possible carbon fiber advanced-technology bridge for this location."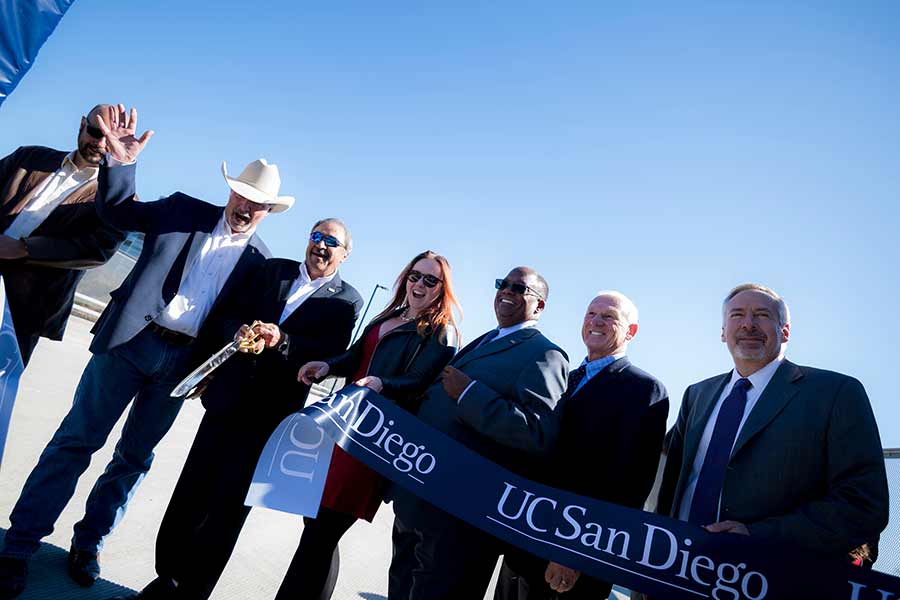 Fast forward more than two decades, and Sánchez received the opportunity of a lifetime—to design the Gilman Bridge for his alma mater. In 2011, Sánchez and his infrastructure firm, Moffatt & Nichol, were selected for the project, which was finally coming to fruition after many decades.
Sánchez, the engineer on record for the bridge, was on hand on Feb. 7 at the Gilman Bridge Ribbon Cutting and Community Celebration to share his story with more than 500 attendees, including his proud family.
"The Gilman Bridge has been one of the highlights of my career," said Sánchez. "I'm proud to have led this project from concept to completion, and to have delivered a beautiful, symbolic and much-needed bridge for my alma mater."
The Gilman Bridge spans gracefully across Interstate 5, uniting Gilman Drive on the west and Medical Center Drive on the east. The bridge makes it significantly quicker and more efficient to get across the UC San Diego campus without using congested city streets. The bridge officially opened to traffic on Feb. 8.
"We are very pleased to celebrate the opening of the long-awaited Gilman Bridge, a stunning architectural structure that will help us meet our goal of creating a more interconnected campus—both literally and figuratively," said Chancellor Pradeep K. Khosla. "This is just one of many projects that are transforming UC San Diego into a thriving live, learn, play community, which will enhance the student experience and establish UC San Diego as a destination for the greater community."
The 406-foot long bridge—just longer than the length of a football field—was built as part of a series of regional transportation projects, including the trolley and the Genesee/I-5 interchange enhancements, all designed to ease street traffic and parking demands, improve air quality and better connect the university with the greater San Diego community. UC San Diego has worked closely with regional partners including the San Diego Association of Governments (SANDAG), Caltrans, the Metropolitan Transit System (MTS) and the City of San Diego on these critical projects.
"This bridge is a testament to connections—connecting the east side and west side of the UC San Diego campus, connecting the students and faculty with campus amenities and research facilities," said SANDAG Chair and Mayor of Poway Steve Vaus, who spoke at the event. "And it also speaks to the role SANDAG plays in the region, connecting our communities to enhance our quality of life. This bridge is an elegant architectural icon that UC San Diego, Caltrans and SANDAG can be proud of."
To facilitate smooth traffic flow, the bridge and intersections on both sides have a three-lane configuration: one lane of traffic each way with a protected left-hand turn lane. Sidewalks and bicycle lanes are included. In addition, a new pedestrian bridge will connect graduate housing in the Mesa Neighborhood to Gilman Bridge at Medical Center Drive.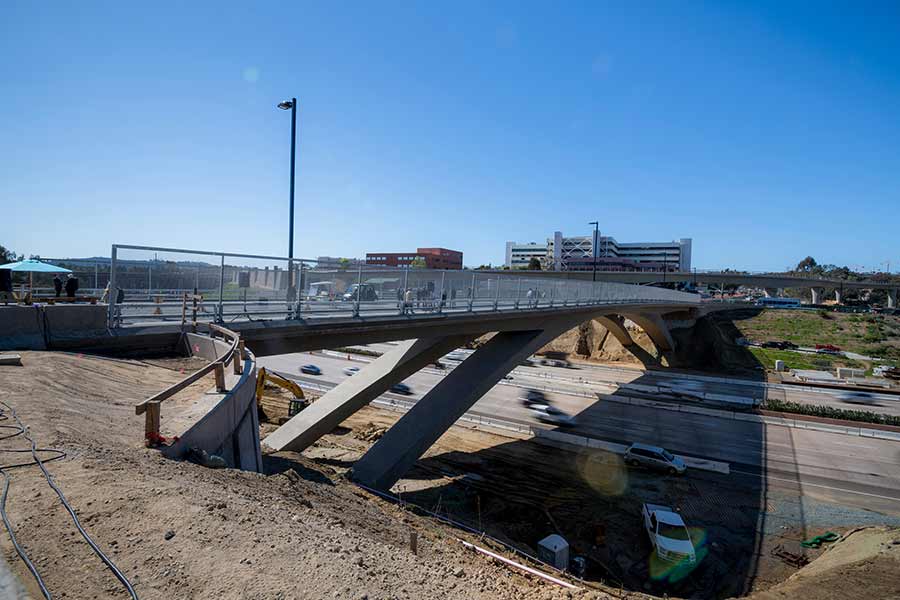 "This new Gilman Bridge will give students, faculty and visitors easier access to the university and the surrounding community," said Allan Kosup, Caltrans Interstate 5/State Route 76 corridor director. "Equally important, this bridge will help those from the border, South Bay, Downtown and Old Town reach this University City community once the 11-mile Mid Coast Trolley Extension is complete. And none of it would have been possible if we at Caltrans didn't come together with UC San Diego, the city of San Diego and the San Diego Association of Governments. Together, we are moving people to where they want to go."
Regional transportation projects like the Gilman Bridge are just one part of the ongoing transformation on campus. As part of the campus' Long Range Development Plan, UC San Diego is initiating a significant number of construction projects—including additional student housing, classrooms, laboratories, restaurants, retail spaces and more.
New spaces such as the North Torrey Pines Living and Learning Neighborhood will help address a growing student population and enhance the student experience, transforming the campus into a thriving live, learn, play community.
To learn more about the campus transformation, please visit
https://plan.ucsd.edu/campus-transformation
.
Stay in the Know
Keep up with all the latest from UC San Diego. Subscribe to the newsletter today.